Celebrating Seniors - Sandy Duncan Turns 70
New septuagenarian senior citizen, Tony and Emmy Award-nominated dance, actress, singer, comedian and baby boomer Sandy (Sandra Kay) Duncan was born on February 20, 1946 in Henderson, Texas. 
Sandy Duncan has said that after taking ballet lessons in Dallas, she made her professional stage debut there as a child actor at age 12 in 1958, in a production of The King and I. Although she has been on television and in feature films, it is primarily on the stage that Duncan has made her name. More stage roles in off-Broadway musicals followed during the early 1960's, including productions of baby boomer favourites South Pacific (1962),  My Fair Lady (1964), and others.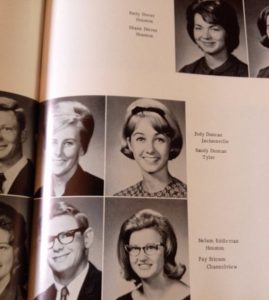 According to an interview with People Magazine in 1979, Duncan said she spent a year at the private Lon Morris Junior College in Jacksonville, Texas. 
While there, she was voted Most Beautiful and Freshman Favorite, before she moved to New York in 1965 at age 19 to continue pursuing a professional acting & singing career. (Left Photo: Etsy.com)
Sandy Duncan's first big break came as the female lead in a production of The Music Man (1965) at Manhattan's City Center, which was quickly followed by more roles.
By early 1968, 22-year-old Sandy Duncan had moved to California and made her television debut in a commercial for United California Bank, as well as on the soap opera Search for Tomorrow (as Helen).
Duncan was rehearsing for a replacement role that year as Viola in the North American tour of the rock musical Your Own Thing (1968) when she fell for her co-star Bruce Scott (he dropped his last name Zaharaides).
Sandy Duncan has said the couple married in September 1968, in part, because at the time she couldn't live with a man. "It was legalized 'doing it,' but an impossible marriage," she told People.
In 1971, Sandy Duncan's career was ascending rapidly. She had been named by Time magazine as one of the most promising faces of tomorrow, garnered two Tony Award nominations – for Canterbury Tales (1969), and as Maisie in The Boyfriend (1970) on Broadway – and had starred in films The Million Dollar Duck (1971) and Star Spangled Girl (1971). Below, a movie clip from The Million Dollar Duck featuring Sandy Duncan and Dean Jones.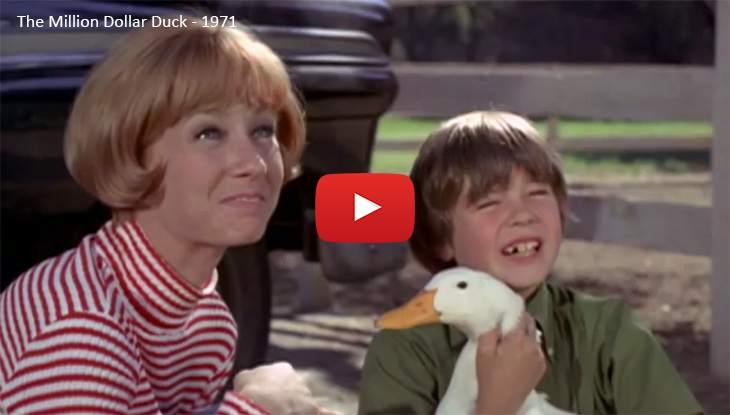 However, Duncan's personal life was in a shambles – her troubled marriage to Bruce Scott was disintegrating and at age 25, while starring on the television series Funny Face (1971), she began having severe headaches. Sandy Duncan was diagnosed with a brain tumour on an optic nerve and underwent successful surgery to remove the tumour, leaving her blind in her left eye.
Sandy Duncan and Bruce Scott divorced the next year, in October 1972, and she began dating her former consulting oncologist, Dr. Thomas Calcaterra. Meanwhile, Duncan received a nomination for an Emmy Award for Outstanding Continued Performance By An Actress In A Leading Role In A Comedy Series, for her work on Funny Face. Below, the Funny Face intro in a short video clip.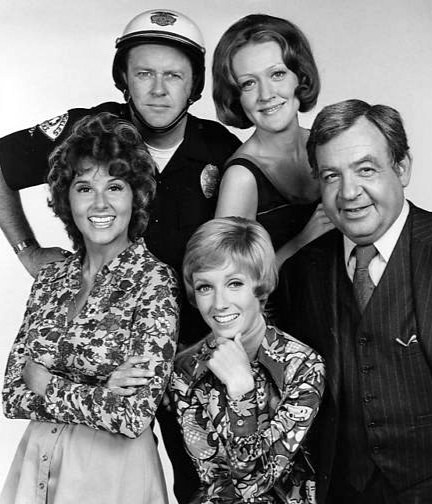 (The Sandy Duncan Show Cast Photo: CBS Television | Wikimedia Commons / Public Domain)
Clockwise from top left, M. Emmet Walsh, Marian Mercer, Tom Bosley, Sandy Duncan, and Pam Zarit.
Sandy Duncan has never let vision problems due to being blind in one eye deflect her career.
She continued to act on stage and television, appearing again as Sandy Stockton in The Sandy Duncan Show (1971-1972), which picked up from where Funny Face had left off. 
Below, The Sandy Duncan Show opening segment video clip.
She met younger actor/dancer/choreographer Don Correia for the first time in a variety show in 1971 and they became friends. She voiced her animated self in The New Scooby-Doo Movies (1972).
Sandy Duncan and Dr. Thomas Calcaterra married on January 10, 1973. Duncan told People Magazine that Calcaterra wanted her to be a stay-at-home wife, while she wanted a career. During their marriage Duncan appeared only occasionally on stage, film and television. She was in the special Sandy in Disneyland (1974), which again included dancer Don Correia, and had small parts on popular baby boomer television series The Bionic Woman (1976), and The Six Million Dollar Man (1976).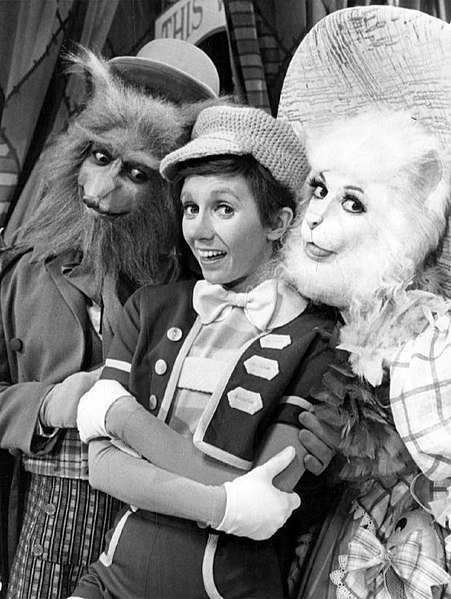 Sandy Duncan, Flip Wilson as the Fox, and Liz Torres as the Cat in Pinocchio (1977 Photo: CBS Television | Wikimedia Commons / Public Domain)
Duncan was nominated for another Emmy Award for her role as Missy Anne Reynolds in Roots (1977), and co-starred in another Disney movie The Cat from Outer Space (1978) with Ken Berry, Harry Morgan, and McLean Stevenson.
Her Wheat Thins crackers television commercials endured from the mid-1970's to the 1980's. 
Sandy Duncan resumed her career with a vengeance in 1978 with a successful touring nightclub act, and hired Don Correia as her dance partner. The Duncan-Calcaterra marriage ended in divorce in 1979.
By then, Duncan had moved on and was starring on Broadway as Peter Pan in Peter Pan (1979-1981), arguably the role for which she is best known, and for which she was nominated for another Tony Award as Best Actress (Musical).
Sandy Duncan was also now dating Don Correia, and they married in 1980. Sandy and Don had sons Jeffrey (b. 1982) and Michael (b. 1984), and will celebrate their 36th anniversary in 2016.
The couple have worked together several times over the years, including starring in the Radio City Music Hall production Five, Six, Seven, Eight, Dance! (1984) and My One and Only (1985-1986), with Sandy replacing Twiggy and Don replacing Sandy's fellow Texan native and friend, Tommy Tune.
After living in Los Angeles, Sandy Duncan and Don Correia moved back to New York City in 1996. Sandy Duncan has continued to tread the boards on stage on Broadway and elsewhere, including voice roles on two My Little Pony television series (1984 and 1986-1987).
Next came a 4-year turn as Sandy Hogan on The Hogan Family (1987-1991). Sandy Duncan played the sister to airline pilot brother Michael Hogan (Josh Taylor) and aunt to teenager David Hogan (Jason Bateman).
Since entering her 50+ years in 1996, Sandy Duncan has appeared in two films, most recently Never Again (2001), However, most of her work in the years since then have been on stage, on and off Broadway, including starring as Roxie Hart on Broadway in Chicago (1999), touring with Anything Goes (2002), a traveling production of The King and I (2004), No, No Nanette (2008), and many others. Below, Sandy Duncan and Don Correia performing 10 Cents a Dance in a 1976 TV special.
Sandy Duncan became a senior citizen in 2011 and since becoming a new senior, has been most recently seen on television in an episode of Law & Order: Special Victims Unit (2014). She played senior citizen "Miss Daisy" on stage in a North Carolina production of Driving Miss Daisy that same year.
Duncan has not yet retired; she briefly took on the role of Madame Du Maurier in Finding Neverland on Broadway in February 2016, leaving the role after 5 days. Although she's now a septuagenarian senior citizen, Sandy Duncan looks years younger and her smile is undiminished.