Celebrating Seniors - Engelbert Humperdinck is 80
Vintage music videos of new octogenarian senior citizen Engelbert Humperdinck's biggest hits and his story – Release Me, Ten Guitars, There Goes My Everything, The Last Waltz, Am I That Easy to Forget, A Man Without Love, Sweetheart, After The Lovin'.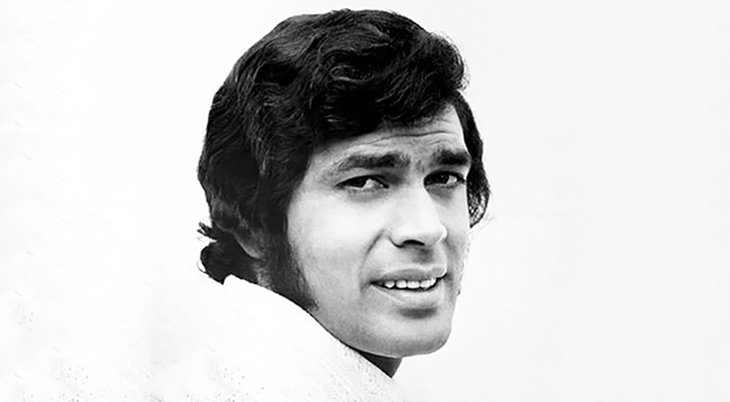 (Engelbert Humperdinck 1970 Photo: ABC)
Arnold George Dorsey was the 9th of ten children for his British Army father and Indian mother when he was born on May 2, 1936 in Madras, British (Chennai) India. The Dorsey family moved to Leicester, England when Arnold was a child. He has said in his autobiography Engelbert – What's in a Name (2005) written with Katie Wright, that he was very shy as a child. He began playing the saxophone and left school at age 15 to work at paying jobs in factories and performing in nightclubs. He didn't begin singing in front of an audience until he was 17. His Jerry Lewis impersonation earned him the stage name of Gerry Dorsey. 
Arnold Dorsey served a two-year stint in the British Army Royal Corps of Signals from the age of 18. At a dance in Leicester in 1956, 20-year-old Dorsey spotted a girl named Patricia Healey but was too shy to approach her himself, and asked his friend to talk to her. That shyness around women would soon change, as according to Patricia Healey he had a fling with another while woman while they were "courting". 
Dorsey recorded the song I'll Never Fall in Love Again in 1958 for Decca Records and it went nowhere (at the time). He continued to perform in nightclubs under the name of Gerry Dorsey through the 1950's and early 60's, but never achieved much success. He has claimed that he contracted tuberculosis in 1961 because he was struggling financially at the time and was malnourished, but he recovered and continued his pursuit of a career as a singer.
In 1964 Arnold Dorsey married Patricia Healey, who was already pregnant with their first child, daughter Louise. Over the next ten years they would have three more children – sons Jason, Scott, and Bradley (born March 1974). 
A songwriter himself, talent manager Gordon Mills had also been born to a British Army father and lived in Madras, India as a child. Mills roomed with Dorsey for a time in London and was a friend; he took Dorsey on as a client after he began managing singer Tom Jones. In 1965 Gordon Mills suggested a professional name change from Gerry Dorsey to the unforgettable Engelbert Humperdicnk (the original was a 19th century German opera composer). He began growing his sideburns and coloured his naturally lighter brown hair dark, and Mills got the new 20th century singer Engelbert Humperdinck signed to Decca Records. By the end of 1966 Engelbert Humperdinck had become a successful performer in the UK, although he had yet to release an album or have chart success.
Engelbert Humperdinck and fellow UK singer Tom Jones had several parallels in their lives. Both men had overcome bouts of tuberculosis, and had married young when their girlfriends got pregnant. They sang "crooner" type music and, with their wives safely at home, had multiple affairs while they toured. Like Engelbert, Tom's name had been changed while being managed by Gordon Mills, from Tom Woodward to Tom Jones.
Both Tom Jones and Engelbert Humperdinck purchased Rolls Royces, and were friendly rivals during the 1960's and early 1970's – at one time they were neighbours and even owned a house together in Sussex for weekend parties.
Engelbert Humperdinck's first album, Release Me (1967) contained two Hot 100 Top Twenty hit singles in the US and was a hit with early baby boomers and their parents. The single Release Me (And Let Me Love Again) was first written by Eddie Miller and Robert Mount in 1949. Although different artists had recorded the song, it wasn't until Engelbert Humperdicnk's single (produced by Joel Diamond) was released in 1967 that it was a world-wide hit, reaching #4 on the US Hot 100 charts and #1 in the UK.
In a 2006 interview with The Guardian in 2006, Engelbert said of Release Me (And Let Me Love Again) that "It was a phenomenon…It stopped the Beatles going to number one (in the UK) with 'Penny Lane'. I've made 77 albums and that's still the song people sing to me at airports." After Humperdinck made the song popular, fellow crooners Dean Martin and Elvis Presley released their own versions, along with many other artists since then. Below, Engelbert Humperdinck singing in the original music video for Release Me (And Let Me Love Again).
Ten Guitars (1967) written by Engelbert Humperdincks' manager Gordon Mills, was on the "B" side of the hit single Release Me. Ten Guitars was also recorded by fellow UK singer Tom Jones. Humperdinck's version of Ten Guitars became a hit in New Zealand, spurred by Maori interest. Below, Engelbert Humperdinck singing Ten Guitars.
There Goes My Everything (1967) written by Dallas Fraser in 1965, was a #20 hit single in the US, and #2 in the UK for Engelbert. In 1971, Elvis Presley's version of There Goes My Everything was a Top Ten Country chart hit single. Below, Engelbert Humperdinck singing There Goes My Everything :
Engelbert Humperdinck's second album, The Last Waltz (1967), had more hit singles including the albums title track, The Last Waltz (1967) written by Barry Mason and Les Reed. The Last Waltz reached #25 on the US Hot 100 charts and was Humperdinck's second #1 hit in the UK.
Also on The Last Waltz album was Am I That Easy to Forget, which got to #18 in the US and #3 in the UK when it was released as a single in August 1967 by Engelbert Humperdinck. Country music singer Carl Belew, who wrote Am I That Easy to Forget with W.S. Stevenson, first released it as a single in 1958. Am I That Easy to Forget was also recorded and released as singles by numerous artists such as actress Debbie Reynolds, and country music singer George Jones. Below, Engelbert Humperdinck performs  Am I That Easy to Forget.
More albums and hit singles followed, including the album and hit single A Man Without Love (Quando M'Innamoro) (1968), written by Barry Mason. Below, Engelbert Humperdinck singing A Man Without Love, a #19 US hit and #2 in the UK.
His fifth studio album, Engelbert Humperdinck (1969) included the single Winter World of Love (1969), which climbed to #16 in the US and #7 in the UK. By the end of 1969 Engelbert Humperdinck had been signed by Dean Martin to perform for a month at the famed Las Vegas Riviera Hotel (Martin owned a 10% interest in the hotel). The two men became good friends and Humperdinck appeared on Martin's television show for the first time in the 1970/71 season. Humperdinck would perform often in Las Vegas, and recorded the album Live at the Riviera, Las Vegas (1972) there. Humperdinck had a mutual admiration society with fellow Las Vegas performer Elvis Presley; they would perform each other's songs and attend their Las Vegas shows. Legends Elvis Presley died in August 1977, followed by Dean Martin in December 1995, and The Riviera Hotel closed in 2015 after 60 years in business.
The Engelbert Humperdinck Show aired for 18 episodes in 1969/1970 and guest stars included Paul Anka, Tony Bennett, Ray Charles, Lulu, Tom Jones, and Dionne Warwick.
The TV musical movie The Special London Bridge Special (1972) featured Kirk Douglas and friend Tom Jones, with Jennifer O'Neill, Elliott Gould, The Carpenters (Karen and Richard Carpenter), Lorne Greene (Bonanza), Charlton Heston, and Elliott Gould.
Humperdinck continued to record and release albums and singles during the early 1970's, although not quite achieving the success he'd had from 1967-1969. Humperdinck's 6th album, Sweetheart (1970)  had two Top 50 US hits, both of which fared better on the Adult Contemporary (AC) charts. When There's No You (1971) was #1 and the title track Sweetheart (1970) was #2 on the US AC chart. Below, Engelbert Humperdinck sings Sweetheart live.
In 1972 Humperdinck once again had his own television series – Engelbert with The Young Generation aired on BBC for 13 weeks. As the 1970's continued, Humperdinck's albums and singles slowly slipped down the pop charts as the baby boomer generation turned to more contemporary sounds. Their parents still loved him though, and he found more success on the Adult Contemporary charts. He was still in demand for live performances, both on and off stage, according to his autobiography.
In 1974, shortly after the birth of his fourth child with wife Patricia, one of Humperdinck's many lovers – Diane Vincent – told the press about her affair with him and filed a paternity suit in Las Vegas. Vincent claimed to have had his daughter Angelique in New York in 1970. Humperdinck claims not to know whether the child was his or not, although he did make a settlement.
Humperdinck's last Top Ten appearance on the US Hot 100 charts was with the single After the Lovin' (1976) by Ritchie Adams and Alam Bernstein, produced by Joel Diamond. After The Lovin' was a #8 hit single in the US and earned Humperdinck a Grammy Award nomination. Below, Engelbert Humperdinck sings After the Lovin'.
The same year that he faded from the Top Ten, Humperdinck bought The Pink Palace, so named by it's new owners in 1957 – actress Jayne Mansfield and her body builder husband Mickey Hargitay. Fellow crooner Rudy Vallee was the first owner in 1931, when it was still white stucco. Humperdinck sold the house to a developer in 2002 and it was torn down. 
By the late 1970's, Humperdinck had forged a friendship with producer Joel Diamond, and was no longer being managed by Gordon Mills. Around this time, a rift in his friendship with Tom Jones happened; the two men are still not on good terms. His last US AC hit single was in 1978 with This Moment in Time, from the album of the same name. Engelbert Humperdinck had weathered another paternity suit from Kathy Jetter; her daughter Jennifer was born in 1977 and he was ordered to make maintenance payments (he has never acknowledged this child as his own).
Engelbert Humperdinck had bought movie star Jayne Mansfield's "Pink Palace" house complete with heart-shaped swimming pool in Holmby Hills, California in 1976 (he sold it in 2002); and a mansion in Leicestershire, England in 1978. For much of their life while Humperdinck was aggressively touring and performing, he lived in the US (for tax and professional reasons), while his wife and children resided primarily in Leicestershire.
In his 50+ years during the 1980's and 1990's, Engelbert Humperdinck was kept busy performing in concerts at Las Vegas and around the world. In 1988 Humperdinck was recognized with an Entertainer of the Year Golden Globe Award, and his star on the Hollywood Walk of Fame was installed in 1989. 
Since becoming a senior citizen in 2001, Engelbert Humperdinck has gradually cut back on his live concert performances (from 300/year to 90/year), but continues to tour around the world. A gospel album Always Hear the Harmony: The Gospel Sessions (2003) was nominated for a Grammy Award, and a couple of years later his autobiography Engelbert – What's in a Name (2005)  written with Katie Wright was published.
In 2012, septuagenarian senior citizen Engelbert Humperdinck represented Britain in the Eurovision Song Contest – the oldest singer ever to be in the contest. Humperdinck finished 25th out of 26th places with his rendition of Love Will Set You Free written by Sacha Skarbek, but the song was a Top 60 hit single in the UK.
In April 2016, Humperdinck told the Orlando Sentinel that he's cut back from 300 performances a year to 90; but shows no signs of retiring. He's an active senior, staying physically fit playing golf and tennis, does daily crossword puzzles and writes poetry. He and Patricia have eight grandchildren and celebrate their 52nd wedding anniversary in 2016. Son Scott Dorsey has been his manager for some time, and in 2015 it was announced they were starting a new record label, Spin Records.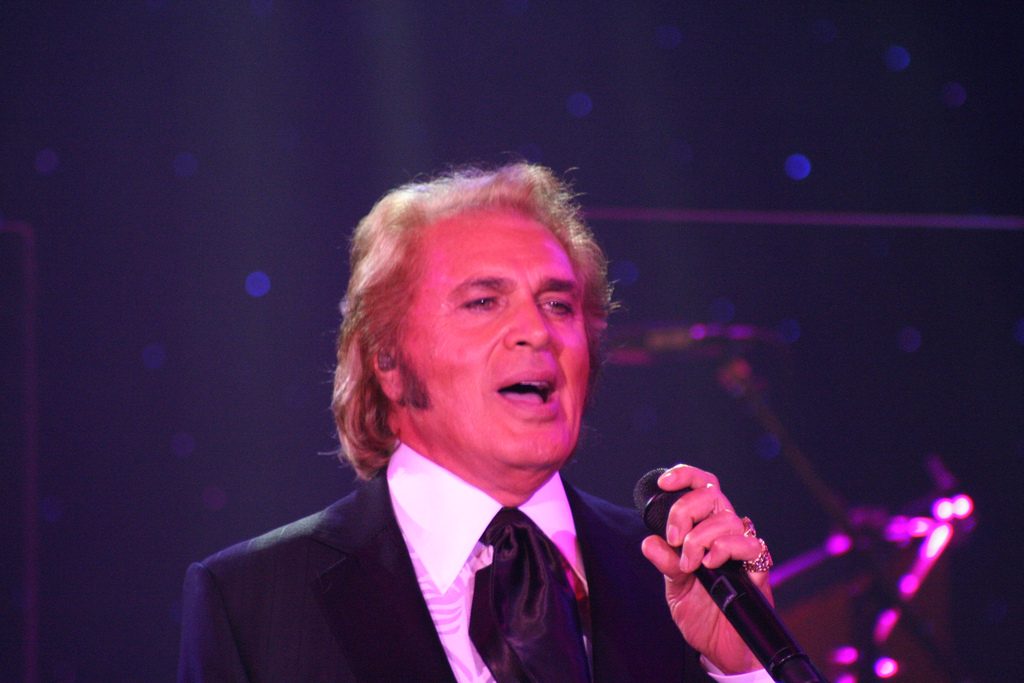 (Engelbert Humperdinck 2009 Photo: Wayne Dilger)
Currently Engelbert Humperdinck is performing concerts in the US, and will be back in the fall for more dates. A documentary about his life is expected to be released this month (May 2016).
*Images are public domain or Creative Commons licensed & sourced via Wikimedia Commons, Vimeo, or Flickr, unless otherwise noted*