Celebrating Seniors - Paul Anka Turns 75
Nine of the best songs from Paul Anka, and his story: Diana, You Are My Destiny, Lonely Boy, Put Your Head On My Shoulder, Puppy Love, You're Having My Baby, One Man Woman, One Woman Man, I Don't Like To Sleep Alone, Times Of Your Life.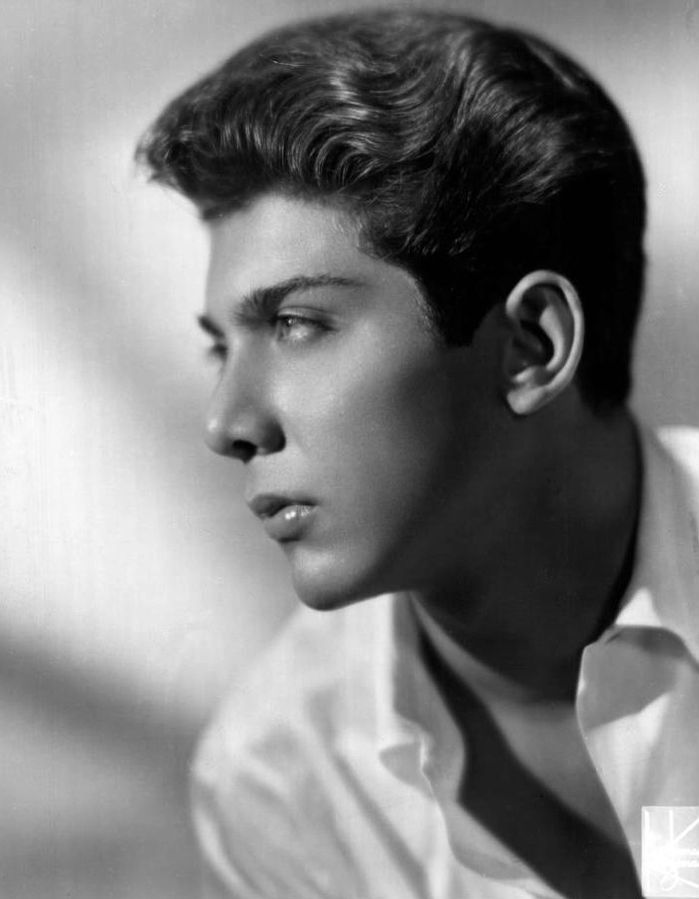 Canadian singer-songwriter, sometime actor, and septuagenarian senior citizen Paul Anka was born on July 30, 1941 in Ottawa, Ontario, where his Lebanese-born parents owned The Locanda restaurant.
(Paul Anka 1961 Photo: James Kriegsmann | Wikimedia Commons / Public Domain)
Anka sang in the choir at his church, studied piano, and honed his writing skills by studying journalism and working briefly for the Ottawa Citizen newspaper as a young teen. Anka formed a vocal group The Bobbysoxers at age 13 while attending Ottawa's Fisher Park High School, and later won a trip to New York as a prize in a Campbell's soup contest.
Already focused on carving a career in music as a singer-songwriter, in 1956 Paul Anka went to Los Angeles and persuaded Modern Records to record his first single – I Confess, with Blau-Wile Deverest Fontaine as the B side. 
Returning to New York in 1957, 15-year-old Paul Anka was signed by Don Costa for ABC-Paramount Records. His first hit single Diana (1957) was written by Paul Anka and Joe Sherman, as an ode to a girl Anka had a crush on. After being recorded by Paul Anka in May 1957 and released in July that year, young baby boomers and their parents helped Diana climb to #2 in the US (#1 on the best sellers in stores), and #1 in the UK – making Paul Anka a household name.
Anka re-recorded Diana in Italian with Italian lyrics by Mario Panzeri, in 1958. More recently Anka has recorded Diana as a duet, first with Ricky Martin in 1996 and then in 2006 a new Italian version called Oh Diana with Adriano Celentano.
Anka's next hit single was You Are My Destiny (1957), which he wrote and recorded that year; You Are My Destiny went to #7 in the US. 
Fresh from his success with Diana and You Are My Destiny, in late summer 1957 Paul Anka joined the Biggest Show of Stars tour which included early rock n' roll acts Fats Domino, Chuck Berry, Buddy Holly and the Crickets, the Everly Brothers, Eddie Cochran, and the Drifters. In early 1958 Paul Anka, Buddy Holly and Jerry Lee Lewis toured the UK and Australia. By this time Buddy Holly and Paul Anka were friends, and Anka agreed to write a song for Holly. 
Sixteen-year-old Paul Anka appeared as himself in his first movie role, Let's Rock (1958), released in June of that year, and continued touring and writing and recording songs. He also completed writing the song "It Doesn't Matter Anymore" for Buddy Holly, and Holly released his recorded single in January 1959. Anka told People magazine that Anka was scheduled to travel in the plane with Buddy Holly on February 3, 1959, but his chaperone insisted he take a bus. Buddy Holly's plane crashed that night and It Doesn't Matter Anymore became a posthumous hit for the deceased singer.
The movie Verboten (1959) released in March of that year, featured the title track Verboten written and recorded by Paul Anka, who appeared as a vocalist behind the opening credits of the movie. That same year, Paul Anka had his first real acting role in the movie Girls Town (1959) starring Mamie Van Doren and Mel Tormé. Anka sings 4 songs in Girls Town, including 2 that he wrote, recorded and released as singles that year – Lonely Boy, and It's Time to Cry.
Below, Paul Anka singing his first #1 in the US, Lonely Boy (1959).
Anka made it to #2 on the US music charts in September 1959 with his hit single Put Your Head On My Shoulder, which he also wrote. Below, Paul Anka performs Put Your Head On My Shoulder (1959), with an introduction from Dick Clark.
The movie The Private Lives of Adam and Eve (1960) released in January of that year, once again featured Paul Anka in a movie starring Mamie Van Doren and Mel Tormé. In The Private Lives of Adam and Eve Anka played beatnik Pinkie Parker, paired off with the character of Vangie, played by Tuesday Weld. In February 1960 Anka released the title track  to the movie Adam & Eve as the "B" side on his new single Puppy Love (1960)
By this time, Paul's family had relocated to New Jersey 18-year-old Paul Anka and 17-year-old Disney actress and the crush of countless baby boomers – Annette Funicello – were in love and dating.
Both Paul Anka and Annette Funicello described the restrictions imposed on them by parents, managers, record producers, teachers, and Walt Disney himself in Funicello's case. In My Way: An Autobiography (2013) by Paul Anka and David Dalton, Anka said:
"Sexual frustration is a great stimulus to ingenuity and I came up with a plan. I went to one of the guys who were always around and got him to divert the mother by playing cards with her, so that Annette and I could lock lips and get in a room together alone. The chemistry was definitely there and we were getting more and more curious about each other. Things got so bad with me and Annette and all the restrictions that I was banging into walls or walking into doors. Sexuality, of course, back in the '50s was a lot different than it is today."
Inspired by the coterie of chaperones telling them it was only puppy love and to cool it off because they were too young, Paul Anka wrote Puppy Love about Annette Funicello. When Puppy Love was released in February 1960, it was a #2 hit in the US. Numerous artists have since recorded Puppy Love, including Donny Osmond, who had a #3 US (#1 Canada & UK) hit with it in 1972. Below, once again Dick Clark introduces Paul Anka, singing Puppy Love.
Paul Anka wrote an album's worth of songs for Annette Funicello, and she sang them on her album Annette Sings Anka (1960). On the Annette Sings Anka album notes, Annette comments that they met while touring on one of the Dick Clark Caravan of Stars concert series (Sept 18-Nov 8 1959).
Their romance was short-lived, and both Paul Anka and Annette Funicello continued on their separate career paths. Anka changed his record label to RCA Victor, and had more Hot 100 hit songs including the Top 10 hits My Home Town (1960) and Dance on Little Girl (1961). 
The Puerto Rico Encyclopedia says that on January 5, 1961, Paul Anka's promotional tour and events that day in San Juan culminated with helicopter delivering him to the Woolworth's on Ponce de Leon Aven in Santurce and "over three thousand adolescents had almost destroyed the Woolworth's to see Paul Anka." Anka returned to Puerto Rico on tour in 1962, and on one of his visits there he met Egyptian-born Lebanese model Anne de Zogheb, who was working on a photo shoot. They began dating when they were both back in New York.
In 1961 Paul Anka was the star of the movie Look in Any Window (1961), and appeared on an episode of Make Room for Daddy (later known as The Danny Thomas Show). The following year, the National Film Board of Canada's short documentary Lonely Boy (1962) focused on Paul Anka on stage and behind the scenes, and was nominated for a BAFTA for Best Short Film.
In addition to writing the title song to the World War II movie The Longest Day (1962), Paul Anka had a cameo as an army private. The star-studded cast of The Longest Day included John Wayne, Henry Fonda, George Segal, Sean Connery, and Anka's fellow singer-actors Tommy Sands and Fabian. 
A savvy businessman as well as songwriter, Paul Anka's adaptation of his Toot Sweet (It's Really Love) song to Johnny's Theme as The Tonight Show Starring Johnny Carson intro beginning in 1962 brought in residuals for years. That same year, Anka left ABC-Paramount Records and started his own music publishing company, Spanka Music. In addition to purchasing back the rights to his own catalog of songs, he licensed songs from international artists.
Anka told the Globe and Mail that after seeing The Beatles perform in Paris in 1963, he suggested his management team at Feld Entertainment bring The Beatles to America. They did and The Beatles changed the direction of pop music in America in the 1960's, making the music of Paul Anka and many other popular artists almost obsolete.
Paul Anka and Anne de Zogheb married in Paris, France on February 16, 1963, at the Paris-Orly Airport. Paul and Anne Anka lived in New York for several years after their marriage, and Anka found a new audience overseas in Japan and non-English speaking European countries. He recorded songs in their native languages and worked with their local musicians, composers, singers, and songwriters. Italy was a particular favourite, in part because Anka had already had a hit there with his rendition of his song Summer's Gone (1960) as Dove Sei. Paul Anka's #1 hit in Italy Ogni giorno (1962) was followed by more Top Two hits in Italy in 1963 and 1964.
Anne and Paul Anka began their family in 1966 with the birth of their first daughter, Alexandria Anka. By the time the couple moved to Las Vegas in 1972, they had three more daughters – Amanda Anka (b. 1968), Alicia Anka (b. 1970), and Anthea Anka (b. 1971). Their youngest daughter Amelia Anka was born in 1977.
In the late 1960's and 1970's, Paul Anka continued writing songs for himself and other artists, and with the move to Las Vegas began performing in clubs and theatres, becoming a friends with Frank Sinatra and the "Rat Pack", as well as Elvis Presley. Paul Anka wrote (I Did It) My Way (1969) for Frank Sinatra, and She's A Lady (1971), which became a hit for Tom Jones.
Paul Anka changed record labels to United Artists in 1974 and recorded some duets with Odia Coates. His career resurgence began with his #1 hit single duet with Odia Coates, (You're) Having My Baby (1974).  By this time, Anka had tried scalp transplants to cover his baldness, and often resorted to wearing headgear to disguise it. Below, Paul Anka singing (You're) Having My Baby (1974)
One Man Woman/One Woman Man (1974), was another song written by Paul Anka and recorded as a duet with Odia Coates. One Man Woman/One Woman Man reached #7 on the US charts.
The Paul Anka/Odia Coates duet I Don't Like to Sleep Alone (1975) , written by Paul Anka, was a #8 chart hit in the US.
Anka's recording of the Times of Your Life jingle in 1975 for Kodak proved popular, and he then recorded it as a full song. Times of Your Life (1975) peaked at #7 in the U.S. in 1975. Below, a photo montage of Paul Anka, his life and family, set to his song Times of Your Life.
In the mid-1970's Anne and Paul Anka moved to Carmel, California. After the 1974-1976 career boost, once again Anka's record sales slipped. He began appeared the TV special Lindsay Wagner: Another Side of Me (1977), and in October 1982 began hosting a half hour CBC television musical variety series The Paul Anka Show. The Paul Anka Show was taped in Vancouver, B.C. and during the season it was on the air it featured guest stars like Anne Murray, Peggy Lee, Dan Hill, Andy Williams, Dionne Warwick, Helen Reddy, Julio Iglesias, and Cheryl Ladd.
Paul Anka's last single to make the Top 40 in the US was the hit single duet with Peter Cetera, Hold Me 'Til The Mornin' Comes (1983), which made it to #2 on the US Adult Contemporary charts. Below, Paul Anka performing Hold Me 'Til The Mornin' Comes.
Through the 1980's Paul Anka occasionally appeared in episodes of popular baby boomer television series such as The Fall Guy and Crime Story. He continued writing songs, performing, recording and releasing albums, but failed to find chart success. Anka was inducted into the Hollywood Walk of Fame in September 1984.
In September 1990 Paul Anka became a naturalized citizen of the U.S., and today holds dual Canadian/American citizenship. Around that same time, Paul and Anne Anka moved to Los Angeles.
After entering his 50+ years in 1991, Paul Anka appeared in small parts in big-screen movies including Captain Ron (1992) starring Kurt Russell and Martin Short and the Canadian movie Ordinary Magic (1993) starring Ryan Reynolds and Glenne Headly. He had a role in the star-studded crime comedy movie Mad Dog Time (1996) featuring Jeff Goldblum, Richard Dreyfus, Gabriel Byrne, Ellen Barkin, Diane Lane, Gregory Hines, Kyle MacLachlan, and Burt Reynolds.
In made-for-television movies, Anka guest-starred as a murder suspect in Perry Mason: The Case of the Maligned Mobster (1991), with stars from the original Perry Mason TV series Raymond Burr and Barbara Hale. Paul Anka made a special appearance in Shake, Rattle and Rock! (1994) starring Renée Zellweger and Howie Mandel. As the 1990's drew to a close, Anka made guest appearances as himself on That '70's Show in 1999.
Paul Anka's album A Body of Work (1998) saw him singing with live and recorded legends on standards and new songs, including Celine Dion, Frank Sinatra, Peter Cetera, Tom Jones. Anka's daughter Anthea Anka sang Do I Love You? with him.
In 2001 Paul Anka was a casino pit boss in the crime movie 3000 Miles to Graceland, starring Kurt Russell, Kevin Costner, Courtney Cox, Christian Slater, and others, against the background of a convention of Elvis Presley impersonators in Las Vegas. That same year, he and wife Anne Anka (de Zogheb) divorced amicably in 2001 after 38 years of marriage because, in his words
"Our kids were gone, our lives changed, our relationship changed. I can't remain in something – even a long, loving marriage – when I'm no longer experiencing things honestly".
Anka was inducted into Canada's Walk of Fame in 2005 in a ceremony held in his hometown of Ottawa. That same year he had a cameo appearance on the television series Las Vegas.
A new senior citizen in 2006, Paul Anka was once again seen as himself on television screens in an episode of Gilmore Girls that year titled The Real Paul Anka. In the same year he became a senior citizen, Paul Anka also became a grandfather again. His daughter Amanda Anka, who had married actor Jason Bateman in 2001, had her first daughter Francesca Bateman in 2006.
Paul Anka's relationship with his personal trainer Anna Aberg, almost 30 years younger than him, was a stark contrast to his serene and loving 38-year-marriage and friendly divorce with first wife Anne Anka.
In 2004, Anna Adberg gave birth to their son Ethan Anka, making Anka father to a newborn at the age of 63. Paul Anka finally married Anna Aberg in 2008, but by 2009 their marriage was on the rocks. They divorced very un-amicably in 2010 after just 18 months of marriage.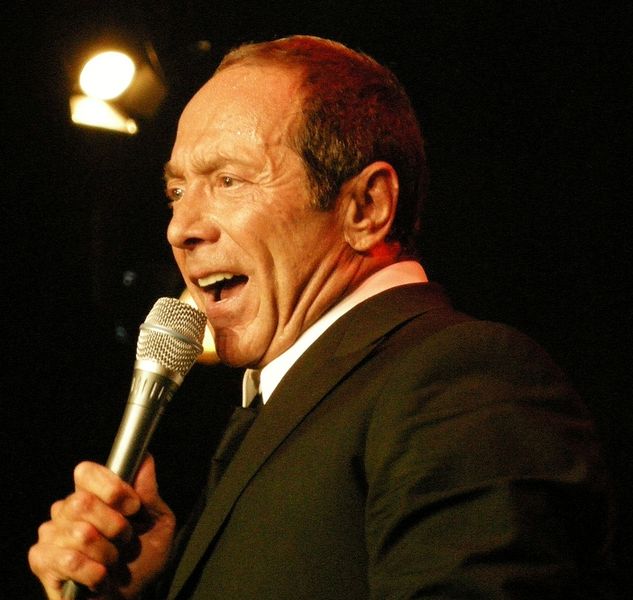 (Paul Anka 2007 Photo: Evert-Jan Hielema | Wikimedia CC 3.0)
In 2008, Paul Anka told the Globe and Mail that despite being in his late 60's at the time, retirement was not in the cards for him just yet.
"There are things I still haven't accomplished. What am I going to do? Retire at 50 and sit home and do what – become angry? No. I haven't put my flag in the ground yet…" He vowed to keep performing "Until I can't continue any more. There's something about performing, I can't give it up."
And he has! Paul Anka keeps writing songs – he has over 900 songs to his credit and has been inducted into Canada's Songwriters Hall of Fame – as well as  recording, performing, and touring. Most recently septuagenarian senior citizen Paul Anka released the album Duets (2013), the same year his autobiography was published.
In June 2014 septuagenarian Paul Anka told Fifty-Five Plus magazine he and long-time girlfriend Lisa Pemberton (they were friends for 15 years but only began dating after his second marriage ended) have discussed marriage.
Fans can see Paul Anka in concert this summer in late July at several casino venues in the United States, Canada, and in Chile. How does he manage to keep up his activities to a level someone 40 years younger might envy? In My Way: An Autobiography (2013), Anka says said his secret to healthy longevity even as a senior, involves nutrition and keeping fit:

"Living a preventative lifestyle. I eat well (vegetables and fruits, drinking water and green tea). I drink a little wine, maybe a glass of brandy. I exercise regularly, mostly cardiovascular workouts, weights, and the occasional yoga routine."