TV Trivia: The Honeymooners
Q1. What did Ralph Kramden (Jackie Gleason) usually call his best friend on The Honeymooners television show?
Q2. Which main character on the show was played by a different thespian in "Honeymooner" sketches airing on Cavalcade of Stars / The Jackie Gleason Show on the DuMont Television Network, before The Honeymooners premiered on CBS as it's own television show?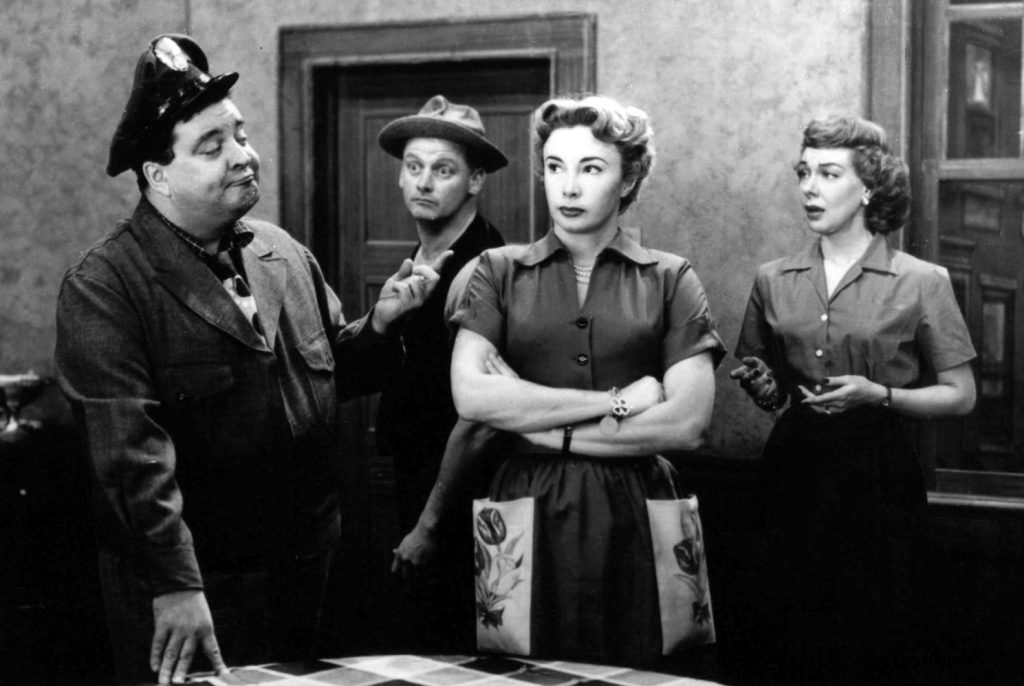 (The Honeymooners Cast Photo: CBS Television) 
Surprisingly, the iconic 1/2 hour The Honeymooners comedy show – set in New York City – only ran for 1 season, the "Classic 39" episodes – from October 1955 to September 1956..although it  still appears in re-runs. Regular series stars Jackie Gleason (bus driver Ralph Kramden), Audrey Meadows (Ralph's wife Alice Kramden), Art Carney (city sewer worker Edward Lillywhite "Ed" Norton), and Joyce Randolph (Ed's wife Trixie Norton) shone as regular working class couples.
Short-tempered and often frustrated New York City bus driver Ralph Kramden was forever trying to get rich. Perhaps Ralph's most enduring phrase, "to the moon" was often said to his long-suffering wife Alice. These bickering couples inspired the popular Flintstones characters/animated television show (Fred & Wilma Flintstone; Barney & Betty Rubble).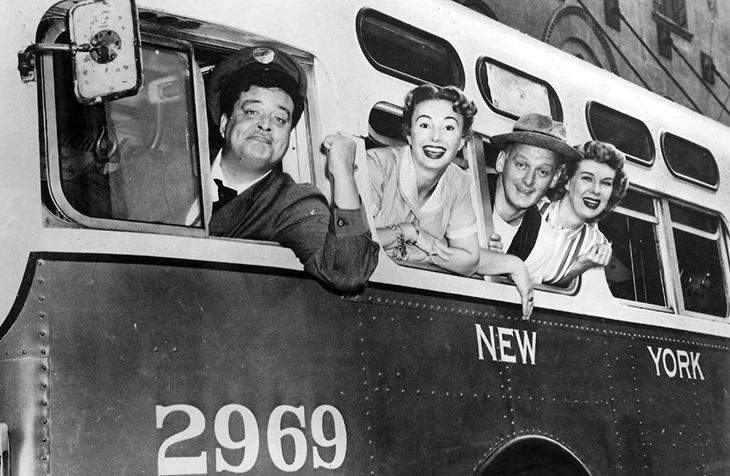 (Jackie Gleason, Audrey Meadows, Art Carney & Joyce Randolph 1955 The Honeymooners Photo: CBS)
All episodes of The Honeymooners were filmed live in front of a Manhattan studio audience of 1,000. The show started losing ground in 1956 to The Perry Como Show and Jackie Gleason/CBS mutually agreed to end it's run, although creator & producer Gleason periodically revived The Honeymooners characters as sketches within his own/revived television shows (The Jackie Gleason Show; Jackie Gleason and His American Scene Magazine); and periodic specials, until it was finally laid to rest in 1978.
The sole surviving cast member of The Honeymooners as of February 2022, 97-year-old senior Joyce Randolph attributes the secret to her longevity as "Do things that you love to do."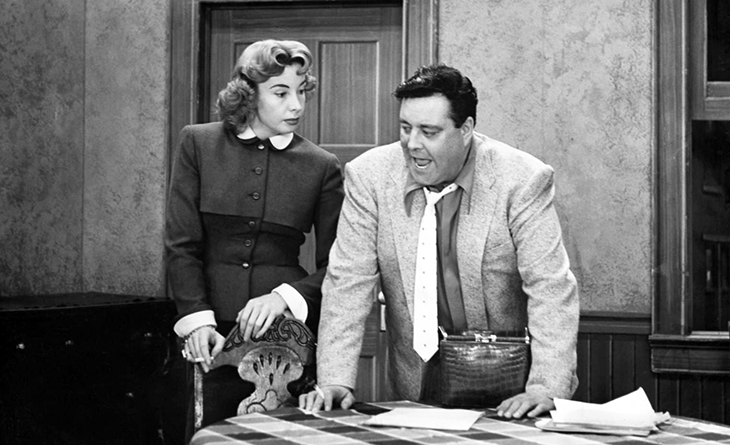 (Audrey Meadows / Alice Kramden & Jackie Gleason as Ralph 1956 The Honeymooners Photo: CBS)
A1. Ralph Kramden usually bellowed "Norton!" at the top of his lungs.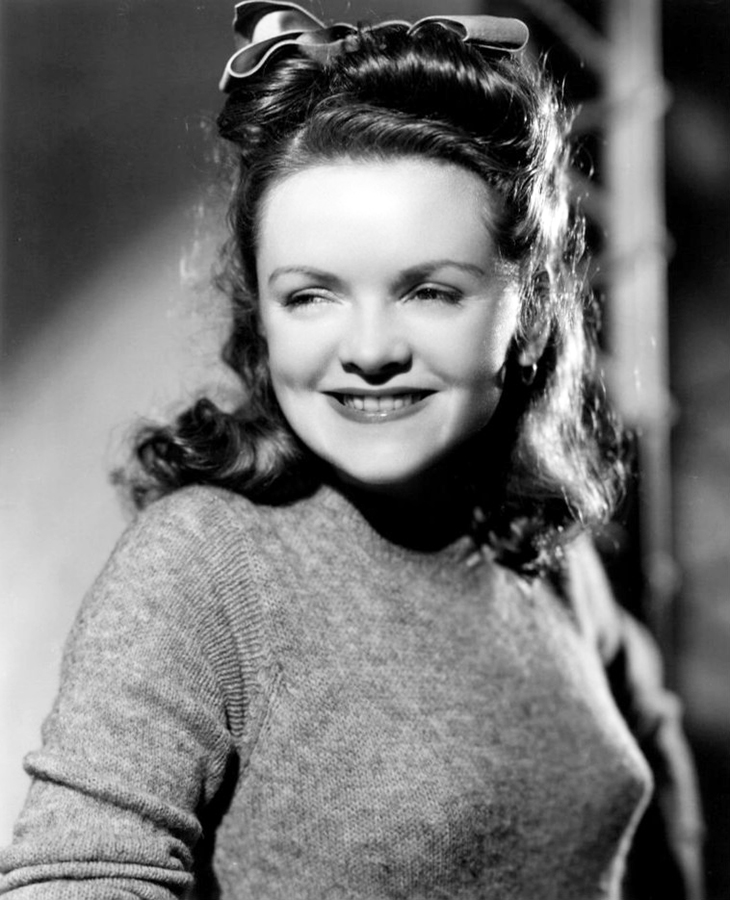 (Pert Kelton 1942 Photo: NBC Radio)
A2. Actress Pert Kelton portrayed Alice Kramden in the first 7 episodes of The Honeymooners that aired first on Cavalcade of Stars, later The Jackie Gleason Show. It has been surmised that Kelton was replaced by Audrey Meadows as Alice when the show moved to CBS, because her husband Ralph Bell was blacklisted at the time, negatively affecting her career. 
Born on October 14, 1907 (some reports say 1906) in Great Falls, Montana into a family of performers, Pert Kelton was on stage at the early age of 3. As a pre-teen she was a solo vaudeville act, and began appearing in Broadway musicals in 1925.
She soon moved into musical comedy movies and could be seen in 21 full feature films between 1929-1939, including co-starring roles with Gene Autry (Rhythm of the Saddle, 1938), Thelma Todd (Lightning Strikes Twice, 1934), and Joel McCrea & Constance Bennett (Bed of Roses, 1933).
Pert Kelton co-starred in two 1934 films with comedic actress Zasu Pitts – Sing and Like It, also starring Edward Everett Horton; and The Meanest Gal in Town, with James Gleason (no relation to The Honeymooner's Jackie Gleason). 
She had supporting roles in these notable 1930s movies:
Cain and Mabel (1936), starring Clark Gable, Marion Davies, Allan Jenkins, and Roscoe Karns.
Kelly the Second (1936) starring Patsy Kelly & Guinn 'Big Boy' Williams.
Hooray for Love (1935), with Ann Sothern, Gene Raymond, Bill Robinson, Lionel Stander, Etienne Giradot, and Fats Waller.
The Bowery (1933), starring Wallace Beery, George Raft, Jackie Cooper, and Fay Wray.
Pert Kelton was featured in three Melvyn Douglas films – Annie Oakley (1935) with Barbara Stanwyck, Preston Foster, and Moroni Olsen; Women of Glamor (1937) with Virginia Bruce & Reginald Denny; and Mary Burns, Fugitive (1936), co-starring Sylvia Sidney, Alan Baxter, Wallace Ford, and Brian Donlevy.
After a 12-year screen hiatus, during which time she focused on radio and stage performances, Pert Kelton began appearing on television in the 1950s. One of her first TV roles was that of Alice Kramden on Cavalcade of Stars from 1951-1952. The blacklist effectively ended her television career before it had a chance to flourish, and she only began appearing on TV again in 1959. 
Kelton returned to Broadway stages, a venue she would appear on until the end of her life. She was nominated twice for Best Supporting or Featured Actress Tony Awards – Greenwillow (1960), and Spofford (1968).
During the 1960s she had a few guest-starring roles on popular TV shows such as The Twilight Zone, Gomer Pyle: USMC, My Three Sons, and T.H.E. Cat. In her final TV appearance, Pert Kelton appeared as Alice Kramden's mother Mrs. Gibson, on a 1967 episode of The Jackie Gleason Show. 
Pert Kelton could be seen in three movie musical during the 1960s:
She was Mrs. Paroo in The Music Man (1962), mother to Marion Paroo (Shirley Jones) and Winthrop Paroo (Ron Howard); other stars in The Music Man include Robert Preston, Buddy Hackett, Hermione Gingold, and Charles Lane. 
Love & Kisses (1965) was a vehicle for The Adventures of Ozzie & Harriet star Ricky Nelson, with other cast members from that series in prominent roles. Jerry Van Dyke, Barry Livingston, Alvy Moore, & Pert Kelton were supporting actors in Love and Kisses.
The Comic (1969) is a based on the life of silent movie comedian Buster Keaton, and starred Dick Van Dyke, Michele Lee, Mickey Rooney, and Cornel Wilde. Steve Allen, Gavin MacLeod, and Jay Novello are also in the cast of The Comic, which was Pert Kelton's last appearance on screen. 
Pert Kelton died of a heart attack while swimming on October 30th, 1968 at the age of 61.
Note: This article was first published in 2015. It has been updated with new & additional content.
*Images are public domain or Creative Commons licensed & sourced via Wikimedia Commons or Flickr, unless otherwise noted*