TV Trivia: The Honeymooners
Q1. What did Ralph Kramden (Jackie Gleason) usually call his best friend on The Honeymooners television show?
Q2. Which main character on the show was played by a different thespian in "Honeymooner" sketches airing on The Jackie Gleason Show on the DuMont Television Network, before The Honeymooners premiered on CBS as it's own television show?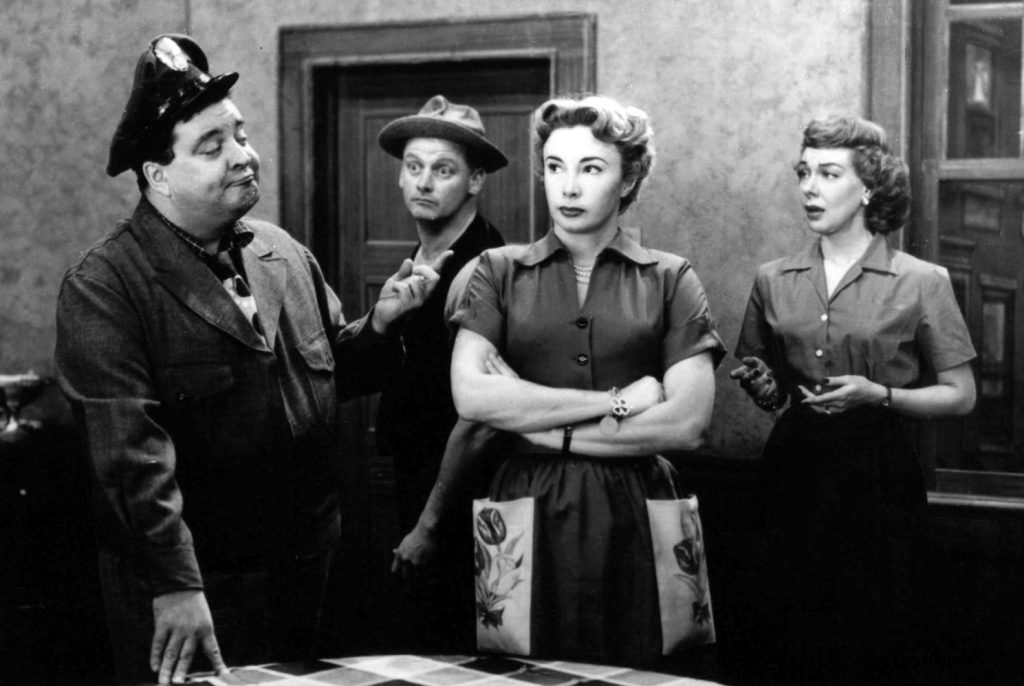 (The Honeymooners Cast Photo: CBS Television) 
Surprisingly, the iconic 1/2 hour The Honeymooners comedy show - set in New York City - only ran for 1 season, the "Classic 39" episodes - from October 1955 to September 1956..although it  still appears in re-runs. Regular series stars Jackie Gleason (bus driver Ralph Kramden), Audrey Meadows (Ralph's wife Alice Kramden), Art Carney (city sewer worker Edward Lillywhite "Ed" Norton), and Joyce Randolph (Ed's wife Trixie Norton) shone as regular working class couples.
Short-tempered and often frustrated Ralph Kramden was forever trying to get rich. Perhaps Ralph's most enduring phrase, "to the moon" was often said to his long-suffering wife Alice. These bickering couples inspired the popular Flintstones characters/animated television show (Fred & Wilma Flintstone; Barney & Betty Rubble). 
All episodes of The Honeymooners were filmed live in front of a Manhattan studio audience of 1,000. The show started losing ground in 1956 to The Perry Como Show and Jackie Gleason/CBS mutually agreed to end it's run, although creator & producer Gleason periodically revived The Honeymooners characters as sketches within his own/revived television shows (The Jackie Gleason Show; Jackie Gleason and His American Scene Magazine); and periodic specials, until it was finally laid to rest in 1978.
The sole surviving cast member of The Honeymooners today, 90 year old senior Joyce Randolph attributes the secret to her longevity as "Do things that you love to do."
A1. Ralph Kramden usually bellowed "Norton!" at the top of his lungs.
A2. Actress Pert Kelton portrayed Alice Kramden in the first 7 episodes of The Honeymooners that aired on The Jackie Gleason Show. It has been surmised that Kelton was replaced when the show moved to CBS, because her husband was blacklisted at the time, negatively affecting her career. 
*Images are public domain or Creative Commons licensed & sourced via Wikimedia Commons or Flickr, unless otherwise noted*