August 30th Birthdays
If you were born on August 30th you share a birthday with these famous people: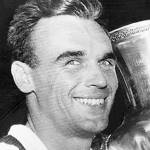 Vic Seixas is 96 (nee Elias Victor Seixas Jr.)
International Tennis Hall of Fame nonagenarian American pro tennis player, from 1952-1956 winner of 15 Grand Slam championships, including Singles (1953 Wimbledon, 1954 US Open), Doubles (Australian, US & French Open) & Mixed Doubles, born August 30, 1923. (Vic Seixas 1954 Photo)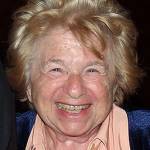 Ruth Westheimer is 91 (nee Karola Ruth Siegel; "Dr. Ruth")
German-American octogenarian psychologist, sex therapist & educator, TV & radio personality and host (Sexually Speaking / Dr. Ruth Show; Ask Dr. Ruth; Hollywood Squares; The All New Dr. Ruth Show; What's Up, Dr. Ruth?) born August 30, 1928. (Dr. Ruth Westheimer 2008 Photo: David Shankbone)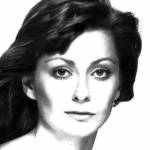 Elizabeth Ashley is 80 (nee Elizabeth Ann Cole)
Tony Award-winning American actress of TV (Freida Evans on Evening Shade; Treme; Another World; All My Children), movies (Paperback Hero; The Great Scout & Cathouse Thursday; The Carpetbaggers; Coma; Ship of Fools), and senior born August 30, 1939. (Elizabeth Ashley 1972 Photo: Harry Langdon)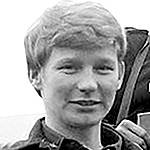 John McNally is 78
Septuagenarian English guitarist, singer, and co-founder of Merseybeat group The Searchers (Sugar and Spice; Needles and Pins; Don't Throw Your Love Away; Love Potion No. 9; What Have They Done to the Rain), born August 30, 1941. (John McNally 1965 Photo: Jac. de Nijs / Nationaal Archief)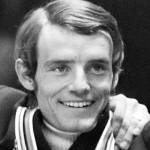 Jean-Claude Killy is 76 ("Gilette"; "Toutoune")
French alpine ski racer, 3-time 1968 Grenoble Olympics alpine gold medalist (downhill, GS, slalom), 6 World Cups (1966 Portillo downhill, combined; 1968 Grenoble downhill, GS, slalom, combined), and septuagenarian born August 30, 1943. (Jean-Claude Killy c. 1960s Photo: Efilguht)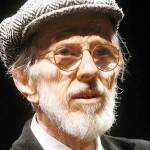 Robert Crumb is 76 (aka R. Crumb)
Will Eisner Comic Book Hall of Fame American septuagenarian artist, cartoonist (Keep on Truckin'), founding member of Zap Comix and Weirdo magazine, and creator of cartoon characters Fritz the Cat & Mr. Natural, born August 30, 1943. (Robert Crumb 2014 Photo: Niccolò Caranti)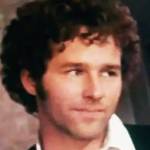 Timothy Bottoms is 68
American senior, producer & actor of TV (Land of the Lost; That's My Bush!; East of Eden) and movies (The Last Picture Show; The Paper Chase; The Other Side of the Mountain: Part II; Texasville; Call of the Wild; Paradise, Texas) born August 30, 1951. (Timothy Bottoms 1976 A Small Town in Texas Trailer)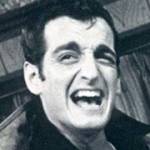 David Paymer is 65

American 60+ director & character actor of stage, TV (Cagney & Lacey; The Commish; The Good Wife), and movies (City Slickers films; Quiz Show; Mr. Saturday Night; Payback; The American President; Nixon), born August 30, 1954. (David Paymer 1978 Photo: Jos. Abeles Studio / Betty Lee Hunt Associates)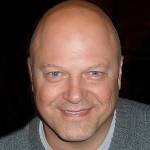 Michael Chiklis is 56
Emmy Award-winning 55+ American producer & actor of TV (Tony Scali on The Commish; Vic Mackey on The Shield; Gotham; Vegas; No Ordinary Family; American Horror Story; Wiseguy; L.A. Law), and movies (Fantastic Four; Eagle Eye), born August 30, 1963. (Michael Chiklis 2010 Photo: Sue Lukenbaugh)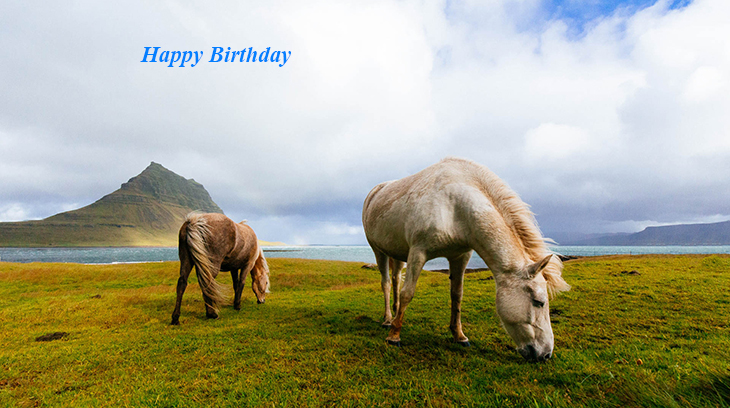 (Horses Photo: James McGill via Unsplash)
Happy Birthday to everyone celebrating their birthday on August 30th!
And remembering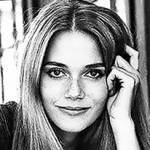 Peggy Lipton (nee Margaret Ann Lipton)
American Ford teen model, singer & actress of TV (Julie Barnes on Mod Squad; Norma Jennings on Twin Peaks; Popular), movies (Mosby's Marauders; Blue; True Identity; Twin Peaks: Fire Walk with Me; When in Rome) (born Aug. 30, 1946 – died May 11, 2019; age 72). Peggy Lipton died of colon cancer. (Peggy Lipton The Mod Squad 1970 Photo: ABC)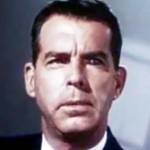 Fred MacMurray (nee Frederick Martin MacMurray)
American singer-actor on radio, stage, TV (My Three Sons) and movies (The Absent Minded Professor; The Shaggy Dog; Double Indemnity; Above Suspicion; Where Do We Go From Here?; The Apartment; True Confession) (born Aug. 30, 1908 – died Nov. 5, 1991; age 83). Fred MacMurray died of pneumonia. (Fred MacMurray 1954 The Caine Mutiny Trailer)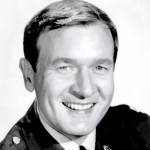 Bill Daily (nee William Edward Daily Jr.)

American comedian, actor of TV sitcoms (Major Roger Healey on I Dream of Jeannie; Howard Borden on The Bob Newhart Show; Starting From Scratch; Aloha Paradise; Alf), movies (The Barefoot Executive) (born Aug. 30, 1927 – died Sept. 4, 2018; age 91). Cause of death for Bill Daily is unknown. (Bill Daily 1969 I Dream of Jeannie Photo: NBC TV)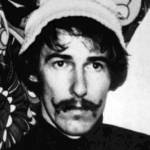 John Phillips ("Papa John")

American musician, songwriter (San Francisco [Be Sure to Wear Flowers in Your Hair]), and lead singer of Rock & Roll Hall of Fame group The Mamas & the Papas (California Dreamin'; Monday, Monday; Dedicated to the One I Love; I Saw Her Again; Words of Love) (born Aug. 30, 1935 – died Mar. 18, 2001; age 65). John Phillips died of heart failure. (John Phillips 1967 Photo: ABC TV)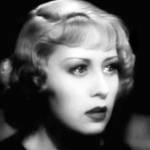 Joan Blondell (nee Rose Joan Blondell; aka Rosebud Blondell)
American actress of stage, TV (Here Come the Brides), and movies (Blonde Crazy; Topper Returns; Miss Pinkerton; Three on a Match; A Tree Grows in Brooklyn; Will Success Spoil Rock Hunter? Grease; Opening Night; The Blue Veil') (born Aug. 30, 1906 – died Dec. 25, 1979; age 73). Joan Blondell died of leukemia. (Joan Blondell 1934 He Was Her Man)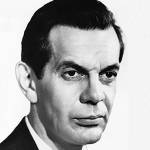 Raymond Massey
Canadian-American actor of TV (Dr. Leonard Gillespie on Dr. Kildare; I Spy) and in movies (The Speckled Band; Fire Over England; The Prisoner of Zenda; Santa Fe Trail; God is My Co-Pilot; Arsenic and Old Lace; The Scarlet Pimpernel; The Hurricane) (born Aug. 30, 1896 – died July 29, 1983; age 86). Raymond Massey died of pneumonia. (Raymond Massey 1952 Photo: NBC)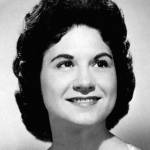 Kitty Wells (nee Ellen Muriel Deason)
Grammy Award-winning American Country Music Hall of Fame singer solo (It Wasn't God Who Made Honky Tonk Angels; Heartbreak U.S.A.; Making Believe) and with duet parter Red Foley (One by One; As Long as I Live) (born Aug. 30, 1919 – died July 16, 2012; age 92). Kitty Wells died of stroke complications. (Kitty Wells 1965 Photo: Fabry / Denny Moeller Talent)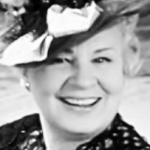 Shirley Booth (nee Marjory Ford)
Emmy, Tony and Academy Award-winning American actress of radio, stage, TV (Hazel Burke on Hazel; A Touch of Grace), & movies (Come Back, Little Sheba; About Mrs. Leslie; Main Street to Broadway; The Matchmaker; Hot Spell) (born Aug. 30, 1898 – died Oct. 16, 1992; age 94). Shirley Booth broke her hip the year before she died. (Shirley Booth 1958 The Matchmaker Trailer)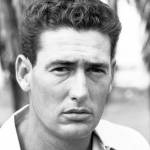 Ted Williams (nee Theodore Samuel Williams; "The Kid")
Baseball Hall of Fame American MLB left fielder (Boston Red Sox 1939-1960, with time out for WWII and the Korean War), 19-time MLB All Star, 1946 & 1949 AL MVP, 6-time AL batting champ (born Aug. 30, 1918 – died July 5, 2002; age 83). Ted Williams died of cardiac arrest. (Ted Williams 1949 Photo: Florida Memory)
Geoffrey Beene (nee Samuel Albert Bozeman, Jr.)
Coty Award-winning American fashion designer, founder of Geoffrey Beene Inc. fashion house (handbags, women's wear, Grey Flannel men's cologne) (born Aug. 30, 1927 – died Sept. 28, 2004; age 77). Geoffrey Beene had cancer and died of pneumonia. (Geoffrey Beene Photo: By permission of Timothy Greenfield-Sanders) |  https://www.instagram.com/tgs)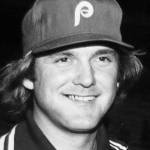 Tug McGraw (nee Frank Edwin McGraw Jr.)
American MLB professional baseball player, relief pitcher (New York Mets 1965-1974, 1969 World Series champions; Philadelphia Phillies 1975-1984, 1975 World Series champions), 1972 & 1975 All-Star who said "Ya Gotta Believe" (born Aug. 30, 1944 – died Jan. 5, 2004; age 59). Tug McGraw died of brain cancer. (Tug McGraw c 1975-1984 Photo: Philadelphia Phillies / MLB)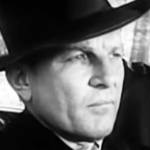 David Clarke
American actor of stage, TV (Tiso Novotny on Ryan's Hope; The Waltons), and movies (The Deadly Game; The Narrow Margin; The Long Night; The Set-Up; Illegal Entry; Red Canyon; Intruder in the Dust; The Blonde Bandit; Edge of the City) (born Aug. 30, 1908 – died Apr. 18, 2004; age 95). David Clarke died of pneumonia. (David Clarke 1959 The Great St. Louis Bank Robbery)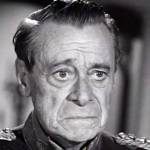 Eduardo Ciannelli
Tony Award-winning Italian opera singer & actor of stage, TV (Johnny Staccato; Dr. Kildare; The Man from U.N.C.L.E.), and movies (Gunga Din; Strange Cargo; Winterset; Flight for Freedom; Kitty Foyle; Houseboat; Dr. Broadway; Paris Calling) (born Aug. 30, 1888 – died Oct. 8, 1969; age 81). Cause of death for Eduardo Ciannelli is unknown. (Eduardo Ciannelli 1962 Thriller)
*Images are public domain or Creative Commons licensed & sourced via Wikimedia Commons, Vimeo, or Flickr, unless otherwise noted*