Remembering William Randolph Hearst, Part 1 of 3
William Randolph Hearst (inspiration for the movies Citizen Kane and The Cat's Meow) left a legacy of achievement in newspaper publishing, political influence, and architecture. His death in August 1951 put an end to his decades of acquiring companies, historic art, and notable properties in America and Europe. 
Newspapers and Politics
(William Randolph Hearst 1904 Photo: B. M. Clinedinst / U.S. Library of Congress)
Born on April 29, 1863 in San Francisco to wealthy parents, as a child and teenager William Randolph Hearst was inspired by the great European castles, architecture, art and history he absorbed during two extensive "Grand Tours" with his mother Phoebe Apperson Hearst.
(father George Hearst was a U.S Senator, millionaire goldmine owner and mining engineer),
His first foray into publishing newspapers came in 1887 when he asked his father to give him control of The San Francisco Examiner. Soon after he moved to New York City and purchased The New York Journal so that he could expand his newspaper empire.
Hearst hired top talent (Mark Twain, Jack London) and is credited for creating tabloid or "yellow journalism", characterized by highly sensationalized headlines in large font, backed by stories that often fable instead of factual.
The rhetoric and editorials published in his newspapers helped push the U.S. into the 1898 Spanish-American War.
Like his father before him, William Randolph Hearst's ambition and desire to influence politics prompted him to run for public office in the early 1900's with mixed success. In 1902 & 1904 he was elected as a New York Democrat to the U. S. House of Representatives.
After running unsuccessfully as an candidate for Mayor of New York City in 1905, and losing a 1906 campaign for consideration as a candidate as governor, he dropped out of politics.
Between 1904 – 1915, William Randolph Hearst continued to buy more newspapers, eventually owning 31 newspapers in 13 cities (daily and Sunday papers combined).
Magazines and Millicent Willson
(Millicent Hearst circa early 1900's Photo: Pixabay)
While attending Harvard University (he was expelled in 1885 at age 22 for various pranks), William Randolph Hearst met his first long-standing love, waitress Tessie Powers.
It wasn't until 1897 that his eye was caught by then 16-year-old Millicent Willson, a New York showgirl (her mother was reputed to be a brothel owner).
"Mrs. Hearst, Sr., was Millicent Wilson, of the vaude team of Willson Sisters. Over a generation ago the sisters used to spend the summer in a cottage at Atlantic Highlands with their parents, Mr. and Mrs. James Willson. Hearst used to visit over the week-end, coming from town in a steam launch. At that period the life-saver and swimming teacher at Atlantic Highlands was the late Thomas Ince, who became a millionaire film producer." – Variety, August 6 1930
The day before he turned 40 in 1903, William Randolph Hearst married Millicent Willson. Their their honeymoon drive across Europe spawned the launch of a new magazine he published, Motor.
From this magazine, yet another Hearst publishing empire was born – Hearst Magazines (Good Housekeeping, Harper's Bazaar, Cosmopolitan, etc.).
 (William Randolph Hearst 1910 Photo: Bain News Service / U.S. Library of Congress)
He and wife Millicent Hearst lived together in New York and had five sons – George Randolph Hearst Jr. (b. 1904), William Randolph Hearst., Jr (b. 1908), John Randolph Hearst (b. 1910), and twin boys Randolph Apperson Hearst and Elbert Willson Hearst (b. 1915); Elbert was later known as David Whitmire.
Millicent and William Randolph Hearst often visited the San Simeon area in California with their sons to camp and enjoy family life on the 240,000 acre Hearst Ranch. The ranch had been originally purchased by his father George Hearst and was passed along to his widow Phoebe when George died in 1891. William inherited the ranch from his mother after Phoebe's death in 1919, and began living there while Millicent remained living in New York City with their sons.
Below from left, William Randolph Hearst in 1920 outside the International Studio in New York, with movie director Robert G. Vignola and Hearst's close friend, The New York Journal newspaper editor Arthur Brisbane.
(William Randolph Hearst, Robert G. Vignola & Arthur Brisbane 1920 Photo: Motion Picture News)
Marion Davies and Hearst Castle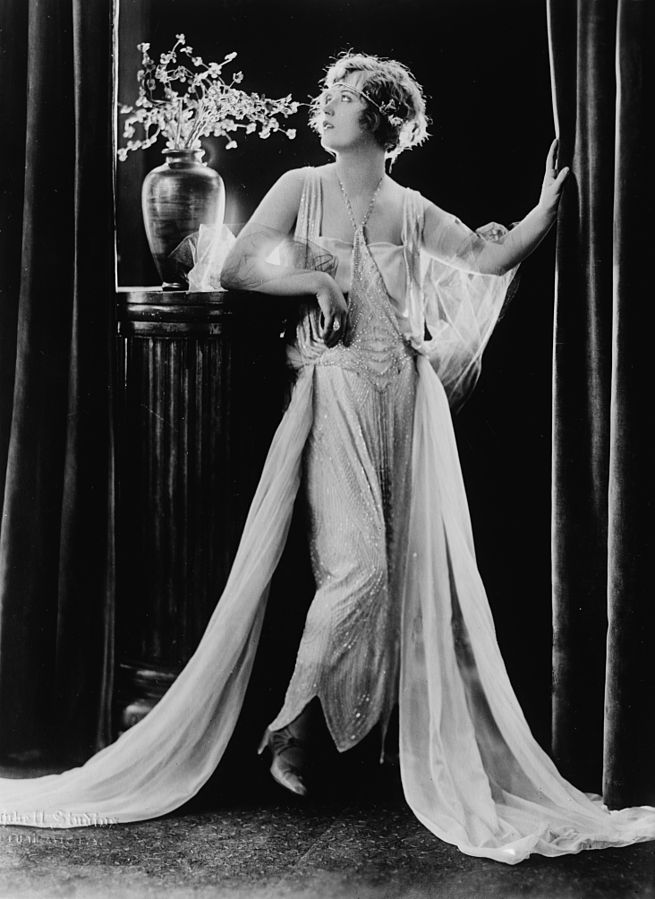 (Marion Davies circa 1910s-1920s Photo: Bain News Service / U.S. Library of Congress)
William Randolph Hearst wasn't alone in California; new love Marion Davies, a former Ziegfield Follies showgirl and actress he'd met in New York in 1916, was living with him.
He'd also begun working closely with architect Julia Morgan beginning in 1919, on the design and construction of what would become known as Hearst Castle, atop a hill on the ranch.
William Randolph Hearst was 56 when construction on Hearst Castle began; he was 84 when it was completed.
Millicent Hearst continued to visit the Hearst ranch with family in the early 1920's, but by 1926 she and William were estranged and separated. Millicent kept her own New York City residence while William Randolph Hearst had several homes in California which he lived in with Marion. 
(David Whitmire Hearst, John Randolph Hearst, William Randolph Hearst Jr., William Randolph Hearst Sr., George Hearst, and Randolph Hearst 1920s Photo). 
William Randolph Hearst and his five sons at a 1920's costume party at Hearst Castle hosted by Marion Davies.
Despite their separation, Millicent Hearst continued to visit the ranch and in 1929 even played host (as William's wife) at Hearst Castle when Winston Churchill visited San Simeon.
Next:
William Randolph Hearst, Part 2 of 3: Hearst Castle & Corporation

William Randolph Hearst, Part 3 of 3: Marion Davies & The Thomas Ince Affair