Done in June 1951
News, Headlines, History, Entertainment & Trivia From June 1951: Spies Burgess & Maclean Defect to USSR; Golfer Ben Hogan wins the 51st U.S. Open; UNIVAC I is the first commercial computer produced in the U.S.
UNIVAC I – First American Commercial Computer
On June 14th, 1951 the United States Census Bureau dedicated the first commercial computer produced in the United States, the UNIVAC I (Universal Automatic Computer), nicknamed the "Giant Brain".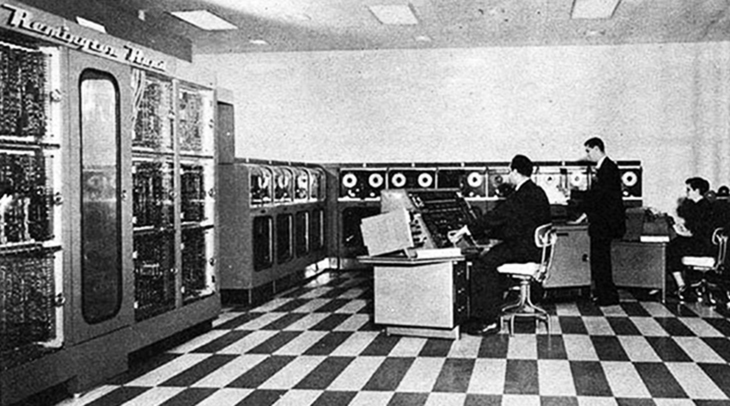 (Univac I c. 1950s Photo: Franklin Institute)
To hype sales of the computer, the UNIVAC I's manufacturer (the Remington Rand Company) and CBS used the UNIVAC to successfully predict that former World War II General of the Army, Dwight "Ike" Eisenhower would have a huge victory over Adlai Stevenson in the 1952 U.S. presidential election.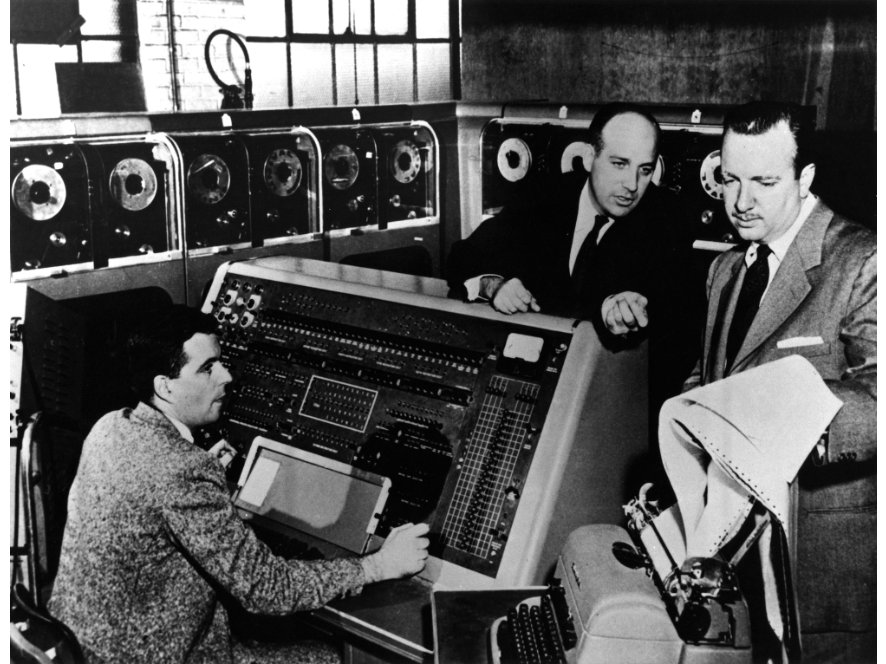 (CBS News' Walter Cronkite with UNIVAC I computer designer J. Presper Eckert & operator Harold Sweeney: Computer History Museum)
The UNIVAC I's election prediction of a landslide win for Eisenhower from early in the day, was not shared with the CBS television audience by Walter Cronkite. At the end of the night, Art Draper of Remington Rand stated on air:
"It was obviously evident that we should have had the nerve enough to believe the machine in the first place. It was right. We were wrong. Next year we'll believe it."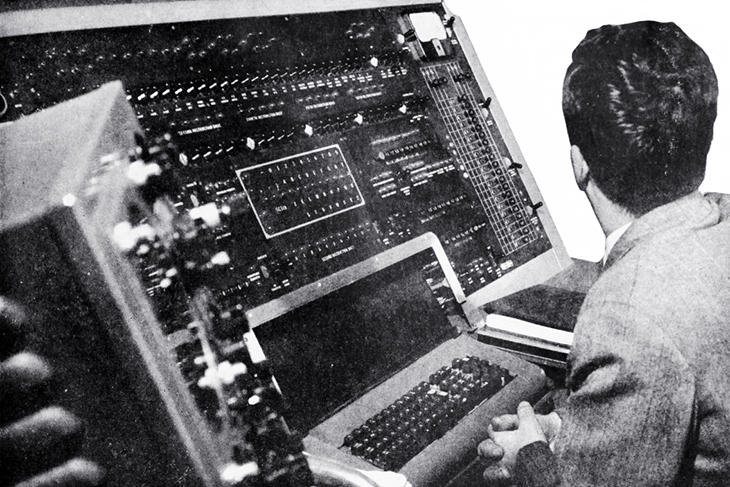 (Univac I Operator's Console 1953 Photo: Sponsor) 
UNIVAC I continued to be used for election predictions, and other uses were soon found for it.
Art Linkletter tapped UNIVAC for an episode of his TV series People are Funny in 1957 to play matchmaker, the first known instance of a computer dating service. Personality questionnaires (28,000, to be precise) were fed into UNIVAC and the computer came up with a match. Art Linkletter introduced advertising executive John Robert Caran and secretary Barbara Smith for the first time on an episode of People are Funny.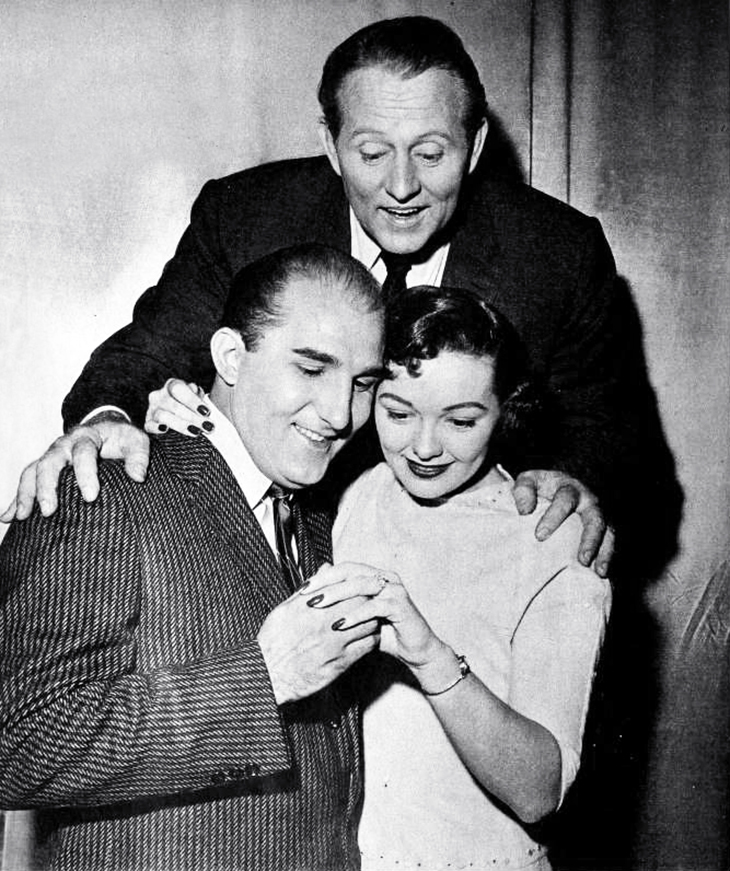 ("Mr. and Mrs. Univac" 1957)
Five weeks later, John and Barbara were engaged, although it was short-lived. By the end of the 1950s, Univac I was being used for myriad calculations including weather predictions and buying advertising time spots on radio and television.
Golfer Ben Hogan Wins the 51st U.S. Open
Golfer Ben Hogan won the 51st U.S. Golf Open on June 16, 1951. It was 2nd major win that year, after the Masters in April. Hogan would go on to win the World Championship of Golf in August of 1951, and placed in the top four in two other golf tournaments that year.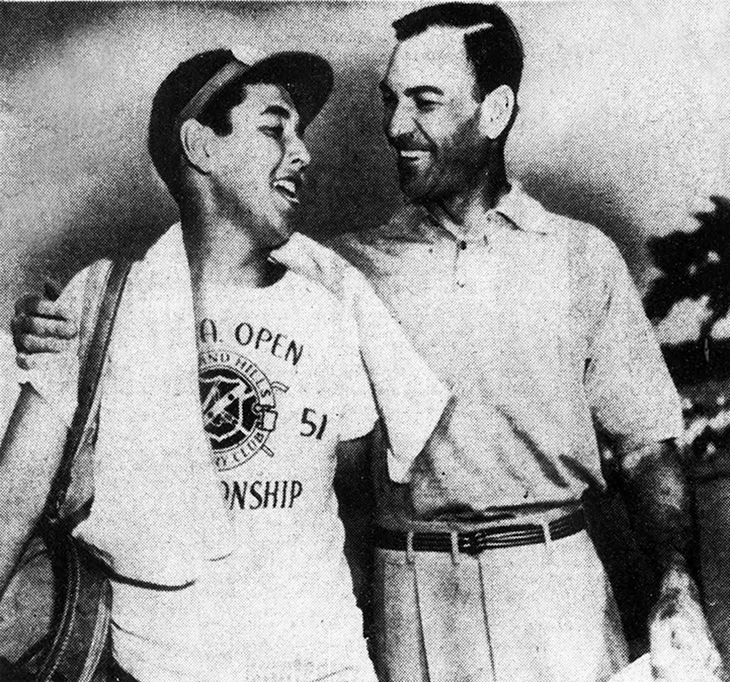 (Ben Hogan & caddy Dave Press 1951 June U.S. Open Photo: AP Wirephoto)
Nee William Ben Hogan when he was born on August 13, 1912, Ben Hogan had begun his golf career as a caddy at the age of 11.He met his friend/rival Byron Nelson while they were both caddies at the same Texas golf club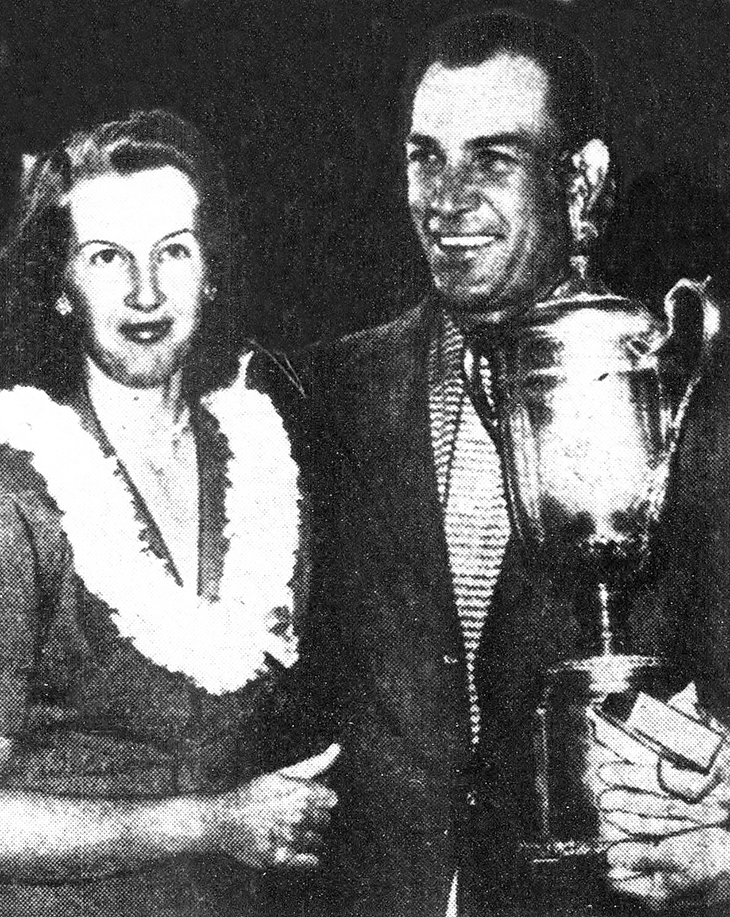 (Ben Hogan & wife Valerie 1950 Photo: AP Wirephoto)
Hogan dropped out of high school to become a golf pro at age 17, in 1930, and married former Sunday school classmate Valerie Fox 1935. Beginning in 1938, Hogan rose in the ranks of professional golfers and began earning a living from his winnings. 
After a break for Army service from 1943-1945 during World War II, he resumed his pro career. Hogan spent most of 1949 battling back to health after a car accident that left him with multiple fractures of his pelvis, collarbone, and ankle; doctors had said he might never walk again.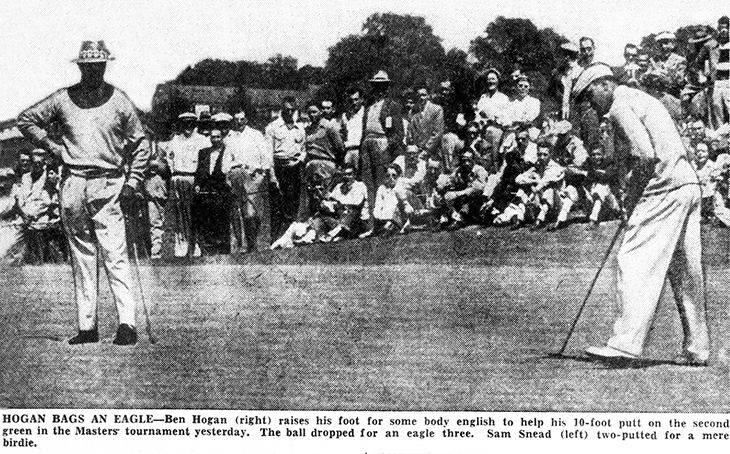 (Sam Snead watches Ben Hogan 1951 Photo: AP Wirephoto)
The movie Follow the Sun: The Ben Hogan Story (1951) starring actor Glenn Ford as Ben Hogan, premiered the month before Hogan won the U.S. Open, in May 1951.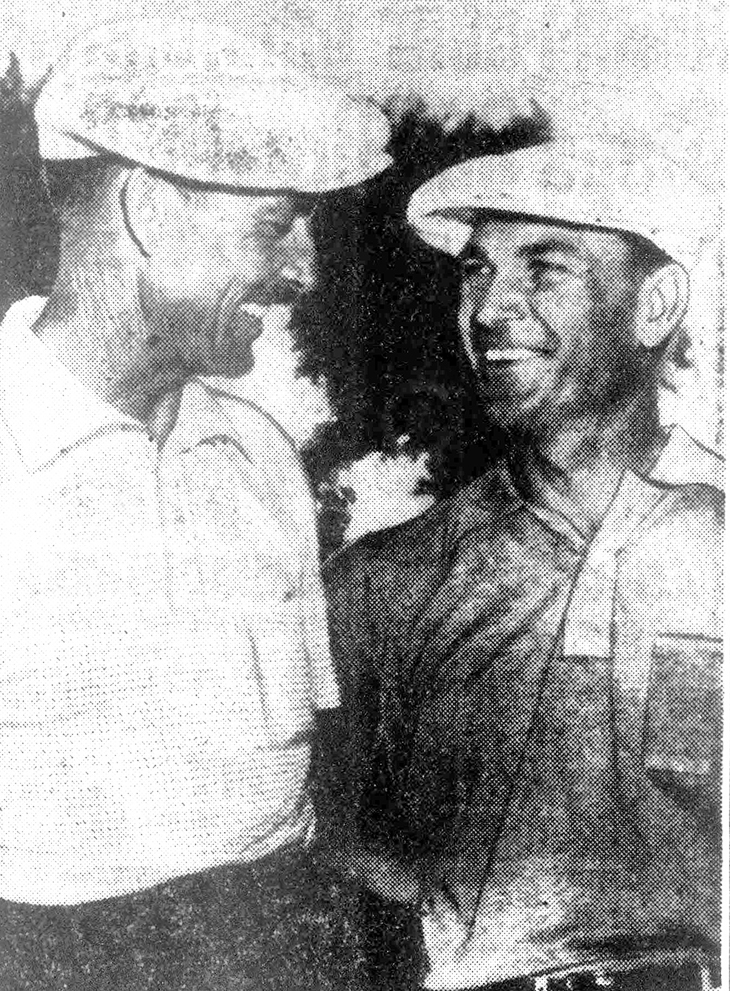 (Ben Hogan & Raymond Gafford 1952 Photo: AP Wirephoto)
Over the years, Ben Hogan accumulated 64 PGA Tour wins, including the 1946 & 1948 PGA Championship, the 1948, 1950, 1951 and 1953 U.S. Open, and the 1953 Open Championship and Masters Tournament. He was known for his ball-hitting abilities, and authored the best-selling golfer's manual, Five Lessons: The Modern Fundamentals of Golf (1957).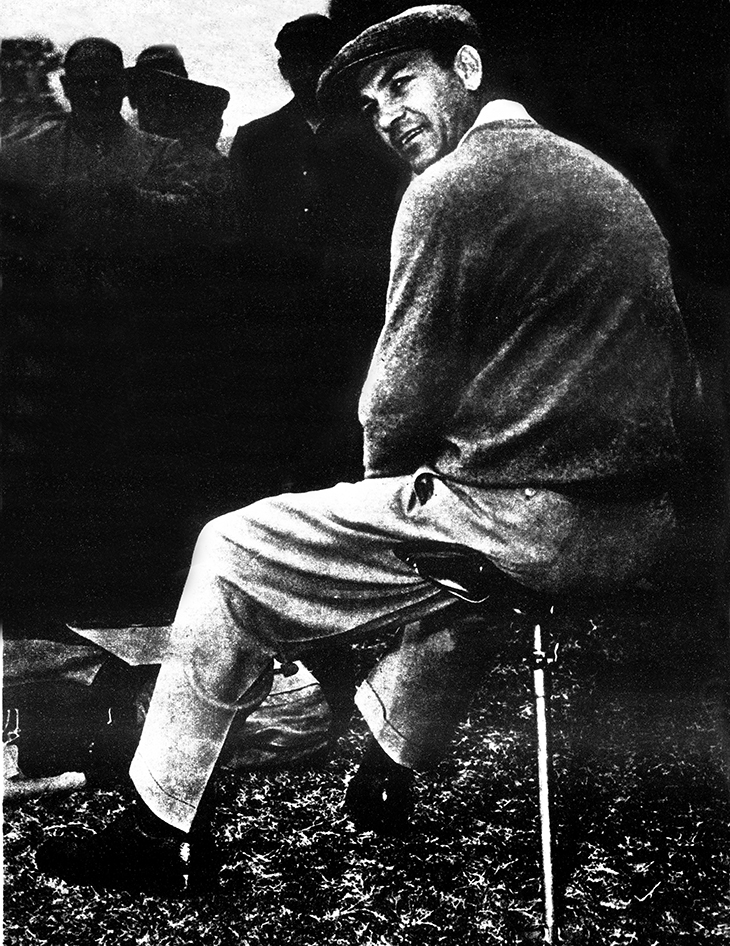 (Ben Hogan 1954 Photo: International)
"Competition is the greatest thing in the world. If you have no competition…you're trying to win, and prove something to yourself." – Ben Hogan, 1989 Chasing the Hawk documentary.
During his career as a professional golfer, his nicknames included The Wee Iceman, and Bantam Ben. Ben Hogan was a 84 years old when he died in July 1997, and is still considered one of the greatest golfers in history.
British Spies Burgess and Maclean Defect to the USSR
British diplomats-turned-Soviet Union spies Guy Burgess and Donald Maclean – two of the "Cambridge Five" that passed information to the Soviet Union after World War II and during the Cold War – defected to the USSR on June 23, 1951.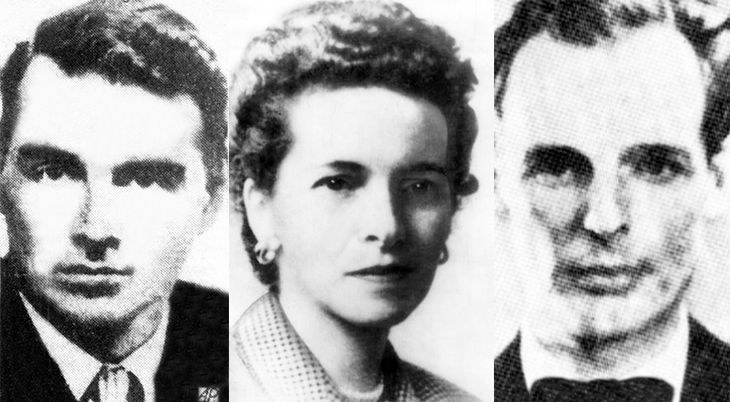 (Guy Burgess, Melinda Maclean & Donald Maclean, 1930s-1950s)
At first, 40-year-old bachelor Burgess (nee Guy Francie de Moncy Burgess) and 38-year-old husband and father Maclean (married to American Malinda Marling), were assumed to be dead. There was speculation that either or both of them could have been murdered.
Burgess was described as a heavy drinker, with little aptitude or exposure to high-level work in the diplomatic service. Maclean was his opposite – esteemed for his abilities, work ethic, and extensive experience.
They had disappeared seemingly without a trace, with the last known sighting of them boarding an excursion ship that sailed from Southampton to St. Malo in Brittany (Northern France), in late May 1951.  (The Key West Citizen, June 9, 1951).
Sightings were reported in France, Spain, and Italy in June 1951; in July, a mysterious cable was sent to the mother of Guy Burgess from Rome, saying he had gone on a long Mediterranean holiday.
German intelligence agents arrested Communist agent Edmund Wegener of the Wollweber spy ring (code-named Operation Clara in Nazi Germany during WWII), who said two men who looked like Guy Burgess and Donald Maclean, had traveled to Poland from Dunkirk in May 1951.
In June 1952, reporters may have tracked Guy Burgess to Villa La Mura in Asolo, Northern Italy (south east of Trento & 50 miles northwest of Venice, in the foothills of the Dolomites), but missed him by days. – The Evening Star, July 2, 1952
Their ultimate whereabouts remained a mystery for quite a while. Although their spying activities and end destination of the Soviet Union were hinted at and suspected by reporters, the British Foreign Office refused to confirm either rumour to reporters.
Donald Maclean's American wife Melinda Marling, who had been 9 months pregnant with their third child when Donald first disappeared in 1951, later moved from London to Switzerland. In September of 1953, Melinda and the children vanished from Switzerland. That December, Guy Burgess' mother was overjoyed to receive a  (untraceable) Christmas card from her son. – The Evening Star, December 23, 1953
Finally in September 1955, Vladimir Petrov, a Soviet agent who defected in Australia, provided some insights into both Guy Burgess and Donald Maclean. He confirmed that,
"Just after the British Foreign Office started investigating Maclean and Burgess, the two men learned of the danger and told the Soviet government, which helped them to escape  and later brought Mrs. MacLean and the children to Moscow. the family now is living there….the two agents were trained early in Communist espionage even while at Cambridge University" – The Evening Star, September 20, 1955
It wasn't until February 1956 that Guy Burgess and Donald Maclean issued a signed statement that was broadcast on Moscow Radio. They stated they were both Communists while in Cambridge, but had never been Soviet spies. Maclean said he had gone to the Soviet Union so he could,
"Contribute from there, to the best of his ability, to the achievements of mutual understanding between East and West." – The Evening Star, February 12, 1956
Both Burgess and Maclean lived the rest of their lives in the Soviet Union. Guy Burgess' mother went to visit him in Moscow in 1956, and Burgess requested to come to the U.K. for a vacation in 1959, providing he could be sure of being able to return to Moscow. Those reassurances never came, and he remained in the U.S.SR. He was interviewed by the BBC in 1959.
After Guy Burgess died in 1963 his remains were returned to England for burial. 
Donald Maclean's wife and three children joined him in 1953 in Moscow. Maclean was a heavy drinker, and during the 1960s his wife Melinda had an affair with another accused British spy, Kim Philby, while Philby's wife was away on a vacation. Melinda Maclean lived with Kim Philby for several years before returning to Donald in the late 1960s. Melinda Maclean returned to the U.S. in 1979 for good. The Maclean children – sons Fergus, Donald, and daughter Melinda – all married Russians while living there, but followed their mother out of Russia to London and the U.S. Donald Maclean was 69 when he died in 1983, and is buried in Moscow; Melinda died in 2010.
Note: This article was first published in 2016. It has been updated with new / additional content.
*Images are assumed to be in the public domain and/or Creative Commons licensed & sourced via Wikimedia Commons, Vimeo, YouTube, or Flickr, unless otherwise noted*