Fascinating Facts From June 1940
News, Headlines, Entertainment & Trivia from June, 1940: WWII Battle of France: The 'Miracle of Dunkirk' Evacuation & Nazi Germany Occupation of Paris; Classic movie release – The Mortal Storm starring Margaret Sullavan, James Stewart, and Frank Morgan.
Classic Movie Release – The Mortal Storm
Director Frank Borzage's anti-Nazi pre-World War II drama The Mortal Storm released on June 14, 1940, stars Margaret Sullavan, James Stewart, Frank Morgan, and Robert Young.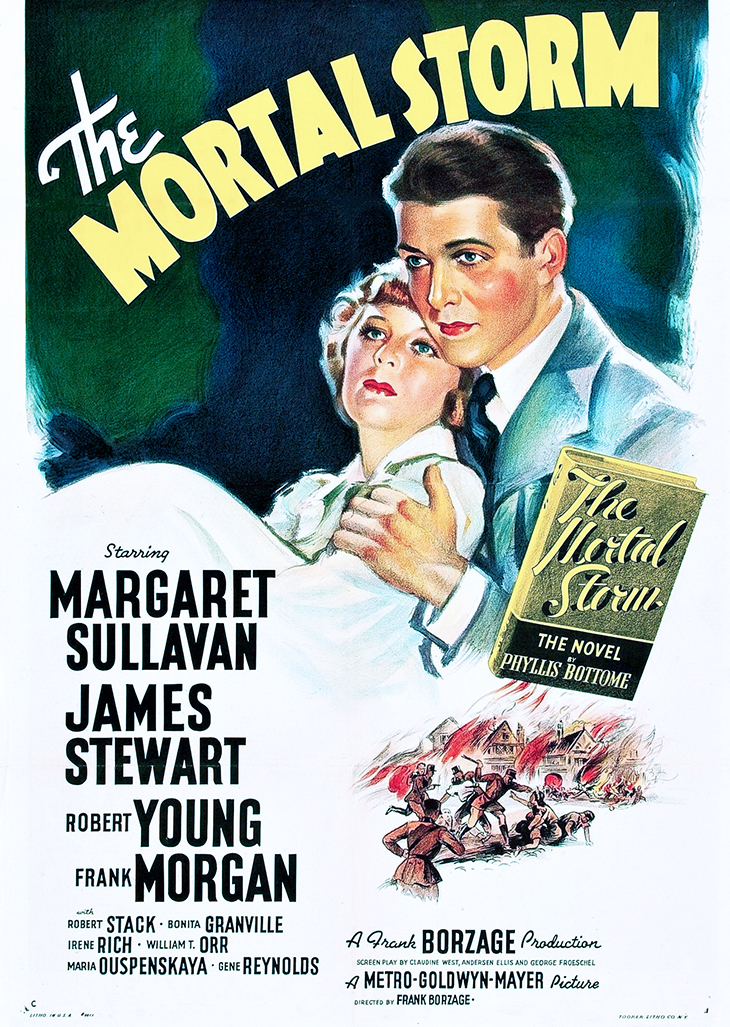 (Margaret Sullavan & James Stewart 1940 The Mortal Storm Poster : MGM)
Based on author Phyllis Bottome's best-selling book, the screenplay for The Mortal Storm was written by screenwriters Claudine West (Goodbye, Mr. Chips; The Good Earth), Hans Rameau (Madame Curie, Waterloo Bridge), and George Froeschel (Scaramouche; The White Cliffs of Dover; Random Harvest). Both Claudine West and George Froeschel won a screenplay Oscar a couple of years later, for Mrs. Miniver (1942). 
Supporting actors in The Mortal Storm include Irene Rich, Robert Stack, Maria Ouspenskaya, Gene Reynolds, William T. Orr, Dan Dailey, and Ward Bond. Dan Dailey plays a Nazi Youth Party leader, and Bonita Granville is Elsa, a servant.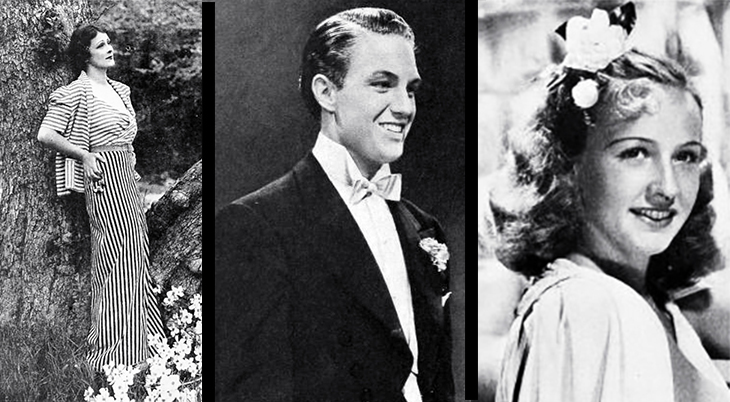 (Irene Rich, Robert Stack 1940 & Bonita Granville 1939)
The Mortal Storm is set in pre WWII Germany and begins in early January 1933, as Germany announces the election of Adolf Hitler as Chancellor. Respected 60-year-old university Professor Viktor Roth (Frank Morgan) is beloved by his students.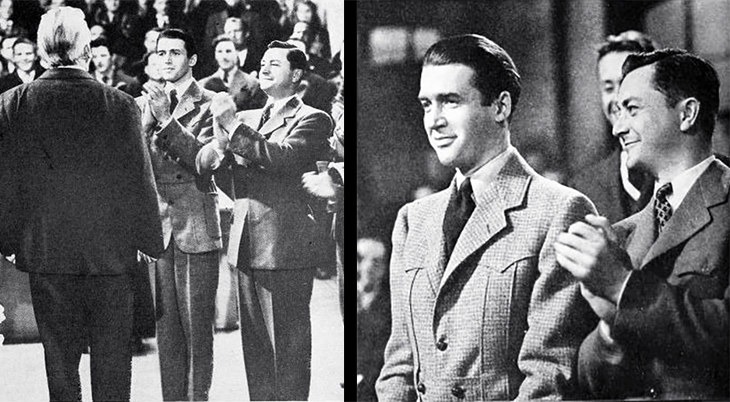 (James Stewart & Robert Young 1940 The Mortal Storm)
The professor's family – daughter Freya (Margaret Sullavan), second wife Amelie (Irene Rich), son Rudi Roth (Gene Reynolds), and stepsons Otto von Rohn (Robert Stack) & Erich von Rohn (William T. Orr) are living in the Bavarian Alps in Southern Germany.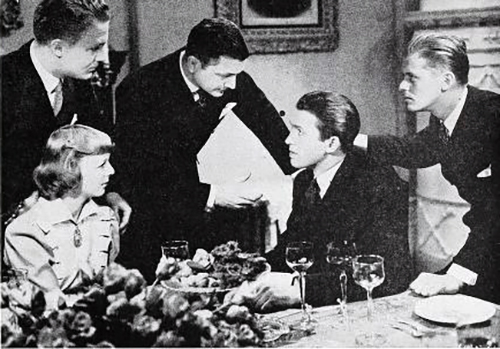 (Robert Stack, Margaret Sullavan, Robert Young, James Stewart & William T. Orr)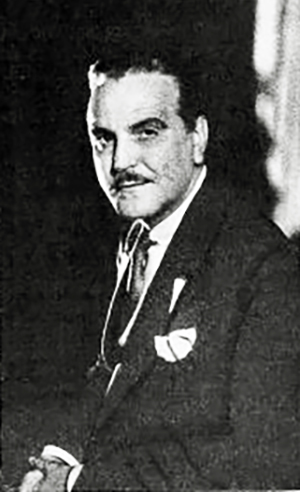 (Frank Morgan 1935 Photo: Modern Screen)
Not said but implied are that Viktor, who is described as Non-Aryan, is Jewish, while Freya, Amelie, Otto and Rudi, are not. 
Freya's fiancee Fritz Marberg (Robert Young) is a member of the Nazi Party, and she breaks their engagement when she sees him as a brutal and remorseless Storm Trooper.
Meanwhile, Professor Roth's refusal to deny scientific facts about human blood, leads to him being sentenced to labor in a concentration camp.
Freya has become close to friend Martin Breitner (James Stewart), who arranges for her mother to visit the camp to see Professor Roth.
Viktor Roth urges his wife to flee Germany with their family, but they don't want to leave without him. His two step-sons join the Nazis.
(James Stewart, Dan Dailey & Director Frank Borzage Filming The Mortal Storm 1940: Cine-Mundial)
When they hear that Viktor Roth has died in the camp, the remaining family members get on a train headed for Austria. Freya is taken off the train and when officers find one of her father's manuscripts in her suitcase, she's arrested. Although she's eventually released, her passport is taken from her. Freya goes back home and reconnects with Martin; together they plan a dangerous escape skiing over the mountains into Austria…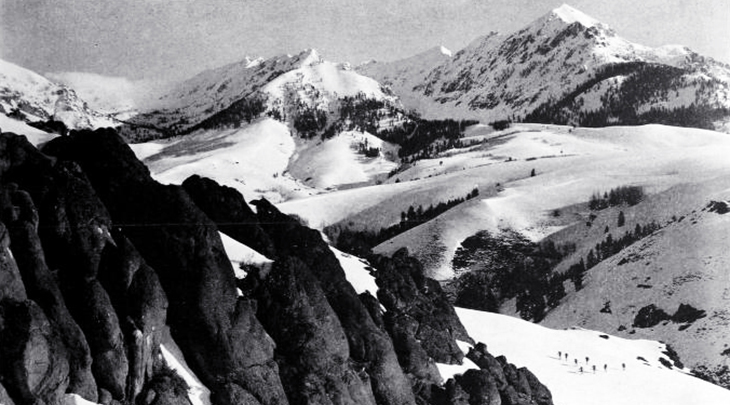 (The Mortal Storm 1940 Photo: Merritt Sibbald / MGM)
Filmed at the MGM Studios in California, location shooting for The Mortal Storm took place in Salt Lake City, Utah, and Sun Valley, Idaho. Cedric Gibbons provided art direction and MGM's famed designer Adrian created the gowns. Although the movie was highly praised by North American critics at the time, Adolph Hitler wasn't a fan of it's strong anti-Nazi message; he banned The Mortal Storm and all other MGM movies from being shown in Germany.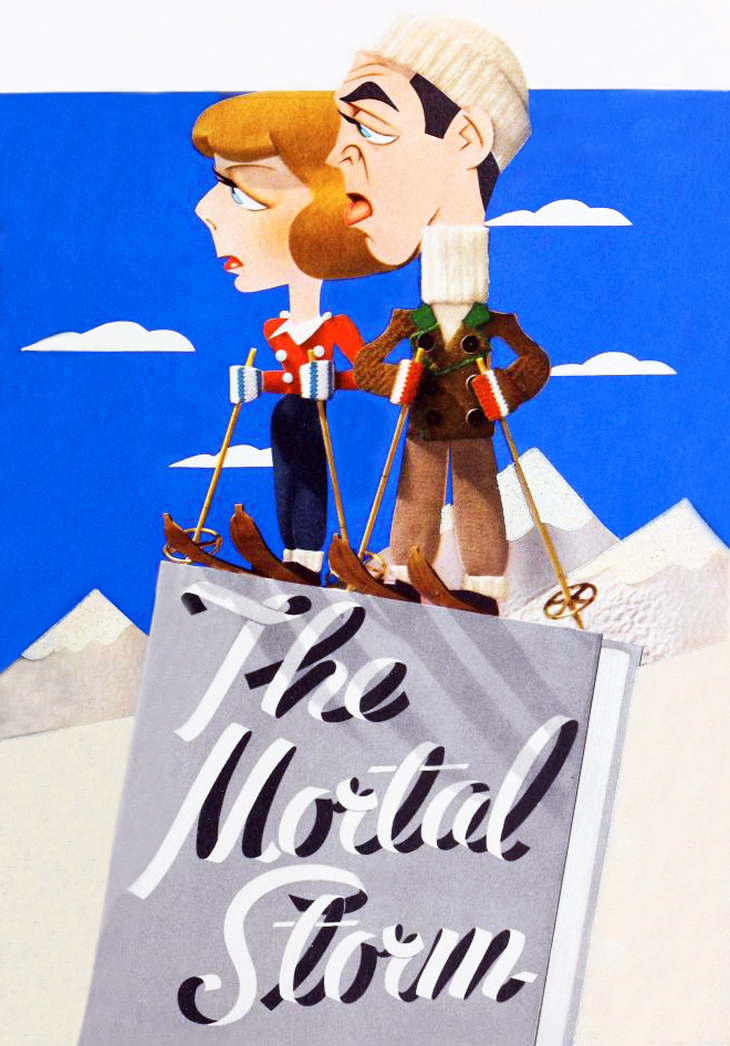 (Caricaturized Margaret Sullavan & James Stewart 1940 The Mortal Storm Ad)
The Mortal Storm was the last movie to pair leading man James Stewart with Margaret Sullavan (after Next Time We Love, 1936; The Shopworn Angel, 1938; and The Shop Around the Corner, 1940). James Stewart wasn't nominated for Best Actor for either The Shop Around the Corner or The Mortal Storm that year, but won anyway – for The Philadelphia Story.
Director Frank Borzage and Director of Photography William H. Daniels (Ninotchka; Three Came Home; Harvey; Pat and Mike; Ocean's 11) had also worked with actors Frank Morgan, Margaret Sullavan, and James Stewart on The Shop Around the Corner. Borzage and William H. Daniels later each won respective Academy Awards for Best Director & Best Cinematographer, for their work on The Naked City (1948).
The Miracle of Dunkirk
Germany had invaded the Netherlands, Luxembourg, Belgium, and France in May 1940 at the beginning of the Battle of France during World War Two. French and Allied solders were surrounded by German troops in Dunkirk, Northern France.
The Battle of Dunkirk and the evacuation of of the stranded troops under heavy shelling from German forces on land, sea, and air, began on May 26th. 
On June 4, 1940, the 'Miracle of Dunkirk' (aka Operation Dynamo) evacuation of Allied soldiers from the beaches of Dunkirk, was completed.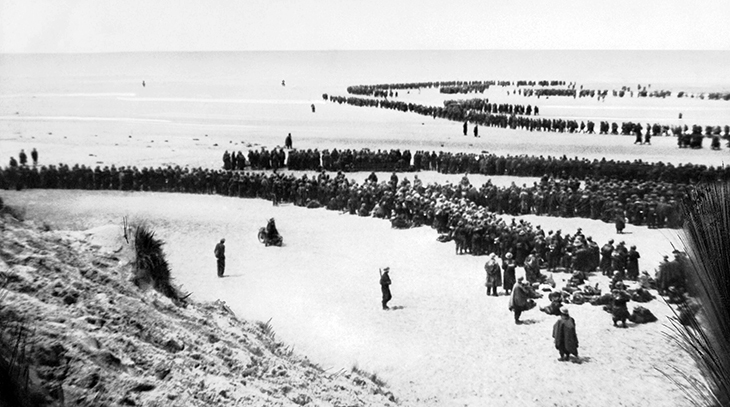 (British Troops On Dunkirk Beach Awaiting Evacuation May 29-29 1940)
All told, over 300,000 allied forces were rescued by 800 different vessels, comprised of British, French, and Canadian destroyers, along with civilian merchant ships. Many of the soldiers were ferried from the shores of Dunkirk out to the larger boats by the Little Ships of Dunkirk.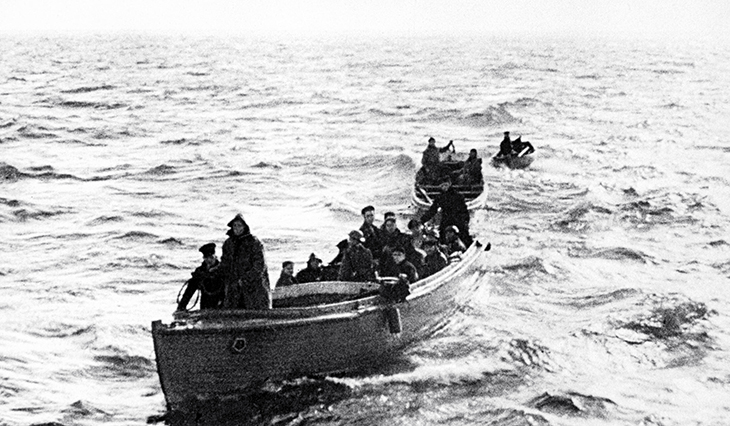 (Little Ships of Dunkirk Boats c. June 1940: Ministry of Information WWII Press Agency)
The Little Ships of Dunkirk were a flotilla of 850+ small civilian fishing boats, yachts, pleasure craft, and other boats that answered the call to action to aid in the evacuation.
Notable movies which chronicle the Battle of France and/or events at Dunkirk during WWII include
Mrs. Miniver (1942), based on the book by Jan Struther and starring Greer Garson, Walter Pidgeon, Teresa Wright, Dame May Whitty, Reginald Owen, Richard Ney, and Henry Wilcoxon. During WWII, Clem Miniver (Walter Pidgeon) sets off in his small boat to help with the other Little Ships of Dunkirk in the evacuation. Nominated for 11 Academy Awards, Mrs. Miniver won six, including Best Picture, Director (William Wyler), Actress (Greer Garson), Supporting Actress (Teresa Wright), Screenplay (George Froeschel, James Hilton, Claudine West and Arthur Wimperis), and Black & White Cinematography (Joseph Ruttenberg).
Dunkirk (1958), a British / MGM film that has Bernard Lee as a journalist and boat owner, warning about German forces building up in Western Europe. John Mills plays a stranded British Army Corporal who is stranded at Dunkirk with four privates. Lee and Richard Attenborough's character find their boats commandeered to assist with the Dunkirk evacuation. 
Weekend at Dunkirk (1964), a French movie with Jean-Paul Belmondo and Catherine Spaak. Weekend at Dunkirk follows a French soldier trying to escape the advancing Germany army. He wants to join the British Royal Navy's boat convoy to England. 
Atonement (2007), starring James McAvoy, Saoirse Ronal, Keira Knightley, Vanessa Redgrave, and Benedict Cumberbatch. This historical movie begins in 1935 with Robbie Turner (James McAvoy)  being mistakenly accused of rape. He's imprisoned, but released at the onset of the Second World War so that he can serve in the British army during the Battle of France. He's among the soldiers stranded in Dunkirk and awaiting evacuation. Atonement received 7 Academy Award nominations, winning an Oscar for Best Original Score.
Their Finest (2016), a British comedy-drama about a team of British filmmakers (Gemma Arter, Sam Claflin, Paul Ritter, Henry Goodman, Michael Marcus, and Richard E. Grant)  tasked with boosting morale. Their efforts take place during the Battle of Britain, the London Blitz, the Battle of France and the evacuation of Dunkirk. Jeremy Irons plays the Secretary of War.
Dunkirk (2017), Christopher Nolan's dramatization of the actions by land, sea, and air during the evacuation of Dunkirk. Among the large cast of Dunkirk are Kenneth Branagh, Cillian Murphy, Tom Hardy, and Harry Styles. Dunkirk was nominated for 8 Oscars, and won 3 Academy  Awards (Best Sound Editing, Sound Mixing, and Film Editing).
France Falls to Nazi Germany
Paris was bombed by the German Luftwaffe for the first time on June 3, 1940.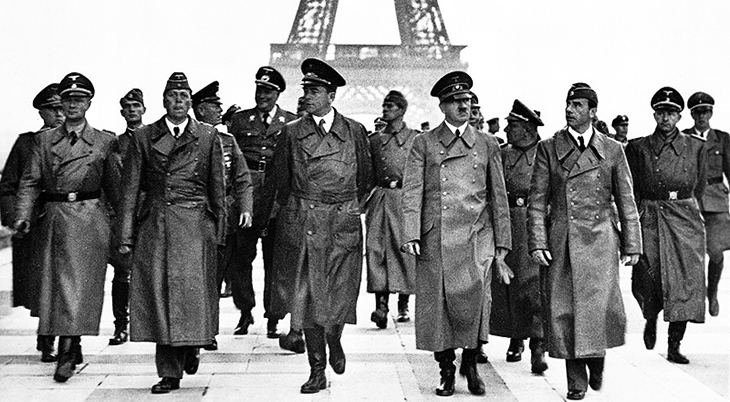 (Adolf Hitler at the Eiffel Tower, Paris, France June 23 1940 Photo: German Federal Archives)
After heavy fighting losses on both sides over the next 11 days, Paris fell to the Germans on June 14, 1940. France was divided into four zones by the end of that month, the north and west zones designated as areas of German occupation.
Despite the best efforts of the French Resistance fighters and Allied forces, the Germans continued to occupy France for the next four years. Paris was finally liberated in August 1944, and most of the rest of France was back under Allied command by the end of the following month. 
*Images are believed to be in the public domain or Creative Commons licensed & sourced via Wikimedia Commons, Vimeo, YouTube,