Celebrating Seniors - Dick Van Dyke is 90!
Comedian, actor, song and dance man (Richard) Dick Van Dyke was born December 13, 1925 in West Plains, Missouri; older brother to actor Jerry Van Dyke.
Below, Dick Van Dyke with co-star Shirley MacLaine in the funny 1960's comedy What A Way to Go (1964).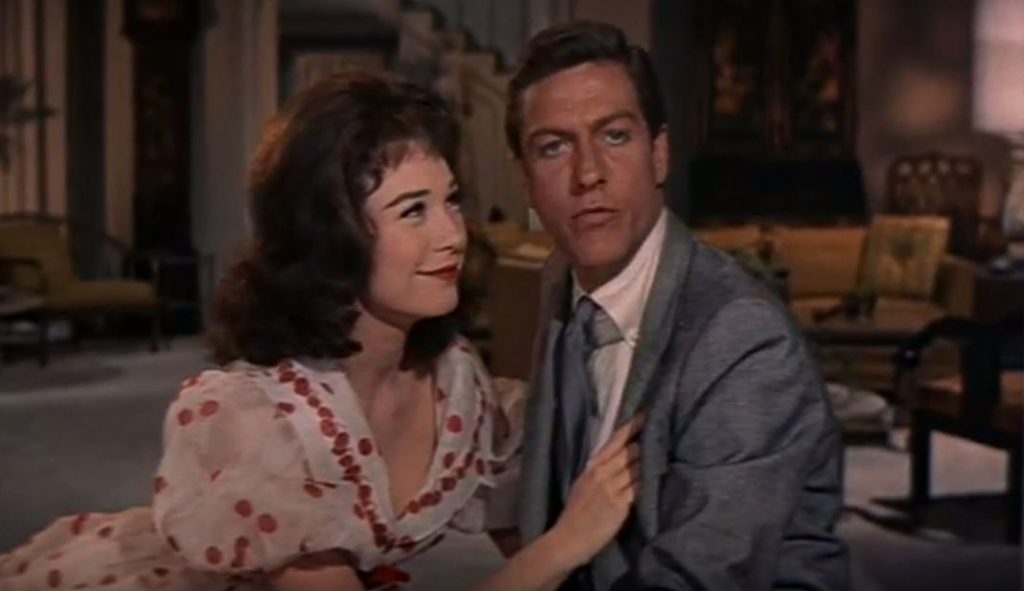 (What a Way to Go! 1964 Movie Trailer)
In a 2013 interview with Helena de Bertodano for The Telegraph, Dick Van Dyke recalled enlisting in 1942 during World War II. He was first a radio announcer, then entertainer. When WWII ended, Van Dyke began his professional show business career in 1947 when he toured as part of a comedy-mime act with partner Phil Erickson – Eric and Van – the Merry Mutes.
He married his high-school girlfriend, Margie Willett, on air during a radio program called Bride and Groom, recorded in Los Angeles. The couple had four children together – son's Chris and Barry, and daughters Carrie Beth and Stacy. Van Dyke's children are all married, and his kids have made him a grandfather. Van Dyke has appeared on screen with his children and grandchildren. 
Dick Van Dyke had his start on television in it's earliest years, appearing in episodes of Chance of a Lifetime (1954), The Phil Silvers Show (1957-1958) and other series.
Above, an older Dick Van Dyke explains in 2011 how he learned to sing and dance when he got a role in the Broadway production of the musical Bye Bye Birdie (1960-1961). Birdie director and choreographer Gower Champion (of the famous dance team Marge and Gower Champion) gave Van Dyke the benefit of his expertise. Dick Van Dyke ended up winning a Best Featured Actor Tony Award in 1961 for his role in Bye Bye Birdie.
Fresh from his Tony win, Dick Van Dyke was cast as Rob Petrie in the popular baby boomer show, The Dick Van Dyke Show (1961-1966), created by Carl Reiner. He won Outstanding Lead Actor in a Comedy Series 3 times for his work on the show. Below, Dick Van Dyke with his on-screen wife Mary Tyler Moore (Laura Petrie) and son Larry Mathews (Richie Petrie) for The Dick Van Dyke Show.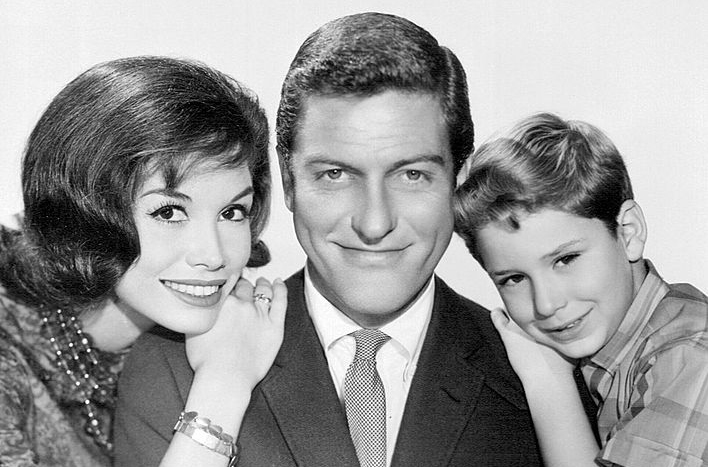 (The Dick Van Dyke Show 1963 Photo: CBS Television)
During The Dick Van Dyke Show's run, Van Dyke had his feature film debut in the movie version of Bye Bye Birdie (1963), once again portraying Albert Peterson. He starred in 4 other big-screen movies while the series was first airing, including Mary Poppins (1964), as Bert the chimney sweep; and in Chitty Chitty Bang Bang (1968) as Caractacus Potts. The dance moves of Julie Andrews and Dick Van Dyke are displayed in the Mary Poppins trailer.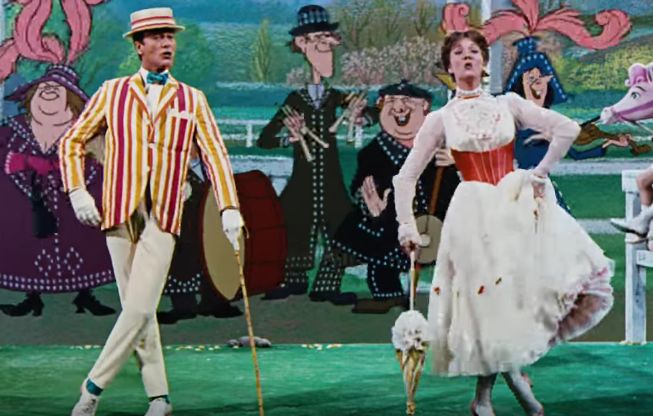 (Mary Poppins 1964 Movie Trailer) 
Despite his growing resume and professional successes, Van Dyke was battling personal demons; he has confessed that although he was a non-drinker earlier during his 20's and early 30's, he became an alcoholic for 25 years (primarily during the 1950's and 60's).
Walt Disney's Lt. Robin Crusoe, U.S.N. (1966) comedy movie starred Dick Van Dyke as the title character, with Nancy Kwan as Wednesday. Other 1960's movies for Dick Van Dyke included these comedies:
The Art of Love (1965) featured James Garner and Dick Van Dyke as battling artistic partners, with Elke Sommer, Angie Dickinson, Ethel Merman, and Carl Reiner in the cast.
Divorce American Style (1967) had a large cast of familiar faces, including Debbie Reynolds, Jason Robards, Jean Simmons, Van Johnson, Shelley Berman, Lee Grant, Tom Bosley, Dick Gautier, and Tim Matheson.
Chitty Chitty Bang Bang (1968), a musical fantasy with Sally Ann Howes as Truly Scrumptious, Lionel Jeffries as Grandpa Potts, and Benny Hill.
Some Kind of a Nut (1969), co-starring Angie Dickinson, Rosemary Forsyth, and Zohra Lampert.
Fitzwilly (1967) with Barbara Feldon as Van Dyke's love interest; Cecil Kellaway, John McGiver, Edith Evans, Sam Waterston, & Sidney Clute also appear. Below, the trailer for Fitzwilly features Dick Van Dyke, Barbara Feldon, John McGiver, Edith Evans.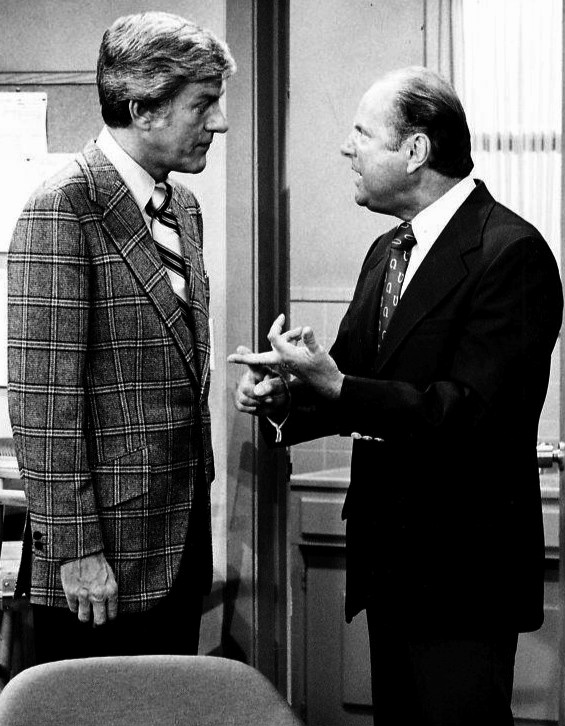 Dick Van Dyke & Dick Van Patten on The New Dick Van Dyke Show in 1973. (Photo: CBS Television)
After The Dick Van Dyke Show ended, Van Dyke once again starred in a new television series named after him – The New Dick Van Dyke Show  (1971-1974). Although the series titles were similar, the cast members and storyline were all new/different.
By 1976 Dick and Margie Van Dyke separated, and he began living with actress Michelle Triola. It would be another 8 years before Dick and Margie divorced (in 1984), after 36 years of marriage.
Dick Van Dyke and Michelle Triola were together until her death in 2009 from cancer.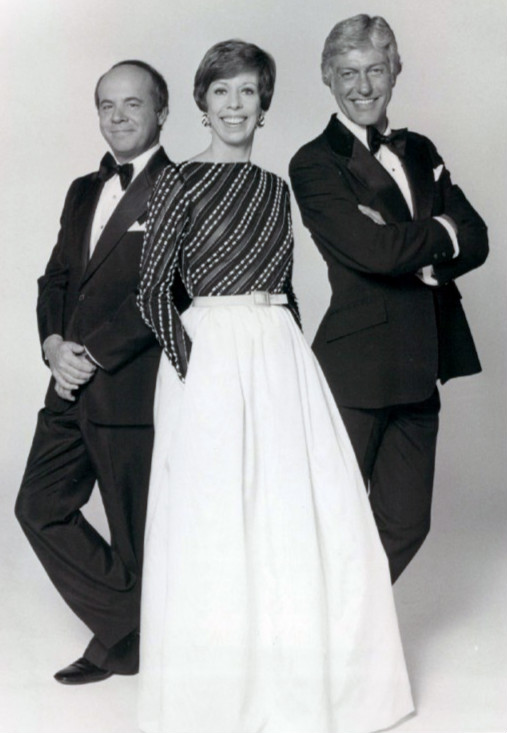 Dick Van Dyke with Tim Conway and Carol Burnett on The Carol Burnett Show in 1977. (Photo: CBS Television)
Dick Van Dyke has since appeared in made-for-television movies and recurring roles on other television series, including a stint on The Carol Burnett Show (1977), Diagnosis: Murder (1993-2001), and many others. 
Among his most recent roles (by now an octogenarian senior citizen) Dick Van Dyke appeared in the Hallmark Channel Murder 101 (2006-2008) made-for-television movies as Dr. Jonathan Maxwell.
Dick Van Dyke's film career has spanned 60+ years. During the 1960's and 1970's he starred primarily in comedies. After a dearth of roles during the 1980's (during which he was kept very busy on television), he returned to the big screen in actor/director Warren Beatty's film Dick Tracy (1990).
Van Dyke was one of a number of stars who had supporting parts or cameos in Dick Tracy – Glenne Headley, Al Pacino, Dustin Hoffman, Seymour Cassel, Charles Durning, Michael J. Pollard, John Schuck, Madonna, Mandy Patinkin, Paul Sorvino, Kathy Bates, Catherina O'Hara, James Caan, and others.
More film roles followed, including a significant part in Night at the Museum (2006) and the sequel Night at the Museum: Secret of the Tomb (2014). He can be seen with Valerie Harper in a short Christmas movie, Merry Xmas (2015) making the film festival rounds. 
Over the span of his 70+ years in show business, Dick Van Dyke has appeared in 23 feature films, 63 television series, 4 stage plays, and has authored or co-authored 5 books – including his autobiography My Lucky Life in and Out of Show Business (2011), and his latest, a treatise on aging – Keep Moving: And Other Tips and Truths About Aging (2015). Who better than a still-active, nonagenarian senior citizen, to write a book about aging?
In addition to his 1961 Tony for Bye Bye Birdie, and his 3 Emmy Awards for The Dick Van Dyke Show, Van Dyke has also won a 1964 Grammy Award for Best Album for Children (Mary Poppins), 2 more Emmy Awards, and was recognized in 2003 and 2013 for Career/Lifetime Achievement awards from the Television Critics Association and Screen Actors Guild, respectively.
Dick Van Dyck married his second wife Arlene Silver (47 years his junior) in 2012. They met in 2006 when he saw her backstage at a SAG awards show, and later on he hired her as a makeup artist. Below, highlights from Dick Van Dyke's wedding to Arlene Silver in 2012:
Prior to receiving his 2013 SAG Lifetime Achievement award, Van Dyke told The Telegraph that 'My bucket list is almost empty but I want to work with either Judi Dench or Helen Mirren.'  In February 2023, 96-year-old Dick Van Dyke was the oldest Masked Singer contestant to appear on the popular series – who kept the judges and audience guessing. 
Dick Van Dyke keeps fit by working out most days at the gym, and had this to say in an October, 2015 interview with Joe Fryer for NBC's TODAY show:
"Old age can be wonderful. It's the best time of my life, by far."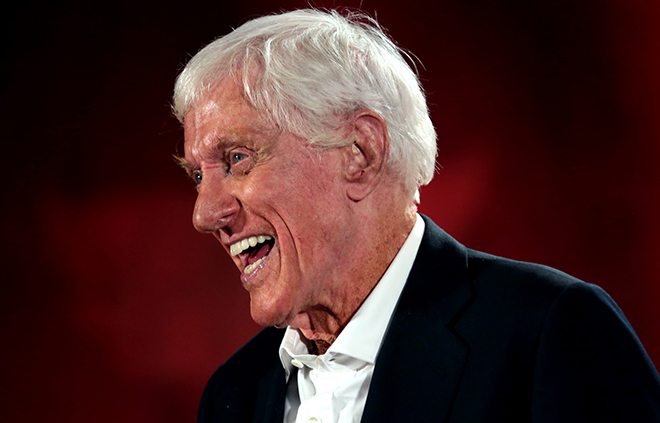 (Dick Van Dyke 2017 Photo: Gage Skidmore)
*Images are believed to be in the public domain and/or Creative Commons licensed (Flickr, YouTube, Wikimedia, Vimeo) or used by permission, unless otherwise noted*