WWI & WWII Commemorative Stamps
Each year Canada Post and the United States Postal Service, issue new stamps to commemorate significant people and events. World War One and the Second World War have inspired many such collectible memorabilia that honour the service of veterans and their families. .
In 2021 alone, Canada Post issued two new stamps: In honour of the 3 WWI Victoria Cross recipients who lived on "Valour Road" (Pine Street) in Winnipeg, and to commemorate the 100th anniversary of the adoption of the poppy as a symbol of remembrance in Canada,
(Valour Road & Poppy Stamps: CanadaPost)
Valour Road Stamp
In 1925, Pine Street in Winnipeg, Manitoba (Canada) was renamed Valour Road in honour of three 3 WWI Victoria Cross recipients who had lived on that street. Roughly 61,000 Canadian lives were lost during the First World War alone, and since 1856, less than 100 Canadians have received the Victoria Cross.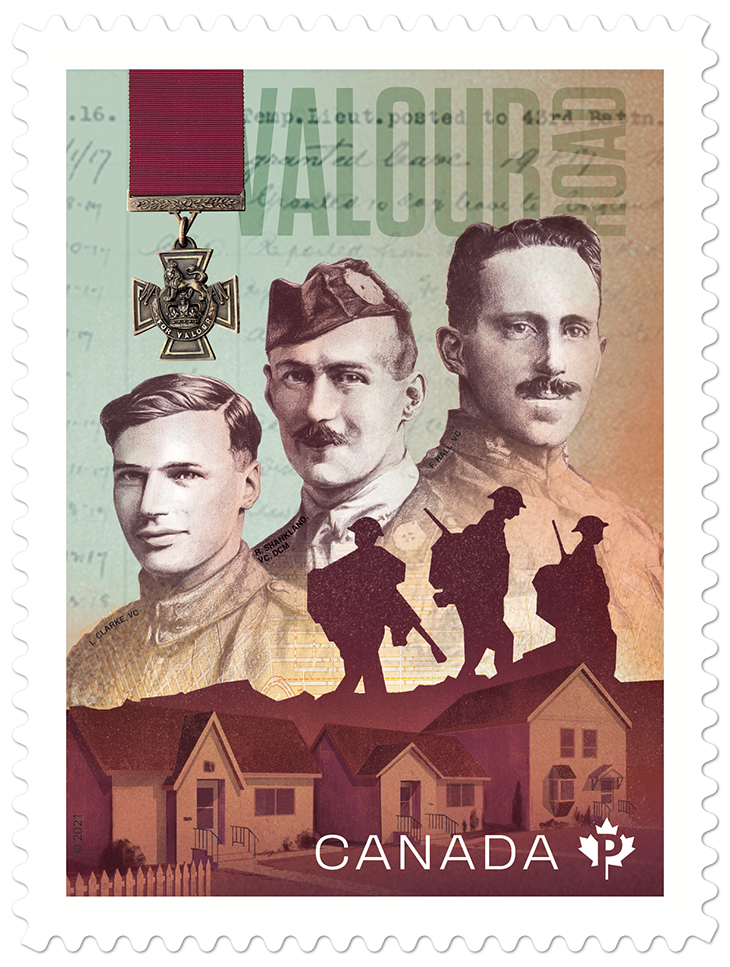 (Canada Post 2021 Valour Road Commemorative Stamp)
Corporal Lionel (Leo) Clarke, VC – Clarke and a small group of infantry were assigned to clear a German trench line near Pozières, France, during the Battle of the Somme. Every man but Clarke was killed or severely wounded, but despite a bayonet wound to his leg, Clarke then single-handedly held off the German counterattack.
Company Sergeant Major Frederick William Hall, VC – During the Second Battle of Ypres in 1915, Sergeant Major Hall tried to rescue a wounded soldier less than 15 metres outside a trench. His first attempt was thwarted by heavy machine-gun fire, but Clarke reached his comrade on the second try. Both soldiers were killed when Hall started to carry the wounded man back to safety.
Lieutenant Robert Shankland, VC, DCM – During the 1917 Battle of Passchendaele, Lieutenant Shankland's platoon and supporting soldiers were reduced to a remnant. Despite this, Shankland won a strategic foothold on a ridge and led the surviving soldiers against a fierce counterattack. He then made his way through thick mud and shelling to report on the enemy position at battalion headquarters. 
The Valour Road soldiers symbolize all those who served during the horrific conflict of WWI, and the selflessness of all Canadian veterans and service members.
Canadian WWI flying ace fighter pilot William George Barker – the most decorated serviceman in the history of Canada, the British Empire, and the Commonwealth of Nations, was recognized on a stamp in 2019.
100th Anniversary of the Remembrance Poppy
To celebrate the 100th anniversary of the poppy as a symbol of remembrance in Canada, Canada Post has issued a new poppy stamp in 2021. 
During the First World War, the appearance of the bright red poppy flowers on the battlefields of France and Belgium inspired Canadian Lieutenant-Colonel John McCrae to write his evocative poem, In Flanders Fields.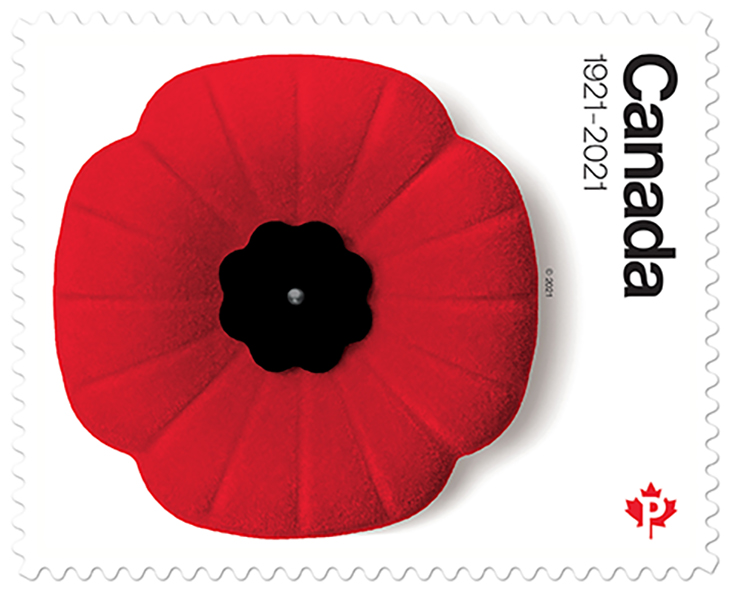 (Canada Post Poppy Commemorative Stamp*)
McCrae's poem inspired the creation of fabric poppies to memorialize and raise funds for veterans and their families. The Great War Veterans Association of Canada (predecessor of the Legion) officially adopted the poppy as a symbol of remembrance in July 1921, and Canada's first National Poppy Campaign was launched later that year.
Coinciding with the launch of the Royal Canadian Legion's 2021 National Poppy Campaign, the new Canadian stamp immortalizes the crimson flower and gives Canadians another way to honour the more than 117,000 Canadians who have died in service to their country.
While the poppy is distributed freely, the Legion accepts donations to the Poppy Fund, which raises money to help veterans and their families with financial assistance and other support. The annual Poppy Campaign raises close to $20 million each year while distributing millions of poppies.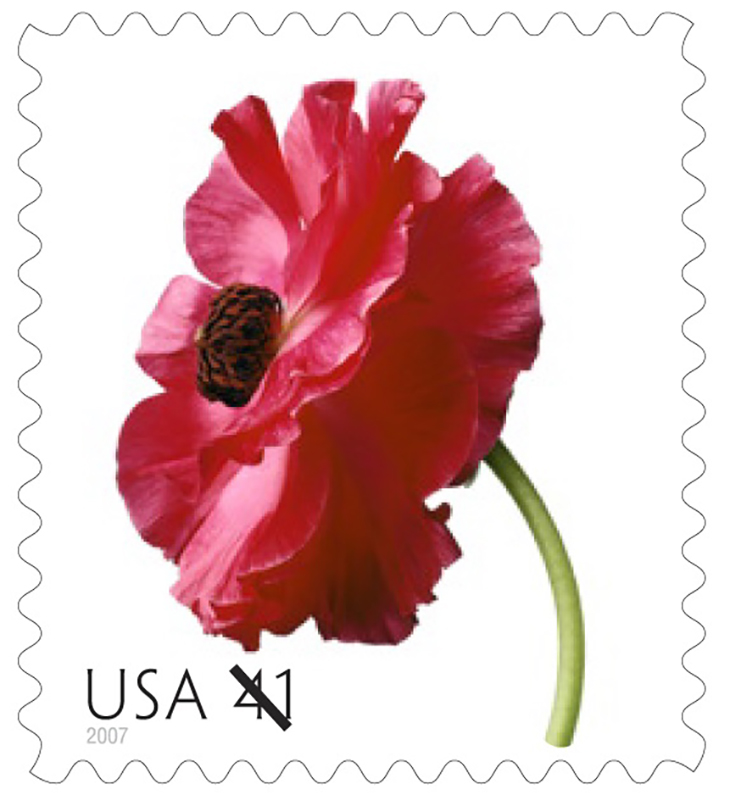 (USPS 2007 Poppy Stamp)
The United States Postal Service issued a poppy stamp in 2007. Previously, artist Margaret Bauer had featured American painter Georgia O'Keeffe's Red Poppy painting, on a 32-cent 1996 USPS stamp .
National Poppy Day® is recognized in the United States on May 28th, and urges Americans to "Wear a poppy to honor those who have worn our nation's uniform.". Poppy Day donations to the American Legion Family to towards programs that support veterans, the military community, and their families. 
Previous Veterans / Remembrance Day Commemorative Stamps
Mary Riter Hamilton's Trenches on the Somme
Canadian artist Mary Riter Hamilton was Canada's first woman battlefield artist.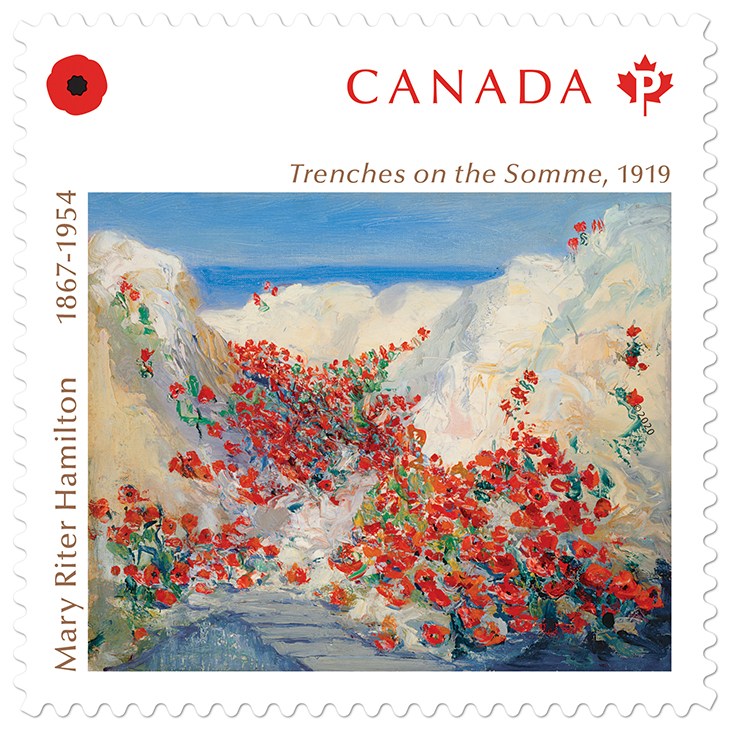 (Mary Riter Hamilton 1919 Trenches on the Somme Canada Post Commemorative Stamp)
A native of Teeswater, Ontario, Mary Riter was born in Teeswater Ontario in 1867. By the turn of the century she had been widowed in her early 20s. She taught women to paint china before traveling abroad to study painting in Paris and Berlin before moving to Victoria, B.C.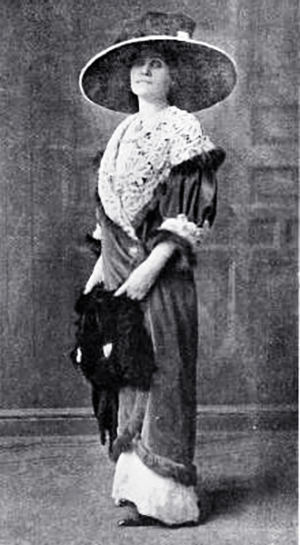 (Mary Riter Hamilton 1919)
Riter Hamilton's application to serve on the front as a war artist during the First World War was declined. In 1919, after WWI had ended, she secured a commission from the Amputation Club of British Columbia (now The War Amps) to capture the war's aftermath in paintings. 
Riter Hamilton traveled alone through Belgium and France to paint battle sites. For two years she lived in out of a tin hut and painted outside, surrounded by trenches and unexploded artillery shells. She created more than 300 paintings depicting famous battlefields that included Ypres, Passchendaele, Vimy Ridge, the Somme, and Amiens.
Her odyssey was not yet over when she arrived in Paris, with no funds remaining for her return trip to Canada.
Undeterred, she painted silk scarves and sold them, earning a gold medal at the Paris 1925 Exposition International des Arts Décorativs et Industriels Modernes. 
Although the National Gallery of Canada rejected her paintings, Mary donated 200+ paintings to the Dominion Archives (now Library and Archives Canada). Poverty-stricken and in poor health, her painting career was over. Mary Riter Hamilton died in 1954 at a mental hospital in British Columbia. 
Her commemorative stamp was issued in October 2020 by Canada Post.
World War I – Turning the Tide
The United States Postal Services has issued several stamps to honor the bravery and sacrifices of American soldiers and veterans.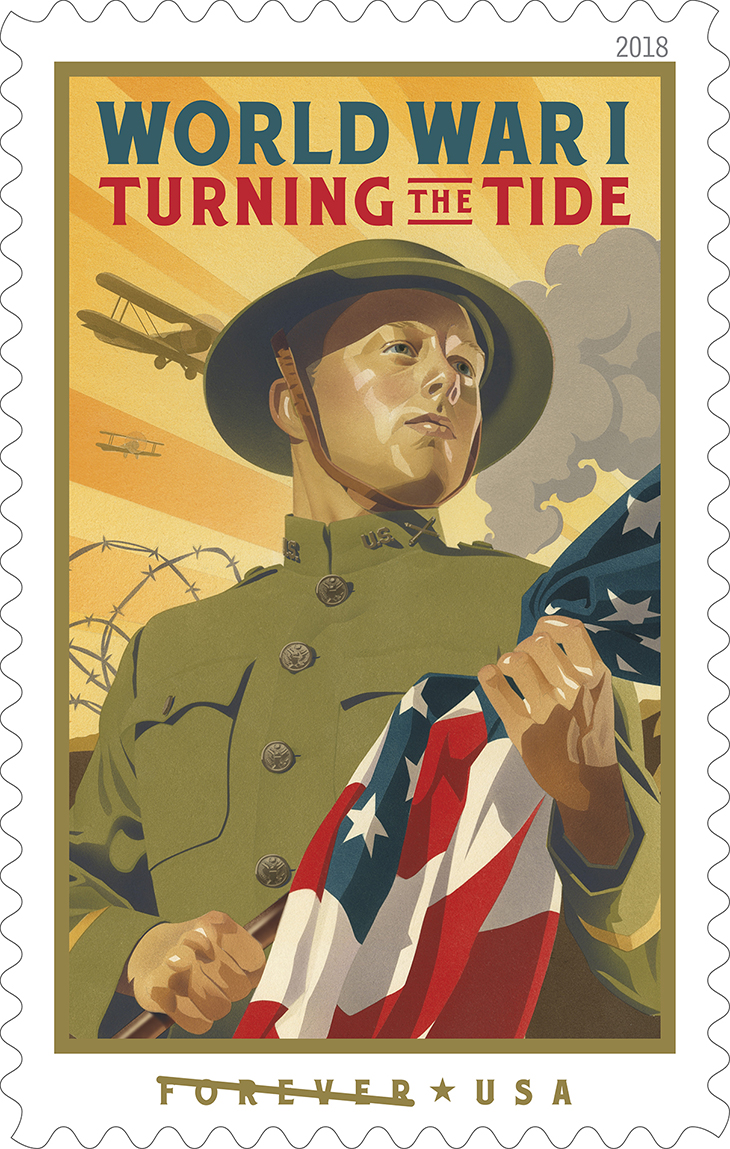 (World War I – Turning the Tide – Issued 2018 by USPS)
The 2018 USPS stamp "Turning The Tide" commemorates the American Expeditionary Force of the First World War.
World War One had begun in Europe in 1914, with Serbia, Russia, France, Great Britain and the British Empire Dominions and colonies (Australia, India, Canada, Newfoundland, New Zealand, and South Africa), and Japan fighting as Allies against the Central Powers of Austria-Hungary, Germany, and Turkey.
The United States remained neutral during WWI, until mid-1917. American forces saw significant action in 2018 that helped turn the tide of WWI in favor of the Allied forces, which by that time had grown to include Italy (as of 2015).
World War One ended on November 11, 1918, which is why that day was chose in both the United States and in Canada as a national day to honour soldiers and veterans.Purple Heart & WWII Japanese American Soldiers
Wait For Me Daddy
During WWII, Canadian Private Jack Bernard was marching down the street in New Westminster, British Columbia with other volunteers in October 1940, when Vancouver Daily Province photographer Claude Dettloff snapped this unforgettable image.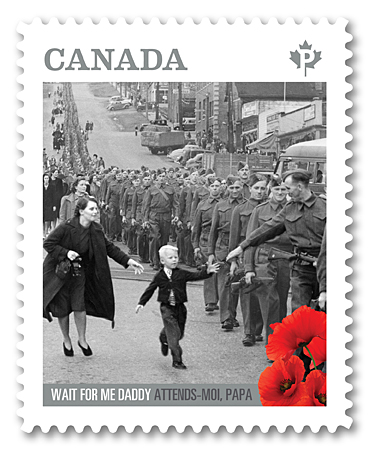 (Wait For Me Daddy Canada Post Commemorative Stamp)
Private Bernard's five-year-old son had broken free from his mother's grip and rand to grab his father's hand.
This commemorative stamp to honour the historic photograph and the Canadian families who watched people they loved leave home to serve their country, was issued by Canada Post in 2014.
Photographer Claude Detloff's image of Private Jack Bernard was issued on a commemorative stamp by Canada Post in 2014. Detloff died in 1978, but Warren Whitey Bernard was still alive – 85 years old as of November 2020, according to the Tofino-Ucluelet Westerly News. 
Purple Heart Medal & Go For Broke: WWII Forever Stamps
The Purple Heart Medal is awarded in the name of the President of the United States, to members of the U.S. Military who have been wounded or killed in action. General George Washington had established the purple Badge of Merit in 1782 to recognize the sacrifices of American troops during the Revolutionary War, a fore-runner to the current Purple Heart Medal. 
USPS issued the Purple Heart Medal stamp in 2019. The current Purple Heart military decoration which the stamp is based on, was first awarded in 1932 to soldiers or veterans who served in the U.S. military on or after April 5, 1917 (when the U.S. entered WWI).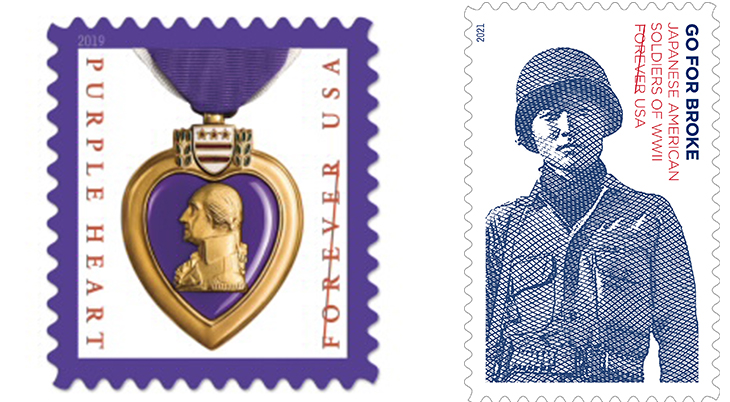 (USPS Purple Heart Medal – Issued 2019 | WWII Japanese American Soldiers – Issued 2021)
Designed by Antonio Alcalá, the United States Postal Service unveiled a new 2021 Go For Broke: World War II Forever commemorative stamp. Based on a 1944 photograph of a Japanese American soldier taken at a railroad station in France, the stamp was issued to honor the service of Japanese American veterans. 
*The Poppy Design is a registered trademark of The Royal Canadian Legion, Dominion Command, and is used under licence by Canada Post. 
More about WWI & WWII:
They haven't been recognized with a stamp – yet – but you may also be interested in reading about the Heroic Pigeon Patrols of WWI & WWII.
Leviathans of Sea & Air – WWI Flying Boats
Most Decorated Canadian: William George Barker
Additional Resources:
Canada Post Magazine – Stamp honours Mary Riter Hamilton, October 28, 2020