Helen MacInnes: Neither Five Nor Three
Reading spy thriller author Helen MacInnes' cold-war novel Neither Five Nor Three (1951) almost seventy years after it was first released, is likely to arouse feelings of déjà vu on several different levels.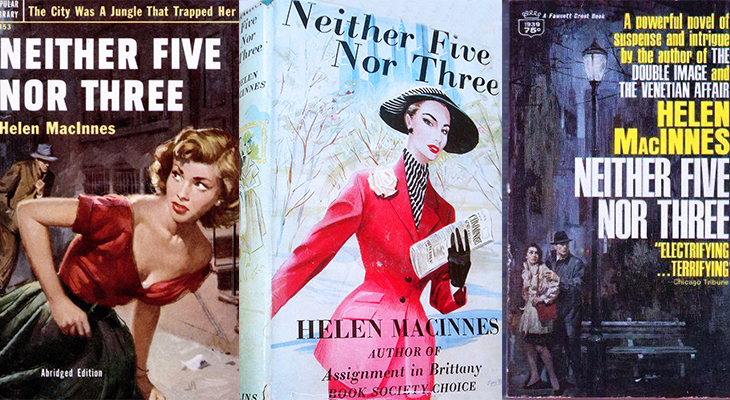 (Neither Five Nor Three Book Covers From Left: 1952, 1951 & 1960s)
The original book cover for Neither Five Nor Three (top photo, centre), emphasizes the main character of Rona and depicts her as a stylish woman of her time (as described so faithfully by Helen MacInnes in the novel). The second book cover (far left), which appears on some later editions from 1952 on, puts the emphasis on Rona being in danger, while the third book cover is from the 1960s and shows Rona and (presumably) Paul, as working together (or him protecting her from danger). 
MacInnes succinctly describes the mood and norms of society in post-WWII New York, the dawning of the Cold War era, and the rise of fear and suspicions about communist infiltration in America. Her depiction of Soviet / communist political elements manipulating the media to influence and shape opinions in the 1950s, is particularly interesting given the recent exposure of Russian use of social media to achieve the same goal 60-70 years later.
Her A.E. Housman quote inside the cover of Neither Five Nor Three explains how MacInnes arrived at the title:
"To think that two and two are four
And neither five nor three
The heart of man has long been sore
And long 'tis like to be"
Neither Five Nor Three has been described by other reviewers more recently as heavy-handed in it's approach to this subject, and a virtual ode to McCarthyism. However, taken in context – it was written in 1951, the same era the book is set in; and by an author who had witnessed first hand the rise of Nazism, Facism, and totalitarian regimes in Europe – it reads as an authentic accounting of a specific place (New York) and perspective, at a specific time (1951).
As a writer and the wife of a real-life spy (her husband Charles Highet was a classical scholar and an MI6 British agent), Helen MacInnes had personal insights into how the media and propoganda were used to influence opinion.
Neither Five Nor Three was the seventh espionage novel for Helen MacInnes, and it doesn't quite measure up to some of her earlier works such as Above Suspicion (1941) and Assignment in Brittany (1942), both of which were made into 1943 films. Joan Crawford, Fred MacMurray, Conrad Veidt, and Basil Rathbone starred in Above Suspicion, while Assignment in Brittany starred Susan Peters and French actor Jean-Pierre Aumont. 
Romance is in the air in Neither Five Nor Three, but it never really lands down on earth; it's a background device that adds interest and advances the plot, but is not the focus of the story.  
The plot of Neither Five Nor Three has Rona Metford working for a publishing company in New York City, and engaged to unreliable escort Scott Ettley. Scott's father has his own publishing empire, but Scott wanted to assert his independence (and break from his father). Scott is working odd hours as a journalist and consorting with sketchy characters who seem to have odd opinions about America and politics, that jive with Rona's own understanding of her country. Meanwhile, Rona's former boyfriend Paul Hayden, a military intelligence officer, has returned to New York from his posting in Europe and finds his counter-propaganda expertise is needed. 
It's MacInnes' scrupulous attention to detail in her descriptions that brings her characters and novels to vivid life and transports you back in time: 
"She…readjusted the angle of her neat white sailor hat and tucked away a stray end of the heavy-meshed veil fitting closely over her face. She pulled on her freshly washed white gloves which matched the pique waistcoast she wore with her grey wool suit, checked the seams of her stockings, and opened the door."
The decades – centuries, even – when women wore hats and gloves is fascinating to me, for as a child of the 1960's I have only a vague memory of wearing a dress with a little hat and gloves, going to Sunday School. Seamed stockings were already a thing of the past by the late 60s (and now even the successor – pantyhose – is on it's way out of fashion). Sadly, stylish hats are now confined to vintage movies featuring silver screen stars like Marion Davies, Greta Garbo, Gene Tierney, Hedy Lamarr, Ingrid Bergman, and other glamour queens.
People smoking almost everywhere, typewriters in offices, and other aspects of everyday home and work life common in the 1950s that have all but disappeared now, are succinctly described.
Another moment of déjà vu may come with this simple statement: "On the telephone table". With the proliferation of cellphones today, wired landline phones are becoming obsolete, so this simple description harkens back to a time when phone calls and the telephone were large and important enough to either be wall-mounted and hardwired directly into the wall, or to have it's own table.
What keeps Neither Five Nor Three from being a better novel, is a sluggish, somewhat murky plot that never really draws you in; one-dimensional characters; and a black and white world view with good guys vs. bad guys. This is one of Helen MacInnes less interesting novels, but I would recommend it to 1950s nostalgia buffs.
Helen MacInnes went on to write another 15 espionage novels before she died after a stroke at the age of 77 in 1985. Her husband Gilbert Highet predeceased her in 1978. To date, two more of Helen Macinnes books have been made into movies:
The Venetian Affair (1963), set and filmed in Venice, and starring Robert Vaughn and Elke Sommer, with Luciana Paluzzi, Boris Karloff, and Edward Asner. 
The Salzburg Connection (1968), set and filmed in Salzburg, Austria, and starring Barry Newman and Anna Karina, with Klaus Maria Brandauer.
Noteworthy From Anita's Bookshelf
**This article is for general informational purposes only.**