Farewell to Mountain's Leslie West
A mountain of a man in his heydey, legendary rock guitarist Leslie West died of a heart attack on December 22, 2020 at the age of 75.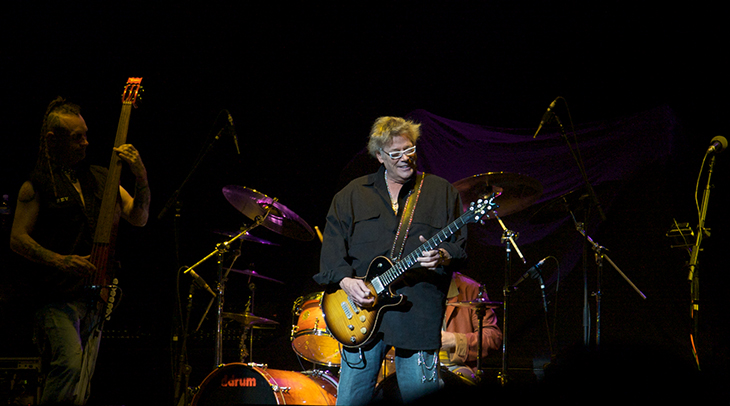 (
Leslie West 2008 Photo: Wilson Bilkovich
)
Five rock classics from Mountain featuring Leslie West – Oh Those Eyes, Mississippi Queen, Theme for an Imaginary Western, Fade Into You, and a duet of When A Man Loves A Woman with Johnny Lang.
Mountain's original and enduring lead vocalist, guitar player and songwriter Leslie West, was named Leslie Weinstein when he was born on October 22, 1945. In an interview with Bob Cianci for Premier Guitar in 2008, West recounted his childhood inspiration for playing guitar:
"When I was a kid, my uncle, Will Glickman, wrote for television, including the Jackie Gleason Show…I wanted to see Jackie Gleason live, so my grandmother took me to the TV studio, but when we got there, we found out that the Dorsey Brothers were filling in for Jackie Gleason and he wasn't there. I actually started to cry I was so upset, but we stayed anyway, and there was this singer appearing that night with a guitar and a band. His name was Elvis Presley. Once I saw Elvis, I knew I had to have a guitar."
Leslie West started playing guitar at age 13 in 1958, and bought a 1956 Stratocaster guitar with his bar mitzvah money. The first song he learned to play was Elvis Presley's Heartbreak Hotel, which he played at a junior high school talent show. He wasn't in high school long because he had no interest in learning anything except how to play guitar.
Soon after their parents divorced, baby boomer Leslie (now in his mid-teens) and his younger brother Larry changed their last names to West; Leslie also quit school and began working in New York's diamond district before gravitating to a career in music.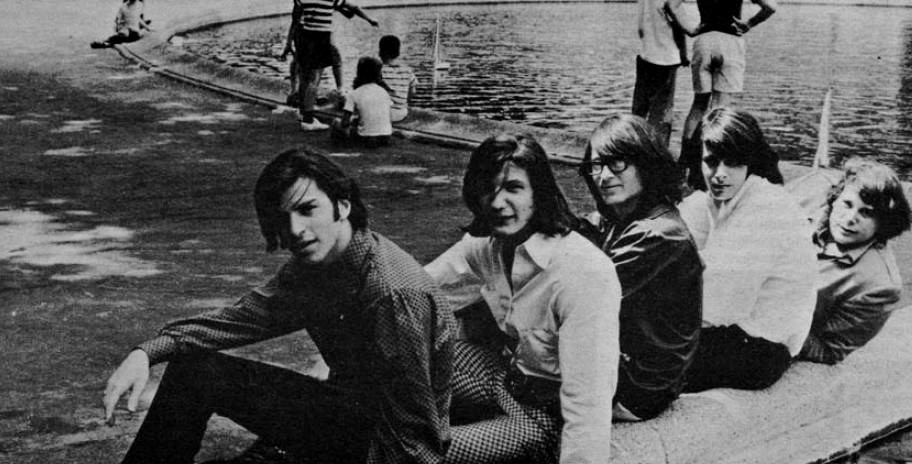 (The Vagrants 1966 Photo: KRLA/Beat Publications | Wikimedia Commons / Public Domain)
In the early 1960's, Leslie West was a friend of and influenced by, popular New York band The Rascals. Accompanied by his brother Larry on bass guitar and vocals, and friends Peter Sabatino (lead vocals, harmonica and tambourine), Jay Storch on organ and Roger Mansour on drums, teenager West (above far right) formed his first rock/soul band the Vagrants in 1964. The Vagrants were popular in the New York City area, mostly singing cover songs. The Vagrants signed with different labels, eventually coming to the attention of bass guitar/vocalist and Cream producer Felix Pappalardi at Atco Records; however, unlike The Rascals, they were unsuccessful in scoring a big hit single.
Below, a vintage musical video featuring the Vagrants with Leslie West on lead guitar (back row, pale blue shirt) singing Oh Those Eyes (1965), written by Jay (Gerald) Storch.
Leslie West left the Vagrants in 1969 to record a solo album Mountain, which was a nickname bestowed on him based on his size. West has had other names courtesy of fans, including "King of Tone" for his unique guitar sound, and "The Fattest Fingers in Rock and Roll", again alluding to his large frame.
Later in 1969 vocalists Leslie and Felix Pappalardi founded a new hard rock band called Mountain; one of their earliest live shows was at the 1969 Woodstock Festival.  Below, a live Woodstock Festival recording of Mountain performing Theme for An Imaginary Western, written by Jack Bruce (Cream).
Felix Pappalardi and Leslie West were joined by Canadian Corky Laing on drums and Steve Knight on keyboards.
Mountain's first, biggest and most enduring hit Mississippi Queen (1970) was written primarily by Laing and West, although Knight and Pappalardi also contributed. Mississippi Queen made it to #21 on the Billboard US charts and has been has been covered by numerous other artists since then.
In 1972 Felix Pappalardi left Mountain to focus on producing music for other bands. Leslie West said in several interviews since then that the combination of drug use among band members including himself (cocaine and heroin), and issues with Felix's wife Gail Collins (who would end up killing Felix in 1983 in a self-proclaimed gun accident) led to the demise of Mountain the band.
During Mountain's original breakup, Leslie West and Corky Laing joined forces with songwriter and bass guitar player Jack Bruce to form West, Bruce and Laing, and delivered 2 albums between 1972-1974. Although West, Bruce and Laing's first album Why Dontcha made it to #26 on the album charts, they had no hit singles. During this time Leslie West has said he added in morphine to his heroin and cocaine habit; once again drug use again broke up West, Bruce and Laing. Below from left, Corky Laing, Jack Bruce & Leslie West as West, Bruce & Laing c. 1973.

(West, Bruce & Laing c. 1973 Photo Montage: Moxy | Wikimedia CC 3.0)
Mountain briefly reformed in 1973 and broke up again in 1974 due to drug use and in-fighting between band members. Leslie West told reporter Jason Brecht in 1979 (full article here) that he had to take a couple of years off to get his head together.
In 1985, with his drug habit kicked, Leslie West and Corky Laing resurrected Mountain (minus Pappalardi) and the band continued to tour and record albums including their last, Masters of War (2007).
In the decades after Mountain debuted, in addition to working on numerous solo albums and concerts, Leslie West collaborated with other artists and groups on their albums and on tour, including Bo Diddley, Ian Gillan (Deep Purple), The Who, and many others.
In the 1980's West turned to television, films and radio appearances. A role in the Tom Hanks comedy The Money Pit (1986) was followed by voice acting in Beast Wars Transformers (1996-1999) during his 50+years. He also made many appearances on the Howard Stern Radio Show.
Leslie West was inducted into the Long Island Music Hall of Fame at age 61 in 2006. The band West, Bruce and Laing reunited briefly in 2009 with Malcom Bruce (Jack Bruce's son) filling in for his father on bass guitar; they toured North America and the UK.
A perennial favourite with baby boomers, Mountain also performed in 2009 at the Woodstock 40th Anniversary Concert in Bethel, New York. In a surprise to the crowd that night, 63-year-old Leslie West married Jenni Maurer (26 years his junior) onstage. 
In his senior years, West's "how-to" DVD for guitar playing, Big Phat Ass Guitar (2011), was released. Always a big man, West battled with diabetes and lost his lower right leg to complications from diabetes in 2011. In a 2014 interview with Joe Raniere for Glide Magazine, Leslie West reflected on the double-whammy impacts of smoking and diabetes:
"Thank God I stopped smoking several years ago too. It's a good thing that I did, but if I stopped smoking (earlier) it could've saved my leg. Diabetics have blocked arteries, blocked veins. That smoke, as doctor described it, "You might as well throw rocks at your feet."
 Leslie West returned to performing live in 2013 and released a new album Still Climbing, which features duets with Johnny Winter, Dee Snider (Twisted Sister), and a cover (below) of Fade Into You, written by Trevor Rosen, Shane McAnally and Matt Jenkins for the television series Nashville. Below, Leslie West singing Fade Into You.
Leslie West and Johnny Lang did a duet cover of Percy Sledge's When a Man Loves a Woman, included on his Still Kicking (2013) album. Below, Leslie West sings When a Man Loves a Woman.
In a 2013 interview with Dave Swanson for Ultimate Classic Rock, Leslie West commented on the difficulties he faced with live performances due to his prosthetic leg.
"There are no tour buses that handle handicap and wheel chair, and I'm not used to the prosthetic. My balance is really terrible…So I have to sit down when I play, but what else are you gonna do? Everybody gets knocked down in life. It's how you choose to get up."
Despite being a senior citizen, diabetic and amputee, Leslie West didn't let his age or anything else keep him from the music he loved. West's 17th solo studio album Soundcheck was released in  2015 and features guest artists Peter Frampton and Brian May (Queen). 
Note: This article was first published on October 22, 2015 with the title Celebrating Seniors – Leslie West is 70. It has been updated.
*Images are public domain or Creative Commons licensed & sourced via Wikimedia Commons or Flickr, unless otherwise noted*