Jean, the Vitagraph Dog - First Dog Star
A rough tri-color collie named Jean became the first acclaimed movie dog star of silent films, courtesy of her owner/trainer Laurence Trimble, actress Florence Turner "The Vitagraph Girl", and the Vitagraph Company of America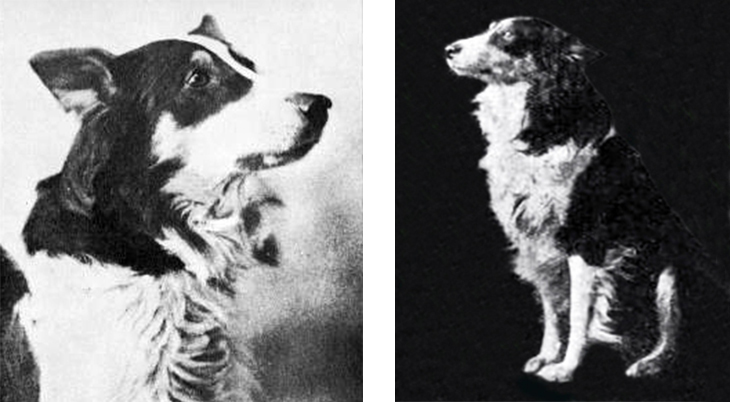 (Jean, the Vitagraph Dog 1913 & 1912)
Jean Arrives at Vitagraph Film Studios
In mid-1910, short story writer Laurence Trimble (Larry to friends) visited the Vitagraph Company of America film studios in Flatbush, intending to gather material for a magazine article. He stepped in to help out with an animal training issue for a film, brought his tri-color rough collie Jean in to solve the problem, and the two of them were hired.
Trimble was soon made a film director at Vitagraph, and many of the silent films that Jean appeared in between 1910-1912 for that company included actress Florence Turner, and actors Leo Delaney and William Humphrey. Jean either got top billing or shared it, in several of her movies.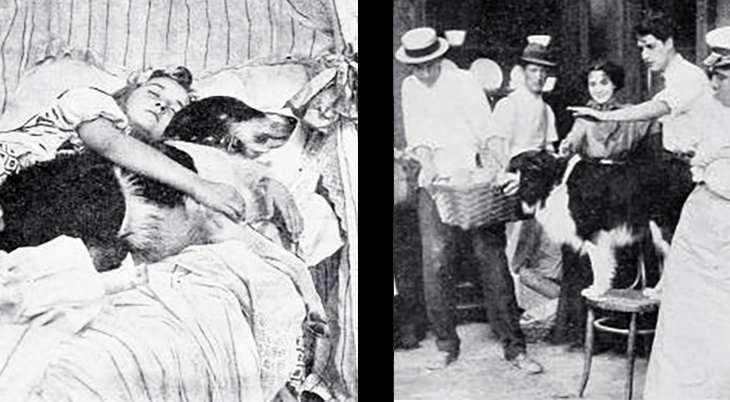 (Jean & Adela DeGarde 1910 Jean and the Waif | Jean Goes Foraging 1910)
Jean's performances were lauded by film critics and filmgoers.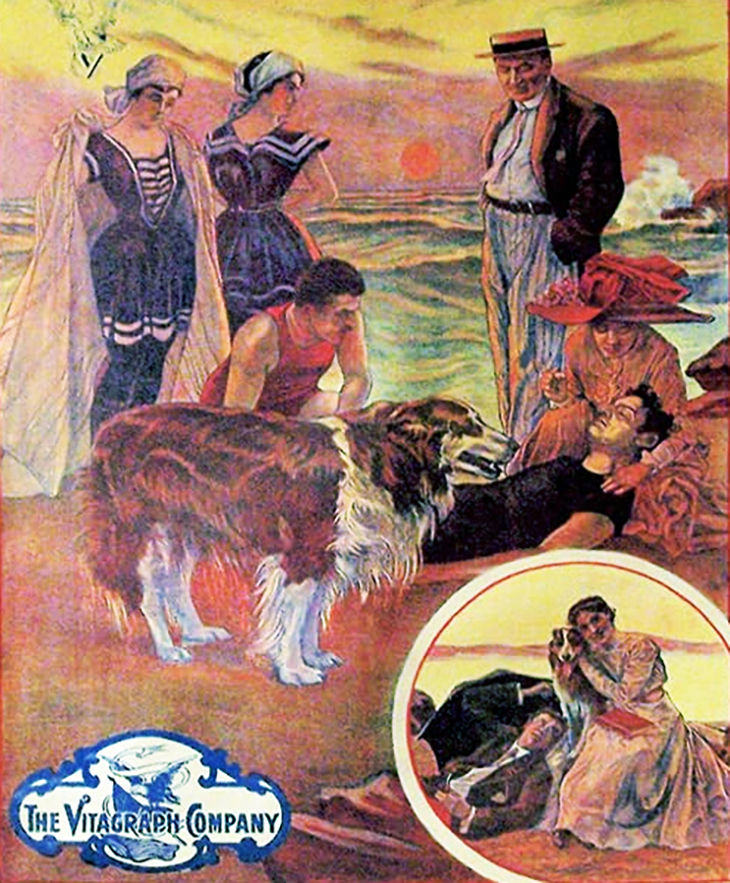 (Jean Rescues 1911: The Vitagraph Company of America / IMDB)
Several of Jean's movies had her name in the title, such as Jean Rescues (1911) with Leo Delaney and William Humphrey, Jean Intervenes (1912), and Jean the Match-Maker (1910), all of which co-starred Florence Turner. 
Jean appeared in many more films than the 20 her IMDB credits show (1910-1914); even human actors and actresses in the early silent film era were often uncredited in movies. 
In the romantic comedy-drama A Tin-Type Romance directed by Laurence Trimble, Jean co-starred with Florence Turner and Leo Delaney.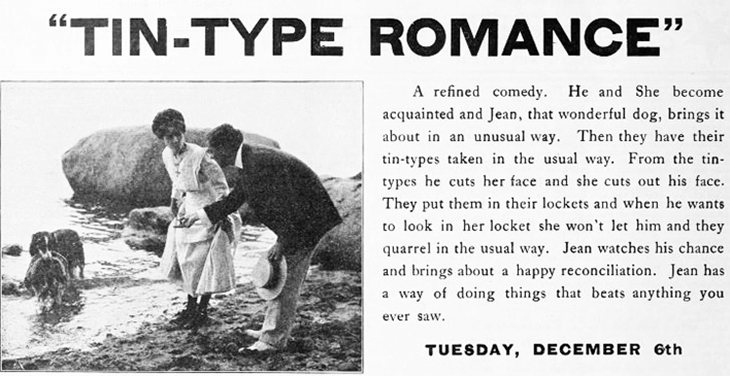 (Florence Turner, Leo Delaney & Jean 1910 A Tin-Type Romance)
Actress Helen Hayes, who later earned the title "First Lady of American Theatre", recalled working as an extra on the Vitagraph Studio as a 10-year-old, in films like Jean and the Calico Doll (1910).
"So I began my movie career in support of Jean, the Rin-Tin-Tin of the day. The extra money made up for the shame of being a movie actress – and besides I soon found that it wasn't so bad. Maurice Costello was the current idol, and I had his two little girls, Dolores and Helene, to play with. Every morning John Bunny, Florence Turner, mother, and I would meet at the Brooklyn Bridge station and ride on the elevated to the studio." – Actress Helen Hayes, interviewed by Dena Reed for Picture-Play (1932)
By the fall of 1910, Jean was appearing at Vitagraph Nights billed as "Jean, The Vitagraph Dog". She is credited in 7 Vitagraph films in 1910, another 5 in 1911, and 6 in 1912.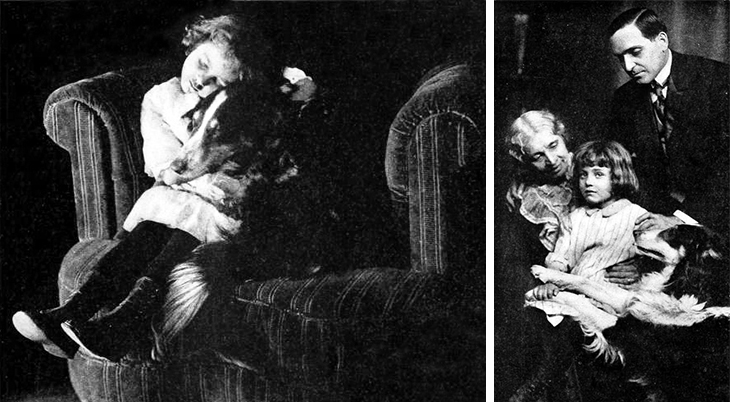 (Jean, Helene Costello, Mary Maurice & Earle Williams 1912 The Church Across the Way)
Three of Jean's 1910 films co-starred Vitagraph child actress Adele DeGarde, another film pioneer a pioneer who appeared in her first film by D.W. Griffith in 1908 (The Christmas Burglars). Adele was often in movies with another Vitagraph child actor, Kenneth Casey (who went on to write the song Sweet Georgia Brown). Both Adele and Kenneth were in 1910's Jean Goes Fishing and A Tin-Type Romance with the dog star.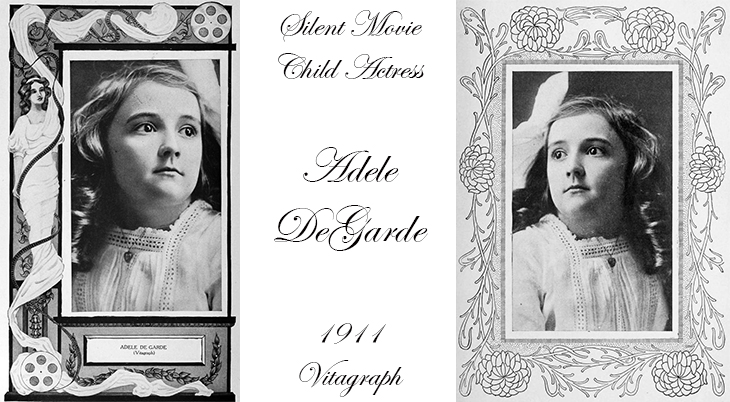 In the melodrama The Church Across the Way, Jean co-starred with child actress Helene Costello, Mary Maurice, Earle Williams, Flora Finch, and Maurice Costello (Helene's father).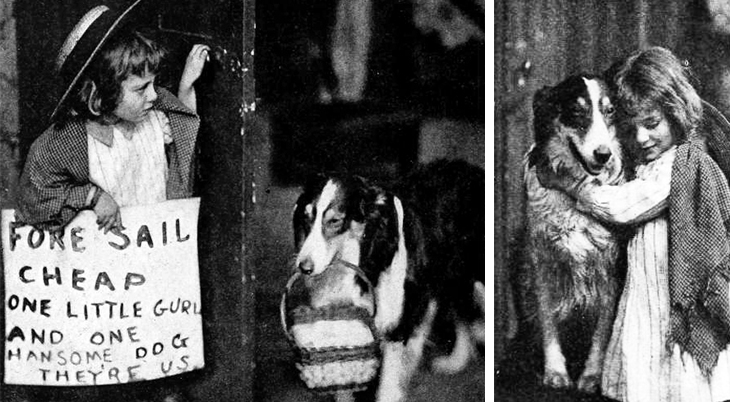 (Jean & Helene Costello 1912 The Church Across the Way)
Laurence Trimble directed the John Bunny comedy Bachelor Buttons (1912), with Flora Finch and Jean in the cast. 
Other notable silent film stars that appeared in films with Jean include Leah Baird, Tom Powers, James Morrison, Van Dyke Brook, and child actor Kenneth Casey. Norma Talmadge co-starred with her in The Stumbling Block (1911), Edith Storey (after she returned from loan to the Melies Star Film Ranch & Company) in Tested by the Flag (1911), and father-son combo Hal Reid and Wallace Reid, in Jean Intervenes.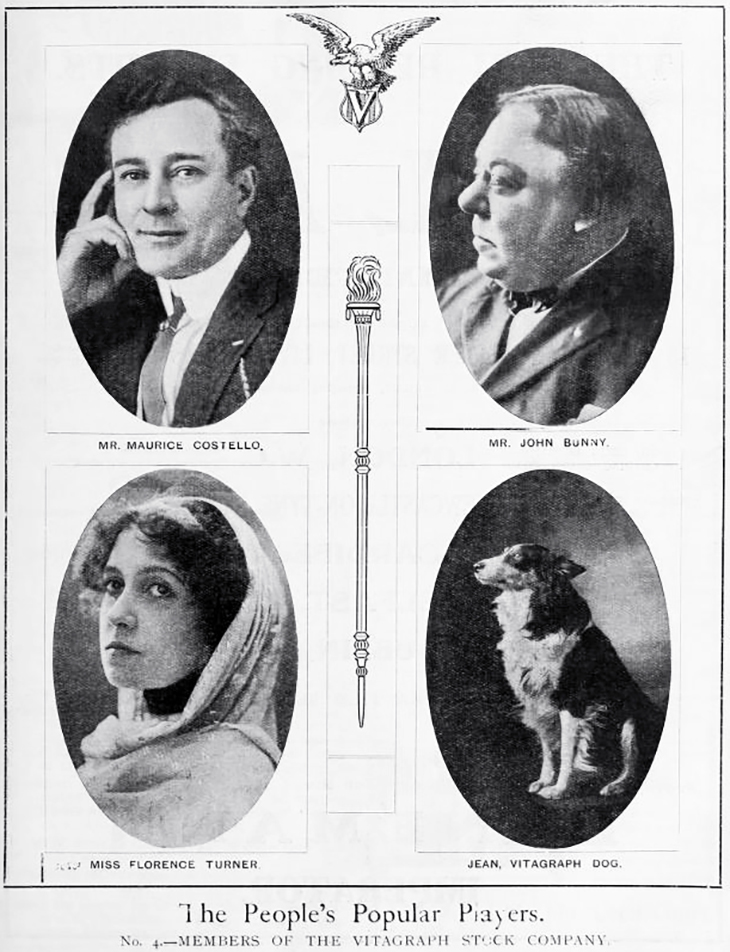 (1912 Film Stars Maurice Costello, John Bunny, Florence Turner & Jean the Vitagraph Dog)
Laurence Trimble went to England in the late spring/early summer of 1912 to make movies for Vitagraph with comedic actor John Bunny. When filming was complete, he and Bunny went on to Ireland, France, and Germany. The trip was highly successful in gathering business contacts and fact-finding for Trimble.
Laurence returned home on Sept. 7, 1912, to reunite with his opera-singer wife Louise. Their daughter Janet Trimble was born that month.
The biggest star in their household was Jean, however. Fans of all ages wrote into the movie fan magazines wanting to know more about the movie dog, even composing poems in homage.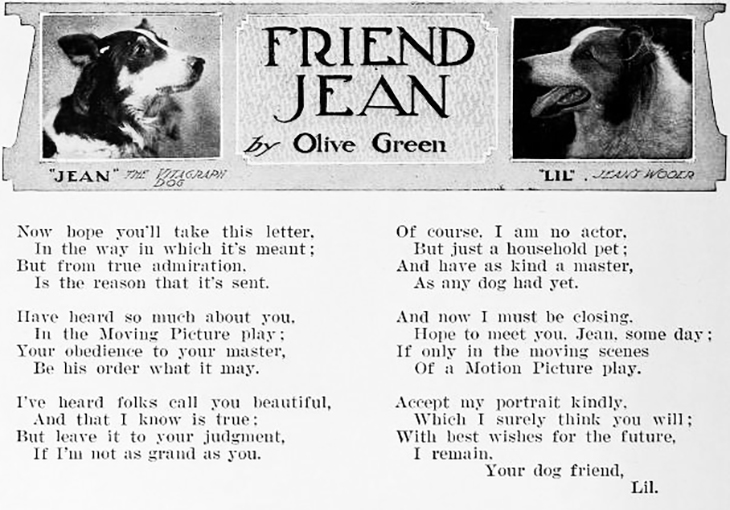 (Friend Jean Poem, The Vitagraph Dog 1912: Olive Green / The Motion Picture Story Magazine)
Trade magazines reported that the Trimble family dog Jean also became a mother in late 1912. So popular was Jean with fans that Jean and her puppies starred in the Vitagraph documentary short Jean and Her Family, released in 1913.
Jean's last film for Vitagraph, and her last credited movie role, was in 'Fraid Cat (1914), a comedy short in which she co-starred with Tefft Johnson and child actor Bobby Connelly.  
Jean in England With Turner Films
Actress Florence Turner said farewell to her Vitagraph family, withdrew her savings, and took her mother with her to England in the spring of 1913.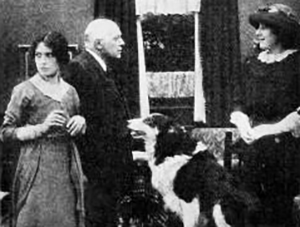 (Shirley Lea, Jean, Florence Turner 1913 Jean's Evidence)
It wasn't long before Laurence Trimble, his wife Jean, their infant daughter Janet, and of course, Jean the dog, also arrived in England. They resided in the area of Walton-on-Thames. 
Turner, Trimble, and Henry Edwards soon formed a partnership in a new film production company, Turner Films. 
One of the first Turner Films productions to be released in August 1913 in the U.K., was Jean's Evidence, directed by Laurence and starring Jean and Florence Turner.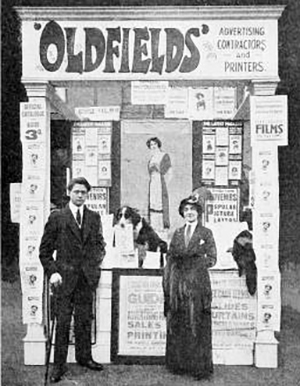 (Laurence Trimble, Florence Turner & Jean 1914 Feb. Glasgow: Illustrated Films Monthly)
Jean is uncredited in some of the Turner Pictures movies that she appeared in between 1914-1916.
Her owner Laurence Turner was kept busy helping to manage Turner Films and direct movies.
He also appeared onscreen in minor roles in two Turner Films productions, the crime drama The Murdoch Trial (1914), and the dramatic movies Grim Justice (1916). 
Jean was so closely associated with actress Florence Turner that some columnists reported the dog belonged to her.
Moving Picture World noted in June 1913 that "A likeness of Jean, the canine film favorite will serve as the trademark of the Turner Film Company."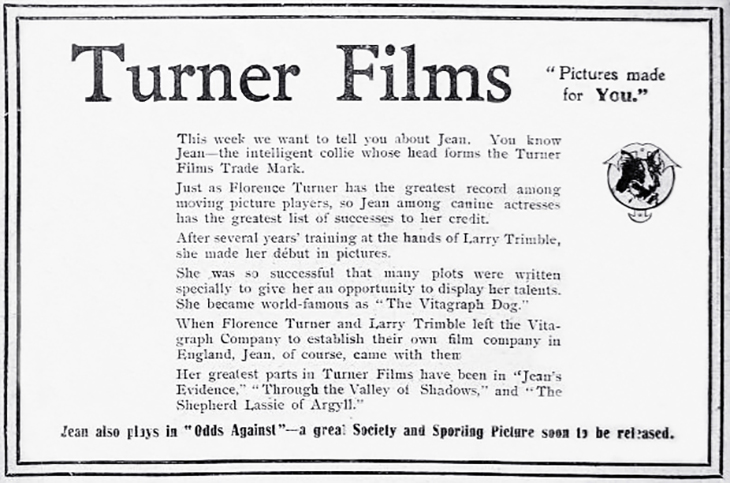 A glowing account of Jean appeared in Illustrated Films Monthly (March 1914)
"Wherever Miss Turner goes one loyal friend always follows, or rather I should say accompanies her. This is 'Jean', the famous Scotch collie, different in temperament to her mistress, but wonderfully interested in pictures and happy when she is giving pleasure to the picturegoer. 'Jean' is no ordinary dog – she is the super-canine, possessing almost human intelligence and in some things displaying keener intellect than one would expect from thousands of beings met in the streets every day. 'Jean' is of Scottish descent, her parents, both of them, having emigrated to America, from Ayrshire. She is somewhat proud of the fact, and, indeed, seemed quite at home in Glasgow, where, for the benefit of admirers, she gave an exhibition of her wonderful capabilities."
Filmed in the highlands of Scotland, The Shepherd  Lassie of Argyle (1914) also featured an uncredited Jean in the cast.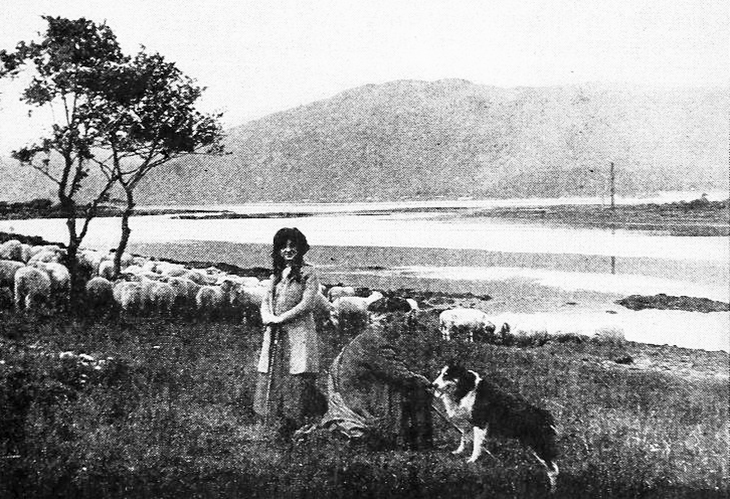 (Florence Turner & Jean 1914 The Shepherd Lassie of Argyle: Turner Films) 
"A shepherd's daughter is struck dumb when her dog frustrates an attack on her by a laird's mad brother."
The Shepherd  Lassie of Argyle was directed by Laurence Trimble, written by and co-starring Hector Dion, with Florence Turner.
Although Jean isn't listed in the credits for Through the Valley of Shadows (1914), starring Florence Turner, she's mentioned in the plot summary:
"Dr. Cross is so absorbed in his profession that his young wife, Alice, is left practically without any companionship beyond that of her dog, Jean." 
After 4 years making films in England, World War I began heating up in 1916. According to Laurence Trimble's daughter Janet Trimble Zilliacus, at that time,
"My mother and father did not get along. Oh, she didn't like children for one thing and my father was annoyed about this. His idea was to have six boys and all he got was a miserable girl like me, you know. She didn't like children at all, and she was a very, a very successful opera singer, children were just a nuisance to her."  – The History Project 1995 Interview
After three-year-old Janet's burst appendix failed to bring her mother Louise back from Scotland to their home in Walton On Thames in England, Laurence packed up his dog and his toddler and moved back to the United States, as did actress Florence Turner. Laurence resumed directing for film companies and training other animals – notably, Strongheart, the next big dog film star.
Soon after returning to America, Jean the Vitagraph Dog died at the age of 14.
Turner Pictures folded, and actress Florence Turner – at one time the biggest star in the Vitagraph firmament – struggled to make her way back into American films.
Other Resources:
John Bunny Abroad by Hugh Hoffman, The Moving Picture World (Sept. 21, 1912)
Miss Florence Turner, Illustrated Films Monthly (March, 1912)
*Images are believed to be in the public domain or Creative Commons licensed & sourced via Wikimedia Commons, Vimeo, YouTube, or Flickr, unless otherwise noted*