Kim Novak is Far From Hollywood at 84
Octogenarian senior citizen, artist, former model and actress Kim Novak (nee Marilyn Pauline Novak) was born on February 13 1933 in Chicago, Illinois.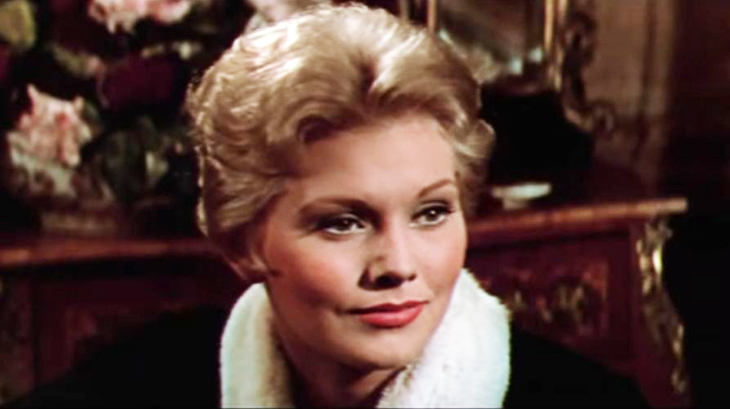 (Kim Novak 1956 The Eddy Duchin Story Trailer)
As she says on her website KimNovakArtist.com, Kim Novak first dreamed of becoming an artist as a girl, winning scholarships to the Chicago Art Institute. She told journalist Stephen Whitty that she also won a modeling scholarship and began modeling during junior college.
Kim Novak moved to Los Angeles and began modeling for a national ad campaign; she also landed a bit part as an uncredited model in the musical romantic comedy The French Line (1953) starring Jane Russell. The next year she was "discovered" and signed to a Columbia Pictures by production director Harry Cohn. Harry Cohn had a reputation for being connected with Chicago mobsters, and also for being a "mean", demanding manager with his talent, earning the nickname "King Cohn". It was Cohn that had a whole "lavender" persona developed for Kim Novak, even having her hair tinted a lavender blonde. 
The next year, Kim Novak had co-starring status with Fred MacMurray (My Three Sons) in the crime drama Pushover (1954), playing a robber's girlfriend who has an affair and falls in love with, policeman Fred MacMurray. Dorothy Malone, E. G. Marshall, and an uncredited Marion Ross (Happy Days) were also in the cast of Pushover with Kim Novak. Pushover was the first for four movies that director Richard Quine and actress Kim Novak would be involved in. 
Baby boomers and their parents liked her in Picnic (1955). In Picnic, Kim Novak played small town Kansas girl Madge Owens, who meets drifter Hal Carter (William Holden). William Holden's character is in town to visit an old college chum, played by Cliff Robertson in his first film role. Picnic's cast included supporting actors Arthur O'Connell, Shirley Knight, Rosalind Russell, and Susan Strasberg. Kim Novak has said Picnic is one of her favorite films. Below, Kim Novak and William Holden dance in a scene from Picnic:
Kim Novak appeared in two movies with Frank Sinatra, beginning with director Otto Preminger's drama The Man with the Golden Arm (1955). The Man with the Golden Arm starred Frank Sinatra, Kim Novak, Eleanor Parker, and Darren McGavin. 
Pal Joey (1957) is a musical drama co-starring Frank Sinatra as a "louse" romancing two women, played by Kim Novak and Rita Hayworth. Pal Joey was one of the first of three movies co-starring Kim Novak directed by George Sidney. Below, Frank Sinatra, Kim Novak, and Rita Hayworth, are all featured in the Pal Joey movie trailer.
Alfred Hitchcock's suspense thriller Vertigo (1958) saw Kim Novak co-starring with James Stewart, Barbara Bel Geddes, Henry Jones, and Ellen Corby (The Waltons). Novak has said she enjoyed working with Jimmy Stewart (he was her favorite leading man) and learned a lot about acting from him. It remains one of her finest performances and the movie she is most closely associated with by her baby boomer and senior citizen fans, although at the time Vertigo was not appreciated much by either audiences, Hitchcock, or Novak herself. Below, Kim Novak and James Stewart are featured in the official movie trailer for Vertigo.
Off screen, the white, blonde Kim Novak had run afoul of fearsome Columbia Pictures head honcho Harry Cohn when she had a romance with black singer-actor Sammy Davis Jr., beginning in the late fall of 1957. Although Davis and Novak were discreet, Harry Cohn reportedly threatened Sammy Davis with the loss of his other eye if he didn't end their relationship. Segregation still existed in the deep south, and the potential for negative publicity with an interracial romance was not something Cohn wanted.
Sammy Davis Jr. claimed he was told by mobsters – at the request of Harry Cohn – told to end his relationship with Kim Novak and marry someone else. Davis promptly married black singer Loray White in 1958; a marriage which ended after less than a year and that Davis claimed was never consummated. Sammy Davis was later married to blonde Swedish actress May Britt from 1960-1968. Sammy Davis Jr. died in May 1990 from throat cancer at the age of 64. 
The same year that Vertigo was released, Kim Novak and James Stewart were reunited in the fantasy romantic comedy Bell, Book and Candle (1958).  Bell, Book and Candle was also a reunion for Novak and actor Jack Lemmon, who had starred in one of her first movies – the romantic comedy Phffft (1954) with Judy Holliday and Jack Carson. Actor Ernie Kovacs had a supporting role in Bell, Book and Candle, and would also work again with Kim Novak. Below, Kim Novak puts a spell on James Stewart in Bell, Book and Candle. 

Harry Cohn died in February 1958 and Kim Novak has said that the film roles she was offered after his death were mostly second-rate.
By the end of 1958 Kim Novak had moved on romantically, to her divorced Pushover and Bell, Book and Candle director Richard Quine. Richard Quine would also direct Kim Novak in two more movies, the first being the romantic drama Strangers When We Meet (1960). Kirk Douglas, Ernie Kovacs, Kent Smith (Peyton Place), Barbara Rush, Walter Matthau, and Roberta Shore (The Virginian) were also in the cast of Strangers When We Meet. Richard Quine told Los Angeles Weekly that Columbia built a real house in Bel Air in 1959 to film Strangers When We Meet; the studio's intention was to give the house as a wedding gift to Richard Quine and Kim Novak, who planned to marry as soon as filming was completed. 
Kim Novak lost her nerve and jilted Quine just before filming on Strangers When We Meet ended. They remained on friendly terms, which was good because a couple of years later, Quine once again directed Kim Novak in The Notorious Landlady (1962). The Notorious Landlady was Kim Novak's third movie with co-star Jack Lemmon, and her last movie with Richard Quine. Richard Quine was a 68-year-old senior citizen when he shot and killed himself in June 1989. 
Other movies for Kim Novak during the 1950's included:
5 Against the House (1955), a casino heist drama co-starring Brian Keith and William Conrad (Cannon).
Kim Novak was the star of the fictionalized biographical drama Jeanne Eagels (1957), about the 1920's and 1930's actress. Her co-stars in Jeanne Eagels included Jeff Chandler, Agnes Moorehead (Bewitched), Murray Hamilton, and Shelly Fabares in an uncredited role as a teenage girl.
Middle of the Night (1959), a drama co-starring Fredric March, Martin Balsam, and Lee Grant. Middle of the Night is said to be another of Kim Novak's favorite movies. 
The Eddy Duchin Story (1956), co-starring Tyrone Power as pianist Eddy Duchin. Duchin marries socialite Marjorie Oelrichs (Kim Novak), only to lose her when she dies after giving birth to their son. Below, Kim Novak and Tyrone Power are featured in the movie trailer for The Eddy Duchin Story.
The musical comedy Pepe (1960) starred Cantinflas, Dan Dailey, and Shirley Jones (The Partridge Family). Pepe's star-studded cast featured many top musical artists and actors appearing in cameos: Maurice Chevalier, Bing Crosby, Michael Callan, Bobby Darin, Sammy Davis Jr., Jimmy Durante, Zsa Zsa Gábor, Greer Garson, Joey Bishop, Ernie Kovacs (his third movie with Kim Novak), Janet Leigh, Jack Lemmon (his fourth movie with Kim Novak), Donna Reed, Debbie Reynolds, Edward G. Robinson, Frank Sinatra (his third movie with Kim Novak), Dean Martin, and many others. 
Boys' Night Out (1962) co-starred Kim Novak as a sociology student set up in an apartment by four men looking for some romantic adventure. Novak is the woman they set up in an apartment, who is secretly researching the sexual life of middle-aged, middle-class men. Her study subjects are bachelor Fred (James Garner), and married men George (Tony Randall), Doug (Howard Duff), and Howard (Howard Morris). The supporting cast of Boys' Night Out included singer-actress Patti Page, Zsa Zsa Gabor (in her second movie with Kim Novak), Anne Jeffreys, and Jim Backus (Gilligan's Island).
Kim Novak starred as Moll Flanders in the romantic comedy The Amorous Adventures of Moll Flanders (1965).
Her cast-mates in The Amorous Adventures of Moll Flanders included English Shakespearean actor Richard Johnson as her highwayman lover, Angela Lansbury and George Sanders. While filming this movie, Kim Novak and Richard Johnson fell in love; they got married in March 1965. Although Richard Johnson and Kim Novak were divorced the following year (in April 1966), they remained on friendly terms. 
Other 1960's movies of note for Kim Novak:
Of Human Bondage (1964), a drama co-starring Laurence Harvey. 
Kiss Me, Stupid (1964), a romantic comedy directed and co-written by Billy Wilder. Co-starred Dean Martin and Ray Walston (My Favorite Martian)
The Legend of Lylah Clare (1968) directed by Robert Aldrich and co-starring Peter Finch and Ernest Borgnine, with George Kennedy, Ellen Corby, and a young Lee Meriwether in bit parts. Novak played an actress who resembles a deceased 1930's actress. 
Kim Novak and Clint Walker co-starred in two western movies together. The Great Bank Robbery (1969) with Zero Mostel as con-man and would-be robber Reverend Pious Blue, Novak as his accomplice and forger Sister Lyda Kebanov, and Walker as a man of the law, was the first.
The second movie together for Kim Novak and Clint Walker was The White Buffalo (1977), co-starring Charles Bronson, Jack Warden, Will Sampson, Stuart Whitman, John Carradine, Ed Lauter, and Martin Kove (Cagney & Lacey). Ed Lauter had been in Kim Novak's TV horror film Satan's Triangle (1975) with Doug McClure and Alejandro Rey.
By the mid-1960's, Kim Novak was semi-retired from acting. Her Bel Air home was destroyed in a 1966 mudslide, and with her marriage to Richard Johnson also ending, she moved away from Hollywood to Big Sur, California, to raise horses and paint. On her website she recalls this time:
"At the height of my film career I decided to walk away from Hollywood – not wanting to fall prey to the tragic endings that often result when stars and sex symbols get lost in an identity crisis. I turned my back on a successful and lucrative career to define who I was and what I really wanted to give and get out of life. I moved to a cliffside dwelling along the wild coast of Big Sur, California with the purpose of creating a lifestyle in harmony with nature while combining it with my love of painting and writing poetry. I remember how pleased I was when one of my poems was made into a song and recorded by the Kingston Trio and Harry Belafonte."  
Although Kim Novak made the occasional appearance in films after the 1960's, her roles were extremely limited. Her baby boomer and senior fans may remember seeing her in a few television movies and feature films during the 1970's: 
The Third Girl From the Left (1973), as an aging chorus girl opposite Tony Curtis. Barbi Benton, Michael Conrad, George Furth, and Michael Brandon as David were also co-stars in this made-for-television movie.
Just a Gigolo (1978), a German film co-starring with David Bowie, David Hemmings, Maria Schell, Marlene Dietrich, and 

Curd Jürgens (Curt Jurgens).
Novak told Bob Thomas of The Associated Press that she met Carmel, California large animal veterinarian Robert Malloy (in 1974) when he came to her Carmel home to treat a sick horse.
Kim Novak and Robert Malloy were married in March 1976, and she became a stepmother to his two children. Novak says of her husband that "I married…to my soul mate, equine veterinarian Robert Malloy." The couple divided their time between a home in Carmel and a ranch in eastern Oregon for many years, raising horses and llamas. 
During the 1980's, Kim Novak's film appearances were even more limited. She had a role in the feature film The Mirror Crack'd (1980) starring Angela Lansbury as Miss Marple. The supporting cast of The Mirror Crack'd included Rock Hudson, Tony Curtis, Elizabeth Taylor, Geraldine Chaplin, and Pierce Brosnan in an uncredited role.
In the TV movie Malibu (1983), a now 50+ Kim Novak co-starred with another all-star cast. Malibu boasted actors William Atherton, James Coburn, Susan Dey, Chad Everett, Steve Forrest, George Hamilton, Jenilee Harrison, Ann Jillian, Richard Mulligan, Anthony Newley, Valerie Perrine, Eva Marie Saint, Troy Donahue, and Brad Maule (General Hospital).
The pilot episode of Alfred Hitchcock Presents in 1985 had Kim Novak appearing in a segment with fellow former Hitchcock blonde actress Tippi Hedren, along with Steven Bauer, Melanie Griffith, and John Huston. 
From 1986-1987 Kim Novak appeared on night-time soap opera Falcon Crest in the recurring role of Kit Marlowe, which was the name Columbia Pictures boss Harry Cohn had wanted her to take as her professional name when they first signed her to a contract back in 1954.
Novak appeared in episodes of Falcon Crest with series regulars and guest stars Jane Wyman, Robert Foxworth, Lorenzo Lamas, David Selby, Ana Alicia, William R. Moses, Cesar Romero, Susan Sullivan, Edward Albert, Abby Dalton, John Saxon, John Aprea, and Gregory Sierra, among others.  
Kim Novak told the Los Angeles Times that she had a nice experience filming Falcon Crest, and was able to make it to her homes in Carmel or the ranch in Oregon periodically during shooting.
Kim Novak had a starring role as a middle-aged woman who falls in love with a widower (Ben Kingsley) in the dramatic feature film The Children (1990). Supporting actors in The Children included Geraldine Chaplin, Joe Don Baker, Britt Ekland, and Karen Black.
Kim Novak's last appearance on film was in the thriller Liebestraum (1991), directed by Mike Figgis. Her co-stars on Liebestraum included Kevin Anderson (Sleeping With the Enemy), Bill Pullman, Catherine Hicks, Alicia Witt, and Roger Howarth. Novak has said that although the  character she was to play in Liebestraum initially had great appeal and depth, the experience of working with director Mike Figgis was painful and directly impacted her decision to retire completely from acting.
In 1997 Robert Malloy and Kim Novak moved from eastern Oregon to a historic home in southern Oregon, located on the Rogue River. She became a senior the following year and focused on her writing, painting, and working on an autobiography. Unfortunately, their Oregon home was destroyed by a fire in July 2000, taking with it her uncompleted autobiography, many photographs, and memorabilia from her career. 
As a septuagenarian senior citizen, Kim Novak survived a serious fall from a horse in 2006 that resulted in broken ribs and a punctured lung. She is a breast cancer survivor, having undergone treatment after her 2010 diagnosis.
Now an octogenarian senior citizen, Kim Novak has popped up in a few documentaries and at the odd public appearance, but keeps a low profile in Oregon. In a 2012 interview with Robert Osborne for TCM, Novak said that she had bipolar disorder, a serious mental illness.
Kim Novak and husband Robert Malloy will celebrate their 41st wedding anniversary in March 2017. Of her career and life thus far, Novak says on her website that:
"I feel so grateful for the perspective I gained while experiencing the art of 'make believe', Hollywood, and then returning to my first goal to refine my talent and paint my feeling…I hope always to be able to stretch my mind as I exercise my body so that I will keep growing my dreams and expressing my fantasies. I've lived a long rich life, and the wonders of Nature have allowed my eyes to retain their innocence to experience things for the first time."