Best Memorial Service Songs & Music
Is there a song (or a few) that you'd want played at your own funeral memorial service or celebration of life gathering, for the people that are remembering and thinking of you after you're gone?
Gerry and the Pacemakers and others – You'll Never Walk Alone
Richard Rodgers and Oscar Hammerstein wrote the song You'll Never Walk Alone in for their new Broadway musical Carousel (1945). Over 100 artists have since recorded You'll Never Walk Alone, including senior and baby boomer favourites Frank Sinatra, Mario Lanza, Doris Day, Perry Como, Patti Labelle, The Lettermen, Andy Williams, Dionne Warwick, Jerry Reed, Aretha Franklin, Engelbert Humperdinck, Judy Garland, Tom Jones, and many others.
When Gerry and the Pacemakers released their version of You'll Never Walk Alone (1963), baby boomer fans in the UK and Australia pushed the song to #1 on their charts.
The Liverpool Football Club was the first soccer team to adopt the song as it's anthem; other clubs around the world have followed suit.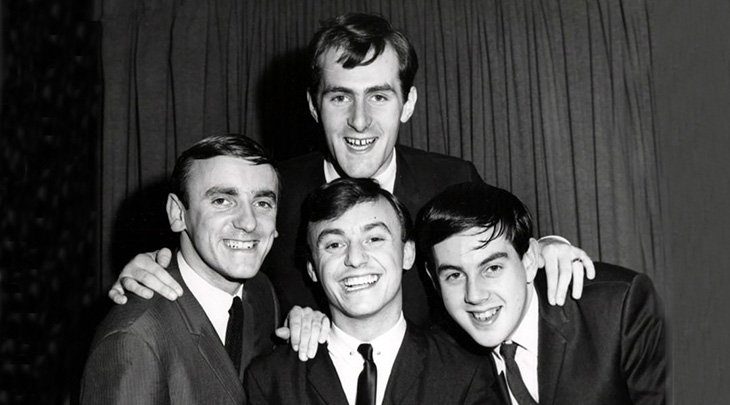 (Gerry & The Pacemakers 1964)
The following year in 1965, Jerry Lewis began singing You'll Never Walk Alone at the conclusion of his annual Labour Day telethon for Muscular Dystrophy, a tradition he continued for 46 years.
Below are some of our favourite renditions of You'll Never Walk Alone by other popular recording artists of the 50's and 60's beloved by baby boomers and seniors: Louis Armstrong, Judy Garland, Gene Vincent, Bill Medley, Shirley Bassey, Ray Charles, Doris Day, Jackie Wilson, The Righteous Brothers, Elvis Presley, and Tom Jones.
Judy Garland's version of You'll Never Walk Alone (1960) was recorded at EMI in London, England
Sarah McLachlan – In The Arms of The Angel
Sarah McLachlan's beautiful In The Arms Of The Angel might be on your list of top songs that celebrate life and memories of loved ones.
Jim Croce – I'll Have to Say I Love You in a Song & Time in a Bottle
Baby boomer favourite Jim Croce's song I'll Have To Say I Love You In A Song wasn't released until after his tragic death in a plane crash; he was only 30 years old.
The story goes that after having been on the road for a long tour, Jim Croce arrived home and didn't tell his wife Ingrid that an entire film crew was going to show up the next day. After the film crew left, Ingrid questioned him about why they had so little money, and rather than stay and argue with her, Jim went downstairs in a temper and started playing guitar while he wrote I'll Have To Say I Love You In A Song. The next morning he came upstairs and sang it to her.
 Jim Croce's song Time in a Bottle was written after his wife told him she was pregnant with their son Adrian (born in 1971).
Nat King Cole – Unforgettable
Senior citizen and baby boomer favourite Nat King Cole's version of the song Unforgettable is a timeless classic.
The 1991 re-mix of Unforgettable with his daughter Natalie Cole performing it as a duet with her father, won 3 Grammy Awards.
Frank Sinatra – (I Did It) My Way
(I Did It) My Way (1969) was written by Canadian singer-songwriter Paul Anka, based on the french song Comme d'habitude (As Usual) (1967), and was written for Frank Sinatra after Sinatra made a comment to him about quitting the business/retiring.
Frank Sinatra's version of My Way was released in early 1969 and although it's top spot on the Billboard charts was #27 in the US thanks older adults (baby boomer parents and grandparents), My Way went to #5 in the UK and spent 75 weeks in the UK Top 40, another 49 in the Top 75.
Sam Smith – Lay Me Down
Relative newcomer Sam Smith is fast becoming a favourite with fans of all ages including seniors and babyboomers. Lay Me Down was the first single from his first album in 2014, In The Lonely Hour.
Sam Cooke – A Change is Gonna Come
Sam Cooke's song A Change is Gonna Come may be best known as a civil rights anthem.
Roy Orbison & Susan Jacks – Evergreen
The video montage is set to Roy Orbison's haunting vocal for the love song Evergreen. Evergreen, written by Joe Tanner and recorded by Roy Orbison, has sold a million records but didn't crack the Hot 100 in the U.S. when Orbison's recording was released in the US in 1962.
Other artists have recorded songwriter Joe Tanner's version of Evergreen, including Canadian singer Susan Jacks. Below, Susan Jacks' cover version of Joe Tanner's Evergreen (1981), which made it to #5 on the Canadian Adult Contemporary charts that year. 

Joni Mitchell, Pete Seeger & Roger Whittaker – Both Sides Now
Canadian singer-songwriter Joni Mitchell has said that Both Sides Now was inspired when she was on an airplane and looked down on the clouds; she was reading a section of the novel Henderson the Rain King by Saul Bellow, in which the character is also looking down at the clouds. Joni Mitchell's version of Both Sides Now was released in 1969.

Although songstress Joni Mitchell wrote Both Sides Now, it was first recorded and released by her friend, American pop singer Judy Collins in 1967. Judy Collins won a Grammy Award for Best Folk Performance and had a #8 hit with her version of Both Sides Now.
Since then, Both Sides Now has been been recorded by many artists, including Anne Murray, Willie Nelson, Dion, Engelbert Humperdinck, Andy Williams, Doris Day, Cilla Black, Glen Campbell, Roch Voisine, Paul Anka, Neil Diamond, and Dolly Parton, to name but a few.
Below are some additional favorite versions of Both Sides Now.
American folk icon Pete Seeger wrote a letter to his friend Joni Mitchell on his 50th birthday and asked to add a verse(s), explaining: "I'm hitting the half-century this year, and have to have something to give my end of the age scale a boost." He included Both Sides Now on his album Young vs. Old (1969).
"Daughter, daughter, don't you know. You're not the first to feel just so. But let me say before I go, it's worth it anyway. Some day we may all be surprised, we'll awake and open up our eyes. And then we all will realize the whole world feels this way. We've all been living upside down, and turned around with love unfound until we turn and face the sun. Yes, all of us everyone."
Kenyan-British singer-songwriter Roger Whittaker's album New World in the Morning (1971) included his version of the song, with a title change to From Both Sides Now.
Below, Roger Whittaker singing From Both Sides Now live.

Is Both Sides Now by one of these artists, on your list of top songs to celebrate the life and memories of yourself or a loved one at their memorial service?
Adele & Garth Brooks – Make You Feel My Love
Adele sings her cover of baby boomer music icon Bob Dylan's song Make You Feel My Love (1997) live on Letterman.
Bob Dylan wrote Make You Feel My Love and released his recording of it on his album Time Out of Mind (1997) but Billy Joel's version was released as a single a month earlier and got to #50 on the Hot 100 charts.
Other artists have since covered Make You Feel My Love, including Trisha Yearwood, Neil Diamond, and Bryan Ferry. Below, Garth Brooks sings his version of Make You Feel My Love, which was a #1 Hot country song for him in 1998.
Linda Ronstadt & Roy Orbison – Blue Bayou
Although Linda Ronstadt made Blue Bayou her signature song, it was co-written and first recorded by Roy Orbison in 1961; his single of Blue Bayou was released in 1963 and went to #29 on the Hot 100 charts.
Baby boomer fans seemed to prefer Linda Ronstadt's version of Blue Bayou, which went to #3 in 1977. Compare the two, and see if you can choose between them.
Louis Armstrong & Israel Kamakawiwo'ole – What a Wonderful World
Gravelly-voiced jazz and blues singer Louis B. Armstrong was the first to record What a Wonderful World (1967), written by Bob Thiele (George Douglas) and George David Weiss.
At almost 67 years of age, Louis Armstrong was a senior citizen and became the oldest man to reach #1 on the UK singles chart; his version of What a Wonderful World has sold over a million copies courtesy of baby boomers, and been downloaded over 2 million times.
Although What a Wonderful World will always be associated with Louis B. Armstrong in the minds of baby boomers, he almost missed the chance to record it first – it was offered to Tony Bennett, who turned it down (and later covered it several times.
Many other artists have performed and recorded What a Wonderful World , including country singer Roy Clark, Canadian songbird Anne Murray, and Hawaiian singer Israel Kamakawiwo'ole; below, Israel Kamakawiwo'ole's audio ukelele version.