Celebrating Seniors - Martin Sheen is 76, Part Four
Martin Sheen Part Four: The Departed and Bobby to Grace & Frankie (2006-2016)
Three major film productions released in 2006 had Martin Sheen in the cast, the year after he became an official senior citizen. The murder mystery Bordertown (2006) starring Jennifer Lopez, Antonio Banderas and Martin Sheen, was based on a true story of unsolved murders in the Mexican border city of Ciudad Juárez. Filming had taken place in Albuquerque, New Mexico, and several locations in Mexico including Ciudad Juárez in 2005, and the movie premiered in May 2006 premiere at the Cannes Film Festival.
Sheen continued his activist work, as can be seen in the 2007 photo below.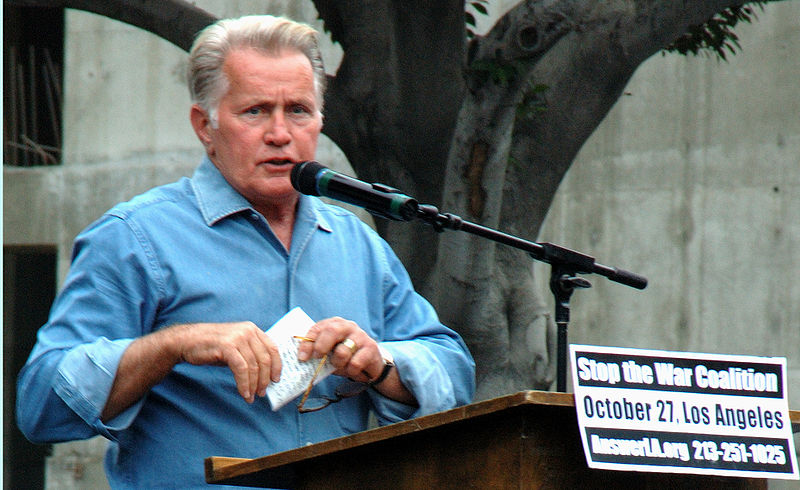 (Martin Sheen 2007 Photo: Damon D'Amato | Wikimedia Commons CC 2.0)
The critical and box-office hit movie The Departed (2006) had Martin Sheen as police Captain Oliver Queenan, who recruits Billy Costigan (Leonardo DiCaprio) for a dangerous undercover assignment. Matt Damon, Jack Nicholson, Mark Wahlberg, and Alec Baldwin round out the cast. The Departed won the Best Picture Academy Award and earned several nominations for Best Ensemble Cast, including the Critics Choice and Screen Actors Guild Award nominations.
In September releases that year, Martin Sheen was in the feature film Bobby (2006) about the events before and after the assassination of US Senator Robert F. Kennedy. Sheen played Jack and Helen Hunt (his co-star from Choices of the Heart, 1983) was Samantha, a married socialite couple and campaign donors in Bobby. 
Bobby was written and directed by Sheen's son Emilio Estévez and included in the large ensemble cast were Harry Belafonte, Emilio Estévez, Heather Graham, Anthony Hopkins, William H. Macy, Demi Moore, Christian Slater, Sharon Stone, and Laurence Fishburne in yet another movie with Martin Sheen (Apocalypse Now, 1979; Cadence, 1990). Bobby also earned several nominations for Best Ensemble Cast, including a Critics Choice and Screen Actors Guild Award nominations.

Martin Sheen's activism continued unabated as a senior citizen. He endorsed marches and walkouts by BAMN (By Any Means Necessary) to honor the Cesar Chavez holiday in California, and participated in immigration marches in Los Angeles. Although the Ohio Democratic Party asked Sheen to run for the U.S. Senate in their state, he declined.
"I'm just not qualified. You're mistaking celebrity for credibility."
Below, Martin Sheen talked about his beliefs for what happens after death, and recalled his own early brush with mortality, to the Irish media in 2011. 
In search of his Irish heritage and higher education, Martin Sheen enrolled as a mature student at the National University of Ireland in Galway, Ireland (NUI Galway). He completed one semester in the fall of 2006 and then returned to California, but not before protesting against Irish farmers paying foreign workers significantly less (as little as €2.50/hour) than the country's minimum wage (€7.65/hour). 
In 2007, Martin Sheen completed voice-over roles in both an episode of Aaron Sorkin's (The West Wing) new comedy-drama series Studio 60 on the Sunset Strip, and the animated short film Flatland (2007). Other voice-overs in Flatland included contributions from his brother Joe Estévez, and actor Michael York, whom Sheen had worked with in the movie Gospa (1995). Sheen was arrested in Nevada for trespassing when protesting at the Nevada Test Site in 2011.
Sheen was reunited with one of his former The West Wing co-stars (Richard Schiff) in the money-losing Eddie Murphy movie Imagine That (2009).  He played a bereaved and angry father-in-law to self-help guru Burke (Aaron Eckhart), who is tentatively beginning a new romance with Eloise (Jennifer Aniston), in Love Happens (2009). Love Happens actress Frances Conroy appeared as Eloise's mom in the movie; she had previously been in other productions with Martin Sheen, including the television mini-series Kennedy (1983) and Queen (1993).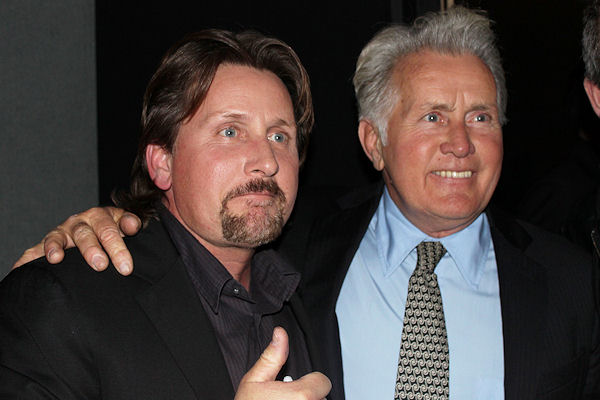 (Emilio Estevez & Martin Sheen 2011 Photo: Sam | Flickr Some rights reserved)
Upon becoming a septuagenarian senior citizen in 2010, Martin Sheen embarked on a feature film project inspired by and in homage to, his family and their Spanish heritage. Sheen stars as Tom, an American doctor who goes to France to collect the remains of his son Daniel (played by Sheen's son Emilio Estévez) who was killed while walking in the Pyrenees on the Camino de Santiago "The Way of Saint James", a Catholic pilgrimage in Spain that leads to the Cathedral of Santiago de Compostela. Tom decides to take Daniel's ashes and continue on his son's pilgrimage. 
The Way (2010) was written, directed, and co-produced by Emilio Estévez, whose son Taylor Estévez had first traveled the pilgrimage route with his grandfather Martin Sheen back in 2003. During their journey, 19-year-old Taylor met his future wife. Sheen's daughter Renée Estévez also appears in The Way as Doreen, and Taylor was an associate producer on it. The cast of the way including Martin Sheen, walked between 300-350 km over 40 days after filming began in September 2009.
Martin Sheen once again returned to his roots in film, in the drama Stella Days (2011) set in Tipperary, Ireland in the 1950's. And as he had done so frequently before in the movies, Sheen played a Roman Catholic priest – Father Barry. According to the New York Daily News, a social media campaign sprang up in Ireland to have Martin Sheen run for President of Ireland (he declined) in their 2011 election.
That same year, the low budget (but financially successful) spy thriller The Double (2011) starring Richard Gere and Topher Grace, featured Martin Sheen as Tom Highland.
Sheen formed part of the all-star cast for director Rob Reiner's documentary about California's Proposition 8, 8 (2012), along with Kevin Bacon, George Clooney, Christine Lahti, Jane Lynch, Jamie Lee Curtis, Brad Pitt, John C. Reilly, and George Takei. Martin Sheen was the voice for Illusive Man in the video game sequel Mass Effect 3 (2012); he had first portrayed the character of Illusive Man beginning in Mass Effect 2 (2010).
He began a recurring role on screen as his son Charlie Sheen's new television series Anger Management (2012-2014). Charlie Sheen played Charlie Goodson and Martin played his critical father Martin Goodson.
Although Sheen was busy in documentaries, television, and video games in 2012, he didn't ignore the movies. In the Steve Carell/Keira Knightley comedy Seeking a Friend for the End of the World (2012), he was Carell's character's estranged father.
In The Amazing Spider-Man (2012), Martin Sheen was kindly Uncle Ben, married to Aunt May (Sally Field); his cameo in the sequel The Amazing Spider-Man 2 (2014) is courtesy of archived footage from the first movie.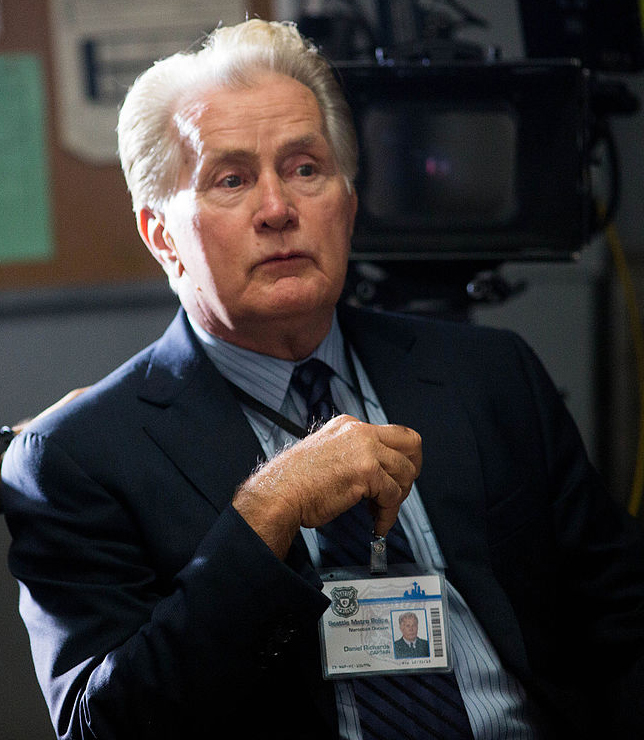 (Martin Sheen 2013 Photo: Sylar2406 | Wikimedia Commons CC 4.0)
Martin Sheen starred as old Thomas Nickerson in the BBC TV movies The Whale (2013) and the sequel Revenge of the Whale (2014). In 2014, Sheen and frequent co-star D. B. Sweeney (Out of the Darkness, 1985; Hear No Evil, 1993; Spawn, 1997) were voices in the animated movie The Boxcar Children (2014); that same year Christian Slater and Martin Sheen appeared in their third movie together, Ask Me Anything (2014); previous movies were Beyond the Stars (1989) and Bobby (2006). 2014 also marked the return of Martin Sheen to Broadway in the play Love Letters (2014).
Most recently septuagenarian senior Martin Sheen could be seen starring in the police drama Badge of Honor (2015), and as a regular on the Netflix drama-comedy Grace and Frankie (2015-present) as Robert Hanson, the gay ex-husband of star Jane Fonda's character Grace Hanson. Mature older co-stars Lily Tomlin and Sam Waterston (Sheen's gay lover and Tomlin's ex-husband) provide a Grace and Frankie cast with strong appeal to aging baby boomers, seniors, and younger generations. Sheen and Waterston had last been on screen together in the western film Eagle's Wing (1979).
In December 2015 at the age of 75, Martin Sheen underwent successful, non-emergency quadruple bypass heart surgery in Los Angeles, California. He has since returned to filming  for the third season of Grace and Frankie, and can be seen next as a priest in The Vessel (2016), and when the Canadian made-for-TV movie L. M. Montgomery's Anne of Green Gables (2016) airs on PBS. L. M. Montgomery's Anne of Green Gables filmed in Milton, Ontario and Prince Edward Island in 2015, and Sheen plays the character of beloved old Matthew Cuthbert.
In Warren Beatty's Rules Don't Apply (2016) directed and written by Warren Beatty, Martin Sheen is Noah Dietrich. The Rules Don't Apply cast includes Warren Beatty as Howard Hughes, in Beatty's first appearance in a big-screen movie in 15 years. Veteran actors Matthew Broderick, Paul Sorvino, Annette Being, Ed Harris, and Candice Bergen will co-star.
Showing no signs of retiring despite his recent open heart surgery and advancing age, Martin Sheen also has 2 movies set for release in 2017.
Sheen now has ten grandchildren and one great-granddaughter, courtesy of sons Emilio, Charlie, and Ramon and granddaughter Cassandra. He told the National Catholic Reporter that he attends Mass in his home parish of Our Lady of Malibu. Janet and Martin Sheen celebrate their 55th wedding anniversary in 2016.
More Martin Sheen:
Martin Sheen, Part One: Early Years to Apocalypse Now (1940-1979)
Martin Sheen, Part Two: Gandhi and The Dead Zone to Gettysburg (1980-1994)
Martin Sheen, Part Three: The American President to The West Wing (1995-2005)