Bittersweet...Colleen McCullough's Life
The financial success of Tim and The Thorn Birds novels gave best-selling Australian novelist Colleen McCullough the financial freedom to give up her medical career as a neuroscientist medical researcher and move to tiny, remote Norfolk Island (population 2K) in the south Pacific, to focus on a self-directed career in writing.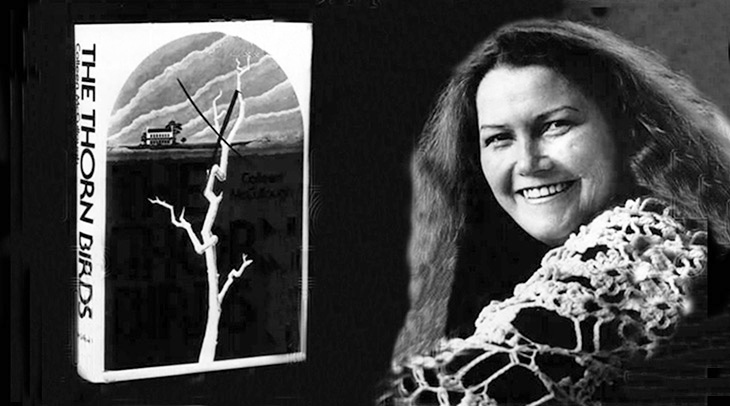 (Colleen McCullough / The Thorn Birds 1977 Photo: Jim Kalett)
Life as an Underpaid Medical Researcher
Colleen McCullough was born June 1, 1937 in New South Wales, Australia. In her quasi-autobiographical memoir Life Without the Boring Bits (2011), snippets of an unhappy home life with her parents emerge. She told California Literary Review writer Judy Huston in a 2007 interview that:
"She was a hard person to get on with, and not a very good mother. In all our lives with her, my brother and I never got a hug or a kiss…my father was anywhere but at home."
McCullough's brother Carl died in a 1965 drowning off the coast of Crete.
After earning a degree and working in Sydney, Australia for some years, McCullough left to travel farther afield. Several years at hospitals in England were followed by 10 years in the United States (1967-1976), researching and teaching at Yale Medical School's Department of Neurology in Connecticut.
According to an The Extraordinary Interview with McCullough, she began writing for financial reasons while working as a Yale University researcher and lecturer. 
"Like most women in my age group, I was chronically underpaid….you got half of what your male peers earned. And so I looked at myself in my early 30s, and I thought, McCullough, you're going to be a 70 year old spinster in a cold water walk up flat with one fifty-watt lightbulb."
McCullough told Hutson that she first attempted to earn some extra money by painting still life and portraits, one of two "hobbies" (the other was writing) she enjoyed outside of working hours. After a few exhibitions, she decided writing might be an easier way to achieve some extra cash.
Blockbuster Best-Sellers
The nucleus of the idea for her first novel Tim (1974), about an intellectually disabled young man, was inspired by a brief encounter with a young mentally disabled man and his much older wife, whom McCullough had at first thought was his mother. Positive reviews and book sales from Tim confirmed her decision to pursue writing.
McCullough said in later interviews that after Tim was published, she burned all of her previous story attempts so that she could ensure nothing she didn't feel was worthy of publication herself, would be published posthumously. 
In 1977, Colleen McCullough became a best-selling novelist when her Australian historical fiction family saga The Thorn Birds was published, and her life drastically changed.
Success followed upon success for the author. Tim was turned into a 1979 movie starring a young Mel Gibson in the title role, while The Thorn Birds was a hugely popular television mini-series in 1983 starring Rachel Ward, Bryan Brown, Richard Chamberlain and Christopher Plummer. 
By then, flush with the money from Tim and The Thorn Birds, the strong-willed and independent McCullough had moved to her new and final home on Norfolk Island in the 1979-1980 to pursue writing full time, in anonymity.
Writing on an Island in The South Pacific
Colleen McCullough told Hutson that the move to Norfolk Island was also partially prompted out of a sense of duty instilled in her as a child, and desire to be closer to her aging mother – but not on the same "piece of land" – in order to fulfill that duty. 
"Duty to me is important as love, if not more important. My book, An Indecent Obsession was about duty."
She soon met 13-years-younger Norfolk Island resident Ric Ion-Robinson, a planter and father of two. Colleen McCullough and Ric Robinson were married in April 1984 when she was 46. 
Colleen McCullough continued to write best-selling novels throughout the rest of her life. In addition many stand-alone novels such as The Ladies of Missalonghi (1987), and A Creed for the Third Millenium (1985), she wrote two popular best-selling series.
The historical fiction Masters of Rome series began with the initial novel The First Man in Rome (1990), and earned her a Doctor of Letters degree from Sydney, Australia's Macquarie University in 1993. The last of the seven books in the Masters of Rome series is Antony and Cleopatra (2007).
In a nod to her time spent in the U.S. at Yale, McCullough also wrote a series of mystery novels featuring 1960's Connecticut police detective Carmine Delmonico. From the first novel On, Off (2006) to the 5th book and last in the Carmine Delmonico series Sins of the Flesh (2013), the series was popular with readers.
Colleen McCullough was interviewed in 2011 about the adaptation of her novel Morgan's Run (2000) into a musical. 
Bittersweet – Ill Health and Contested Wills
In her senior septuagenarian years, and despite ill health (failing eyesight due to macular degeneration that began before 2007, and confined to a wheelchair), she still managed to complete and publish two new books in 2013. These two novels Sins of the Flesh and Bittersweet, would be her final literary gift to the world, at the age 75.
Colleen McCullough died on January 29, 2015 in hospital from kidney failure at the age of 77, after having suffered several strokes and having already been in declining health for several years. She had diabetes, osteoporosis, and uterine cancer at the time of her death. Ric Robinson, her husband of 30+ years, had also been her caregiver. 
In a sad footnote, after her death, as reported in many media sources including CTV, a New South Wales court battle over 2 competing wills erupted. One will from shortly before her death left her estate (valued at US $1.5 million) to her husband Ric Robinson, and another from 2014 gifted it to the University of Oklahoma, where she had once been a board member. 
The battled went on for over 2 years. Colleen's executor and friend, lawyer Selwa Anthony, claimed that McCullough told her she'd kicked Ric out of their home in 2014 because he'd had an affair, but took him back soon after as she had no one to care for her at night, and he needed the money. Robinson said he'd told McCullough about the affair several years earlier (in 2010), and that it was her suggestion in the first place that he "take a friend". The case was settled in July 2018 in favour of Ric Robinson.
In a life that could be summed up by the title of one of her last books, Bittersweet, Colleen McCullough experienced all the highs and lows that life has to offer. She left one successful but underpaid professional career to embark on a new creative career, and achieved popular and financial success. She left a lonely single life in a country with a population of over 100 million, to find love on a remote island with a population of 2000. Although despite her successes, the course of ill health and time took their final toll – her legacy of 23 novels will live on.
Note: This article was first published in 2015 with the title Farewell, Colleen McCullough. It has been updated with new & additional content. 
*Images are believed to be in the public domain and/or Creative Commons licensed & sourced via Wikimedia Commons or Flickr, unless otherwise noted*