TV Trivia: Gunsmoke
Q1. What famous actor portrayed U. S. Marshal Matt Dillon in the CBS radio version of Gunsmoke (1952-1961)?
Q2. What character did John Wayne (the ultimate western movie actor) play on the first episode of Gunsmoke?
The cast of Gunsmoke from 1967-1975, included actors and series regulars Milburn Stone, Ken Curtis, James Arness, and Amanda Blake.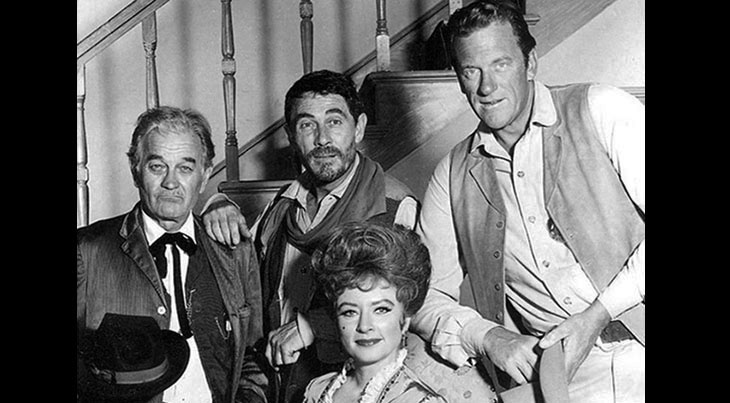 (1967 Gunsmoke Cast Photo: CBS Television)
The baby boomer generation grew up with Gunsmoke, the longest running US television series in the 20th century. It started as a black & white, 1/2 hour television show in 1955 and by 1966 it was being broadcast in glorious colour for a full hour (until it's run ended in 1975).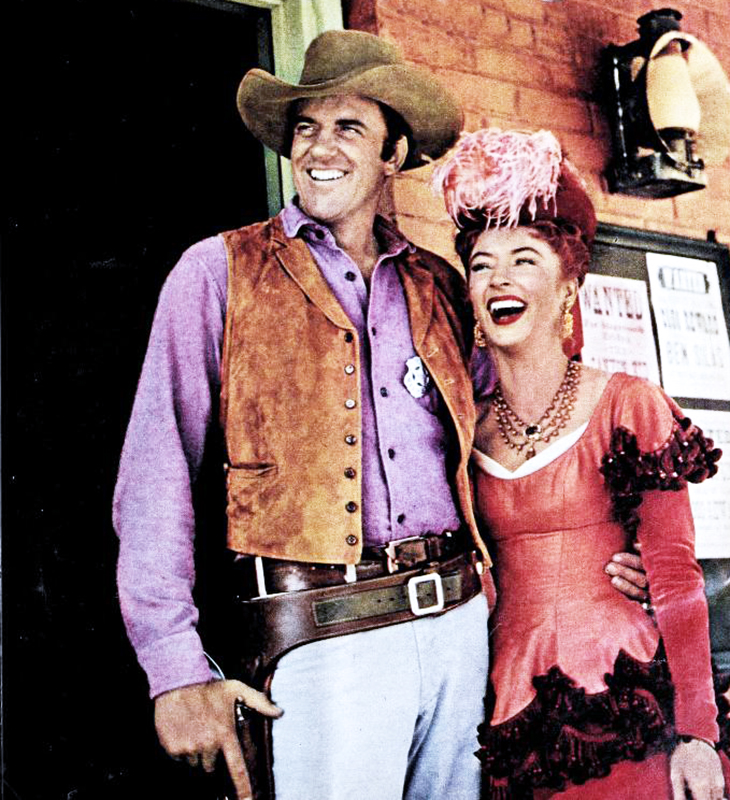 (James Arness & Amanda Blake 1958 Photo: Photoplay) 
Charles Marquis Warren, a successful short story writer, novelist, and screenwriter, was hired by CBS executives to produce and direct this new television version of Gunsmoke. Warren tried what was at the time a revolutionary approach to casting the actors that would inhabit the series characters, according to Broadcasting Telecasting (1955):
"Mr. Warren wrote a unique test for actors aspiring to the Gunsmoke cast….It was a 10-minute scene with an opening, climax and conclusion which involved all of the principals in the cast. To CBS' knowledge, such a thing had never happened before, but it would in the future."
Previously, screen tests would have seen actors choosing a scene from a play, that would showcase his/her talents. More than 140 test scenes were conducted for Gunsmoke, at a cost of $44,500.  Dennis Weaver was the first Gunsmoke regular actor to be signed, followed by James Arness, Amanda Blake, and Milburn Stone. Of the 45 actors that tested for the 4 main Gunsmoke series regulars, 26 tested for the leading man role of Marshal Matt Dillon.
James Arness as Marshal Matt Dillon
The part of Marshal Matt Dillon was won by 6'6″ James Arness, who'd broken into films in 1947 with a series of small roles. In a rare star turn, he'd played "The Thing" in horror movie The Thing From Another World (1951).
Gunsmoke inspired comic books, 5 follow-up movies (between 1987-1994, all starring James Arness), and numerous books.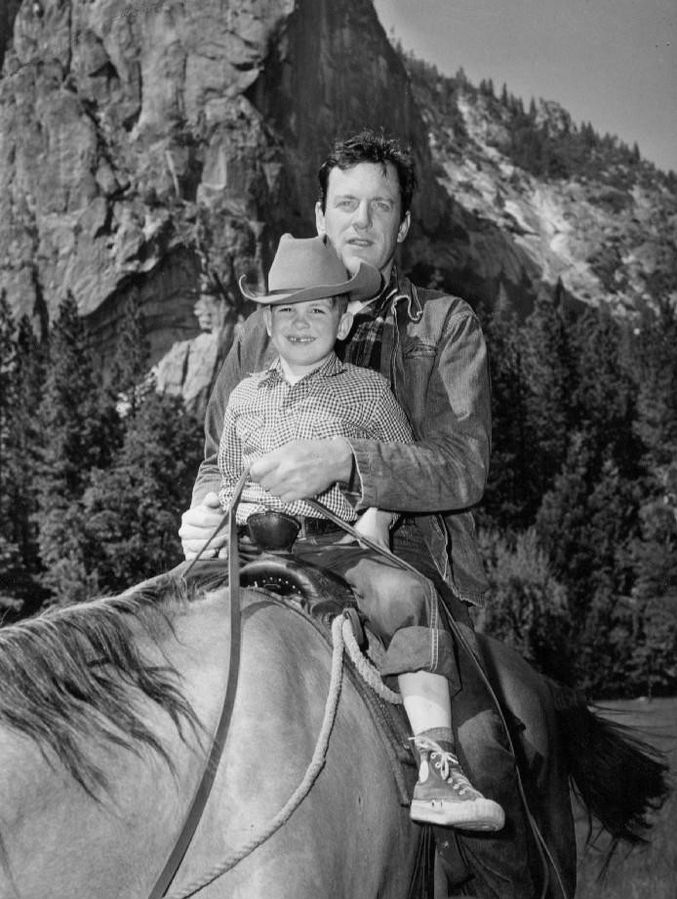 A very young looking James Arness with his son Rolf on horseback in 1959, during the Gunsmoke years. (Photo: CBS Television)
Set in 1870's Dodge City, Kansas, Gunsmoke's lead character, cowboy & U. S. Marshal Matt Dillon was played by actor James Arness for the entire 20 year run of the show. As Marshall Matt Dillon, James Arness fought the bad guys in every episode.
In real life James Arness was a highly decorated (Bronze Star, Purple Heart & more) WWII hero who was injured while serving in Italy in 1944. He underwent several surgeries and had chronic leg pain for the rest of his life, making getting on a horse sometimes painful and difficult. 
Marshal Dillon was aided by several long-serving sidekicks: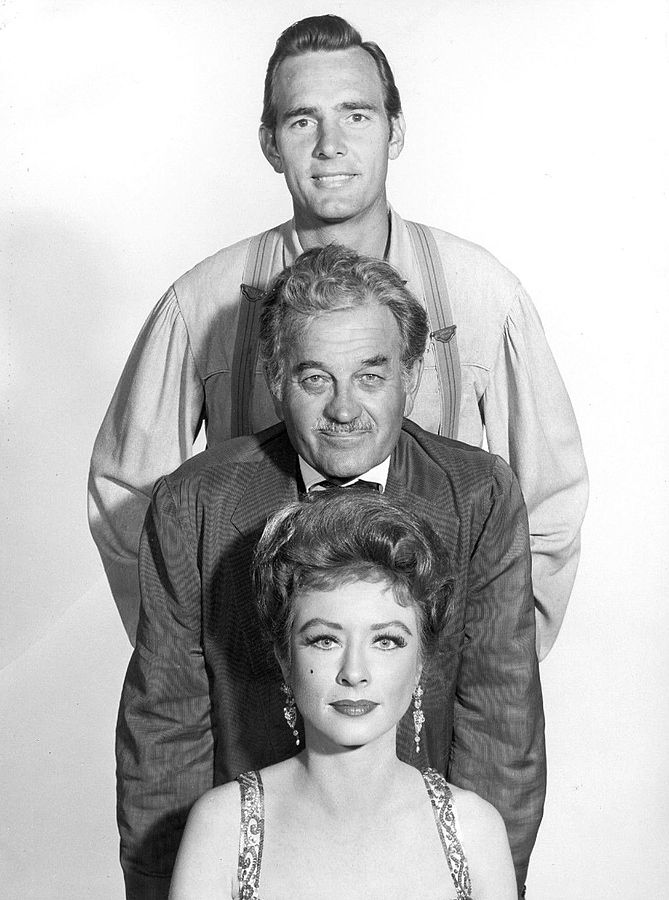 (Dennis Weaver, Milburn Stone & Amanda Blake 1960 1960 Gunsmoke Cast Photo: CBS Television)
From top down:
Limping deputy Chester B. Goode (actor Dennis Weaver from 1955-1963), Marshal Dillon's trusty sidekick.
Galen "Doc" Adams was played by Milburn Stone for all 20 years of Gunsmoke.
Friendly saloon owner/prostitute Miss "Kitty" Kathleen Russell was portrayed by actress Amanda Blake from 1955-1974. Although the series showed a steadfast friendship and obvious attraction between Miss Kitty and Marshal Dillon, the characters never stepped over the line into romance.
Missing from this Gunsmoke cast picture are Ken Curtis, Buck Taylor, & Burt Reynolds, who were also regulars on the series: 
Part-time deputy, hillbilly and often comic relief Festus Haggen (Ken Curtis from 1964-1975). Festus became the replacement sidekick for Matt Dillon when Dennis Weaver left the series.
Back-up deputy Newly O'Brian (played by Buck Taylor from 1967-1975).
Part-Indian blacksmith Quint Asper (Burt Reynolds from 1962-1965).
Sadly, Buck Taylor is the only surviving Gunsmoke cast member (now in his early 80's). The rest of the regulars have since passed on; Milburn Stone died in 1980 (age 75); Amanda Blake in 1989 (age 60); Ken Curtis in 1991 (age 74); Dennis Weaver in 2006 (age 81); James Arness died in 2011 at the age of 88; and Burt Reynolds died in 2018 at the age of 82.
Among the many actors who were semi-regulars or guest-stars on Gunsmoke during the 10 years the series was on the air, are Mark Miller, Beverly Garland, Dabbs Greer, Roy Barcroft, Pat Conway, Gregg Palmer, Pernell Roberts, Victor French, Jack Elam, Denver Pyle, Jonathan Goldsmith, John Crawford, and others.
A1. William Conrad (Cannon) was the star of the radio series Gunsmoke. Conrad was considered too heavy to portray Marshal Dillon in the Gunsmoke television series.
A2. Himself! Since John Wayne was a friend of Gunsmoke series star James Arness, had co-starred with Arness in 5 movies and recommended him for the role of Marshal Dillon, Wayne introduced the very first television episode of Gunsmoke in a prologue (see video below).
Additional Sources: 
Radio TV Mirrror
Note: This article was first published in 2015. It has been updated with new & additional content.
*Images are public domain or Creative Commons licensed & sourced via Wikimedia Commons, Vimeo, or Flickr, unless otherwise noted*