Kirk Douglas, His Lust for Life (1916-1958)
Kirk Douglas is 100, Part 1 of 3
Author, producer, philanthropist, and actor Kirk Douglas was born Issur Danielovitch in Amsterdam, New York on December 9, 1916. This new centenarian senior citizen has lived a full life and can look back on 3 Academy Award nominations for Best Actor, over 90 film credits, a marriage that has lasted over 60 years, 4 sons, and several grandchildren.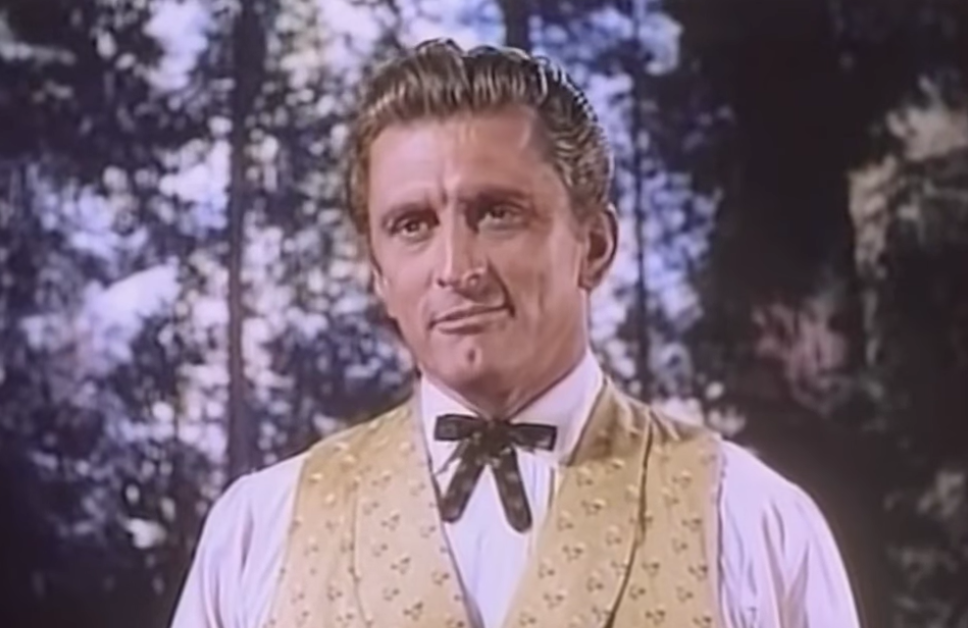 (Kirk Douglas 1952 The Big Trees Screenshot)
Kirk Douglas grew up speaking Yiddish at home and has said in his memoirs that he wanted to be an actor since childhood. He began attending the American Academy of Dramatic Arts (AADA) in New York and it was as a 24-year-old senior that he met fellow AADA acting students Betty Joan Parker (Lauren Bacall) (16 years old), and Bermuda native Diana Dill (17 years old). 
He graduated from AADA and legally changed his name to Kirk Douglas in 1941 before enlisting in the U.S. Navy during World War II. When Kirk Douglas saw Diana Dill on the May 1943 cover of Life magazine, he told his Navy buddies he knew that girl, and was going to marry her.
Kirk Douglas arranged to meet Diana Dill in New York, and they were married in November 1943. Diana Douglas lived with her sister in New Jersey while Kirk returned to Navy duty, serving as a communications officer during WWII until his medical discharge in June 1944.
Diana and Kirk Douglas' oldest son Michael Douglas was born in September 1944 and youngest son Joel Douglas was born in January 1947. Although both sons followed their parents into the entertainment business, only Michael Douglas became an actor; Joel is a producer. 
Kirk and Diana Douglas lived in New York's Greenwich Village while he resumed pursuing a career in acting on radio and stage. He'd already gotten his first Broadway break in 1943, when he took over for actor Richard Widmark in a production of Kiss and Tell. In 1945, Kirk Douglas returned to Broadway (twice) in the role of Steve in Alice in Arms, and as a soldier in The Wind is Ninety. His last Broadway role before breaking in to movies was in Woman Bites Dog (1946) with E. G. Marshall.
Kirk Douglas has credited friend Lauren Bacall with recommending him to movie producer Hal Wallis, who cast him as Walter O'Neill in the romantic drama The Strange Love of Martha Ivers (1947). He went to Hollywood in 1945 to begin filming the movie, in the middle of a labor strike by set dressers. The cast of this first movie for Kirk Douglas included Barbara Stanwyck as Martha Ivers, with Van Heflin, Lizabeth Scott, prolific character actress Ann Doran (Longstreet), and future director Blake Edwards. Douglas has said The Strange Love of Martha Ivers is one of the movies he is most proud of.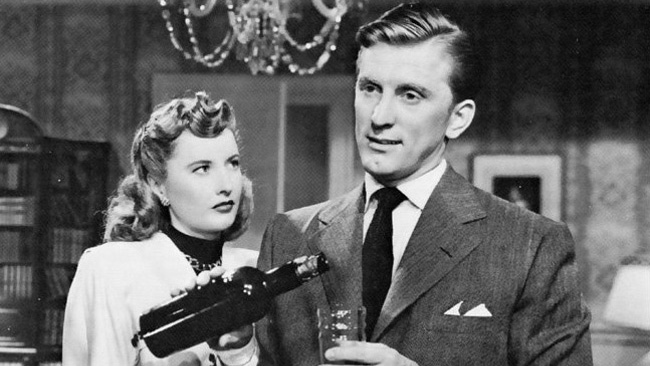 Barbara Stanwyck and Kirk Douglas in The Strange Love of Martha Ivers (1947). (Public Domain Movie)
Kirk Douglas and Burt Lancaster teamed up in the first of 7 movies they would make together for the crime drama I Walk Alone (1948), Kirk's 4th movie. Co-starring with Kirk Douglas in I Walk Alone was actress Lizabeth Scott, who had also been in his first film the previous year.
Linda Darnell co-starred with Kirk Douglas in The Walls of Jericho (1948), with Anne Baxter, and Ann Doran in an uncredited role as a gossip. The next year, Douglas and Linda Darnell would appear onscreen together again in the popular romantic drama A Letter to Three Wives (1949). In A Letter to Three Wives, Kirk Douglas played the husband of actress Ann Sothern; also in the cast were Jeanne Crain, and character actors Thelma Ritter, Carl "Alfalfa" Switzer (The Little Rascals/Our Gang) and Cosmo Sardo in uncredited roles. Years later, Thelma Ritter would appear in another Kirk Douglas movie, For Love or Money (1963) with Julie Newmar and Elizabeth MacRae.
Champion (1949) was a starring role for Kirk Douglas, playing self-centered boxer Midge Kelly; his supporting cast members included Arthur Kennedy, Lola Albright, and Polly Bergen. Kirk Douglas received his first Academy Award nomination for Best Actor for his performance in Champion. Arthur Kennedy and Kirk Douglas would appear onscreen again the following year in the drama The Glass Menagerie (1950), co-starring Jane Wyman. Below, Kirk Douglas and Jane Wyman in a scene from The Glass Menagerie.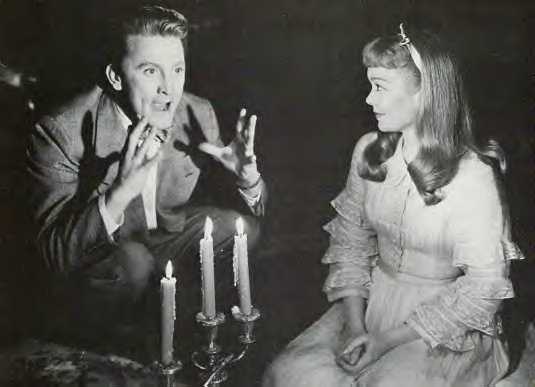 (The Glass Menagerie 1950 Movie Trailer Screenshot | Wikimedia Commons / Public Domain)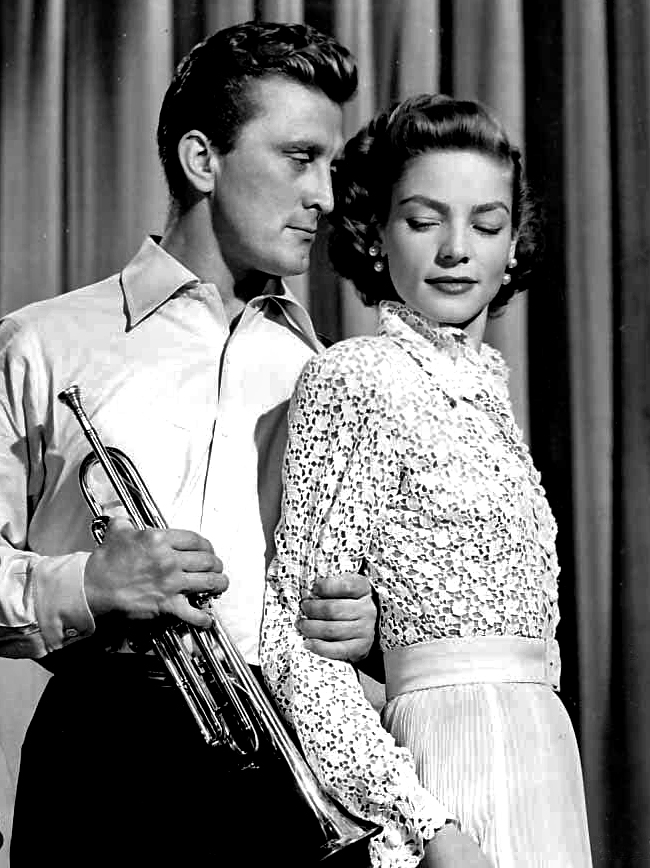 (Kirk Douglas & Lauren Bacall 1950 Young Man with a Horn Photo: Photofest | Wikimedia Commons / Public Domain)
Friend Lauren Bacall co-starred with Kirk Douglas and Doris Day in the musical biographical movie Young Man with a Horn (1950). Douglas played gifted youth Rick Martin, and his love interests were Lauren Bacall as quasi-lesbian student Amy North, and Doris Day as singer Jo Jordan who ultimately saves him and finds true love.
The storyline of trumpeter Rick becoming an alcoholic was deja vu for Doris Day, whose abusive first husband Al Jorden was an alcoholic trombonist; reportedly neither Doris Day nor Kirk Douglas enjoyed the experience of working together on Young Man with a Horn.
In the drama Detective Story (1951), Kirk Douglas played a police detective married to actress Eleanor Parker's character Mary. Actress Lee Grant, who had played in Detective Story on Broadway to wide acclaim, played a shoplifter in the film. By the time Detective Story was released in November 1951, Lee Grant had been blacklisted in Hollywood. Lee Grant couldn't find film work for many years, despite being nominated for an Academy Award for Best Actress in a Supporting Role for her performance in Detective Story. Below, Kirk Douglas in Detective Story.
(Kirk Douglas 1951 Detective Story Trailer Screenshot)
By the end of 1951, Diane Douglas and Kirk Douglas had moved to Hollywood for his career, and were divorced amicably; she would much later describe him in her memoir as "sexually voracious". 
He continued acting in movies such as The Bad and the Beautiful (1952), a romantic drama produced by John Houseman, and directed by Vincente Minnelli, co-starring Lana Turner and Barry Sullivan. Kirk Douglas received another Academy Award nomination for Best Actor for his performance in The Bad and the Beautiful.
In the 3-part romantic fantasy The Story of Three Loves (1953), Kirk Douglas was paired with Pier Angeli and American actor Richard Anderson in the segment titled Equilibrium.
Also in the cast of The Story of Three Loves, but in other segments, were James Mason, Leslie Caron, and Zsa Zsa Gabor. In his memoir I Am Spartacus (2012), Kirk Douglas describes falling "head over heels in love with a twenty-year-old Italian actress named Pier Angeli. Or so I thought. We got engaged soon after we met. She was all that I thought about, morning, noon, and night. (Only later did I discover that while Pier might have been thinking about me in the morning, she was also thinking about several other men in the afternoon and evening."
Kirk Douglas filmed the WWII drama The Juggler (1953) in the newly formed state of Israel, and 2 more movies in Europe. Ulysses (1954) co-starred Anthony Quinn and was filmed in Rome, and Act of Love (1953), another WWII drama, was filmed in Paris. As Kirk says in his memoir, 
"I did meet the love of my life in Europe. But it wasn't Pier Angeli. Her name was Anne Buydens. She was born in Germany and grew up in Belgium and Switzerland. We met in Paris while I was shooting Act of Love, and we were married in the United States on May 29, 1954. I have never loved anyone more than I do Anne. In fact, she is my life. She's saved it in more ways than I can count and continues to do so every day. "
James Mason, Kirk Douglas, Peter Lorre, and a young and uncredited actor called Charles Grodin, co-starred in the Walt Disney family adventure-fantasy 20,000 Leagues Under the Sea (1954). 20,000 Leagues Under the Sea was a critical and box office hit when it was released in December 1954.
Kirk Douglas and actor Jack Elam would appear in 5 movies together, beginning with The Racers (1955). The other 4 movies to star both Jack Elam and Kirk Douglas were all westerns, a genre that suited both the classic "heroic" leading man Douglas and character actor Elam:
Gunfight at the O.K. Corrall (1957) with Burt Lancaster, Rhonda Fleming, Earl Holliman, and Lee Van Cleef. Gunfight at the O.K. Corrall was the 2nd movie to co-star Burt Lancaster and Kirk Douglas. Earl Holliman and Kirk Douglas would both appear in another western, The Last Train from Gun Hill (1959).
The Last Sunset (1961) with Rock Hudson, Dorothy Malone (Peyton Place), Joseph Cotten, and Carol Lynley. The Last Sunset was produced by Bryna Productions; frustrated with Hollywood movie studios, Kirk Douglas had formed his own movie production company in the mid-1950s and called it Bryna Productions, after his mother. 
The Way West (1967) with Robert Mitchum, Richard Widmark, Lola Albright, and Sally Field.
The Villain (1979) with Arnold Schwarzenegger, Ann-Margret, and country singer Mel Tillis.
The first movie for Bryna Productions was a western called The Indian Fighter (1955), in which Kirk Douglas co-starred with Italian actress Elsa Martinelli, Walter Matthau, Alan Hale Jr., and his ex-wife Diana Douglas. Alan Hale Jr. and Kirk Douglas had worked together previously in the Quaker movie The Big Trees (1952), and worked together again in western about a Quaker colony, with Alan Hale Jr, Ellen Corby. Not only was Kirk's new wife Anne Douglas supportive of the movie, casting his ex-wife Diana, and his going to Oregon to film the movie on location, Anne stayed at home in Los Angeles and took care of Kirk and Diana's sons Michael and Joel Douglas.
Anne and Kirk Douglas' oldest son Peter Douglas was born November 1955 in Los Angeles; youngest son Eric Douglas born June 1958 Los Angeles. 
The next film project for Kirk Douglas was playing Vincent Van Gogh in the biographical drama, Lust for Life (1956). His co-stars in Lust for Life were Anthony Quinn, and Marion Ross in an uncredited role as Sister Clothilde. Douglas' The Bad and the Beautiful director Vincente Minnelli and producer John Houseman, repeated these roles in Lust for Life. Kirk Douglas was nominated a third time for an Academy Award for Best Actor, for his performance as mentally ill painter Vincent Van Gogh in Lust for Life. Below, the official Lust for Life movie trailer courtesy of Warner Movies on Demand.
Lust for Life was the second movie to co-star Kirk Douglas and Anthony Quinn (the first was 1954's Ulysses). Three year later, Douglas and Quinn would co-star in their third and final movie together, The Last Train from Gun Hill (1959) with Carolyn Jones and Earl Holliman. 
Stanley Kubrick co-wrote, directed, and co-produced the United Artists World War I anti-war movie Paths of Glory (1957) starring Kirk Douglas. Paths of Glory was one of the first feature films written and directed by Stanley Kubrick, and co-starred Adolphe Menjou and character actors Richard Anderson and Bert Freed. Bryna Productions was involved in Paths of Glory, and both Kirk Douglas and Stanley Kubrick were uncredited co-producers on the movie. Below, Adolphe Menjou and Kirk Douglas in Paths of Glory.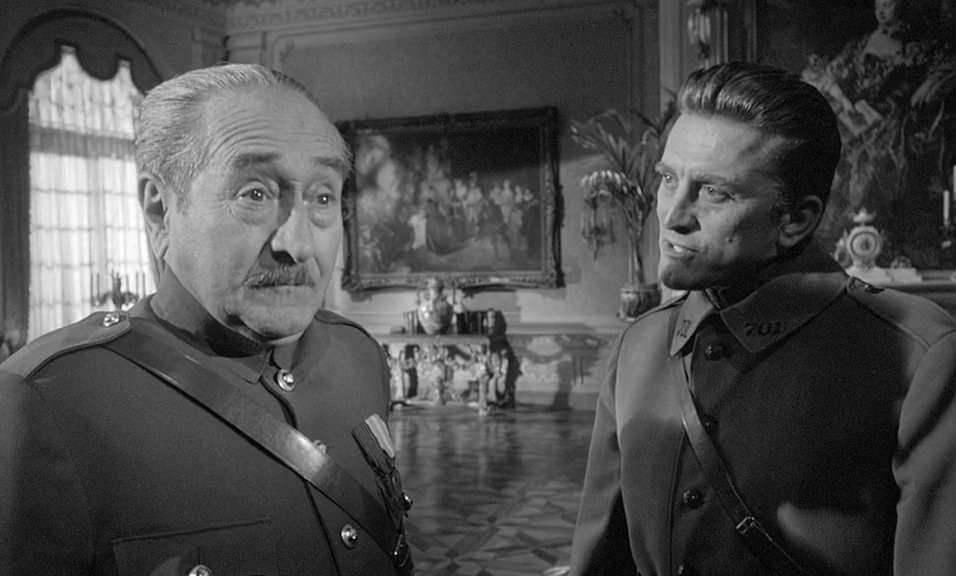 (Photo: Paths of Glory 1957 Trailer | Wikimedia Commons / Public Domain)
In 1958 Kirk Douglas narrowly escaped being killed in the same private airplane crash that killed Elizabeth Taylor's husband, Broadway and movie producer Mike Todd. In his memoir I Am Spartacus, Douglas recounted how Todd had invited Kirk to fly with him, but Kirk's wife Anne insisted he not, precipitating a bitter argument (which Anne won).
Later that year, Bryna Productions released the adventure movie The Vikings (1958) co-starring Kirk Douglas, Ernest Borgnine, Tony Curtis, and Janet Leigh, in November 1958. Kirk Douglas served as Tony Curtis and then-wife Janet Leigh and were married at the time, and portrayed a couple onscreen as well in The Vikings. Despite being 2 months younger than Kirk Douglas, actor Ernest Borgnine played his father in The Vikings.
Next:
Kirk Douglas is 100, Part 2: Kirk Douglas, Spartacus Ends Blacklist (1959-1985)
Kirk Douglas is 100, Part 3: Kirk Douglas Movies, Memoirs, Before I Forget (1986-2017)