Sunny Jim McKeen, Baby Snookums
Before Ziegfeld Follies comedy star Fanny Brice and "Baby Snooks", there was the 1904-1916 comic strip series The Newlyweds and Their Baby, created by cartoonist and actor George McManus.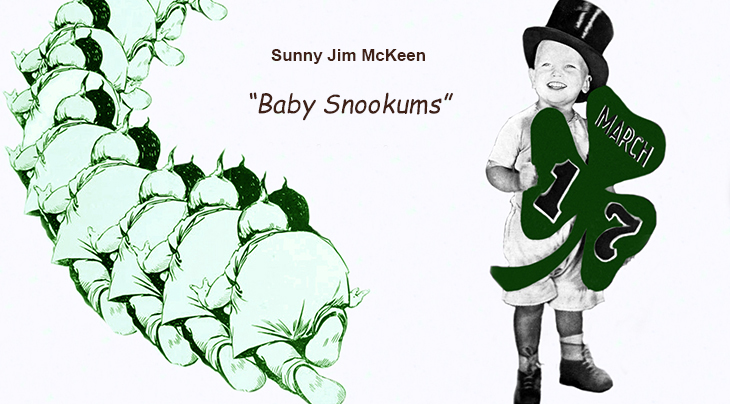 (Sunny Jim McKeen / Baby Snookums 1927 Illustrations & St. Patrick's Day Photo: Universal Weekly)
Toddler Lawrence "Sunny Jim" McKeen portrayed Snookums in 39 Newlyweds and Their Baby silent film shorts between 1926-1929, beginning when he was 18 months old. 
The series was produced by Abe and Julius Stern as the Stern Brothers film brand for Universal Studios.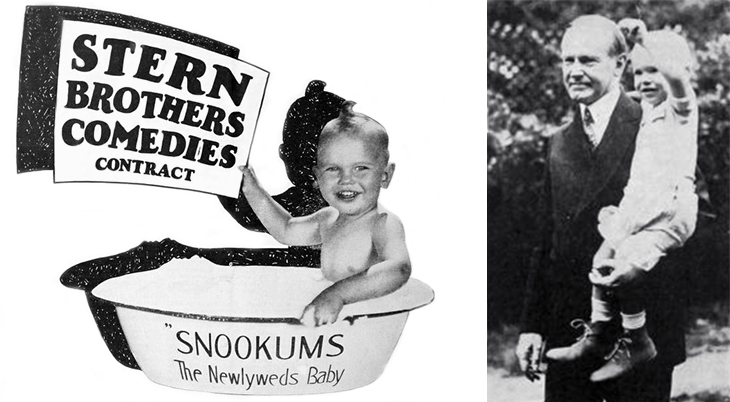 (Sunny Jim McKeen 1926 Newlyweds/Stern Brothers Ad & 1927 with President Calvin Coolidge) 
In 1927, Sunny Jim McKeen toured across America to promote the Snookums / Newlyweds' films, posting for a photo opp with then-President Calvin Coolidge along the way.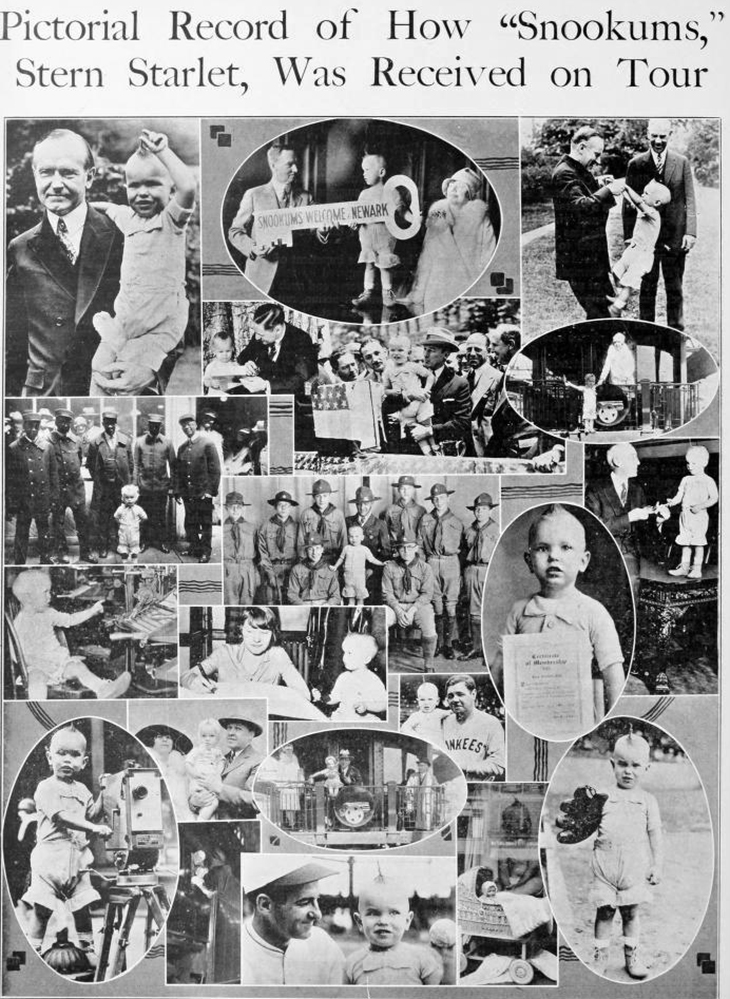 (Sunny Jim McKeen / Snookums 1927 Tour Photos: Motion Picture News)
Gus Meins directed the majority of the Newlyweds' movies, with Francis Corby directed 16 of thems between 1928-1929.
Although Sunny Jim was the real star and appeared in all of these film shorts, five different actors played his parents. 
The Newlywed father was played by three actors – Joe Dooley (whose only film credits are in 13 Newlyweds' movies), Syd Saylor, and Jack Egan. Snookums mother was played by Derelys Perdue and Ethlyne Clair.
Pretty dancer-actress Derelys Perdue was a 1923 WAMPAS Baby Star, and appeared in 36 silent movies between 1923-1929. Whether from the advent of sound or because of a legal dispute over the studio wanting to change her first name to Ann (Derelys was often miss-spelled and hard to pronounce), her film career ended in 1929.

(Syd Saylor 1934, Ethlyn Clair 1927, Derelys Perdue 1928, & Jack Egan 1928) 
Ethlyn Clair was in most of the earlier Newlyweds' films between 1926-1928, and was usually paired with actors Joe Dooley or Syd Saylor as the father. She was also a WAMPAS Baby Star, albeit in 1929. Between 1924-1932 Ethlyne appeared in 46 movies. She married second husband Em Westmore (of the Westmore Hollywood make-up artists family) in 1930. Ethlyn Clair's movie career was over in 1932, whether because of sound films, or married life. Clair and Westmore divorced in 1937, and she married for the third and last time in 1939. 
Actor Jack Egan began playing the Newlywed father in 1928 (although not exclusively), and usually co-starred with Derelys Perdue. As with Ethlyn Clair and Derelys Perdue, his film credits ended with the advent of sound movies. However, he appeared in many films of the 1930s and early 1940s in uncredited roles. 
Syd Saylor had the most prolific career of all of the Newlyweds' / Snookums film actors. His flair for comedic / character roles was apparent when he began starring in the "George" comedy film shorts (42 were released between 1926-1929); this was another movie series based on a cartoon strip by George McManus, Let George Do It. Syd Saylor made the transition to "talking pictures" and often played a sidekick to the hero in westerns and other movies, such as Branded a Coward (1935) starring Johnny Mack Brown, and Born to the West (1937), starring John Wayne. Saylor's career lasted into the era of television; he accumulated over 430 film credits (IMDB) by the time of his death in 1962.
With the advent of sound films, the Newlyweds' silent short series was cancelled.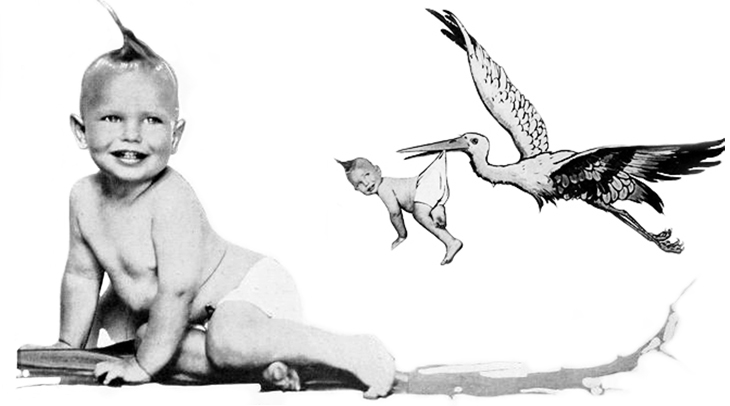 (Sunny Jim McKeen / Baby Snookums 1926 Illustrations & Photos: Universal Weekly)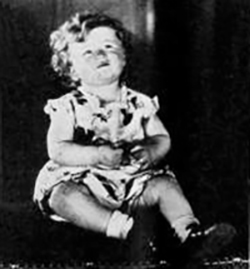 (Merry Mae McKeen, age 14 mos. Photo: 1928: Universal Weekly)
Universal had announced that Sunny Jim's little sister Merry Mae McKeen would be appearing in Buster Brown comedy films in 1928. Merry Mae McKeen has only has 1 known film credit on IMDB, in  the Century Film's comedy short Teacher's Pest (1928), with Arthur Trimble.
Her brother went on to appear in 11 talking short films between 1929-1930, but at the grand old age of six, his movie career was over.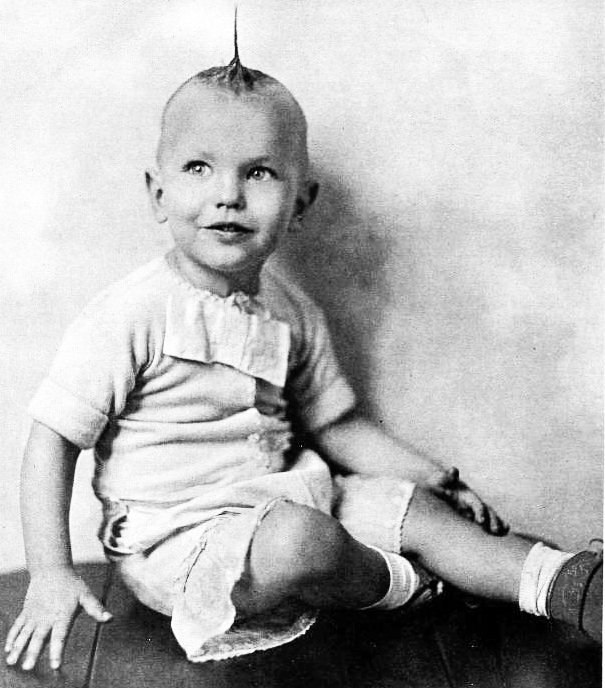 (Sunny Jim McKeen as Snookums 1927 Photo: Wide World Studios / Picture Play)
Tragically, young Lawrence / Sunny Jim McKeen died of blood poisoning when he was only 8 years of age, in April 1933. 
*Images are believed to be in the public domain or Creative Commons licensed & sourced via Wikimedia Commons, Vimeo, YouTube, or Flickr, unless otherwise noted*