Cinelandia - Lucio Villegas and Kavelita
Editor Lucio A. Villegas, prominent film directors such as A. Stuart Blackton, and occasional illustrations from the artist billed as "Kavelita", contributed to the early success of the Spanish-language Hollywood movie fan magazine Cinelandia.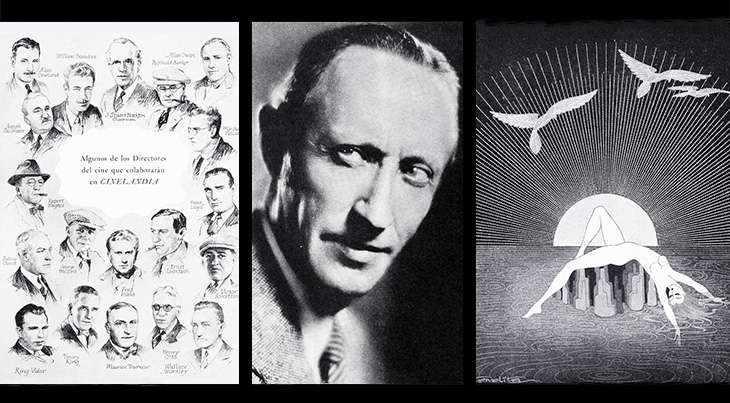 (Cinelandia Contributing film directors, Editor Lucio Villegas, & Kavelita "The Sunset" Illustration 1927)
The magazine's first cover identified "Some of the film directors who will collaborate in Cinelandia", in September 1926.
Top half from left. Rupert Hughes(MGM), Joseph DeGrasse, Alan Crosland (warner Bros.), William Beaudine, J. Stuart Blackton (Vitagraph), Reginald Barker, Allan Dwan, Marshall Neilan (MGM), Frank Lloyd
Middle row from left: Sidney Olcott, George Melford, Fred Niblo (MGM), Ernst Lubitsch (Warner Bros.), Victor Schertzinger
Bottom row from left: King Vidor (MGM), Henry King, Maurice Tourneur (MGM), Henry Otto, Wallace Worsley
Cinelandia
Cinelandia was published in Hollywood by the Spanish-American Publishing Co. Between 1926-1947 Cinelandia was distributed in primarily Portuguese and Spanish-language countries such as Argentina, Uruguay, & Paraguay in South America; Mexico in North America; and Spain and Portugal in Europe.
In addition to articles about movies and studios, the first edition of Cinelandia carried full-size portraits of film stars such as Antonio Moreno, Harold Lloyd & wife Mildred Davis Lloyd, Renee Adoree, and John Gilbert. Fashion, caricatures, and other illustrations could be found between the front and back covers. 
It was amply supplied with content contributed by Hollywood film studios. Chairman J. Stuart Blackton was not only a noted film director, he was the pioneering founder & producer of the mighty Vitagraph Company of America movie studio. Together with publishing partner Eugene V. Brewster, Blackton had previously co-founded the first English movie fan magazine, The Motion Picture Story Magazine (1911-1977). This dynamic publishing duo founded later arts & film fan magazines Shadowland (1919-1923) and Motion Picture Classic (1915-1931), so he was well-equipped to help launch a fan magazine, albeit in a different language. 
Movie studio producers Jesse Lasky (Famous Players-Lasky) and Cecil B. DeMille contributed articles to Cinelandia.
Lucio A. Villegas
(Lucio Villegas & Carmen Guerrero 1931 La gran jornada)
Born in Chile on February 25, 1883, Lucio A. Villegas had a diverse career, according to film industry magazines and trade journals. A 1937 biography in rival Spanish-language fan magazine Cine-Mundial said he had served as Consulate General of Chile in Japan, before leaving his diplomatic career behind him to become a writer 15 years earlier. In 1930 The Film Daily stated Lucio Villega was a former professor of Spanish at the University of California. 
Cinelandia Vice-President and Editor Lucio A. Villegas also wrote Album de Cinelandia (1928), a Spanish-language book of film star biographies.
In between the launch of Cinelandia in 1926 and the publication of Album de Cinelandia in 1928, Villegas (full name Lucio Alberto Villegas Villagran) married Margaret L. Witt  on April 22, 1927, and suffered a heart attack in July 1927. 
Villegas recovered from his heart attack, but by February 1928 he was no longer listed as the Cinelandia editor.
He went on to venture further in the world of films, working at Universal and then R.K.O. behind the scenes helping with translation into Spanish, of films filmed in English. Villegas was engaged by Pathe in 1930 to write and adapt The Grand Parade, Broadway, and Rio Rita for Spanish-speaking audiences.
He soon ventured into acting on screen himself, beginning in 1930. In La gran jornada – a Spanish-language remake of the John Wayne film The Big Trail, filmed simultaneously with George J. Lewis as the lead, Villegas plays a friar to the film's leading lady, Carmen Guerrero.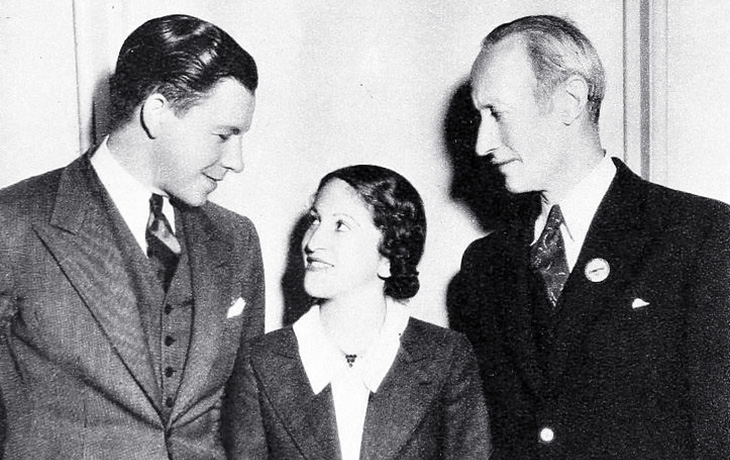 (Lucio Villega 1937 Cine-Mundial)
"Anita Lizana, the Chilean tennis champion from North American and elsewhere, with George Murphy (film director for Universal, whose studios I recently visited), Lucio Villegas, former Chilean tennis champion." – Cinemundial, January 1938
Before his death in July 1968 at the age of 85, Lucio A. Villegas acquired over 55 film credits (per IMDB) as an actor in both English and Spanish-language movies released between 1930-1950. He also worked as a writer, producer & actor of radio programs during the 1930s
Lucio Villegas died July 20, 1968 at the age of 85. He was survived by his wife Margaret L. Villegas, son Lucio A. Villegas Jr., daughters Julianne Campbell and Mrs. Prendita Kowal, and 9 grandchildren. Some additional highlights of his life:
"Mr. Villegas was graduated from the University of Chile and received his law degree from the Chilean Supreme Court in 1904…he was singles tennis champion of Chile from 1912 to 1915…In 1918, he was assigned as Consul General for Chile in Denmark, and later in Japan. in 1920,  Villegas was selected to be consul in Seattle, Wash. which post he held until his resignation in 1924…[He] became a professor of Spanish and Latin American Commerical Law at UCLA until 1926….In 1947  Mr. Villegas established his own Import-Export company in Los Angeles. His major business was exporting petroleum products from the United States to Chile. Mr. Villegas retired from actives business in 1953." – Lucio Villegas, Actor, Businessman Dies – The News, Van Nuys, California, July 23, 1968
Kavelita
Right from the first edition in September 1926, Cinelandia occasionally featured detailed black-and-white illustrations by an artist billed as Kavelita. I was so struck by the fanciful illustrations that I colorized them, below.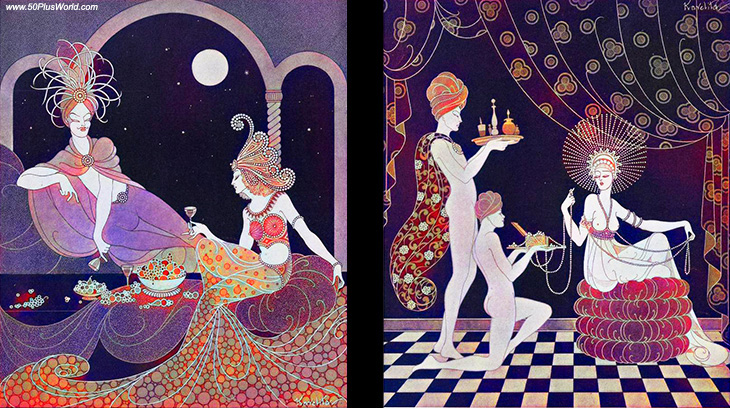 (Kavelita 1926 Illlustrations / Colorized by A. Hamilton)
These first two illustrations the September 1926 edition of Cinelandia were described as "modern decorative art", and "novel and commerce illustrations".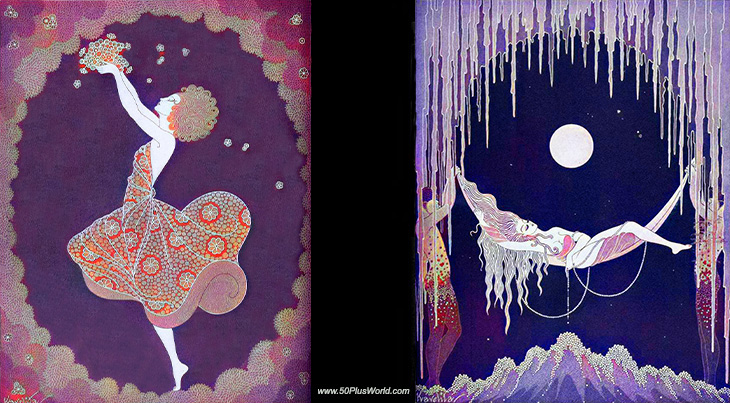 (Kavelita 1927 Illlustrations Dancer with Flower & Moon / Colorized by A. Hamilton)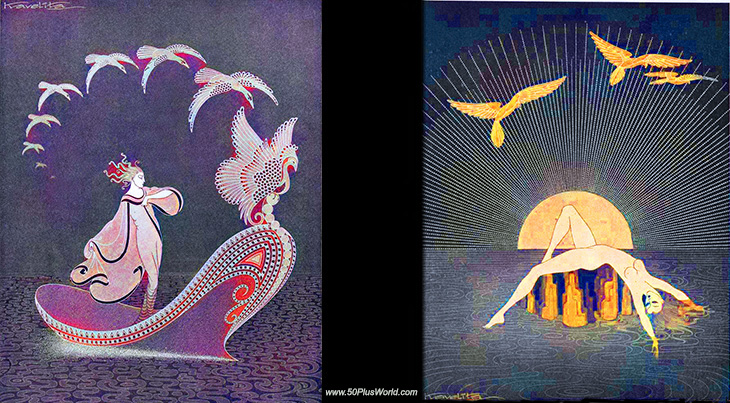 (Kavelita 1927 Illlustrations – The Spectral Boat & The Sunset / Colorized by A. Hamilton)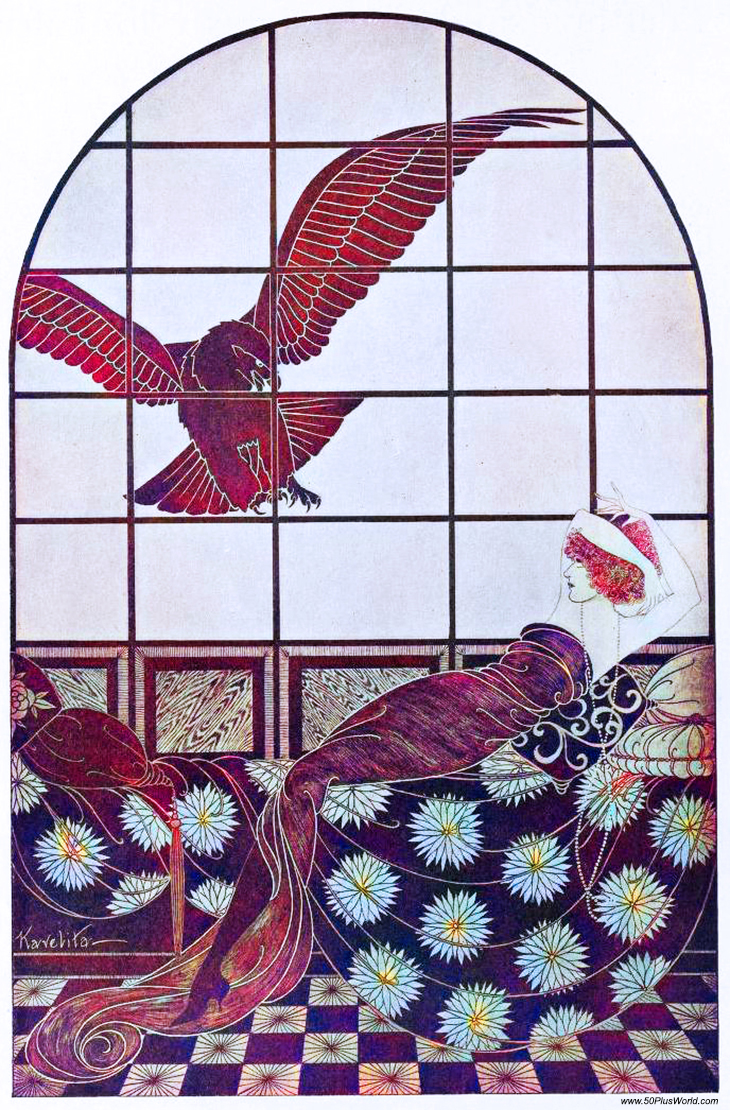 (Kavelita -El Halcion 1927 / Colorized by A. Hamilton)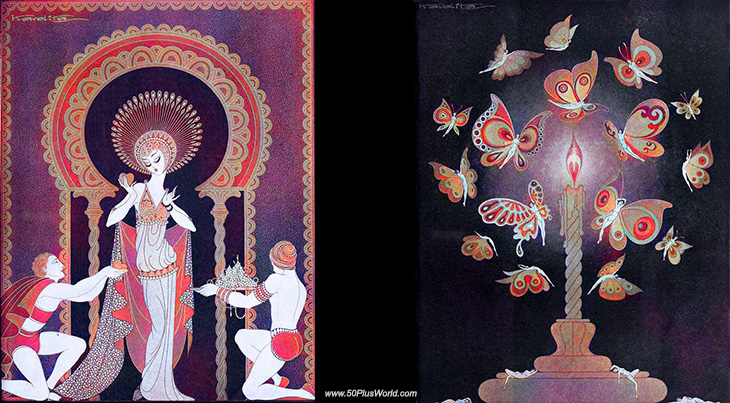 (Kavelita -The Eternal Question, Love or Riches 1927 & The Hollywood Flame 1928 / Colorized by A. Hamilton)
No biography was provided for this mysterious artist by Cinelandia, and I couldn't find any on-line reference to an artist by the name of Kavelita. The illustrations stopped appearing in Cinelandia in February 1928, the same time that editor Lucio A. Villegas disappeared from the masthead. 
A mystery to puzzle over, and illustrations to enjoy.