February 6th Birthdays
If you were born on February 6th you share a birthday with these famous people: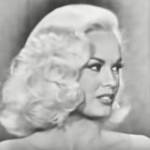 Mamie Van Doren is 90 (nee Joan Lucille Olander)
American pin-up model and movie actress (The All American; Untamed Youth; Ain't Misbehavin'; Running Wild; Teacher's Pet; High School Confidential; The Girl in Black Stockings; Sex Kittens Go to College; The Private Lives of Adam and Eve; Girls Town), born Feb. 6, 1931. (Mamie Van Doren 1957 What's My Line?)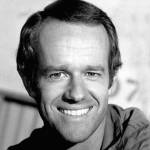 Mike Farrell is 82 (nee Michael Joseph Farrell Jr.)
American actor of TV (Capt. B. J. Hunnicutt on M*A*S*H; Dr. James Hansen on Providence; Desperate Housewives; The Red Road; Days of Our Lives; The Interns; The Man and the City; Superman), and movie producer (Patch Adams), born February 6, 1939. (Mike Farrell 1975 M*A*S*H Photo: CBS TV)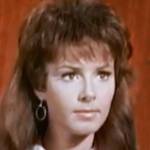 Gigi Perreau is 80 (nee Ghislaine Elizabeth Marie Thérèse Perreau-Saussine)
American actress of TV (Follow the Sun; Perry Mason; Lassie; The Rifleman) & movies (Shadow on the Wall; Week-End With Father; Has Anybody Seen My Gal; Bonzo Goes to College; Look in Any Window; Hell on Wheels; Journey to the Center of Time), born February 6, 1941. (Gigi Perreau 1967 Iron Horse)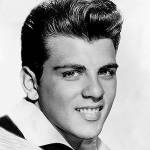 Fabian is 78 (nee Fabiano Anthony Forte)

American singer (Turn Me Loose; Tiger; Come on and Get Me; Hound Dog Man; This Friendly World), actor of TV and movies (North to Alaska; Mr. Hobbs Takes a Vacation; The Longest Day; Ten Little Indians; Thunder Alley), born February 6, 1943. (Fabian 1959 Photo: 20th Century Fox)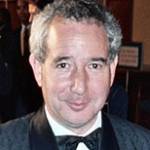 Michael Tucker is 76
American actor of stage, TV (Stuart Markowitz on L. A. Law; Tracey Takes On…; Ryan's Hope; Hill Street Blues; Law & Order), and movies (Checking Out; For Love or Money; D2: The Mighty Ducks; Tin Men; 'Til There Was You; Diner), born February 6, 1945. (Michael Tucker 1987  Photo: Alan Light)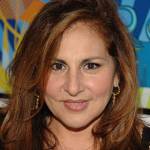 Kathy Najimy is 64
American actress & voice actress in movies (Sister Act; Hocus Pocus; Soapdish; Hope Floats; The Wedding Planner; Rat Race) and on TV (Peggy Hill on King of the Hill; Olive Massery on Veronica's Closet; Unforgettable; Veep) born February 6, 1957. (Kathy Najimy 2007 Photo: Javier Donoso)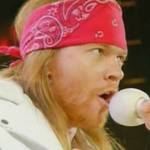 Axl Rose is 59 (nee William Bruce Rose Jr.)
American songwriter and lead singer for Rock & Roll Hall of Fame band Guns N' Roses (Sweet Child o' Mine; November Rain; Knockin' on Heaven's Door; Patience; Welcome to the Jungle; You Could Be Mine; Live and Let Die; Don't Cry; Civil War; Ain't It Fun), born February 6, 1962. (Axl Rose 2007 Photo: Calon)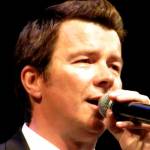 Rick Astley is 55 (nee Richard Paul Astley)
English BBC radio host, songwriter, & singer (Never Gonna Give You Up; Whenever You Need Somebody, When I Fall in Love; Together Forever; It Would Take a Strong Strong Man; She Wants to Dance With Me; Take Me to Your Heart), born February 6, 1966. (Rick Astley 2009 Photo: Michael Alø-Nielsen)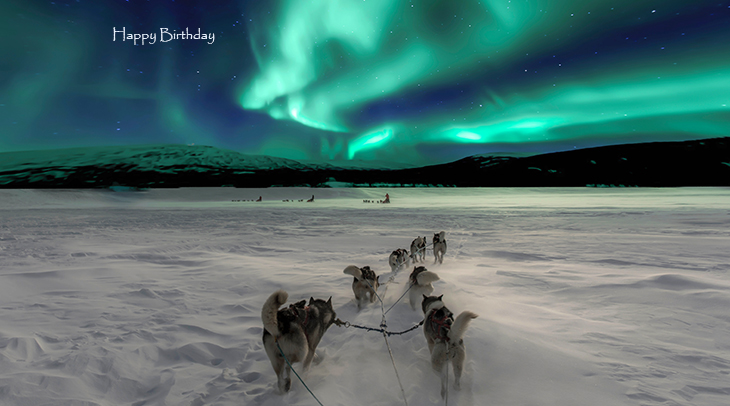 (Sled Dogs & Northern Lights, Norway Photo: Thomas Lipke via Unsplash)
Happy Birthday to everyone celebrating their birthday on February 6th!
And remembering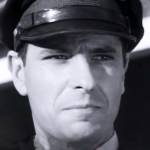 Rip Torn (nee Elmore Rual Torn Jr.)
Emmy Award-winning American actor of stage (Sweet Bird of Youth), movies (The Cincinnati Kid, Payday; Coma, Cross Creek, Summer Rental, How to Make an American Quilt; Men in Black; August) and TV (The Larry Sanders Show; 30 Rock; Blind Ambition) (born Feb. 6, 1931 – died July 9, 2019; age 88). Cause of death for Rip Torn is unknown. (Rip Torn 1965 12 O'Clock High)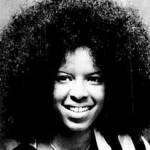 Natalie Cole
Grammy Award-winning American singer (Pink Cadillac; Miss You Like Crazy; This Will Be; Unforgettable duet with Nat King Cole; Inseparable; Our Love; Stand By), actress, performer and host in movies and on TV (Big Break) (born Feb. 6, 1950 – died Dec. 31, 2015; age 65). Natalie Cole died of congestive heart failure. (Natalie Cole 1975 Photo: NBC Television)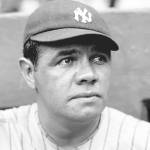 Babe Ruth (nee George Herman Ruth Jr.; "The Bambino" "Sultan of Swat")
American Baseball Hall of Fame professional baseball player, MLB pitcher and outfielder (Boston Red Sox; New York Yankees; Boston Braves), American League 1923 MVP and 1924 batting champion, with 7 World Series Championships (born Feb. 6, 1895 – died Aug. 16, 1948; age 53). Babe Ruth died of cancer. (Babe Ruth 1922 Photo: The Sporting News Archives)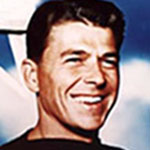 Ronald Reagan (40th U.S. President 1981-1989)
American actor & host of TV (General Electric Theater; Death Valley Days), movies (Knute Rockne All American; Sante Fe Trail; Bedtime for Bonzo; The Killers; Storm Warning; Brother Rat) (born Feb. 6, 1911 – died June 5, 2004; age 93). Ronald Reagan had Alzheimer's Disease and died of pneumonia. (Ronald Reagan 1940s Photo: Courtesy Ronald Reagan Library)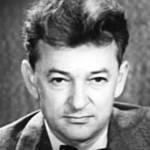 Adrian Scott (nee Robert Adrian Scott)
Blacklisted American journalist, TV screenwriter (The Adventures of Robin Hood), movie screenwriter (Mr. Lucky; Keeping Company) and film producer (Murder, My Sweet; Deadline at Dawn; So Well Remembered; Crossfire; The Boy with Green Hair) (born Feb. 6, 1911 – died Dec. 25, 1972; age 60). Cause of death for Adrian Scott is unknown. (Adrian Scott 1950 The Hollywood Ten)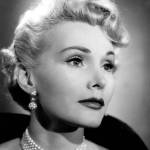 Zsa Zsa Gábor (nee Sári Gábor)
Hungarian-American American socialite, actress of TV (Rowan & Martin's Laugh-In; As the World Turns; Climax!) & movies (Lovely to Look At; Lili; Moulin Rouge; Death of a Scoundrel; Arrivederci, Baby!; Jack of Diamonds; 3 Ring Circus; The Girl in the Kremlin; Up the Front) (born Feb. 6, 1917 – died Dec. 18, 2016; age 99). Zsa Zsa Gábor died of cardiac arrest. (Zsa Zsa Gábor 1955 Photo)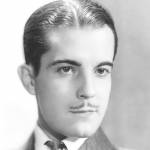 Ramon Novarro (nee Jose Ramón Gil Samaniego)
Mexican-American singer-actor in TV & movies (The Prisoner of Zenda; Scaramouche; The Arab; Ben-Hur: A Tale of the Christ; Across to Singapore; Mata Hari; Laughing Boy; The Sheik Steps Out; Crisis; The Outriders; The Big Steal; A Desperate Adventure) (born Feb. 6, 1899 – died Feb. 3, 1968; age 69). Ramon Novarro was murdered by 2 brothers. (Ramon Novarro 1933 Photo: MGM) 
Patrick Macnee (nee Daniel Patrick Macnee)
British-American actor in movies (The Howling; King Solomon's Treasure; The Sea Wolves; A View to a Kill; The Girl is Mine; Pursuit of the Graf Spee) and TV (John Steed on The Avengers & The New Avengers; Empire; Nightman; Thunder in Paradise; Encounter) (born Feb. 6, 1922 – died June 25, 2015; age 93). Patrick Macnee died of natural causes. (Patrick Macnee 1959 Black Saddle)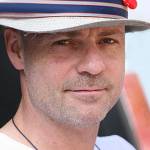 Gord Downie (nee Gordon Edgar Downie)

Canadian rock singer-songwriter solo & for The Tragically Hip (New Orleans is Sinking; 38 Years Old; Fifty Mission Cap; At the Hundredth Meridian; Fully Completely; Ahead by a Century; Bobcaygeon; Little Bones; Greasy Jungle; Gift Shop) (born Feb. 6, 1964 – died May 7, 2017; age 53). Gord Downie died of glioblastoma (brain cancer). (Gord Downie 2008 Photo: Barb Crawford)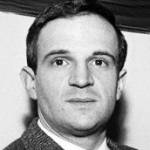 François Truffaut
Academy Award-winning French New Wave movie producer, director, screenwriter & actor (Day for Night; The 400 Blows; Jules et Jim; The Bride Wore Black; The Last Metro; Confidentially Yours; The Green Room) (born Feb. 6, 1932 – died Oct. 21, 1984; age 52). François Truffaut had brain cancer died of a heart attack. (François Truffaut 1964 Photo: Pensio Ilmonen)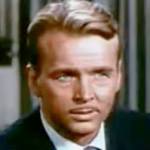 John Lund
American actor of stage, radio, & movies (To Each His Own; The Perils of Pauline; A Foreign Affair; My Friend Irma; No Man of Her Own; The Mating Season; Darling, How Could You!; Steel Town; White Feather; Five Guns West; High Society) (born Feb. 6, 1911 – died May 10, 1992; age 81). John Lund died of heart problems. (John Lund 1950 Duchess of Idaho Screenshot)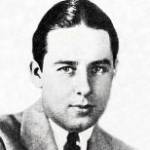 Ben Lyon
American film actor (Hell's Angels; Night Nurse; What Men Want; Bluebeard's Seven Wives; Dancing Feet; Flaming Youth; The Lyons Abroad; The Dark Tower; This Was Paris; Hi Gang!; Girl Missing; Hat Check Girl; I Spy; Down to the Sea; Week Ends Only; The Women in His Life; By Whose Hand?; Bought!; Indiscreet) (born Feb. 6, 1901 – died Mar. 22, 1979; age 78). (Ben Lyon 1925)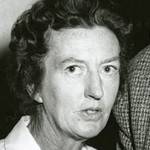 Mary Leakey (nee Mary Douglas Nicol)
English paleoanthropologist at African archeological sites, discoverer of hominim fossils 3.75+ million years old, the 1st Proconsul and Zinjanthropus skulls; the Laetoli hominin footprint trail, and identified 15 new animal species (born Feb. 6, 1913 – died Dec. 9, 1996; age 83). Mary Leakey died peacefully. (Mary Leakey 1962 Photo: Smithsonian Institution Archives)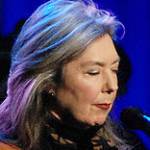 Kate McGarrigle
Canadian folk musician, songwriter and singer with her sister Anna McGarrigle ([Talk to Me of] Mendocino; Complainte pour Ste-Catherine; Go Leave; Move Over Moon; Matapedia) (born Feb. 6, 1946 – died Jan. 18, 2010; age 63). Cause of death for Kate McGarrigle was clear-cell sarcoma (cancer). (Kate McGarrigle 2008 Photo: Dfrancois at English Wikipedia)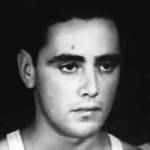 David Gorcey (aka David Condon)
American actor of TV, and East Side Kids, Bowery Boys, & other movies (Up in Smoke; Bowery Battalion; Wild Weed; The French Key; Smart Alecks; Sergeant Madden; Prairie Moon; Juvenile Court; Bowery Bombshell; Bowery Blitzkrieg; Let's Get Tough) (born Feb. 6, 1921 – died Oct. 23, 1984; age 63). David Gorcey died of diabetes complications. (David Gorcey 1941 Spooks Run Wild)
*Images are public domain or Creative Commons licensed & sourced via Wikimedia Commons or Flickr, unless otherwise noted*