Boomer TV & Trivia: Batman
Q1. What was the name of the Cuban-American 1930s-1950s classic film actor who played the Joker on the original Batman 1960s television series?
Q2. Former silent film movie actor and artist's model Neil Hamilton was in every episode of Batman. What role did he play?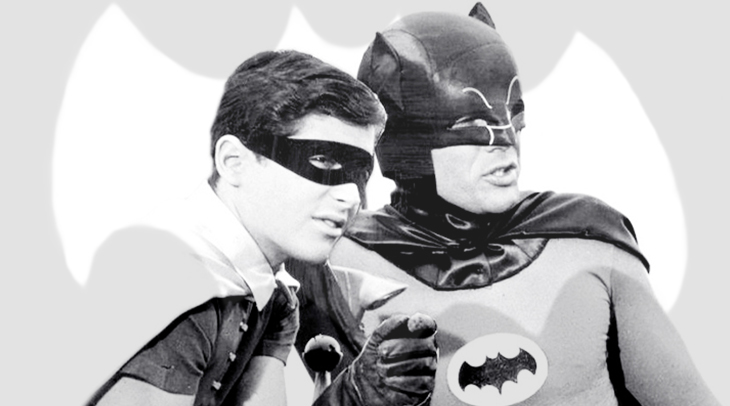 (Burt Ward & Adam West as Robin & Batman 1960s: ABC TV | Batman Logo Background: A. Hamilton)
Batman only ran for 3 seasons, but during it's first two seasons it was on twice a week – accumulating a total of 120 episodes during it's run from January 1966 to March 1968.
Stars Adam West (Batman) and Burt Ward (Robin) were typecast for years after Batman ended.
British-born Alan Napier played Batman's (Adam West) faithful butler Alfred, and aside from West and Ward, was the first character to be cast in the series.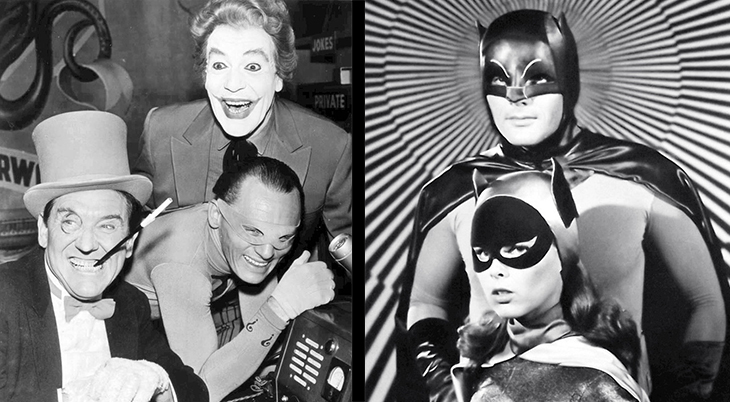 (Penguin/Burgess Meredith, Riddler/Frank Gorshin, Joker/Cesar Romero | Batman/Adam West, Batgirl/Yvonne Craig)
Julie Newmar played Catwoman during seasons 1-2 of Batman, while Eartha Kitt was Catwoman for season 3.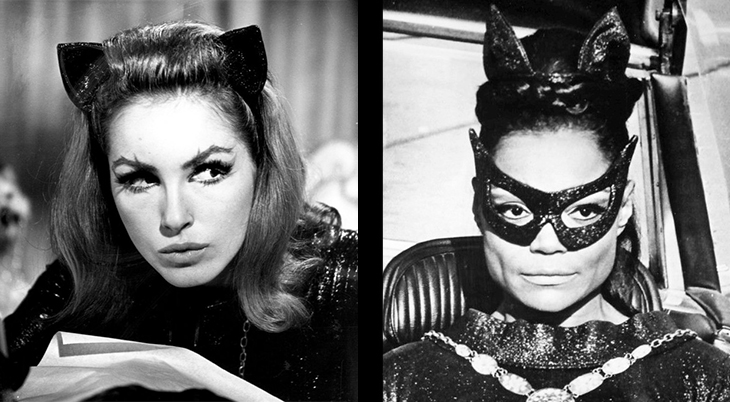 (Catwoman – Julie Newmar 1966 & Eartha Kitt 1967 Batman: ABC Television)
Baby boomers will remember the many notable and recurring guest stars on Batman that included actors Frank Gorshin (Riddler), Burgess Meredith (Penguin), George Sanders (Mr. Freeze season 1), Otto Preminger (Mr. Freeze season 2), Eli Wallach (Mr. Freeze season 2), Vincent Price (Egghead), Cliff Robertson (Shame), Milton Berle (Louie the Lilac), Maurice Evans (The Puzzler), and many more.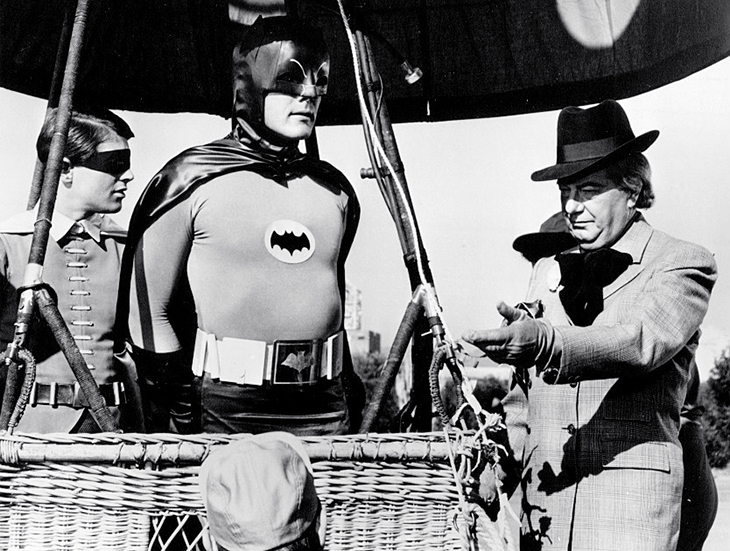 (Burt Ward, Adam West & Guest Star Maurice Evans aka The Puzzler c. 1966 Batman: ABC Television)
A1. "Latin Lover" Cesar Romero had already enjoyed a long career in musical comedy movies and westerns (The Cisco Kid films) beginning in the 1930s, prior to appearing on Batman.
Post Batman, he had supporting roles in Disney movies such as The Computer Wore Tennis Shoes (1965). On television he played billionaire Greek businessman Peter Stavros on Falcon Crest (1985-1988).
Cesar Romero died of blood clot complications in January 1994 at the age of 86.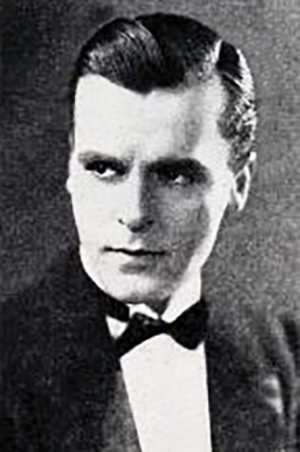 (Neil Hamilton 1925 Photo: Exhibitor's Herald)
A2. Playing Commissioner Gordon was one of Neil Hamilton's (b. 1899 – d. 1984) last screen appearances.
Hamilton broken into films in 1918 in The Beloved Impostor, and made several movies for filmmaker D.W. Griffith in the 1920s, beginning with The White Rose (1923). By the mid-1920s he was a leading man, starring in The Great Gatsby (1926).
During the 1940s Hamilton began sliding into supporting instead of lead roles. He segued into television in the 1950s, and Batman is the TV series he is most remembered for today by baby boomers and their children.
Neil Hamilton was 85 when he died in September 1984 after an asthma attack.
Note: This article was first published in 2015. It has been updated with new & additional content.
*Batman Source Photos: ABC Television via Wikimedia*