100 Years Ago: 1921 At A Glance
Innovations in fashion, lifestyle, science, and medicine improved lives and delighted people back in 1921. Leisure hours were brightened with entertainment by animals and people who would become household names in the world of books and magazines, music and radio, movies, and sports.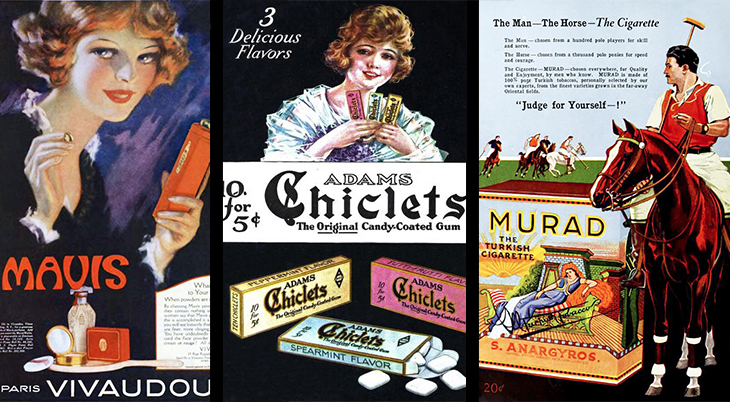 (1921 Pop Culture ads – Mavis Powders by Vivaudou | Adams Chiclets Gum | Murad Cigarettes)
Women loved Vivaudou beauty products, promoted enticingly by vivid print advertisements; competing brands included Colgate's Florient line, Jonteel, Pompeian toiletries, and Djer-Kiss. Palmolive and Lux soap were advertised heavily in most magazines.
Corner drugstores stocked food including popular brands of candies and gums, of which Adams Chiclets candy-coated chewing gum was a staple. A drinks cooler would have held Coca-Cola, Welch's Grape Juice, Orange-Crush. Men and more daring women smoked Murad, "The Turkish Cigarette".
Fashionable styles for women were mid-calf length, loose drop-waist dresses, often tied with a sash around the hips. Swimwear for men AND women consisted of one-piece outfits that provided ample coverage down to the mid-thigh, sometimes longer. Hats for both sexes were de rigeur, and long plumes both narrow and wide, were popular. Women still wore boned corsets, but brassieres (more commonly abbreviated to bras today) were gaining in popularity. 
Jokes like this, which appeared in 1921 editions of Captain Billy's Whiz Bang humor magazine.
Q: What's the extreme penalty for bigamy? – Ophelia Anckel.
A: Two mothers-in-law.- Captain Billy's Whiz Bang
Three of the top male comedy actors of silent films in 1921 and for the remainder of the 1920s, were Buster Keaton, Jackie Coogan, and Harold Lloyd.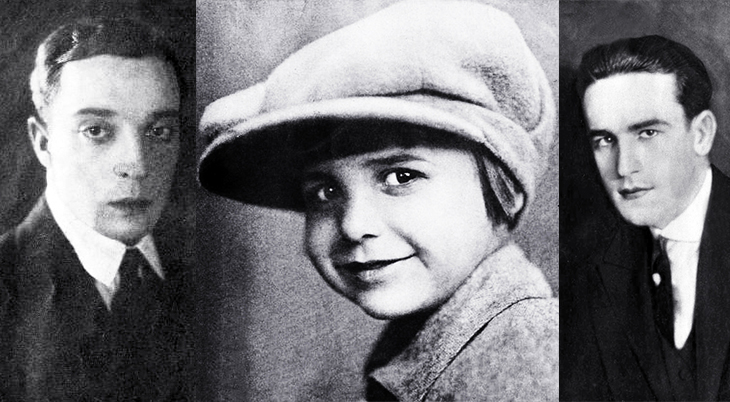 (Keaton, Coogan, & Lloyd 1921 Photos: Rice | Evans de Gaston | Alfred Cheney Johnston)
Jackie Coogan's performance as The Kid (1921) helped boost this Charlie Chaplin film to the top of the box office in 1921.
Travel and Transportation
Travel and transportation were evolving – from the cars we drove around town, to the buses, trains, ships, and early airplanes that took us farther afield and across the oceans. There was no such thing as the "Big Three" (General Motors, Ford, Chrysler) automakers; Chrysler hadn't yet been founded, and although GM and Ford existed, they didn't dominate the market as they do today.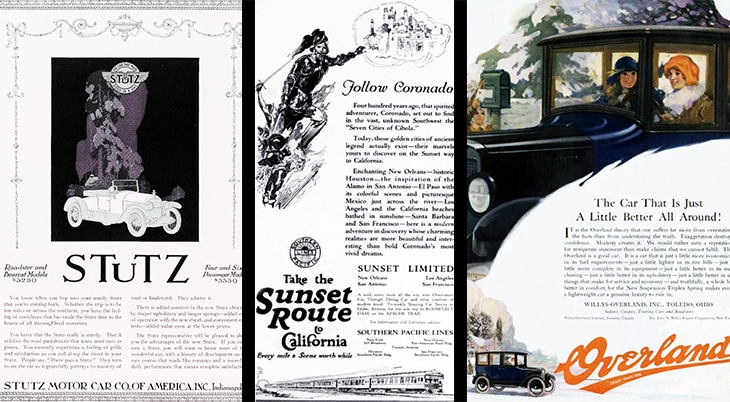 (Stutz: Shadowland | Southern Pacific Lines: The Nation's Business | Willys-Overland: Ladies Home Journal)
Stutz Motor Car Company and Willys-Overland were among the many other automobile manufacturers which enjoyed their share of vehicle sales during the 1910s and 1920s. 
Around The World in 1921
New leaders and political factions emerged in Asia and Europe that would eventually change the course of history and re-draw the borders of the world.
Leon Trotsky, Vladimir Lenin and Marxism-Leninism in Russia; Sun Yat-Sen and communism in China, Belgium, and Spain; Adolf Hitler and "national socialists" (aka Brown Shirts / SA /Sturmabteilung) in Germany; Benito Mussolini and fascism in Italy.
Under British Prime Minister David Lloyd George, Winston Churchill was appointed Secretary of State for the Colonies.
Mongolia declared independence from China and Afghanistan achieved sovereignty from British control. King Constantine of Greece and Mustafa Kemal Ataturk battled over the remains of the Ottoman Empire, with Ataturk founding the new country of Turkey. Ireland was granted dominion status, while Northern Ireland remained part of the United Kingdom.
Prince Philip of Greece and Denmark was born June 10, 1921; he gave up his Danish and Greek citizenship and royal titles in order to marry Princess Elizabeth of England in 1947. 
In North America, new United States President Warren G. Harding passed the Emergency Immigration Quota Act (strict limits on immigration) and Willis Campbell Act (forbidding doctors to prescribe beer or liquor for medicinal purposes) in 1921. The U.S. Supreme Court ruled that labor injunctions and picketing were unconstitutional on December 21, 1921.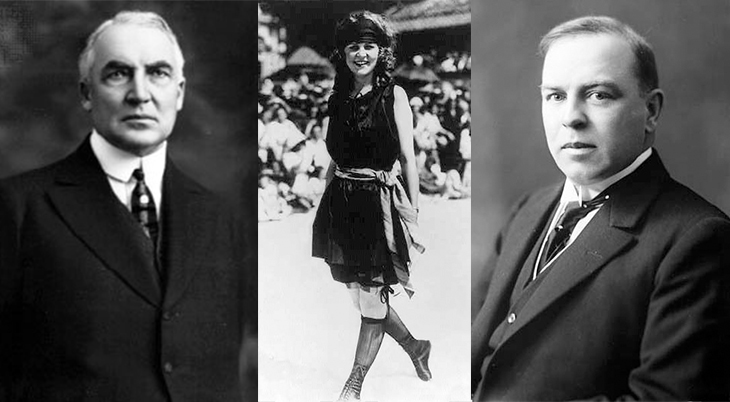 (Warren G. Harding, Margaret Gorman, and William Lyon Mackenzie King)
William Lyon Mackenzie King was appointed Canada's 10th Prime Minister and served for 3 non-consecutive terms until 1948.
On the lighter side, the inaugural Miss America Pageant was held over 2 days, September 7th and 8th in Atlantic City, New Jersey. Margaret Gorman, a 16-year-old from Washington, D.C., was crowned the first Miss America.
1921 Health, Science, and Innovation
Infectious diseases such as Poliomyelitis and Diptheria affected thousands of people in 1921. With no preventative vaccines in places, many died or were permanently disabled, including 39-year-old future American President Franklin D. Roosevelt. 
Dr. Frederick Banting discovered insulin in 1921 with the help of his assistant Charles Best, and U of T researcher John MacLeod, while scientist Albert Einstein's lectures on his new Theory of Relativity resulted in him being awarded the Nobel Prize in Physics. 
Canadian-born Berkeley P.D. employee John Larson invented the lie detector test, and the field of agricultural aviation (crop dusting) began.
Top Dogs At the Movies in 1921
In 1921, three dogs battled it out at the boxoffice for movie supremacy – Strongheart (what a great name for a movie dog!) of First National Pictures, Brownie, the Wonder Dog of Century Films, and Keystone Teddy of Mack Sennett comedy films.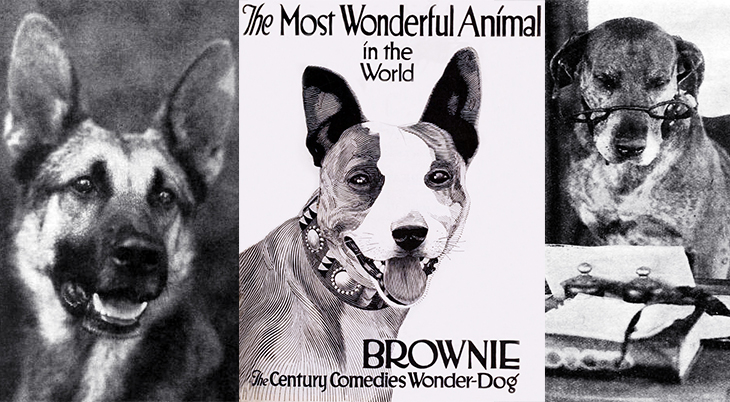 (Strongheart 1924, Brownie the Wonderdog 1921, & Keystone Teddy 1921)
1921 Music & Visual Arts
Opera and classical music lost greats Enrico Caruso and Hansel and Gretel composer Engelbert Humperdinck in 1921 (crooner Arnold Dorsey took his name professionally in the 1960s), but live music was thriving with concerts by pianist Sergei Rachmaninoff and other performers.
Those who couldn't make it to concert venues could buy recordings and listen to them at home on their RCA Victrola or Columbia Grafonola phonographs
Radio stations were beginning to be established in a few cities, providing exposure for live singers, musicians, comedians, and news announcers to reach an audience at home.
1921 Sports & Athletes
Athletes that had had a great year or made the news for less favorable reasons included boxers Jack Dempsey and Georges Carpentier, long distance runner Paavo Nurmi, and baseball heavy hitter Babe Ruth and his New York Yankees. The NFL saw a new team called the Green Bay Packers join the league, and in the CFL, the Toronto Argonauts won the 1921 Grey Cup.
Riots, Crimes and Scandals of 1921
The seamier underside of drug and alcohol abuse in Hollywood was exposed in the latter half of 1921 when movie idol Wallace "Wally" Reid's drug addiction broke in the press, and Roscoe "Fatty" Arbuckle was charged with the suspicious death of Virginia Rappe at an alcohol-fueled party.
The Teapot Dome bribery scandal, race riots, the trial of Sacco and Vanzetti, George White's Scandals of 1921 on Broadway, and several sensational divorce suits involving millionaires, movie stars, and opera singers, all made news headlines. 
Top Drama & Adventure Films and Stars of 1921
The Year of Rudolph Valentino – or 1921 as most people think of it – was off to a great start when the blockbuster hit movie The Four Horsemen of the Apocalypse premiered at movie theatres. Rudolph Valentino was an overnight sensation after several years toiling as a taxi dancer and film extra. Sharing screen time with him were actresses Alice Terry (The Four Horsemen of the Apocalypse), Agnes Ayres (The Sheik), Alla Nazimova, and Patsy Ruth Miller (Camille).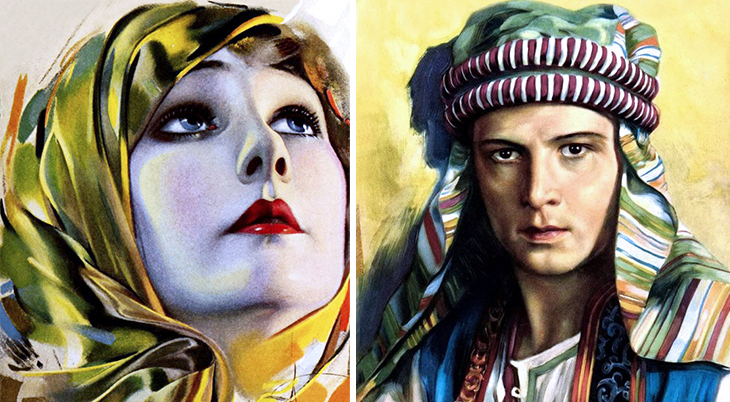 (Betty Blythe 1921 Portrait: Rolf Armstrong | Rudolph Valentino 1922 Portrait: Flohri)
Among the top pics at the movie theatres for fans of action-packed westerns and adventure films in 1921, were The Queen of Sheba starring Betty Blythe, and Three Word Brand starring William S. Hart.
Cecil B. Demille's star-studded silent movie The Affairs of Anatol packed virtually every silent screen idol into one film – Wallace Reid, Gloria Swanson, Wanda Hawley, Elliot Dexter, Agnes Ayres, Monte Blue, Bebe Daniels, and others. 
Perennial fan favorites from 1920 were back – Douglas Fairbanks in The Three Musketeers, Mary Pickford in Little Lord Fauntleroy, and Wallace Reid in The Love Special.
Popular Novels, Plays, and Writers of 1921
Many of the most popular writers of 1921 had their short stories or novels adapted as plays or silent films in 1921. Among the most prolific of the writers whose works were translated onto the screen that year were western/adventure novelists Rex Beach, Zane Grey, and James Oliver Curwood.
Romance novelist Elinor Glyn, mystery author Mary Roberts Rinehart, and "literary" jazz-age novelist F. Scott Fitzgerald also had movies made out of their stories in 1921.
Silent movie screenplay writers were called "scenario writers". At the top of their game in this field in 1921 were Anita Loos and her husband John Emerson, June Mathis (The Four Horsemen of the Apocalypse; Camille), writer-director Allan Dwan, Monte M. Katterjohn (The Sheik), and actress-writer Jeanie MacPherson (Forbidden Fruit; The Affairs of Anatol).
Movie fan magazines like Photoplay, Picture-Play Magazine, Screenland, Film Fun, and a trio of publications from publishers Eugene V. Brewster and J. Stuart Blackton – The Motion Picture Magazine, Shadowland, Motion Picture Classic – flourished. 
Other popular magazines included many that are still going strong today – Saturday Night Live, The Sporting News, Outdoor Life, Good Housekeeping, Field and Stream, Cosmopolitan, Maclean's – which published weekly, bi-weekly or monthly editions. These usually had cover art by leading illustrators and artists of the day, with special holiday editions for Christmas, Valentines Day, Halloween, New Year, Thanksgiving, Remembrance Day, etc.
**This article is for general informational purposes only. Images and video are believed to be in the public domain or Creative Commons licensed & sourced via Wikimedia Commons, Vimeo, YouTube, or Flickr, unless otherwise noted**