A Vintage American Thanksgiving
Travel back in time this Thanksgiving through the artistry of these vintage magazine covers, thanks to the talented artists and illustrators that designed them. Norman Rockwell may be the best known magazine cover artist, but he wasn't the only painter that created stunning works of art to usher in Thanksgiving Day celebrations.
1890s Thanksgiving Magazine Covers
We begin over 120 years ago, in the 1890s…way back to when your grandparents or possibly your great-great-great-great grandparents, were still little whipper-snappers. 
Magazines and newspapers were limited to the use of color by the printing presses of their day. They began with introducing one non color, then advanced to using two, and then three colors on their magazine covers.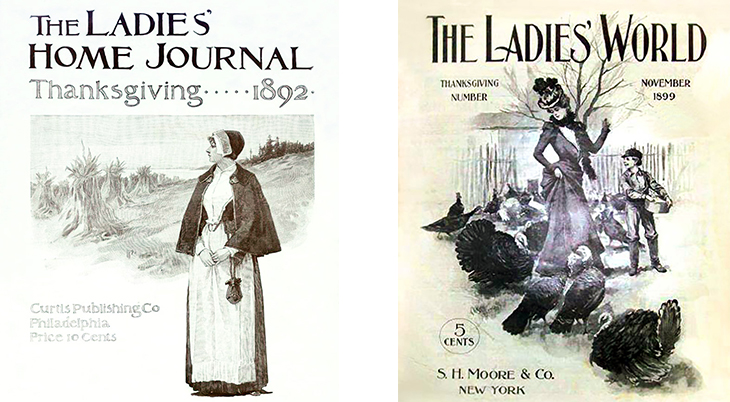 (1892 – Ladies' Home Journal | 1899 – Ladies World)
A minimalist pilgrim-era approach was taken by the unknown artist above in 1892 for The Ladies' Home Journal, while the restrained late-Victorian era style (and fashions) on the right was in 1899 for Ladies' World.
In contrast, the cover illustrations below from the mid-1890s are unabashedly on the "more is more" side of art.
British-American artist Louis Rhead's (born on November 6, 1857 – d.1926) fairytale-like Thanksgiving cover for Harper's Bazaar (note the different spelling in the masthead at the time) in 1894 is a 3-color marvel of detail. Rhead also created illustrations and paintings for posters, children's books, and periodical publications such as Ladies Home Journal, Scribner's Magazine, etc.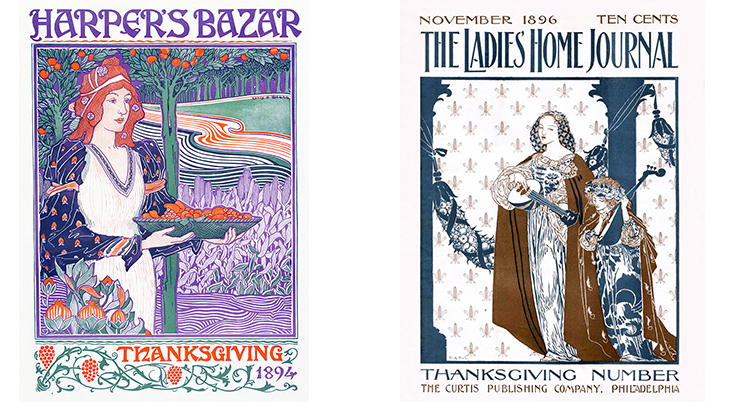 (1894 – Louis Rhead, Harper's Bazar | 1896 – R.A. Bell, Ladies Home Journal)
Architect and artist R.A. Bell's (Robert Anning Bell b. 1862 – d. 1933) approach for The Ladies Home Journal hearkens to a joyful and vaguely religious two-toned theme. Many of Bell's posters and paintings feature religious symbolism, as do the stained glass windows he designed, and mosaics created by him for the Palace of Westminster.
1900s-1910s Thanksgiving Magazine Covers
Noted early 1900s illustrator and artist Guernsey Moore (b. 1874 – d. 1925) did illustrations and 63 cover paintings for The Saturday Evening Post, between 1900-1924.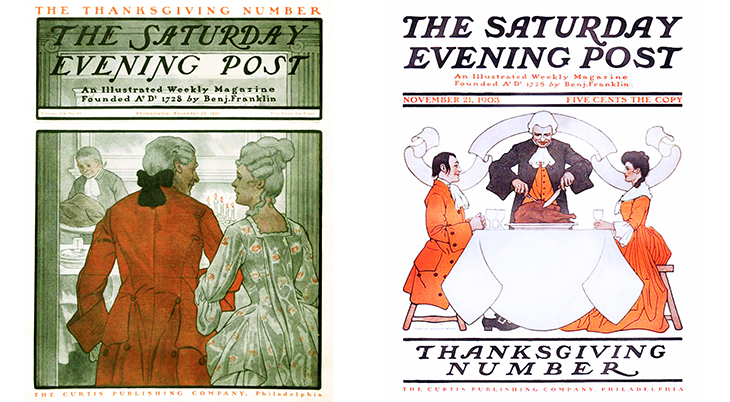 1901 and 1903 – Guernsey Moore, The Saturday Evening Post)
Moore's nostalgia-tinged Thanksgiving covers for The Saturday Evening Post (above) hearken back to the 1700s and the era of George Washington. Note the difference in the masthead fonts from the 1901 edition to the 1903 edition; the new font style was designed by Guernsey Moore. In addition to creative unique illustrations and cover designs for other magazines such as The Delineator and Collier's, Moore served as the art editor of the Post in 1904, and was also the art director at the Post's sister magazine, Country Gentleman. Moore also did several Christmas magazine covers.
The Society of Illustrators Hall of Fame includes artist Herbert Paus (b. 1860 – d. 1944), who did many illustrations and cover art for for Popular Science, Collier's, Life, and other magazines. Paus drew on the first Thanksgiving and pilgrims as inspiration for his 1906 Sunday Magazine cover painting below.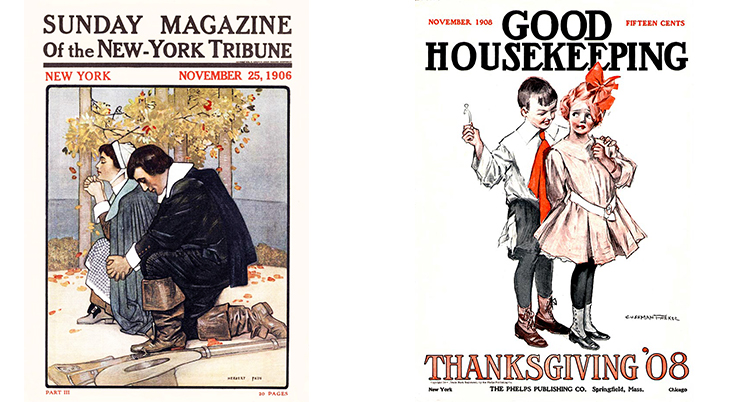 (1906 Herbert Paus, Sunday Magazine | 1908 Cushman Parker, Good Housekeeping)
Cushman Parker (b. 1881 – d. 1940) opted for a more contemporary, humorous approach for Good Housekeeping's 1908 Thanksgiving edition (above right). Notice the little boy is holding a drumstick and looking mischievous. Parker was a commercial illustrator for newspaper and magazine advertisements, articles, and covers. While best known for his many Good Housekeeping covers, Cushman Parker also illustrated interior graphics and covers for other magazines (The Saturday Evening Post; The Outing Magazine) and advertisements (Bon Ami).
Artist J.C. Leyendecker (b. 1874 – d. 1951) – another Hall of Fame illustrator – did hundreds of covers and illustrations for The Saturday Evening Post, and numerous other magazines – as did his brother, Frank Leyendecker. J.C. Leyendecker completed 322 magazine covers for The Saturday Evening Post between 1903-1943. He died in 1952, but his illustrations are so timeless that the Post recycled some of his vintage magazine cover paintings beginning in 1976.
(1909 & 1910 J.C. Leyendecker, The Saturday Evening Post)
These Saturday Evening Post Thanksgiving edition magazine covers (above) by J.C. Leyendecker, both feature toddlers that are almost frighteningly robust and hungry-looking. Leyendecker is known for his unique "baby" covers for the Post, especially his New Year's Baby paintings.
In addition to his many works for The Saturday Evening Post, J.C. Leyendecker created beautiful cover designs for The Popular Magazine, Success Magazine, and Collier's. Leyendecker went with a more cheery, less stressful vibe featuring an older lad carting a pumpkin, for the 1913 Saturday Evening Post cover.
(1913 J.C. Leyendecker & 1915 Tony Sarg, The Saturday Evening Post)
Talented Guatemalan-born German-American puppeteer, interior designer, illustrator, animator, toy designer, wallpaper designer, and painter Tony Sarg (b. 1880 – d. 1942) created a funny cover of a reluctant turkey for the 1915 Thanksgiving cover of The Saturday Evening Post, one of three he did for that magazine.
Tony Sarg's innovations in the world of stage design, children's toys and games, murals, shadowgraphics, and early animated silent movies and posters, eclipsed his fame as a magazine cover artist and illustrator. However, his illustrations were also featured on the covers of other magazines such as Vanity Fair and St. Nicholas, and in the many books he published. Sarg's murals for commercial businesses included retail, restaurants, theatres, and hotels. During the 1930's, giant animal balloons designed by Tony Sarg were prominent features of the annual Macy's Thanksgiving parade, as was his mural inside the famed Waldorf Astoria Hotel supper club. 
Tony Sarg is best known for his marionette shows, for which he earned the title "America's Puppet Master". Some of his complex marionettes (many inherited from his grandmother) had up to 24 strings and required two people to work them. Sarg was said to have been an inspiration for later puppeteers such as Burr Tillstrom.
WWI Thanksgiving Magazine Covers
World War I began in Europe in 1914, but the United States did not enter the battle until declaring war on Germany in April 1917. When the November 1918 Thanksgiving edition magazines went to print in October of that year, WWI was still being fought. 
Artist, illustrator, and painter Harold Brett (b. 1880 – d. 1955) created cover designs for books and magazines such as Harper's Weekly, The Country Gentleman, The Saturday Evening Post, The Ladies' Home Journal, and Collier's. Harold Brett's cover "His Thanksgiving" (below left) for The Ladies' Home Journal depicts a soldier in the trenches, holding a photo of what is presumably his mother in a realism style. The mood is poignant but not depressing, as WWI neared an end.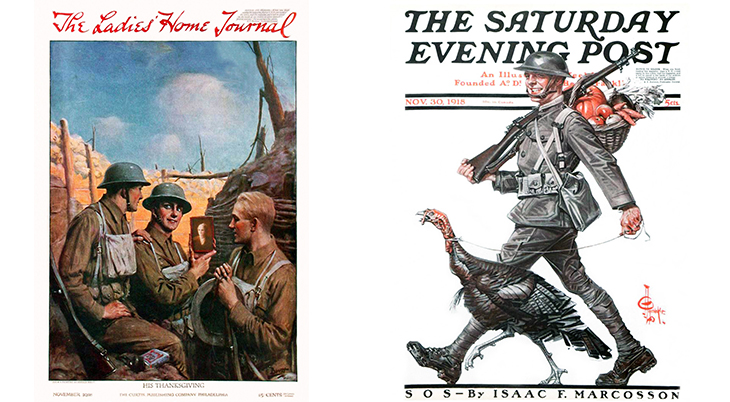 (1918 Harold Brett The Ladies Home Journal /  1918 J.C. Leyendecker, The Saturday Evening Post)
J.C. Leyendecker's soldier (above right, model is actor Neil Hamilton) looks pretty happy as he jauntily leads a turkey.
TV and film actor Neil Hamilton told Silver Screen (February 1935) that during the silent film era when he broke into acting, he was Leyendecker's model for this and other magazine covers and print advertisements. Hamilton also posed for other artists such as Frank Leyendecker (J.C.'s brother), Coles Phillips and Norman Rockwell.
World War I ended on November 11, 1918….which is why that date is commemorated today in the U.S. and Canada as Veteran's Day / Remembrance Day.
1920s Thanksgiving Magazine Covers
J.C. Leyendecker's darkly humorous cover of the 1920 Saturday Evening Post below, features a Pilgrim whose turkey – or is that a goose? – has clearly been cooked, in more ways than one.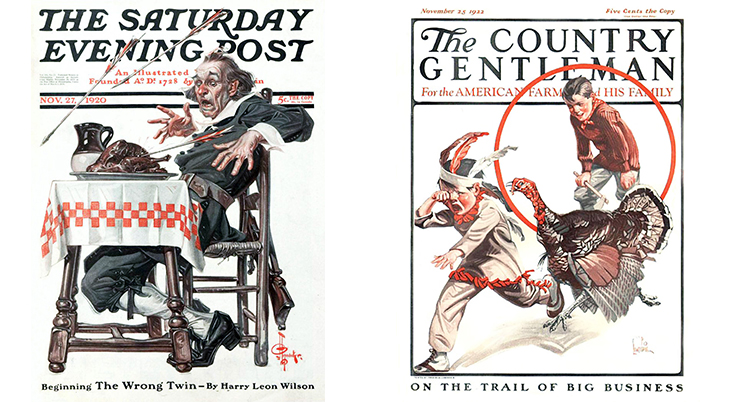 (1920 J.C. Leyendecker, The Saturday Evening Post / 1922 F. Lowenheim, The Country Gentleman)
The Country Gentleman's 1922 Thanksgiving edition cover illustration by Frederick Lowenheim (b. 1869 – d. 1929) above, was one of many he did for that magazine. He also illustrated covers for Woman's Home Companion and Elks magazines, and created illustrations for children's books, often signing his works as F. Lowenheim. 
Western Story Magazine featured a fittingly rugged and wintry cover on their November 1911 Thanksgiving edition (artist unknown).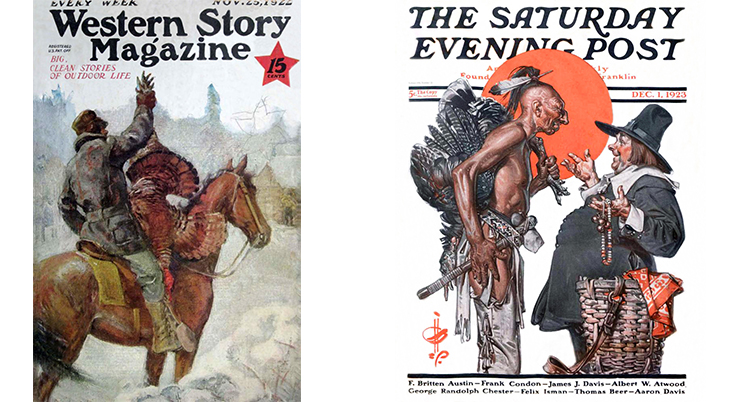 (1922 Western Story Magazine /  1923 J.C. Leyendecker, The Saturday Evening Post)
The Saturday Evening Post 1923 Thanksgiving cover by J.C. Leyendecker once again visits the time of the first Thanksgiving, with a rotund Pilgrim hawking beads and a fierce-looking Native American clutching a tomahawk in one hand and and a turkey in the other. Note the orange circle in the background, which appears on a few of Leyendecker's Thanksgiving covers for the Post, a device he uses in several other covers as well.
A Norman Rockwell Thanksgiving
No discussion of vintage magazine covers – especially one that includes The Saturday Evening Post – would be complete unless Norman Rockwell (b. 1894 – d. 1978) is included. Between 1916-1963, Norman Rockwell created 322 iconic covers for The Saturday Evening Post alone. Rockwell is also well known for his affiliation and paintings related to Boy Scouts of America, and boys were often featured in his gently humorous illustrations. 
Rockwell's prolific talents were not confined to the Post, as you can see by the Thanksgiving magazine cover he did for Life Magazine (below) in 1921, which incorporates his trademark mix of humor and gangly boy into a holiday theme.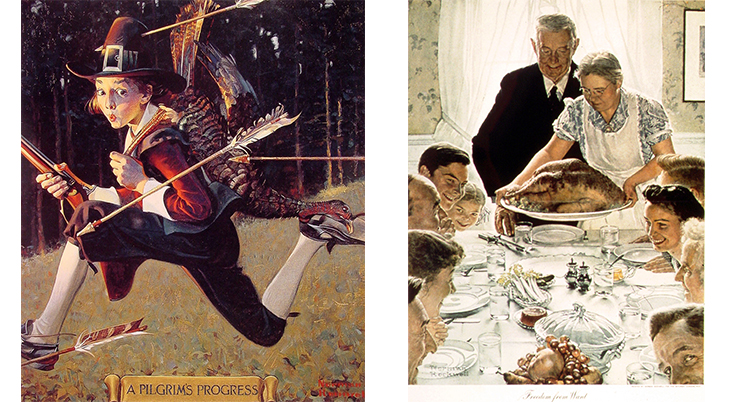 (Norman Rockwell – 1921 Life Magazine / 1943 "Freedom From Want")
Norman Rockwell's "Four Freedoms" series of 4 oil paintings each celebrates a point from President Franklin D. Roosevelt's January 1941 State of the Union Address, delivered during World War II. "Freedom From Want" is also known as the quintessential Norman Rockwell's Thanksgiving painting.
Rockwell usually created his paintings based on live models, bur during the 1930s he began working from black and white photographs. Throughout World War II, Rockewell's illustrations for The Saturday Evening Post and other artworks, combined themes of patriotism and American propaganda with poignancy and humor.
Norman Rockwell's Four Freedoms paintings (Freedom of Speech, Freedom of Worship, Freedom From Want, and Freedom From Fear) were all published in The Saturday Evening Post in 1943, along with accompanying essays. Subsequently the Four Freedoms were reproduced as posters, and on postage stamps, by the U.S. Government and Postal Service. In 1958 Norman Rockwell was the first inductee to the Society of Illustrator's Hall of Fame.
Wishing everyone a very healthy, safe, and Happy Thanksgiving.
Other Resources: 
TV Radio Mirror
Archives.org
New Movie Magazine
Photoplay
Picture Play magazine
Motion Picture Classic
Broadcasting
Exhibitor's Herald
More Thanksgiving stuff:
Classic Film Stars Thanksgiving Cards
Happy Thanksgiving Day Greetings
Thanksgiving Day Fun Facts & Videos
*Source images are believed to be in the public domain or Creative Commons licensed & sourced via Wikimedia Commons, unless otherwise noted. Modified images are shown here in smaller, low-resolution format*