December 6th Birthdays
If you were born on December 6th, you share a birthday with these famous people: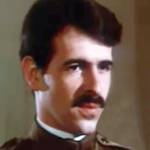 James Naughton is 74
Tony Award-winning septuagenarian American actor of stage (City of Angels), movies (The Paper Chase), and TV (Planet of the Apes; Trauma Center; Raising Miranda; Hostages; Gossip Girl; Ally McBeal), born December 6, 1945. (James Naughton 1974 F. Scott Fitzgerald and the Last of the Belles)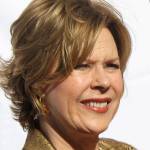 JoBeth Williams is 71 (nee Margaret JoBeth Williams)

 American actress of movies (American Dreamer; The Big Chill; Poltergeist; Teachers; Stir Crazy; Just Write; Kramer vs. Kramer; Dutch), TV (Baby M; The Client; Somerset; Guiding Light; Payne; Dexter; Private Practice; Hart of Dixie), and senior born December 6, 1948. (JoBeth Williams 2007 Photo: Maggie) 
Kin Shriner is 66
 American actor of movies & TV (Scott Baldwin on General Hospital, Port Charles & The City; Keith Morrissey on As the World Turns; Mike Gallagher on Rituals; Jeb on Texas; The Young and the Restless; Black Sheep Squadron), born December 6, 1953. (Kin Shriner 1977 General Hospital Photo: ABC)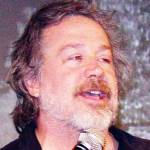 Tom Hulce is 66 (nee Thomas Edward Hulce)
Tony & Emmy Award-winning American senior, singer, & character actor of stage (Spring Awakening), TV (Murder in Mississippi), and movies (Animal House; Amadeus; Dominick and Eugene; Echo Park; Parenthood; Stranger Than Fiction; Jumper), born December 6, 1953. (Tom Hulce 2006 Photo: BJ Barratt)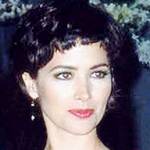 Janine Turner is 57 (nee Janine Loraine Gauntt)
 American 55+ actress of TV (Maggie on Northern Exposure; Laura Templeton on General Hospital; Dana Stowe on Strong Medicine; Friday Night Lights; Dallas) and movies (Cliffhanger; Leave it to Beaver; Tai-Pan; Young Doctors in Love), born December 6, 1962. (Janine Turner 1993 Photo: Alan Light)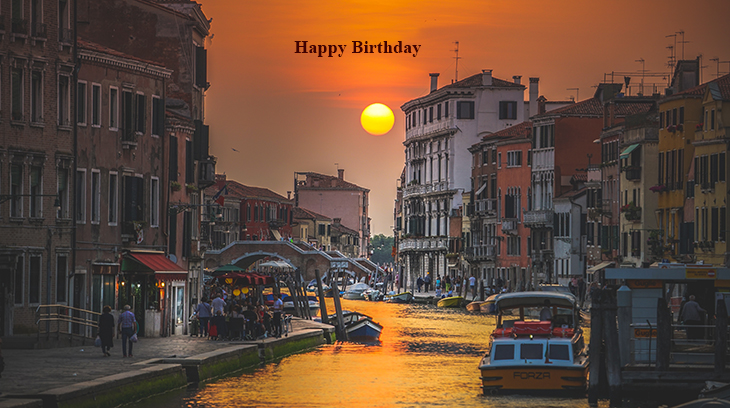 (Ponte delle Guglie Bridge Sunset, Venice, Italy Photo: Val Vesa via Unsplash)
Happy Birthday to everyone celebrating their birthday on December 6th!
And remembering
Agnes Moorehead
Emmy Award-winning American actress of radio (The Shadow), TV (Endora on Bewitched), & films (Citizen Kane, Show Boat; The Magnificent Ambersons; The Singing Nun; The Stratton Story; All That Heaven Allows; Raintree County; Johnny Belinda) (born Dec. 6, 1900 – Apr. 30, 1974; age 73). Agnes Moorehead died of uterine cancer. (Agnes Moorehead 1950s Photo)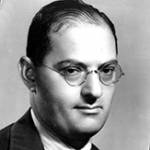 Ira Gershwin (nee Israel Gershowitz; aka Israel Gershvin, Arthur Francis)
American author, songwriter and lyricist with brother George Gershwin (I Got Rhythm; Embraceable You; Someone to Watch Over Me; 'S Wonderful;  I've Got a Crush on You; Let's Call the Whole Thing Off) and others (born Dec. 6, 1896 – died Aug. 17, 1983; age 86). Cause of death for Ira Gershwin is unknown. (Ira Gershwin Photo: Courtesy Ira and Leonore Gershwin Trusts)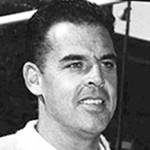 Otto Graham (nee Otto Everett Graham Jr.)

American Pro Football Hall of Fame NFL quarterback, 3-time NFL MVP and Champion (Cleveland Browns), college football coach (Coast Guard Academy; Washington Redskins) (born Dec. 6, 1921 – died Dec. 17, 2003; age 72). Otto Graham had Alzheimer's Disease and died of a heart aneurysm. (Otto Graham 1959 Photo: United States Coast Guard)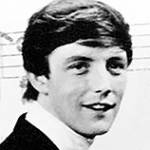 Mike Smith (nee Michael George Smith)
Rock & Roll Hall of Fame British producer, songwriter, keyboardist & lead singer of The Dave Clark Five (Over and Over; Glad All Over; Because; Can't You See That's She's Mine; Bits and Pieces; You Got What It Takes; Catch Us If You Can; I Like it Like That; Do You Love Me) (born Dec. 6, 1943 – died Feb. 28, 2008; age 64). Mike Smith died of pneumonia. (Mike Smith 1964 Photo: Epic)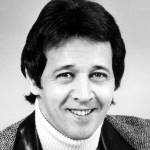 Bobby Van (nee Robert Jack Stein)
American singer, dancer, host & actor of stage, TV (Tattletales host; Showoffs; Match Game; Mickey; Battlestar Galactica; CHiPs), and movies (The Affairs of Dobie Gillis; Lost Horizon; Kiss Me, Kate; Because You're Mine; Small Town Girl; Doomsday Machine) (born Dec. 6, 1928 – died July 31, 1980; age 51). Bobby Van died of brain cancer. (Bobby Van 1975 Photo: ABC Television)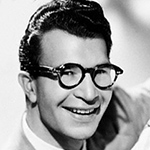 Dave Brubeck (nee David Warren Brubeck)
American cool jazz pianist-composer (Take Five; The Duke; In Your Own Sweet Way; These Foolish Things; It's a Raggy Waltz; Bossa Nova U.S.A.; Unsquare Dance; Blue Rondo a la Turk; Theme from "Mr. Broadway") (born Dec. 6, 1920 – died Dec. 5, 2012; age 91). Dave Brubek died of heart failure. (Dave Brubeck 1955 Photo: James Kriegsmann / Associated Booking Corp.)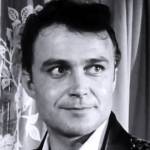 Lance Fuller
American actor of TV (Bat Masterson; Maverick) and movies (Kentucky Rifle; Frontier Woman; The Other Woman; Apache Woman; Cattle Queen of Montana; This Island Earth; Slightly Scarlet; Pearl of the South Pacific; Secret of Treasure Mountain; Taza, Son of Cochise) (born Dec. 6, 1928 – died Dec. 22, 2001; age 73). Lance Fuller died after a long illness. (Lance Fuller 1958 God's Little Acre)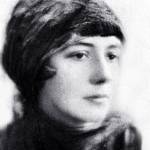 Lynn Fontanne (nee Lillie Louise Fontanne.)
Emmy and Tony Award-winning American Theatre Hall of Fame British actress of radio, stage (The Seagull; Design for Living), TV, and films (The Guardsman; Second Youth; Stage Door Canteen), married to frequent co-star Alfred Lunt (born Dec. 6, 1887 – died July 30, 1983; age 95). Lynn Fontanne died of pneumonia. (Lynne Fontanne 1921 Photo: Roy Huff / Shadowland)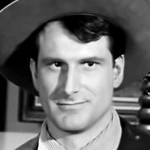 King Moody (nee Robert Moody)
American comedian and actor of stage, TV (Ronald McDonald on McDonaldland; Get Smart; Sea Hunt; Dragnet 1967; Bonanza; Combat!; The Bob Newhart Show), and films (Five Minutes to Love; The Glass Cage; Teenagers from Outer Space; Any Wednesday) (born Dec. 6, 1929 – died Feb. 7, 2001; age 71). Cause of death for King Moody is unknown. (King Moody 1960 Tombstone Territory)
*Images are public domain or Creative Commons licensed & sourced via Wikimedia Commons or Flickr, unless otherwise noted*