Boomer TV Trivia: Tombstone Territory
Q1) The famous Gunfight at the O.K. Corral, which involved Wyatt Earp, Doc Holliday, and the Clanton Gang, took place in Tombstone, Arizona. Which of these famous historical people, if any, were featured on the Tombstone Territory television series?
Q2) Where was Tombstone Territory filmed?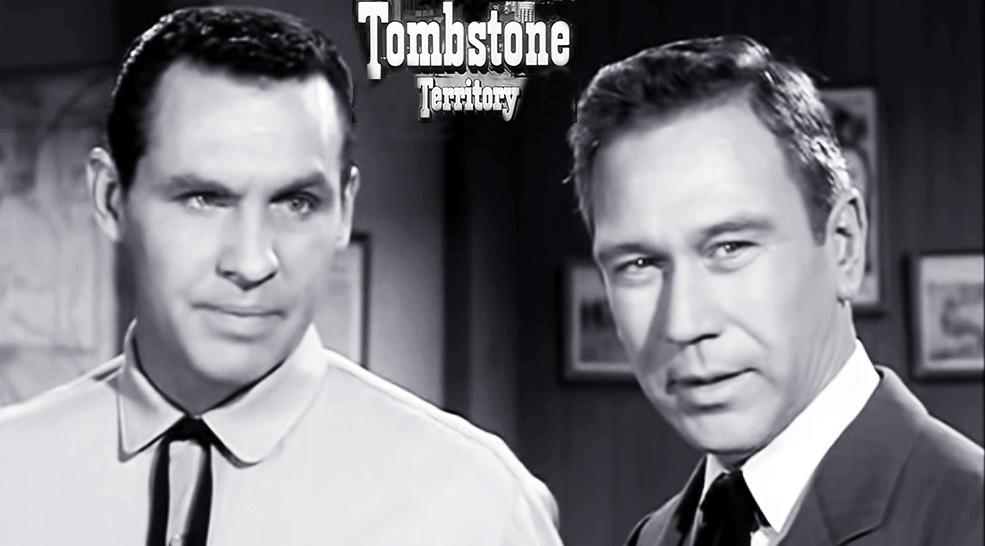 (Pat Conway & Richard Eastham 1960 Tombstone Territory)
Ziv Television produced the half-hour episodic western TV series Tombstone Territory from 1957-1960. Series stars Pat Conway plays fictional Sheriff Clay Hollister of Tombstone, Arizona Territory, "The town too tough to die", while Richard Eastham is Harris Claibourne, Tombstone Epitaph editor. Both actors appear in all 91 episodes of the show.
Although Hollister's character may have been based on real Tombstone Sheriff Wyatt Earp, this is never referenced in the series. Claibourne's character is based on the real Epitaph's editor and founder, John P. Clum.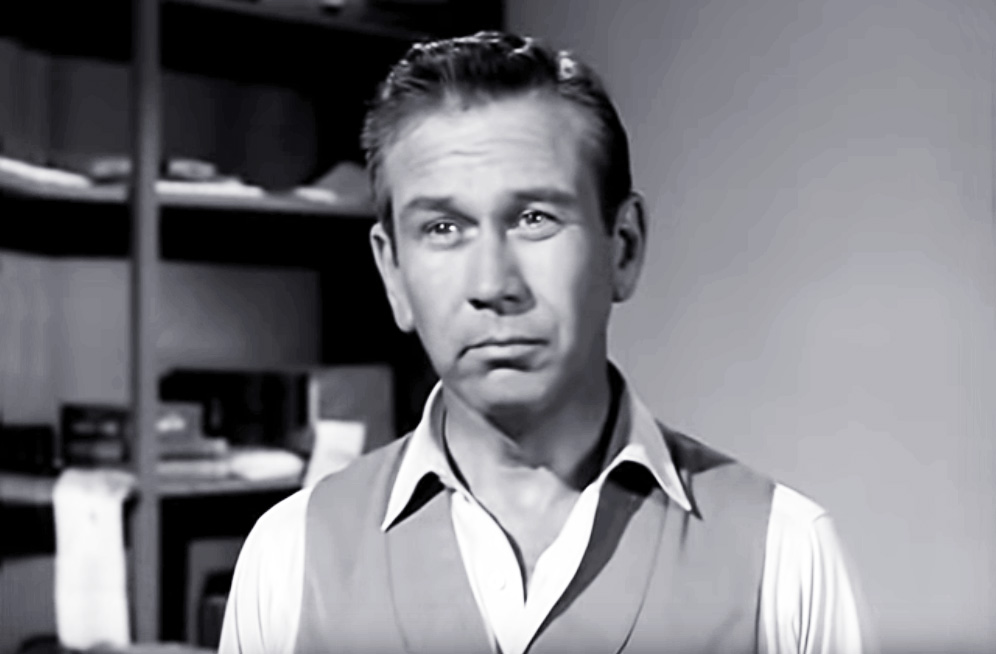 (Richard Eastham 1960 Tombstone Territory)
Richard Eastham was an accomplished stage and film actor before agreeing to co-star on Tombstone Territory as Epitaph editor. Eastham told Western Clippings that he had to learn how to ride a horse for the series.
"Pat Conway had this beautiful horse that would go like a bat out of hell! I could never keep up with him…It was a terrific experience. Pat Conway was a wonderful guy to work with. We made two episodes a week – split Wednesday on location at Gene Autry's ranch. Then we'd have a week off and do two more the next week."
The series credits include a nod to Clayton A. Smith and Charles A. Smith, editors of the real Tombstone Epitaph (originally a print newspaper, now an online news & historical journal), who shared archived articles in order for the series to achieve authenticity. The producers researched people and events that appeared in the newspaper between 1880-1890, as the basis for episodes.
Not a light-hearted western TV show in content or characterizations, both Conway and Eastham project a sincere, serious vibe. Conway in particular always seems to be poised for action, hands hovering near his twin holstered guns most of the time. Sheriff Clay Hollister never lost a fist fight or quick draw throughout the series run.
Although both actors appeared on many other television series and films, and Richard Eastham was also an accomplished singer and star of stage, neither Pat Conway nor Eastham was ever a television series regular again on another TV show.
Tombstone Territory Deputies & Townspeople
Each episode of Tombstone Territory features a different plot/story, with very few recurring characters besides Sheriff Hollister and Harris Claibourne. An exception to this were four different actors who each had a run playing a (fictional) Tombstone Deputy between 1957-1960: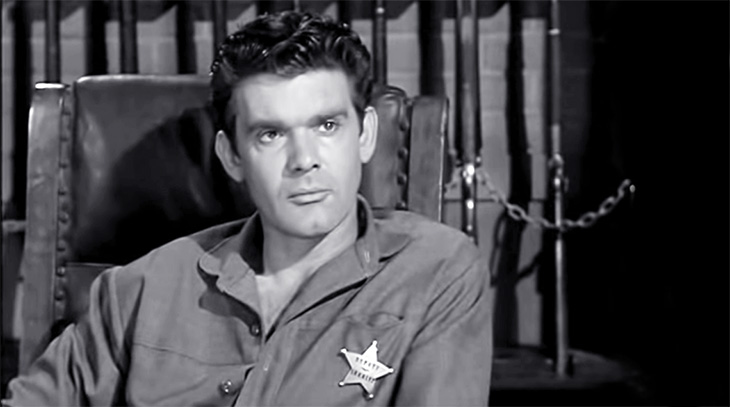 (Quentin Sondergaard 1960 Tombstone Territory)
Deputy Quint was portrayed by actor Quentin Sondergaard (sometimes billed as Quintin Sondergaard) in 24 episodes between 1958-1960. Unlike the three previous Tombstone Deputies, Quint was portrayed as younger, less experienced character by Sondergaard (although the actor was born in 1925, 6 years before series star Pat Conway). Quint gradually came a little more to the forefront in some episodes, although his actual spoken lines were minimal.
During the 1950s actor Quentin Sondergaard appeared in several western TV shows in addition to Tombstone Territory – beginning as an uncredited extra and graduating to smaller speaking roles on series such as The Californians, Bat Masterson, Zane Grey Theater, Wagon Train, and other westerns. Around the time that Tombstone Territory went off the air, Sondergaard appeared in a supporting role in the James Brown feature film Five Guns to Tombstone (1960). Throughout the 1960s the actor continued to appear in popular westerns in small parts – Death Valley Days, Gunsmoke, The Wild Wild West, The Virginian, and Bonanza. Quentin Sondergaard was 59 years old when he died on February 15, 1984.
Actors that played Tombstone deputies before Sondergaard / Deputy Quint: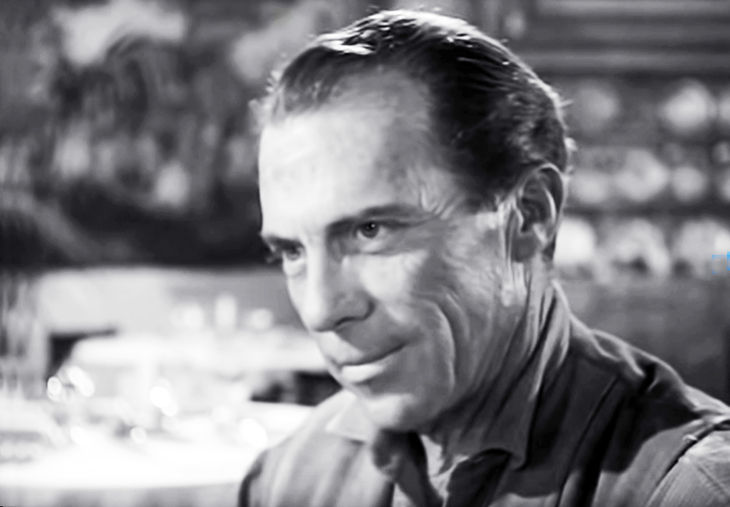 (Dennis Moore 1958 Tombstone Territory)
Deputy Lee was played by actor Dennis Moore in 7 episodes (1957-1958). Moore was almost always a supporting actor in films and on television, appearing of the same western TV shows as a guest star or bit player as his fellow "deputies". Dennis Moore may be best known by western movie buffs or Lone Ranger fans, for his portrayal of Sheriff Smoky Moore in six 1942 Lone Rider films; he also made five appearances on the The Lone Ranger television series playing different characters between 1954-1957.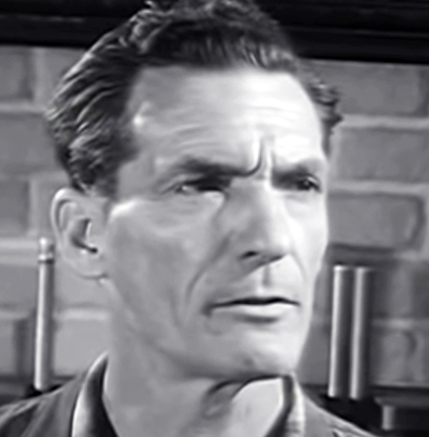 (Gilman Rankin 1957 Tombstone Territory)
Gilman Rankin was Deputy Charlie Riggs on 8 episodes of Tombstone Territory between 1957-1958. Between 1960-1976, Rankin appeared ten times on Gunsmoke playing different small parts. All told, Gilman Rankin amassed 55+ TV & movie credits between 1955-1976.
Deputy Jimmy was portrayed in five 1958 Tombstone Territory episodes by Robert Shield. Shield may be better known for starring as Judge Robert J. Franklin on the 1980s-1990s TV show The Judge.
A few other Tombstone Territory characters appeared more than once, but had limited lines and screen time are Harry Woods, who played Doc Cunningham in 6 episodes. Joyce Meadows played Ellen, a townswoman in the 2 episodes she appeared in – Day of the Amnesty, with guest-stars Jack Elam, Patrick McVey, and Harry Fleer; and Payroll to Tombstone, with deceptively pretty Peggy Knudsen as a thief.
Tombstone Territory Directors and Screenwriters
As with many television series at the time, no one director or screenwriter was responsible for the majority of Tombstone Territory's episodes. However, these two multi-talented guest-starring actors did double duty: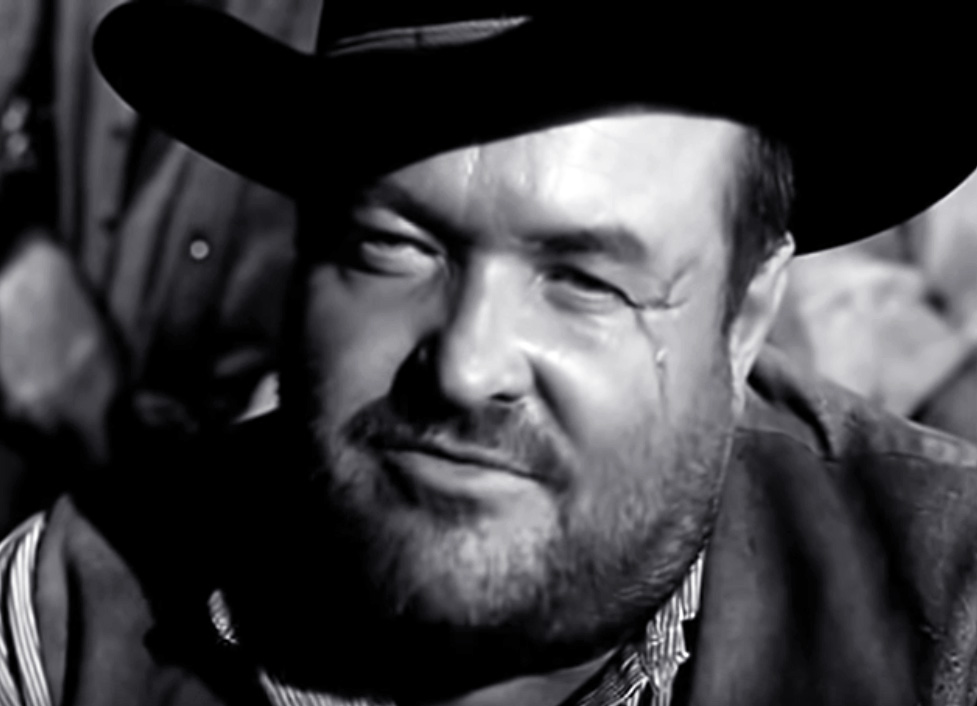 (William Conrad 1960 Tombstone Territory)
Actor-director William Conrad (star of Ironside, Cannon, and other series), directed 6 episodes of Tombstone Territory and guest-starred in The Governor episode as Frank Banter, a gang leader out to kidnap the Governor (Robert F. Simon).
Television & movie screenwriter and actor Leo Gordon appeared in a couple of episodes – The Kidnapping with fellow guest-stars Jean Allison, Patrick Waltz, and Page Slattery, and Guns of Silver. This Guns of Silver episode of Tombstone Territory below, features regulars Pat Conway, Richard Eastham, as well as guest stars Leo Gordon, and Pat Conway's one-time girlfriend in real life, Pamela Duncan.
Leo Gordon also wrote 8 episodes of Tombstone Territory – Juan Diega with Gregory Walcott and Alex Montoya; Female Killer with Mala Powers and Don C. Harvey; Eyewitness with Elisha Cook Jr. and Robert Swan; Death Is To Write About with Ken Mayer and John Sutton; Thicker Than Water with Paul Richards; Geronimo with John Doucette as Geronimo and Angie Dickinson as Geronimo's girlfriend; Tong War with James Hong; and A Bullet for an Editor with Allison Hayes. Geronimo was 1 of the 3 episodes of the show that Doucette guest-starred in.
Tombstone Territory Guest Stars
Many other guest-stars appeared in more than one episode of Tombstone Territory, however each time they played a different character. 
Bill Catching, a prolific stunt man and character actor who most often played a member of a gang on the series. Catching appeared on almost every western TV series there was, multiple times (Gunsmoke, The Virginian, Bonanza, The Big Valley, Hondo, The Wild Wild West, Wagon Train, Rawhide, Tales of Wells Fargo, Bat Masterson, Wanted, Dead or Alive, The Rough Riders, Zane Grey Theater, The Roy Rogers Show, Brave Eagle, and The Cisco Kid).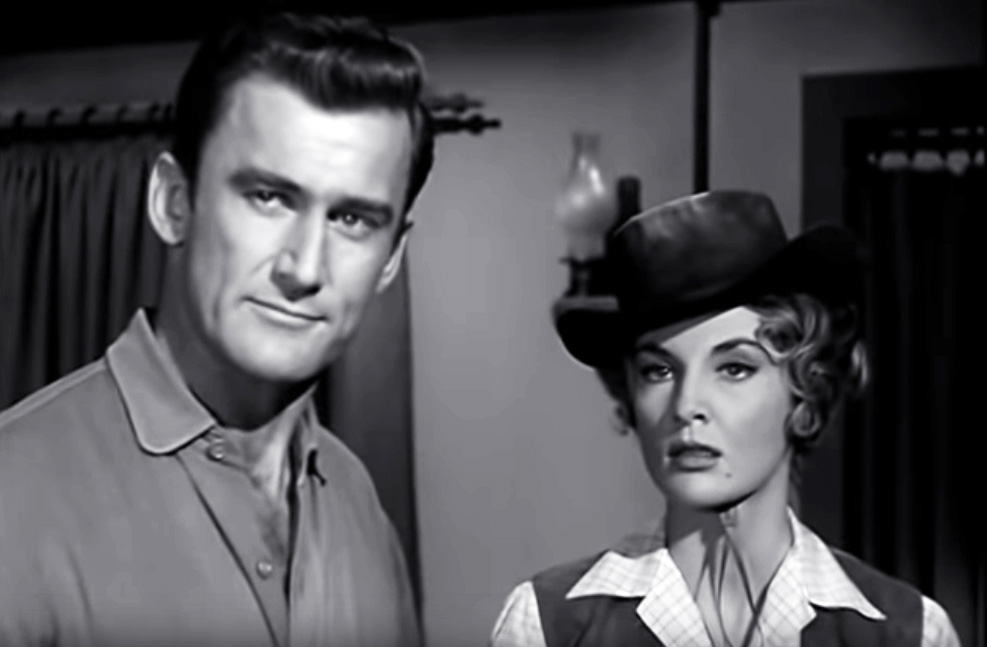 (Allison Hayes & Don Kennedy 1959 Tombstone Territory)
Allison Hayes, cult "B" movie star of The Attack of the 50 Foot Woman (1958), guest-starred in 4 episodes of Tombstone Territory as different characters between 1957-1960 – Memory, The Writer, Red Terror of Tombstone, and A Bullet for an Editor, which was directed by William Conrad.
Ed Nelson, who would go on to star on TV's long-running Peyton Place, also guest-starred 4 times.
Warren Oates, Dehl Berti, Page Slattery, Ken Mayer, Robert Foulk, K. L. Smith, and Hank Patterson, each appeared on Tombstone Territory 3 times. Foulk portrayed Curly Bill Brocius, a rustler and outlaw cowboy who tangled with the Earps on occasion in real life.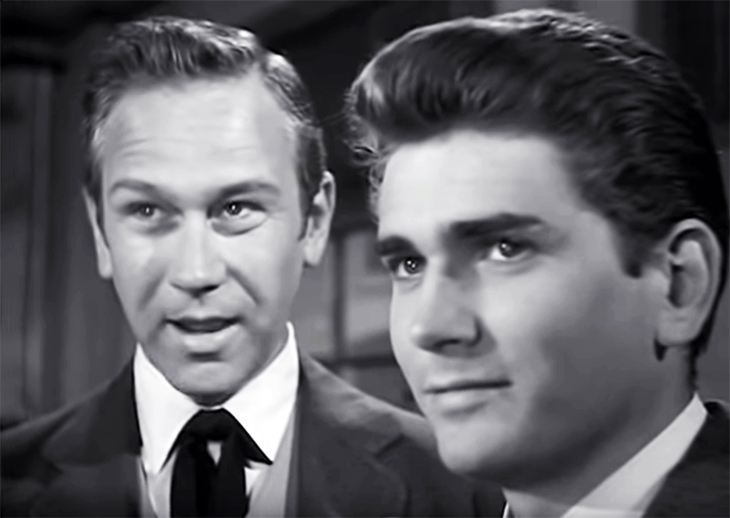 (Richard Eastham & Michael Landon 1960 Tombstone Territory)
Two later stars of Bonanza – Pernell Roberts and Michael Landon – both guest-starred on Tombstone Territory. In Season One's Pick Up the Gun episode, Pernell Roberts plays a "Cornish" suitor to Lisa Carew (actress Fay Spain), while Patrick McVey plays her father and Tom Pittman is Billy Clanton, a gang member who Lisa is attracted to. In The Man from Brewster, Landon plays accused robber Chris Anderson, while veteran film star John Carradine is neighboring Sheriff Binns.
Several other notable actors appeared in 2 episodes of Tombstone Territory: Lee Van Cleef, Lisa Gaye, Mary Anderson, Paul Comi, Harry Lauter, Cathy Downs, and Morris Ankrum. 
Dyan Cannon played the closest thing to a girlfriend that Sheriff Clay Hollister had on the series, in The Injury episode near the end of the last season of Tombstone Territory.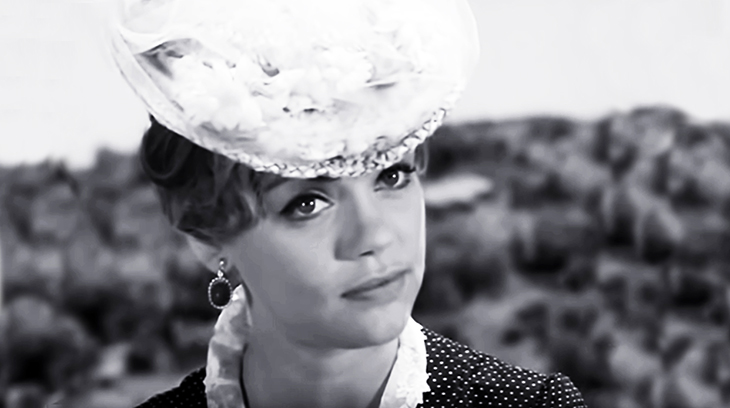 (Dyan Cannon 1960 Tombstone Territory)
Among the many other one-episode guest-stars on Tombstone Territory are John Beradino, James Best, Lon Chaney Jr., Andrew Duggan, Virginia Gregg, Larry Pennell, William Talman,  James Coburn, Alan Hale Jr., Constance Ford, Leonard Nimoy, Harry Carey Jr., Erin O'Brien, Denver Pyle, Warren Stevens, Dabbs Greer, Lance Fuller, Andrew Prine, Regis Toomey, Michael Forest, Michael Fox, Kathleen Freeman, Peter Hansen, Jan Merlin, and Peter Breck.
Trivia Answers
A1) In Season One of Tombstone Territory, Doc Holliday is played by character actor Gerald Mohr in the episode Doc Holliday in Durango. Billy Clanton, one of the Clanton Gang (along with his father Newman and brother Ike), appears in the Pick up the Gun episode. Wyatt Earp is never featured, presumably because of Tombstone Territory's fictitious Sheriff Clay Hollister.
In this Tombstone Territory episode Doc Holiday in Durango, regulars Pat Conway and Richard Eastham are joined by guest stars Gerald Mohr as Doc, and Mark Tapscott as Ed Mace, who's heading to Durango to avenge his brother's murder by killing Doc Holliday. Tom Monroe is the blacksmith and Len Hendry is the Durango Marshal. 
A2) None! Although the historic district of Tombstone, Arizona is well preserved, it was never a film site for the series. Several different movie ranches or parks in and around Los Angeles, California, stood in for Tombstone and other western locales in Tombstone Territory.
Gene Autry's aforementioned Melody Ranch at 24715 Oak Creek Avenue in Newhall's Placerita Canyon, began as Monogram Studios in 1915. The 110 acre ranch was a film location for Gunsmoke, Wyatt Earp, The Gene Autry Show, and many other western series and feature films before and after Gene Autry purchased it in 1952. A fire in 1962 destroyed 54 buildings on the ranch and much of the star's memorabilia and archived recordings. In subsequent decades Autry gradually sold off parts of the ranch, finally selling what was left in 1990 to new owners. It's since been restored as a film location and museum open by appointment; the HBO TV show Deadwood filmed there. 
Bronson Canyon in Griffith Park, is home to an abandoned quarry and Bronson Caves / tunnels. Bronson Canyon's main cave & tunnel were prominently featured in the 1960s Batman series.
Iverson Movie Ranch in Chatsworth was a 500 acre property, not far from Spahn Ranch where the Manson "family" squatted in the early 1970s. It was a film site for movies beginning in the silent film era. Gary Cooper had a complete western town set built on the ranch in 1945 for his feature film Along Came Jones. Television series began filming there in the late 1940s and Bonanza, The Virginian, Gunsmoke, and Zorro were among the shows filmed at Iverson Movie Ranch. Construction of the Simi Valley Freeway in the mid-1960s split the ranch in half and gradually filming ended. The ranch was subdivided and today part of it is a parkland that includes "Lone Ranger Rock", which appeared in the opening of each episode of The Lone Ranger television series with a rearing Silver beside it. 
Paramount Studios established their 2700 acre Paramount Ranch in the Santa Monica Mountains near Agoura Hills in 1927. They built several sets on it used in many movies, including a complete western town built in 1954. Today it's Paramount Ranch Park and is managed by the National Park Service, who began managing it in 1980 and restored film sets on it. Television series that have filmed here include Gunsmoke, Dr.  Quinn, Medicine Woman, The Mentalist, Weeds, and Westworld.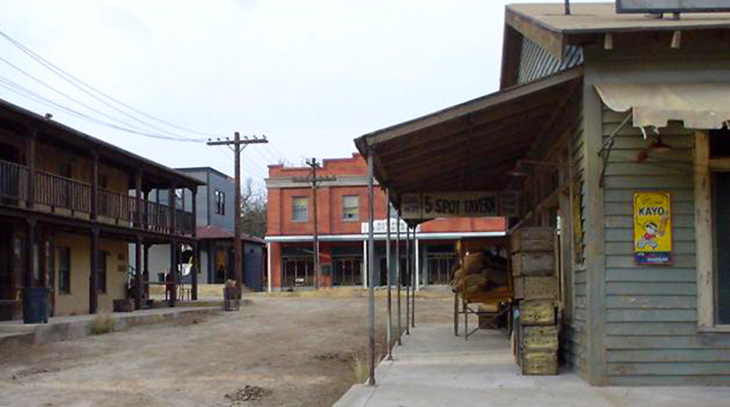 (Paramount Movie Ranch 2003 Photo: wikipedia user GregManninLB)
Two movie ranches in Arizona also provided filming locations for Tombstone Territory. Not co-incidentally, the Burt Lancaster-Kirk Douglas film Gunfight at the OK Corral (1956) also filmed at these two locations:
Built in 1939 for the movie Arizona, Old Tucson movie ranch near Tucson, Arizona is still a thriving film location today. Over 400 movies filmed there, as well as other popular western series such as High Chaparral and Death Valley Days, Little House on the Prairie, and Gunsmoke. Old Tucson is also an attraction park with western shows, etc., usually open to the public.
Apacheland Movie Ranch is situated east of Phoenix, Arizona, just south of the Superstition Mountains and the Tonto Basin. It was opened as a film location in 1960 and in addition to Tombstone Territory, Have Gun – Will Travel used it for filming. A 1969 fire destroyed most of the Apacheland Movie Ranch, which was rebuilt; another fire devastated it in 2004 and the ranch has been closed since then.  
*This article is for general informational purposes only, and reflects the opinion of the author. Images are believed to be in the public domain.*