March 1949 Moments in Time
News Headlines & Entertainment Trivia from March, 1949
Knock on Any Door – Humphrey Bogart Film with Allene Roberts
Director Nicholas Ray's film-noir crime drama Knock on Any Door was released on March 17, 1919 across the U.S.A. Starring Humphrey Bogart, John Derek, George Macready, and Allene Roberts, Knock on Any Door was based on author Willard Motley's 1947 novel of the same name.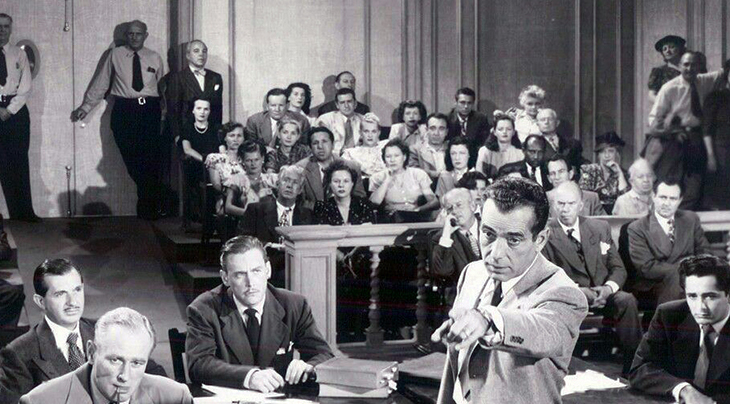 (Humphrey Bogart 1949 Knock on Any Door)
The movie was produced by Santana Productions, a company founded by Humphrey Bogart and screenwriter/producer Robert Lord, in order to produce the film themselves. Knock on Any Door received mixed reviews, but over time the film has held up in audience approval ratings. 
Humphrey Bogart plays criminal lawyer Andrew Morton, defending Nick Romano (John Derek). Supporting actor John Derek's career received a boost from appearing in this film and the more successful All the King's Men (1949) later the same year, only his second and third credited movie roles.
This Knock on Any Door trailer features Humphrey Bogart, John Derek, and Allene Roberts.
Nick's back story is told in flashback scenes. He marries innocent Emma (actress Allene Roberts), and tries to reform, but relapses and utters the famous line "Live fast, die young, and have a good-looking corpse." Nick leaves his pregnant wife Emma, who tragically kills herself. The courtroom drama unfolds with Bogart as Morton defending Nick's case vs. District Attorney Kernan (veteran character actor George Macready).
Knock on Any Door's pretty Allene Roberts is credited in only 10 full-length movies during her short television and film career. Born on September 1, 1928, she was only 17 when she landed a co-starring role in The Red House (1947) with Judith Anderson, Edward G. Robinson, Lon McCallister, and Julie London.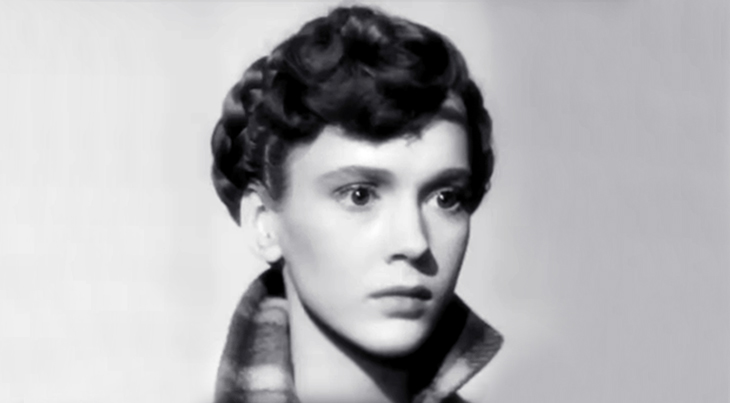 (Allene Roberts, 1947 The Red House)
Knock on Any Door was Roberts' fourth major film role, and possibly her most significant movie in terms of star power, given that Humphrey Bogart headed up the cast. She told Films of the Golden Age in 2009 that Bogart had personally picked her, possibly because of her performance in The Red House. Her memory of Bogart is that he was a loner, although he did spend time off camera with Lauren Bacall, his wife. Roberts recalled that her on-screen husband John Derek was very sweet. Critics were positive in their reviews of her performance in Knock on Any Door. 
Allene had a co-starring role in the previous year's dramas Michael O'Halloran (1948) and The Sign of the Ram (1948) starring Susan Peters. Her later movies included Bomba on Panther Island (1949), The Hoodlum (1951), and Kid Monk Baroni (1952) with Leonard Nimoy. Roberts plays a blind girl who is kidnapped in the drama Union Station (1950), which has William Holden as a police lieutenant tracking down her kidnapper (Lyle Bettger).
Unfortunately, in Santa Fe (1951) with Randolph Scott, and Thunderbirds (1952) starring her Knock on Any Door co-star John Derek, Roberts was relegated to minor roles. She turned to television and appeared six times on the popular police drama Dragnet between 1952-1955, playing different characters.
Allene Roberts had first seen Ralph Cochran back home in Alabama when she was a child of ten (and he a boy of twelve). Sixteen years later, when Ralph was stationed in Southern California with the Navy in 1954, he asked his mother for Allene's contact information. They began dating and married in 1955, with Allene retiring from acting to move with him to Alabama. She remained lifelong friends with her The Red House co-stars Lon McCallister and Jack Larson. Allene Roberts was 90 when she died on May 9, 2019. 
Newfoundland Confederation With Canada
On March 31st, 1949, Newfoundland became the tenth province in Canada. Newfoundland was claimed as a colony for Queen Elizabeth I in 1583 after almost a century of Portuguese, French, Basque (Spanish) and English sailors visiting and fishing the area.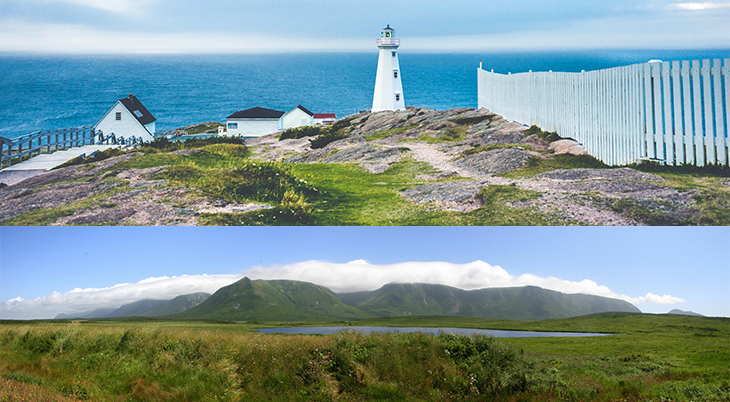 (Cape Spear Lighthouse by Ryan Card via Unsplash | Table Mountain by rokker CC-by-SA 3.0)
British settlements with English Governors were established in the 1600s. After a French governor was appointed to colonize the area of Placentia (then called Plaisance), the French and English fought off and on for years. The Mi'kmaq natives sided with the French troops, and in the 1690s almost all English colonies in Newfoundland were wiped out.
Throughout the 1700s power shifted back and forth between the English and French as various battles and wars were waged in Newfoundland and elsewhere. The first elected government of the colony of Newfoundland was won in 1855 by Philip Francis Little. Newfoundland resisted confederation with Canada in 1869 and again in 1892.
In 1907 Newfoundland was made a dominion (self-governing state) of the British Commonwealth, thus acquiring some autonomy from England. Britain declared that the Labrador region, which had been the subject of border disputes between Quebec and Newfoundland, would be part of the Dominion of Newfoundland.
After years of revenue losses and mounting debt due to World War I, a drop in fishing prices, railroad construction, and the Great Depression, the government of Newfoundland voted to renounce it's status as a dominion in 1933, with the proviso that the British government would guarantee loans and the dominion could be restored in future.
At the 1946 Newfoundland National Convention to determine the future of Newfoundland, it was determined that a referendum vote would be held to decide if Newfoundland should become part of Canada. After a couple of referendum votes, confederation with Canada was the winner in a close decision (52%).
On March 23, 1949 the British parliament passed the British North America Act, which allowed Newfoundland to join Canada. This became official on March 31st, 1949. It wasn't until 2001 that the province name was changed to Newfoundland and Labrador.
Arthur Miller Publishes Death of a Salesman
Playwright Arthur Miller's classic drama Death of a Salesman was published in March 1949. The play was an instant hit with critics and audiences after it's first performance the previous month.
The main character of the play is salesman Willy Loman, who in flashbacks, re-imagines events from his past and the people in his life – primarily his wife Linda, his older son Biff, younger son Harold, neighbors, and co-workers.  
The original Broadway production of Death of a Salesman starred Lee J. Cobb as Willy Loman and Mildred Dunnock as Linda Loman; Arthur Kennedy played Biff. Arguably Arthur Miller's finest work, Death of a Salesman has undergone several revivals on stage, in films, and on television, and won numerous award in the succeeding 70+ years since it was published.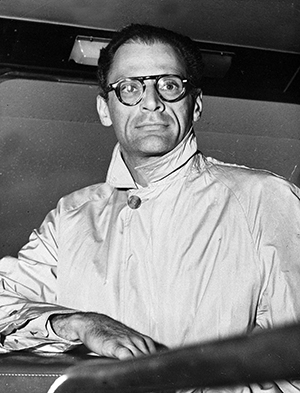 (Arthur Miller 1961 Photo: Anefo)
Death of a Salesman / Arthur Miller, was awarded the 1949 Tony Awards for Author and Best Play, as well as the 1949 Pulitzer Prize for Drama
Nee Arthur Asher Miller on October 17, 1915, playwright Arthur Miller began his career as a playwright at university in the late 1930s.
In the 1940s's he also wrote many radio plays.  
Miller won his first Tony Award for authoring All My Sons (1947). Although later eclipsed by the success of Death of a Salesman (which was written in 6 weeks), All My Sons (which he'd begun writing in 1941), was also a hit on Broadway.
Arthur Miller's next play The Crucible (1953), which was critical of the House Un-American Activities Committee (HUAC), was likely the cause of HUAC denying him a passport and subpoenaing him to testify. When he refused to give any names to Congress, Miller was convicted of contempt of Congress and blacklisted. 
In 1956 Miller divorced his first wife Mary Slattery (m. 1940), in order to marry actress Marilyn Monroe, whom he'd fallen in love with.  
Other notable works for Arthur Miller include his plays A View from the Bridge (1955), and An Enemy of the People (1950). 
Arthur Miller and Marilyn Monroe were divorced the same year her film The Misfits (1961) was released; Miller had written the screenplay for the movie. The following year, Miller married photographer Inge Morath (whom he'd met on the set of The Misfits), and they remained married until her death in 2002. Their daughter Rebecca Miller is married to actor Daniel Day-Lewis; their son Daniel Miller was born with Downs Syndrome and institutionalized for most of his life.
Arthur Miller died at the age of 89 from heart failure and bladder cancer, on February 10, 2005. 
*Images are believed to be in the public domain and/or Creative Commons licensed & sourced via Wikimedia Commons, Vimeo, YouTube, or Flickr, unless otherwise noted*