Done in September 1951
Baby Boomer Trivia From January 1951: Daytime Soaps Debut; Woman Swims Channel; Zapotek Sets Record

In September 1951 the long-running daytime soap operas Search For Tomorrow and Love of Life – both created by Roy Winsor – debuted on television. During their respective 35 and 29-year runs, Search For Tomorrow won the Writers Guild of America award three times (1974, 1975, and 1985), and 3 Daytime Emmy Awards for Lead Actor (Larry Haines as Stu Bergman in 1976 and 1981; Val Dufour as Jon Wyatt in 1977).
The central character of Search For Tomorrow from 1951 until the early 1980's, was that of Joanne Gardner and her neighbours Stuart and Marge Bergman, and their families. Actress Mary Stuart played Joanne Gardner and  actor Larry Haines played Stuart Bergman for the 35 years Search For Tomorrow was on the air. From left, Mary Stuart, Larry Haines, and Melba Rae circa 1960's. Melba Rae played Marge Bergman, Stuart's wife and Joanne Gardner's best friend on Search for Tomorrow, until Rae's unexpected death in December 1971 from a cerebral hemorrhage. (Photo: Pinterest)
Larry Haines had a long career as an actor in radio beginning in the 1930's, accumulating an estimated 15,000 radio credits before landing the role of Stu Bergman on Search for Tomorrow. Haines briefly joined the casts of daytime soaps Another World in 1989 and Loving from 1994-1995; he was an octogenarian senior citizen when he died in July 2008 at the age of 89.
Actress Mary Stuart had been in the movies during the 1940's before starring on Search For Tomorrow. She was a septuagenarian senior citizen when she came out of retirement in 1996 to appear on the soap opera Guiding Light; she was still working on Guiding Light when she died in 2002 from a stroke.
33-year-old American long-distance swimmer Florence Chadwick became the first woman to swim the English Channel (approx 21-23 miles) from England to France, and in both directions in September 1951 (Chadwick had swim the Channel from France to England in 1950), in record-setting time each way. Florence Chadwick would later swim the English Channel twice more (1953 and 1955), each time breaking her own previous record times. (Photo: Fearless Lifestyle Culture)
Florence Chadwick also successfully swam the Straits of Gibraltar, the Bosporus, and the Dardanelles. She swam the 26-mile distance between Catalina Island and the coast of California in 1952, and later became a spokeswoman for Catalina Swimwear. In addition to helping Esther Williams choreograph swimming scenes for her movies, Florence Chadwick taught swimming and worked as a stockbroker and a credit counselor. Chadwick was a septuagenarian senior citizen when she died in 1995 at the age of 76 in her home town of San Diego.
The great Czechoslovakian long-distance runner Emil Zátopek was 29 years old and had won two medals in the 1948 London Olympics (gold medal in the 10km and silver in the 5km) when he ran the first 20 km race in under 1 hour, breaking 4 world records. The following year, two months before the 1952 Helsinki Olympics, doctors told Zátopek not to race because of an infected gland. He raced anyway and won 3 gold medals in the the 5km, 10km, and the marathon (42km/26 miles) – a feat which has never been equaled. Below, Zapotek shows his winning form and trademark agonized expression while winning in 1952 Helsinki Olympics (and beating Herbert Schade and Alain Mimoun).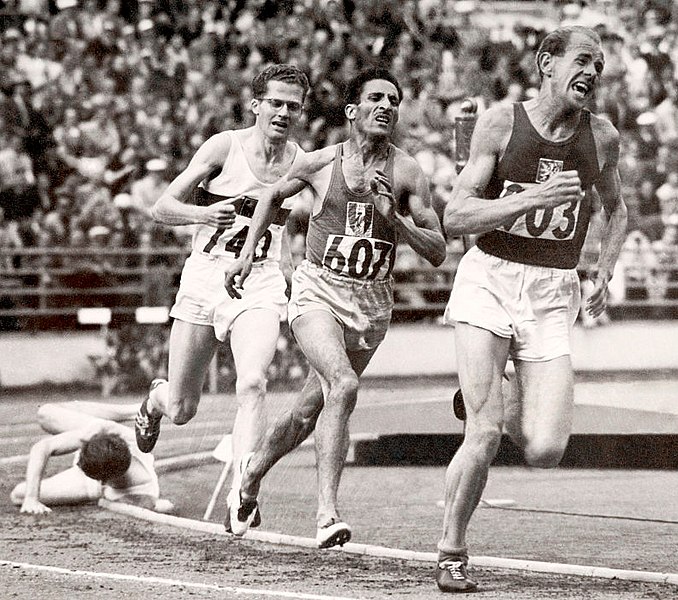 (1952 Photo: Suomen Urheilumuseo | Wikimedia Commons / Public Domain)
Zátopek's win in the 1952 Olympic marathon race was notable not only because of it being his third gold medal in the same Olympic games, but because he had never raced in a marathon before. Below, happy septuagenarians Dana Zátopková and Emil Zátopek showing the love at their 50th wedding anniversary. (Photo: Ivy Ellen)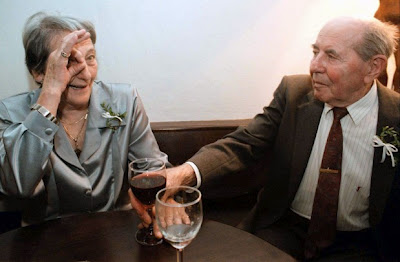 Both Emil and his wife Dana Zátopková were born on September 19, 1922; they fell in love at the 1948 Olympic Games and married a few months later. In the 1952 Olympics, on the same day that Emil won his 5km race, Dana won the javelin gold medal. Emil Zátopek was a 78-year-old septuagenarian when he died in November 2000 of complications from a stroke; Dana Zátopková is a nonagenarian and is 94 in September 2016.
Note: This article was first published in 2016. It has been updated with new / additional content.
*Images are assumed to be in the public domain and/or Creative Commons licensed & sourced via Wikimedia Commons, Vimeo, YouTube, or Flickr, unless otherwise noted*