March 1947 Headlines
News Headlines & Entertainment Trivia from March, 1947
The Best Years of Our Lives Wins 8 Academy Awards
At the 19th Academy Awards Ceremony on March 13, 1947, the post-WWII drama The Best Years of Our Lives won 8 Academy Awards, beating other acclaimed films such as It's a Wonderful Life, The Yearling, Henry V, and The Razor's Edge.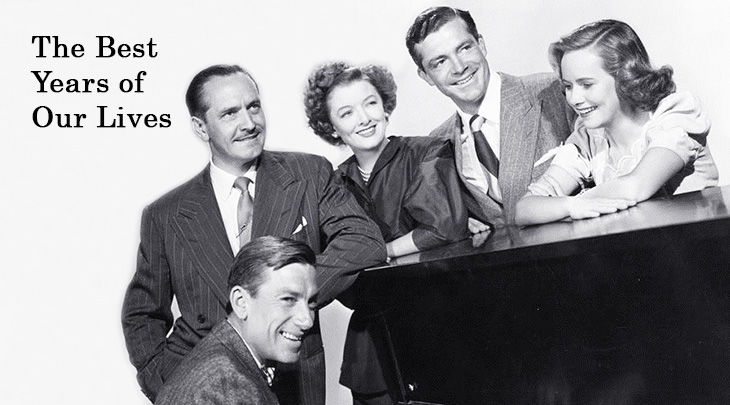 (Clockwise from left front: Hoagy Carmichael, Fredric March, Myrna Loy, Dana Andrews & Teresa Wright)
Among the 8 Oscars won by the film's producers, cast and crew of The Best Years of Our Lives were Best Motion Picture (Samuel Goldwyn), Best Director (William Wyler), Best Actor (Fredric March), Best Supporting Actor (Harold Russell), Best Screenplay (Robert E. Sherwood), Best Score (Hugo Friedhofer), and Best Film Editing (Daniel Mandell). The 8th Oscar was an Honorary Award that also went to Harold Russell, "for bringing hope and courage to his fellow veterans through his appearance." 
The Best Years of Our Lives follows the return of three US soldiers to civilian life after the end of WWII. The film's stellar cast includes several folks not best known as actors, namely the double Oscar-winning Harold Russell, singer-songwriters Hoagy Carmichael & Tennessee Ernie Ford, and directors Leo Penn and Blake Edwards.
Dana Andrews plays married Captain Fred Derry, whose wife (Virginia Mayo) has moved out from his parent's home while he was away, and has a (very) active social life. Fred had an unskilled job before the war, and struggles to find employment after. 
Fredric March is married Sgt. Al Stephenson, who has a loving wife (Myrna Loy), children, and a secure job at the bank to return to, but struggles with the decisions he's pressured to make by bank executives. Al's daughter Peggy (Teresa Wright) is attracted to Fred, who ends up divorcing his wife after he catches her with another man; Fred leaves town to find employment.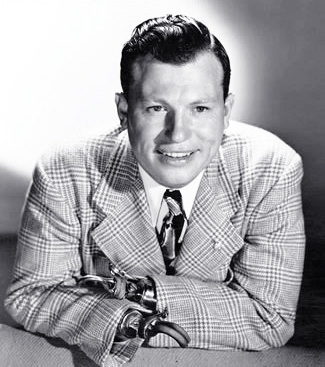 (Harold Russell 1946 Photo)
Harold Russell, a real-life Canadian-American WWII vet who had lost both hands, is returning WWII veteran Homer Parrish.
In The Best Years of Our Lives, Homer Parrish had been a high school quarterback and was engaged to his neighbour Wilma (Cathy O'Donnell), before the start of the war. Wilma still loves him and wants to get married but Homer struggles with adapting to his new post-war life as a disabled veteran. 
Born on Jan. 14, 1914 in North Sydney, Nova Scotia, Harold Russell's father died in 1920 and his family moved to Massachusetts the next year.
He enlisted in the U.S. Army after Pearl Harbor and was teaching demolitions in June 1944 when a defective TNT fuse detonated. Russell was fitted with two hooks for his hands, and began attending Boston University as a full-time student. Director William Wyler saw Russell in a documentary about rehabilitating war veterans and cast him in The Best Years of Our Lives.
Harold Russell returned to university after filming on The Best Years of Our Lives ended and graduated in 1949 with a business degree, the same year his first memoir, Victory in My Hands, was published. Russell was an active member of the volunteer organization AMVETS and an advocate for employment of the handicapped.
Harold Russell appeared in two more films, Inside Moves (1980) and Dogtown (1997), and guest-starred on a few 1980s TV episodes of China Beach and Trapper John, M.D. 
Controversy erupted when he sold his Best Supporting Actor Oscar at an 1992 auction; he said it was done to finance his wife's medical expenses, which the Academy disputed. Harold Russell died of a heart attack on Jan. 29, 2002 at the age of 88.
The Fabulous Flamingo Re-Opens
On March 1, 1947, Bugsy Siegel's The Flamingo casino-hotel underwent a name change to The Fabulous Flamingo and re-opened for business.
In 1945, mobster Bugsy Siegel had persuaded "business associates" like Meyer Lansky, to join him in funding Hollywood Reporter founder Billy Wilkerson's concept of a luxury casino and hotel outside the city limits of the desert town of Las Vegas. In December 1946, suspected by his mob partners of skimming profits, Siegel held a gala grand opening of The Flamingo to the tune of $6 million, in an attempt to appease them.
Despite the throng of celebrity guests and entertainers, The Flamingo opening flopped because construction hadn't yet been completed. It was closed in January 1947 and when it was opened again in March 1947, it was with the new name The Fabulous Flamingo.
Lon McCallister Stars in The Red House
The Red House / No Trespassing premiered on March 16, 1947 in New York City. This suspenseful psychological thriller is based on the novel by The Red House (1945) by George Agnew Chamberlain.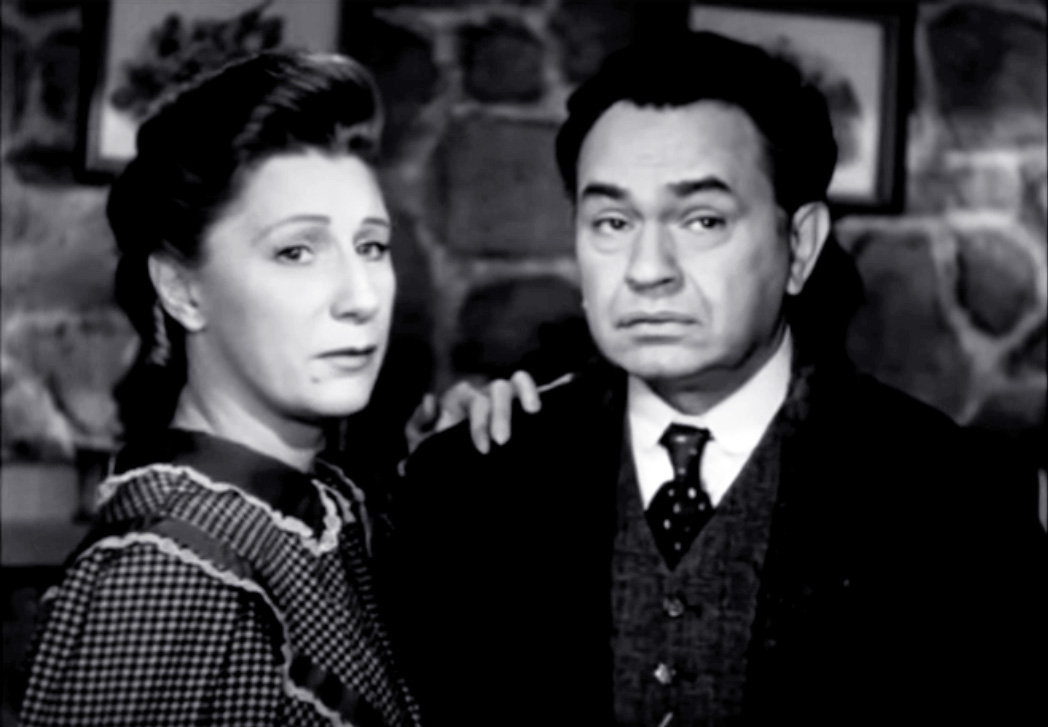 (Edward G. Robinson & Judith Anderson 1947 The Red House)
Directed by Delmer Daves, The Red House stars acting veterans Edward G. Robinson as handicapped farmer Pete Morgan, and Dame Judith Anderson as his sister Ellen.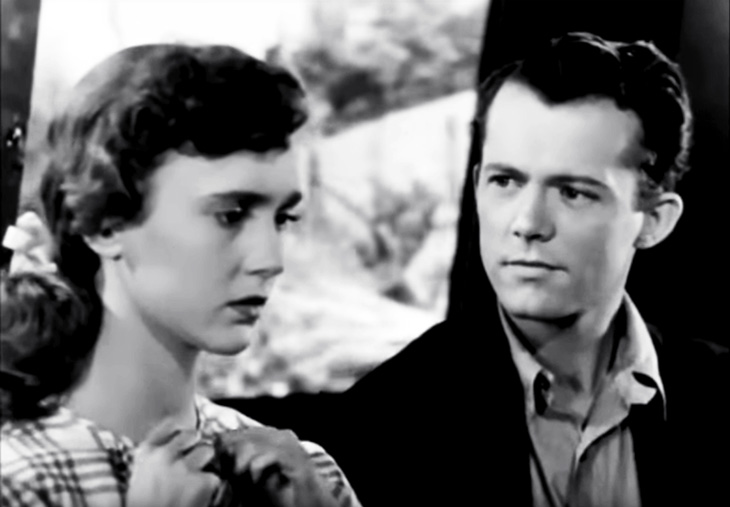 (Allene Roberts & Lon McCallister 1947 The Red House)
With younger actors (playing high schoolers) Allene Roberts as their adopted daughter Meg, Lon McCallister as Meg's friend Nath Storm, Julie London as Nath's pretty, flirtatious girlfriend Tibby, and Rory Calhoun as Teller, a two-bit local criminal that Tibby has a weakness for.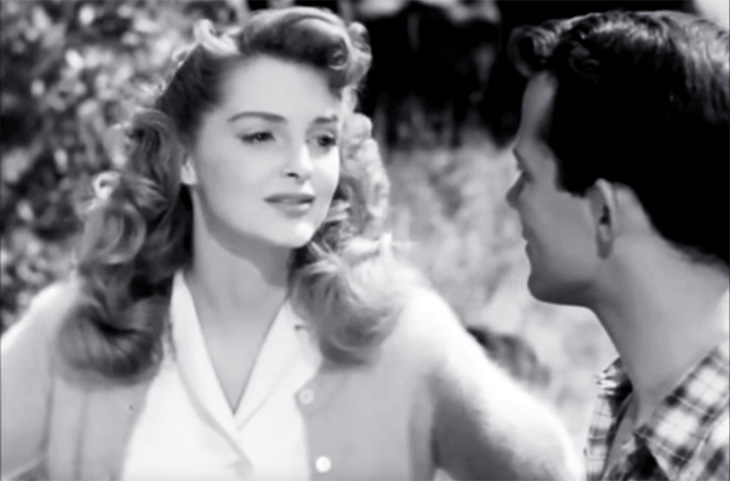 (Julie London & Lon McCallister 1947 The Red House)
Pete hires Nath to help with farm work at Meg's suggestion, but is adamant that Nath not take a shortcut home at night through the woods on Pete's property, insisting it's too dangerous because of a haunted red house. Undeterred, Nath cuts through the woods anyway, and is knocked out one night when he's hit on the head. Nath thinks it's Pete that hit him, but both Ellen and Meg say Pete never left them while Nath was gone. Meg and Nath decide to explore the woods to search for the red house.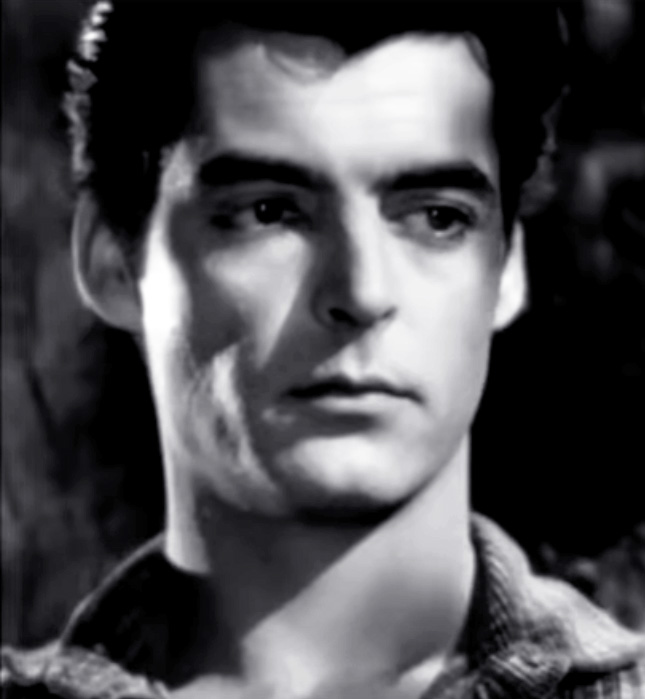 (Rory Calhoun as Teller 1947 The Red House)
In the meantime, Pete hires Teller to keep people out of the woods in exchange for hunting rights. Meg finds the red house on her own one day, but Teller fires at her to scare her away, and she falls and breaks her leg. When he discovers they've been exploring the woods, Pete fires Nath and forbids him to come near the woods or farm again.
While Meg is recovering from her broken leg, Pete begins to break down and calls her Jeannie. Ellen goes to the woods intending to burn down the red house but is shot by Teller; she's badly injured and Teller flees with Tibby.
A chain of events and revelations unfold in The Red House, building to a climax with several surprises.
The Red House was the film debut for pretty Allene Roberts, the second movie that Rory Calhoun was credited in, and the third for Julie London.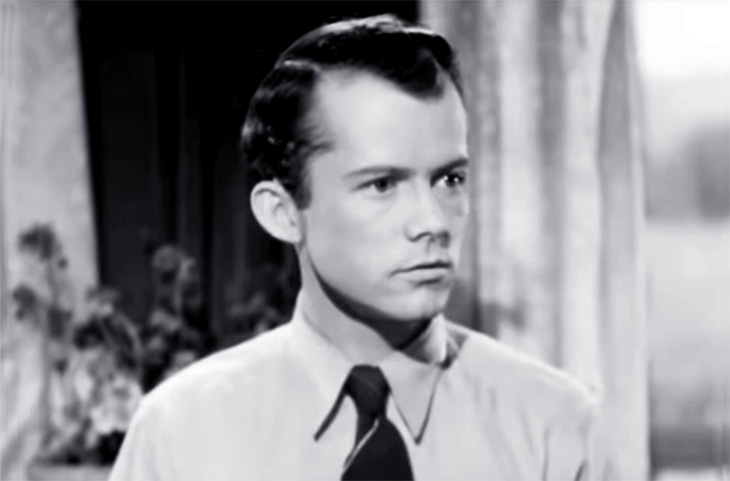 (Lon McCallister 1947 The Red House)
Young romantic leading man Lon McCallister (born April 17, 1923) had been appearing in movies in small bit parts and uncredited roles since 1936. He had 26 such parts and graduated to supporting actor/credited parts beginning with a couple of 1942 comedy films – Over My Dead Body, starring Milton Berle, and That Other Woman with Dan Duryea, Virginia Gilmore, and James Ellison.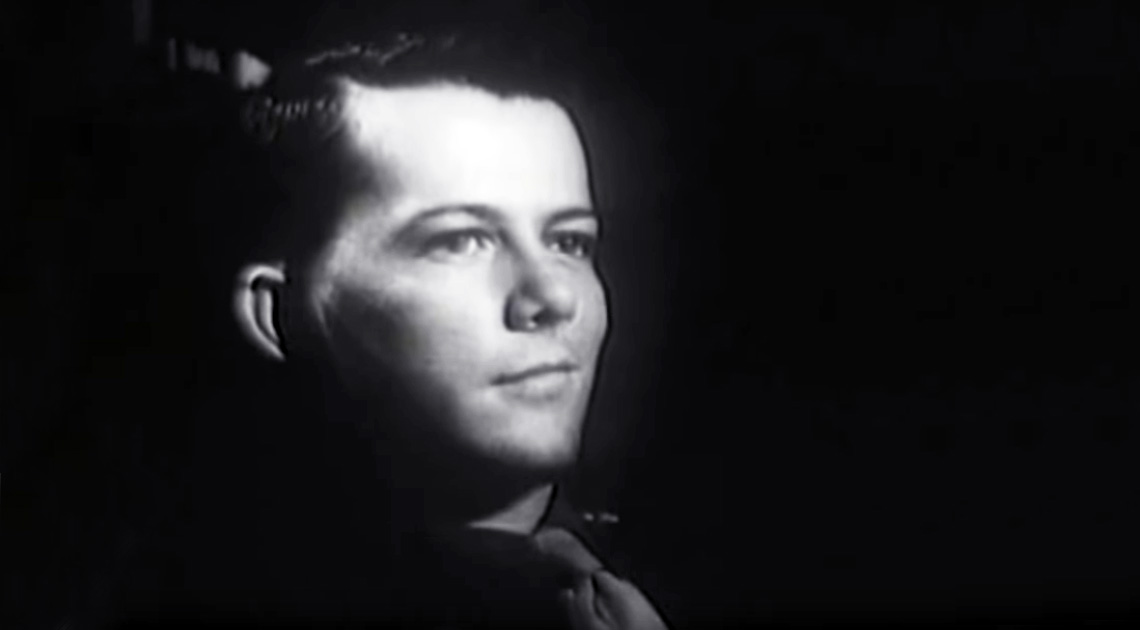 (Lon McCallister 1943 Stage Door Canteen)
McCallister has a significant role in the United Artists star-studded WWII musical Stage Door Canteen (1943), playing a young soldier visiting the canteen with his pals. Other cast members of Stage Door Canteen (many playing themselves in cameos) include his future The Red House co-star Judith Anderson, as well as Edgar Bergen, Ray Bolger, Katharine Hepburn, Ethel Merman, Merle Oberon, George Raft, and many others.
Lon McCallister appeared in two 1944 films with beautiful Jeanne Crain before The Red House was filmed – he plays one of five cadets training to be pilots in the WWII drama Winged Victory, while in the adventure-romance Home in Indiana starring Walter Brennan, Ward Bond, Charlotte Greenwood, June Haver, and Charles Dingle, they are young friends that fall in love.
After The Red House established him as a young leading man, Lon McCallister starred in the Lassie-type movie Thunder in the Valley (1947) with Edmund Gwenn, Peggy Ann Garner,  and Reginald Owen; and in the romantic comedy Scudda Hoo! Scudda Hay (1948) with June Haver, Walter Brennan, Anne Revere, Henry Hull, and a ten year old Natalie Wood.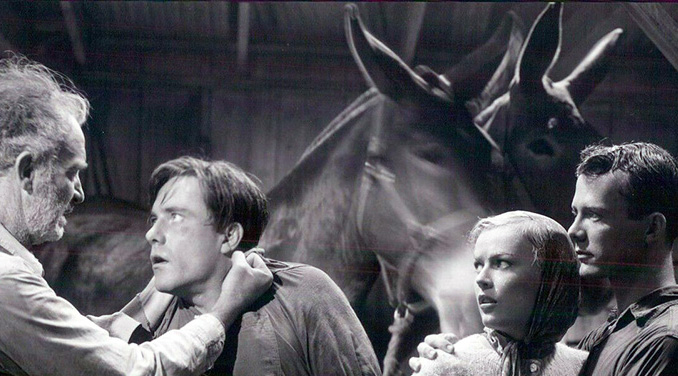 (Walter Brennan, Robert Karnes, June Haver & Lon McCallister 1948 Scudda Hoo! Scudda Hay)
In The Story of Seabiscuit (1949) starring Barry Fitzgerald as racehorse trainer Shawn O'Hara and Shirley Temple as his niece Margaret, McCallister plays Seabiscuit's jockey Ted Knowles. Rosemary DeCamp and Pierre Watkin play Seabiscuit's owners Mr. & Mrs. Charles Howard.
Despite now being in his mid-twenties, McCallister's height (5'6″) and slight build, enabled him to continue playing younger leads and teenagers. He and Peggy Ann Garner (his Thunder in the Valley co-star) were romantic interests for each other again in the adventure film The Big Cat (1949), with Preston Foster, Forrest Tucker, Skip Homeier, and Gene Reynolds. In the gold mining tale Montana Territory (1952) McCallister again starred with Preston Foster. Wanda Hendrix, Hugh Sanders, Jack Elam, and Clayton Moore (The Lone Ranger) are also in the film.
A co-starring role with John Ireland in the Korean War drama Combat Squad (1953) was the last movie role for Lon McCallister. He retired that year at the age of 30, but did guest-star very occasionally after that on a few 1950s and early 1960s television series. The son of a real estate broker, Lon McCallister began a new, successful career in real estate himself. He died of congestive heart failure at the age of 82 in 2005.
*Images are believed to be in the public domain and/or Creative Commons licensed & sourced via Wikimedia Commons, YouTube or Flickr, unless otherwise noted*