Done in December 1951
Baby Boomer Trivia From December 1951: Golden Gate Bridge closes; Baseball great Joe DiMaggio retires; classic television series Dragnet starring Jack Webb premieres 

Golden Gate Bridge Closed By Wind Gusts
San Francisco seniors may remember when wind gusts of 69 mph (111 kmph) caused the closure of the Golden Gate Bridge for the first time on December 1, 1951.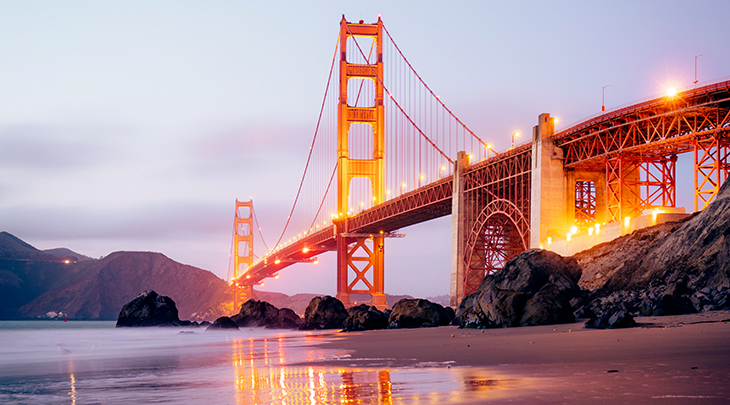 (Golden Gate Bridge Lights 2019 Photo: Ethan Chang via Unsplash)
The art deco Golden Gate Bridge – a suspension bridge that pans the 1 mile wide/3 mile long Golden Gate strait that separates the city of San Francisco, California, from Marin County, California – is one of the Wonders of the Modern World, according to American Civil Engineers. 
The Golden Gate Bridge opened in 1937 and at 4,200 feet, until 1964 was the longest suspension bridge in the world. Engineers came up with a bridge design that could handle the swirling tides, currents, deep water, and frequent strong winds and blinding fogs the area is known for. Opposition to the bridge came from the Department of War, Southern Pacific Railroad, and unions wanting local worker guarantees.
Construction began on the Golden Gate Bridge in January 1933 and it opened on May 27, 1937. It took a little over 4 years, $35 million and the lives of 11 bridge construction workers who fell to their deaths, to complete it. Ten of the eleven men were killed in a single incident on in February 1937, when a safety net failed after a scaffold fell.
Joe DiMaggio Announces His Retirement From Baseball
On December 11, 1951, "Joltin' Joe" DiMaggio announced he was retiring from baseball. 1951 had been a bad year for Joe DiMaggio, as he sustained injuries and had a dispute with his New York Yankees Manager Casey Stengelin July. He said he'd had a bad year, full of aches an pains. .
"Sometimes for a couple of hours after a ball game, I didn't have energy enough to take off my uniform…There were times when I could hardly get out of ben in the morning…Baseball wasn't any fun any  more…It wasn't a game with me, and so I'm through. I've played my last game." – Joe DiMaggio,  The Daily Record, December 14, 1951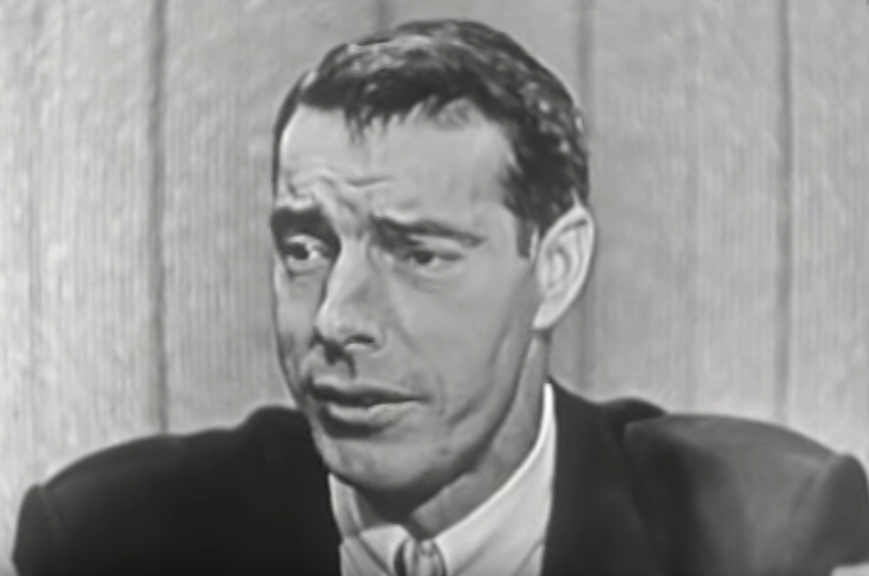 (Joe DiMaggio 1955 What's My Line)
New York Yankees President Dan Topping (a part owner of the team) said Joe would remain with the Yankees organization in some capacity. DiMaggio said he had no desire to be a coach, scout, or manager, but was considering a post-retirement career as a radio or television sports baseball commentator.
Joe DiMaggio played his entire 13 year MLB career for the American League New York Yankees and was inducted into the Baseball Hall of Fame in 1955. One of 9 children, he was born on November 25, 1914 in Martinez, California and grew up in San Francisco. Joe began playing pro baseball with his older brother Vince's Pacific Coast League team in 1932. A knee injury in 1934 almost ended his baseball career, but he recovered and the New York Yankees bought his contract, bringing him up to play on the team for the first time on May 3, 1936. The New York Yankees had been shut out of the World Series since 1932, but they won 4 World Championships in a row from 1936-1939.
DiMaggio married first wife actress Dorothy Arnold in November 1939 and their son Joseph Paul DiMaggio III was born in October 1941. World War II service disrupted DiMaggio's MLB career from 1943-1945; during that time, Dorothy and Joe DiMaggio were divorced (in 1944).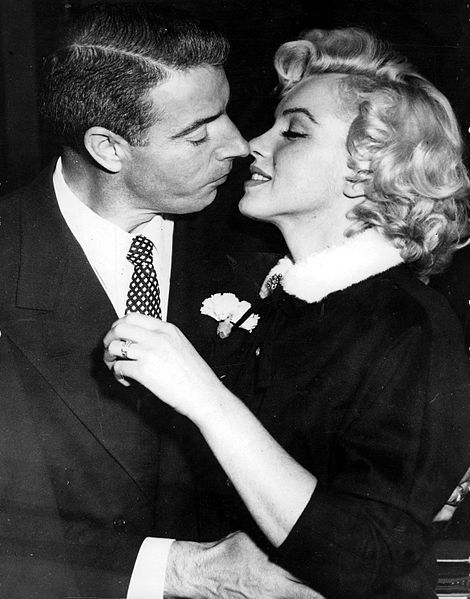 (Joe DiMaggio & Marilyn Monroe 1954 Photo: TV-Radio Mirror)
Joe DiMaggio eloped with budding film star Marilyn Monroe in January 1954. She filed for divorce in October that same year, a month after they had a public argument. 
Di Maggio became a batting coach for the Yankees, and later a hitting instructor for the Oakland Athletics from 1968-1970.
It was Joe that sprang Marilyn Monroe from a psychiatric clinic in February 1961, and he arranged for her funeral after her death in August 1962. For 20 years he had red roses delivered 3 times weekly to Marilyn Monroe's crypt.
Joe DiMaggio never remarried after his divorce from Marilyn. He had been a heavy smoker most of his life and was an 84-year-old octogenarian when he died in March 1999, having had lung cancer surgery in October 1998. His last words?
"I finally get to see Marilyn."
Dragnet Television Series Premieres December 16, 1951 
Dragnet producer, creator and writer Jack Webb had played Sergeant Joe Friday on radio when the series began in June 1949. He wanted someone else to star in the series when it transitioned to television for the baby boomer generation; but he was overruled. 
Jack Webb and his fellow radio on-air partner, actor Barton Yarborough as Sergeant Benjamin "Ben" Romero", kicked off the Dragnet TV series. Barton Yarborough died unexpectedly of a heart attack on December 19, 1951 – just 3 days after the first television episode of Dragnet was released, and the day after he had completed filming the second episode of the series.
Eventually a new regular partner, Officer Frank Smith (actor Ben Alexander), was found for Joe Friday. Below, "The Big Grandma" episode of Dragnet featuring Jack Webb and Ben Alexander.
This classic television series spawned 3 movies (1954, 1966, and 1987) and two remake series (1989-1990; 2003). The 1954 and 1966 Dragnet movies starred Jack Webb, while the 1987 film was a comedy starring Dan Aykroyd.
Dragnet phrases that became pop culture:
 "The story you are about to hear is true. Only the names have been changed to protect the innocent."
"All we want are the facts, ma'am."  (truncated to "Just the facts, ma'am."). 
Dragnet went off the air in August 1959, but was relaunched and ran from 1967-1970, still with Jack Webb as Joe Friday. Jack Webb was working on scripts for a Dragnet revival series when he died of a heart attack in December 1982, and the series was scrapped. The LAPD retired Jack Webb's badge #714 after Webb's death, and the LAPD provided an honor guard at his funeral.
Webb was married 4 times and had 2 daughters. In addition to Dragnet, he created the popular baby boomer TV series Adam-12 and Emergency!
Note: This article was first published in 2016. It has been updated with new / additional content.
*Images are assumed to be in the public domain and/or Creative Commons licensed & sourced via Wikimedia Commons, Vimeo, YouTube, or Flickr, unless otherwise noted*