Who Are You, Pete Townshend?
Baby boomer, songwriter, and The Who's self-taught lead guitarist Pete Townshend was born on 19 May, 1945 at the end of WWII. Townshend has said his father was in a band and did one-night stands when he was growing up; as a consequence, he didn't see much of him.
Soon after getting his first guitar at age 11, Pete Townshend formed a jazz band (he played the banjo) called The Confederates with his friend, schoolmate John Entwistle (horns). The group played one gig before breaking up.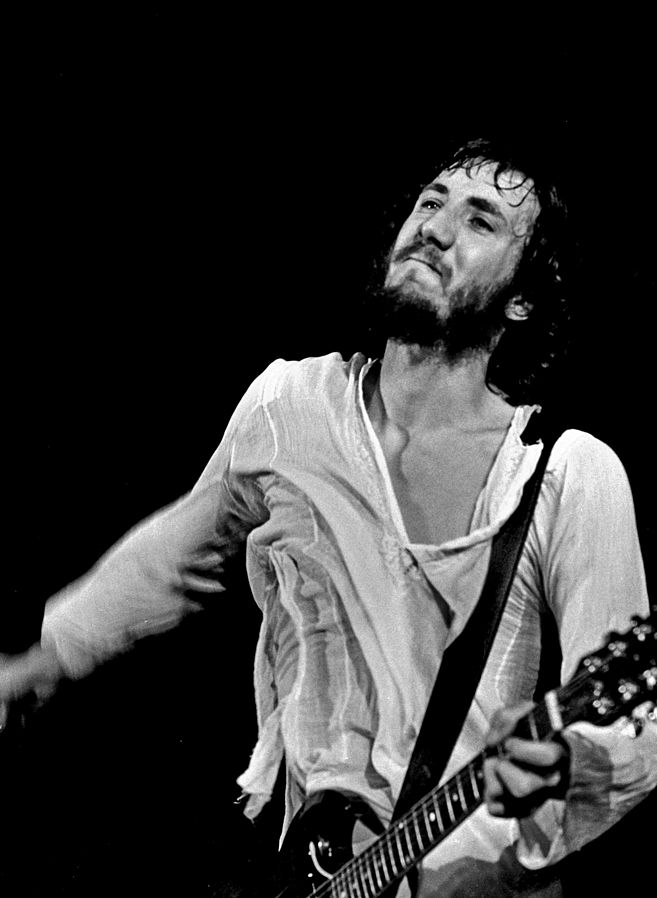 (Pete Townshend 1972 The Who Hamburg, Germany Concert Photo: Heinrich Klaffs)
In September 1961, now 16-year-old Townshend enrolled at Ealing College to study graphic design.
John Entwistle was invited by his friend and lead guitarist Roger Daltrey, (who had attended their same school but was one year ahead of them), to join his band The Detours. Entwistle suggested to Daltrey that Townshend play rhythmn guitar for the group. When the singer quit, Daltrey took over as lead singer and Townshend moved to lead guitar.
The Detours began to get gigs (arranged by Townshend's mother) and recorded Townshend's first songwriting effort, It Was You, in 1963.
In early 1964 The Detours changed their name to The Who, and soon after that a new drummer called Keith Moon replaced original drummer Doug Sandom.
Pete Townshend, who had been attending college all along, decided to drop out that year to pursue music full-time with The Who. During a performance, Townshend's guitar broke when it hit a low ceiling – he then completely destroyed the guitar onstage and began a long tradition for The Who of trashing guitars during concerts.
The Who's first hit was the classic rock song I Can't Explain, written by Pete Townshend. Below, The Who performing I Can't Explain in the VEVO music video circa 1965.  
Also from 1965 and written by Pete Townshend, was The Who's 2nd big hit: My Generation. In 1966, The Who had another hit single with Substitute, also written by Pete Townshend. Below, The Who lead singer Roger Daltrey, with Pete Townshend, John Entwistle, and Keith Moon, perform Substitute in 1966.
1968 was a big year for Pete Townshend and The Who. In March, The Who began a first tour of the United States, and both Daltrey and Townshend were arrested when they attacked a heckler who turned out to be a police officer. Townshend started to trash hotel rooms and briefly toyed with LSD (he stopped after a bad trip in June of that year). In May of that year, Pete Townshend married Karen Astley, whom he'd first met while at Ealing College.
Perhaps most significantly, in April 1968 Townshend announced he was a follower of Meher Baba, an Indian spiritualist; Townshend's "enlightenment" through Baba's teachings would influence Townshend's songwriting and lifestyle.
Pete Townshend wrote the rock anthem The Kids Are Alright, and it became a hit single for The Who in 1966. Below, The Who performing outside in 1966, set to The Kids Are Alright.
Townshend started work on creating Tommy, a rock opera about a blind, deaf-mute boy who experiences the world through music; Tommy was interspersed with Baba's philosophies. At year end The Who released The Who Sell Out album, which included the hit single I Can See for Miles.
1969 was another big year for Pete Townshend; his daughter Emma Townshend was born in March 1969, and the Tommy album was a financial and critical hit when it was released in May. The Who toured again to support the album, which included the hit single Pinball Wizard. Below, Pete Townshend, Roger Daltrey and The Who sing Pinball Wizard in a vintage live performance.
1970 was a watershed year for Pete Townshend. The Who released the Live at Leeds album, and Townshend wrote an article about Baba for Rolling Stone, in which he stated he was now opposed to the use of psychedelic drugs because of Baba. Townshend began work on another rock opera, Lifehouse, but it was eventually abandoned when he suffered a nervous breakdown. The songs written for Lifehouse (including Won't Get Fooled Again and Baba O'Riley) were included on the Who's Next album, released in 1971. His second daughter, Aminta, was born in 1971.
Below, Pete Townshend and The Who performing Baba O'Reilly live.
The Who have since continued to tour and release successful albums with Pete Townshend as the main songwriter and lead guitarist, until taking a long studio break after their 1982 album, It's Hard. They toured but didn't release another album, until 2006's Endless Wire album and tour. They've survived the deaths of drummer Keith Moon in 1978 (Moon died from an overdose of drugs that were prescribed to help him kick alcohol) and Townshend's long-time friend and Who bass guitarist, John Entwistle in 2002 (Entwistle died from a heart attack induced by cocaine use).
Don't Let Go the Coat (1981) written by Pete Townshend and recorded by The Who in 1980, was included on several of The Who's albums. Although the single didn't make it past #83 on the US Hot 100 charts, the music for Don't Let Go the Coat (below) is a melodic tune with spiritual overtones, that fits with Townshend's early 1980's sensibilities.
Pete Townshend has continued to pursue a solo music career that began in 1969; his first big solo success didn't come until 1980's Empty Glass album, which included the hit singles Rough Boys and Let My Love Open the Door. His first rock opera Tommy has been made into a hit movie (1975, starring Ann-Margret, Oliver Reed, and others), and adapted (and directed) by Pete Townshend and Des McAnuff as a Broadway musical (1993). Also with McAnuff, Townshend wrote and directed a musical The Iron Man, based on a book by Ted Hughes and a solo album of Townshend's; this later became The Iron Giant (1999) an animated movie co-produced by McAnuff and Townshend. He wrote another mini-opera The Boy Who Heard Music, in 2006.
Below, Pete Townshend's hit single Rough Boys, performed live in a 1986 Cannes concert, featuring David Gilmour (then with Pink Floyd) on lead guitar.
A side career in fiction and non-fiction writing and publishing is almost as prolific as Pete Townshend's song-writing – he's written and published books (the Horse's Neck, 1985, a short story collection), scripts, reviews, and articles written for magazines and newspapers.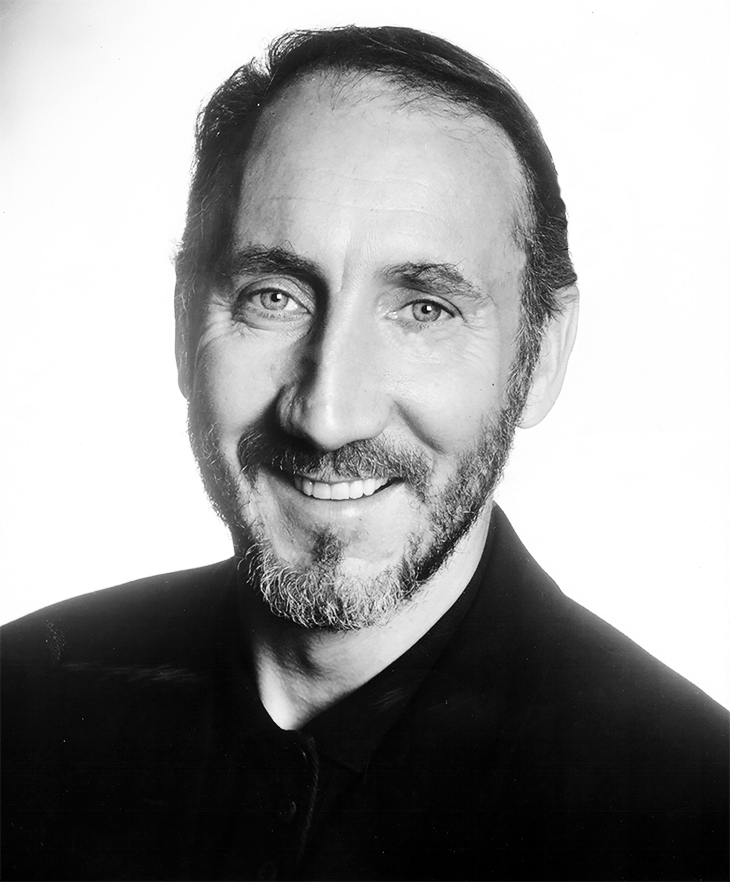 (Pete Townshend 1989 Photo: David Bailey / Atlantic Records) 
Eel Pie Publishing was founded by Townshend in 1977 and specializes in children's books.
Pete's son Joseph Townshend was born in 1990 and the Townshends separated 4 years later, in 1994 (they divorced in 2009).
In his 2012 autobiography Who I Am, Pete Townshend credited the breakup to his self-obsession, overwork, selfishness and manic-­depression.
Townshend married his long-time partner and girlfriend  Rachel Fuller (whom he first met in 1996), in December 2016.
Below, The Who live in 1989 singing Who Are You, originally written by Pete Townshend for The Who's Who Are You (1978) album. 
Pete Townshend has suffered from some hearing loss and occasional tinnitus since the 1960's, believed to be from exposure to loud noise at concerts. Despite this, since becoming a senior citizen in 2010, The Who have performed at the 2010 Superbowl halftime show, the 2012 London Olympics closing ceremonies, and are now celebrating their 50th anniversary by touring North America.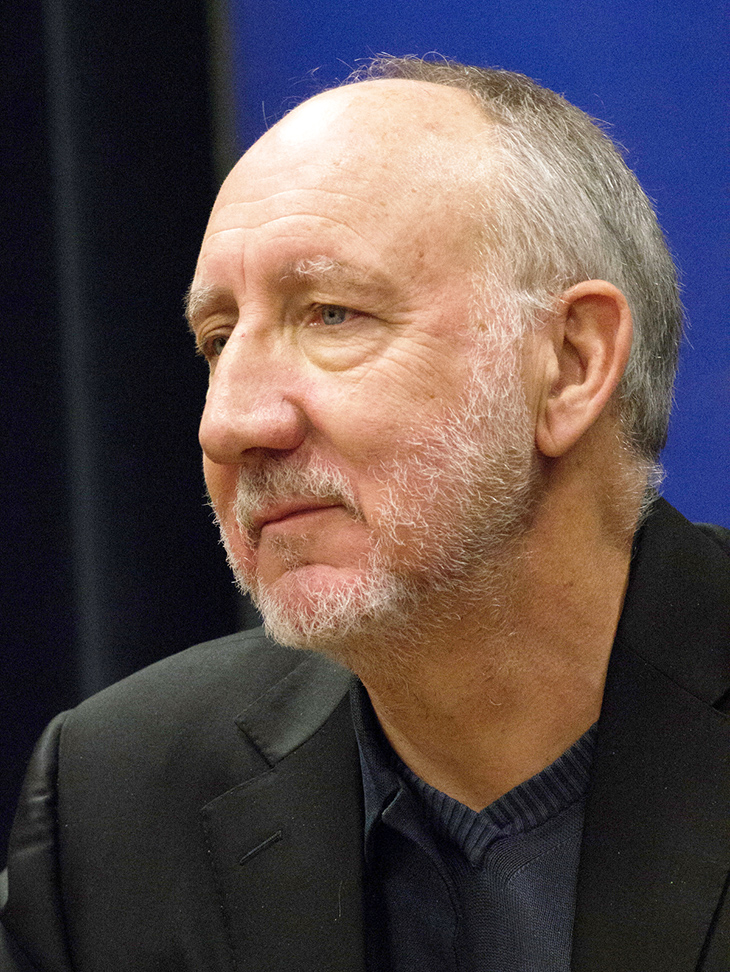 (Pete Townshend 2012 Photo: Ross)
In a 2012 interview for the Canadian Press supporting his autobiography, Townshend told the reporter that the older he gets, the less age matters.
"It doesn't matter about growing old – what matters is about still being current. Still being relevant. Still being able to do a really, really great show. Even if you're playing old songs."
A new solo album Truancy: The Very Best of Pete Townshend, is set to be released in June (2015). And thankfully, Pete Townshend has not fulfilled the once-voiced wish from his youth on the song My Generation "I hope I die before I get old".
Pete Townshend and The Who continued to perform in concert, until COVID called a halt to their touring plans.
"It felt to me like I needed a rest. And so I re-arranged the universe, brought in this thing called Covid-19 and then a year off!…I was relieved in a sense, that I didn't have to tour. I would have done an OK job, I'm sure. But I felt like I needed a break…[Re beginning a concert tour again] Who knows? We don't really know. But if an opportunity is to come up, I will come." – Pete Townshend, Who Sell Out, Rolling Stone, 2021
Note: This article was first published in May 2015 as Celebrating Seniors – Pete Townshend Turns 70. It has been updated with new & additional information.
*Images are public domain or Creative Commons licensed & sourced via Wikimedia Commons, Vimeo, or Flickr, unless otherwise noted*