August 1949 Moments in Time
News headlines and entertainment trivia from August 1949.
The NBA is Formed
On August 3rd, 1949 the NBA was formed (National Basketball Association of America) when the BAA (Basketball Association of America) and the NBL (National Basketball League) merged. The NBL had been in existence since 1937 and the BAA since 1946. BAA president Maurice Podoloff became the first president of the newly created NBA.
Among the original teams in the NBA's first year starting in 1949, are these 7 surviving NBA franchise teams of today: Boston Celtics, New York Knicks, Fort Wayne Pistons (now the Detroit Pistons), Atlanta Hawks, Philadelphia Warriors (now Golden State Warriors), Minneapolis Lakers (now the Los Angeles Lakers), and Rochester Royals (now the Sacramento Kings).
Peekskill Race Riot over Paul Robeson Concert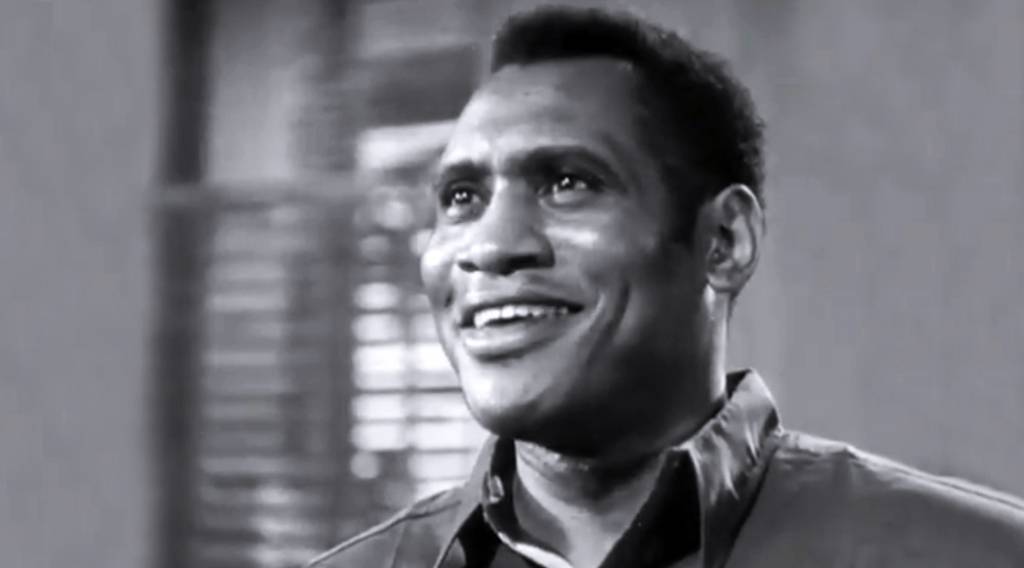 (Paul Robeson 1933 The Emperor Jones)
African-American singer Paul Robeson was prevented from performing at a Peekskill, New York civil rights benefit concert on August 27, 1949 when local rioters (who later described their actions as an orderly protest parade) attacked assembling fans. The rioters had baseball bats and threw rocks, shouting "Dirty Kikes" and "Dirty commie", while a cross burned on a hill nearby and Robeson was lynched in effigy. 13 people were injured while local law enforcement stayed clear, saying it was outside their jurisdiction.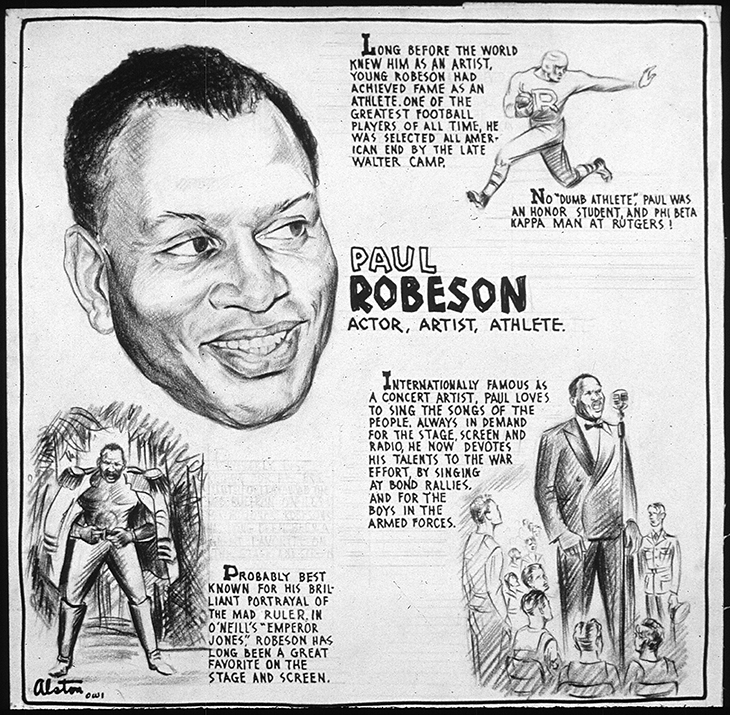 (Paul Robeson 1943 Illustration: Charles Henry Alston / National Archives at College Park)
The son of a former slave, Paul Robeson was a celebrated All-American college and pro football player while in university. After he graduated from Columbia Law School, he turned his focus to singing and acting. Robeson went to Europe to perform in the 1920s, living there for a time with his wife Essie.
When Robeson returned to America in the 1930s, he starred in several films. The Emperor Jones (1933) is considered by some to be his most significant film, Paul Robeson is featured as the title character, Mr. Brutus Jones. Actress Fredi Washington is his love interest Undine. Also in the cast of The Emperor Jones are blues singer Billie Holiday, actor Rex Ingram, and vaudeville entertainer Moms Mabley. Robeson's statuesque stage presence (he was 6'3″) and baritone singing voice are notable in this clip from The Emperor Jones.
Robeson gradually became more involved in political and civil rights activism during the 1940s. Based on his personal experiences in America and overseas, he believed there was less racism in the Soviet Union than in the United States. After 4 black men were lynched in 1946, Robeson told President Truman that "Negroes will defend themselves" if Truman didn't legislate an end to lynching; Truman said the time wasn't right.
Leading up to the Peekskill Riot, Paul Robeson had made statements supporting peace between all nations including Soviet Russia and the People's Republic (of China), at a time when anti-Soviet and anti-communist sentiments were rising in the U.S. His U.S. concerts were often cancelled due to pressure from the FBI, and Robeson was eventually blacklisted.
In the aftermath of the Peekskill riot, the local American Legion's commander said the objective in their "peaceful protest parade" had been to prevent the Paul Robeson concert, and they had achieved that. The cancelled concert was rescheduled and held successfully on September 4th, however more violence broke out after that concert as fans headed home. Veterans and their families, American Legion chapter members, and local law enforcement, all participated in beatings that resulted in 140 people being injured. 
Paul Robeson had numerous physical and mental health problems beginning in the 1960s, with few public appearances after 1963. He died of complications from a stroke in January 1976 at the age of 77.
Some Enchanted Evening Tops the Song Charts
Perry Como's performance of Some Enchanted Evening was at the top of the August 1949 song charts. This recording showcases Perry Como's voice and "crooner" style as he sings Some Enchanted Evening.
Written by Rodgers and Hammerstein for their musical South Pacific, Some Enchanted Evening was sung by opera singer Enzio Pinza (playing plantation owner Emile de Becque) in the Broadway production. In the 1958 South Pacific movie, actor Rossano Brazzi plays Emile and opera singer Giorgio Tozzi dubbed his singing.  
Numerous vocalists have performed Some Enchanted Evening in concert and on recordings, including Frank Sinatra, Art Garfunkel, Bing Crosby, Andy Williams, José Carreras, Bob Dylan, Willie Nelson, Barbra Streisand, and Paul Robeson.  Note the richness of Paul Robeson's bass baritone as he sings Some Enchanted Evening, below. 
*Images are public domain or Creative Commons licensed & sourced via Wikimedia Commons, Vimeo, YouTube, or Flickr, unless otherwise noted*