Done in October 1951
Baby Boomer Trivia From October 1951: I Love Lucy, premieres on television; Rocky Marciano TKO's World Heavyweight Champion Joe Louis; Winston Churchill defeats Clement Attlee to become British Prime Minister again
Premiere of the I Love Lucy Sitcom
The I Love Lucy sitcom debuted on CBS on October 15, 1951 in glorious black and white, and ran until May 6, 1957. Baby boomers loved I Love Lucy and the series continued in re-runs and syndication for years, with stars Lucille Ball, Desi Arnaz Sr., Vivian Vance, and William Frawley becoming household names.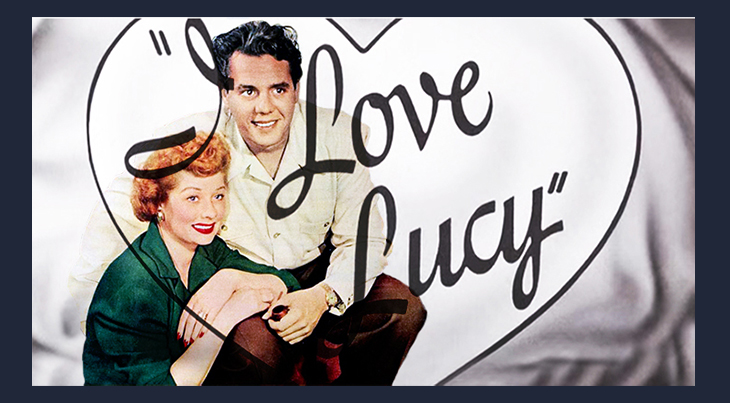 (Lucille Ball & Desi Arnaz 1949 | I Love Lucy Photo Blend: A. Hamilton)
I Love Lucy was developed by Lucille Ball and her husband Desi Arnaz under their new Desilu Productions company (formed in 1950), filmed at their Desilu Studios. Desi Arnaz served as Executive Producer on the series. 
Lucille Ball had already starred in many "B" movies during the 1930's, and 1940s. Cuban musician Desi Arnaz and his family had come to America in the mid-1930's when he was a teenager, after the Cuban Revolution resulted in the confiscation of their family properties. Arnaz was discovered by fellow Spanish-Cuban musician Xavier Cugat in Miami.
Desi Arnaz moved to Hollywood and met actress Lucille Ball while they filmed the musical Too Many Girls (1940). They got married in November 1940 after eloping. 
I Love Lucy was a spin-off of popular radio program and later TV series My Favorite Husband, which also starred Lucille Ball. My Favorite Husband began on radio in 1948 as a one-time special starring Lucille Ball as Liz Cugat, and Lee Bowman as her husband George Cugat. 
When the My Favorite Husband radio special was made into a radio series (July 1948 – March 1951), Lee Bowman was unavailable, so Richard Denning played George Cugat. Denning is best known for his later starring roles on TV's Mr. & Mrs. North, Michael Shayne, The Flying Doctor, and for playing Governor Paul Jameson on Hawaii Five-O.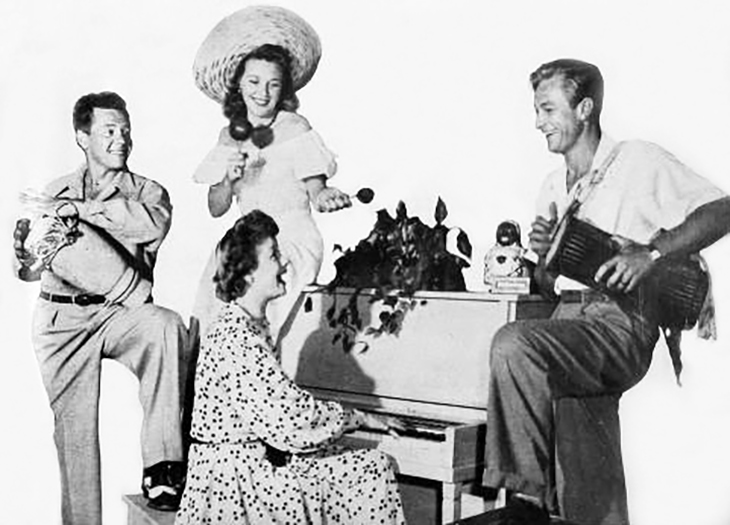 (Real-life couples Desi Arnaz & Lucille Ball, Evelyn Ankers & Richard Denning 1949 Photo: Radio Mirror)
CBS asked Lucille Ball to develop My Favorite Husband for television, and wanted Richard Denning to continue in the role of her husband. Ball insisted on working with her real-life husband Desi Arnaz, and My Favorite Husband was reworked to become the new TV series I Love Lucy that premiered in October 1951.
Two years later, CBS also introduced the TV series My Favorite Husband (1953-1955) starring Joan Caulfield and Barry Nelson as the Coopers. 
Underdog Rocky Marciano Knocks Out Joe Louis
On October 26, 1951, 28-year-old underdog heavyweight boxer Rocky Marciano defeated Joe Louis by TKO in an upset match at Madison Square Garden in New York City.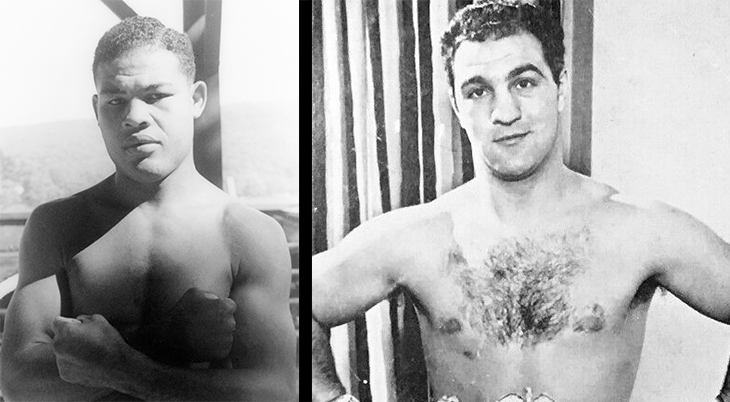 (Joe Louis 1941 Photo: Carl Van Vechten | Rocky Marciano 1953 Photo)
World Heavyweight Champion Joe Louis had held the title from 1937 until he announced his retirement in March 1949. He'd successfully defended his heavyweight title in June 1946, defeating Billy Conn in a greatly anticipated re-match. Louis came out of retirement in 1950 for financial reasons, and his loss to Rocky Marciano was the final bout of his briefly resumed pro boxing career.
Rocky Marciano (nee Rocco Francis Marchegian, born on September 1, 1923) had begun boxing while serving in the U.S. Army from 1943-1946 during World War II. Marciano won the Amateur Armed Forces boxing tournament in 1946 and became a professional boxer in 1947, winning his first pro fight with a knockout. He made a brief return to amateur boxing status and tried out unsuccessfully for the Chicago Cubs baseball farm team.
In 1948 Rocky Marciano returned to pro boxing and won his first of 16 consecutive boxing matches (1947 – 1949) by knockout before the fifth round
United Press Sports Writer Scott Baillie profiled Rocky Marciano before his 1951 fight with Joe Louis:
"Marciano, as affable outside the ring as he is ferocious in it, packs one of those 'builds' that only a Broadway tailor could guarantee. His legs are a pair of oaken affairs reminiscent of Jim Jeffries' underpinnings and he is billed as another Dempsey….The curly-haired, bright-eyed Marciano didn't begin fighting for a living until he was 24, admittedly a late start. 'My Pop's a shoemaker but we all had to work,' Rocky said. 'He was gassed at Chateau-Thierry [WWI, France] so it's been up to the family to help him along.' Marciano worked mostly with construction gangs around Brockton but got in a lot of amateur boxing. Marciano is supposed to be able to pull a fight out of the fire with either hand but his best punch is a crushing right counter….Marciano may capture the nation, as he has New England, as the clean-living, earnest guy who mixes it up for his wife and folks." – The Daily Record, October 10, 1951
Box Nights presents "Joe 'The Brown Bomber' Louis (66-2-0) vs Rocky 'The Brockton Blockbuster' Marciano (37-0-0)", with clips of each fighter:
Rocky Marciano's TKO win over Joe Louis in October 1951 was the 38th consecutive win for Marciano.
Marciano went on to win the World Heavyweight Champion title in September 1952. Having secured the title, Marciano never lost in 6 subsequent bouts defending his championship. He retired in April 1956 at the age of 32 undefeated, and became a television boxing series host, commentator, and referee.
Rocky Marciano died in an airplane crash on August 31, 1969; he was 45 years old, and would have celebrated his 46th birthday the next day. He was inducted into both the World Boxing Hall of Fame and the International Boxing Hall of Fame.
Winston Churchill is Re-Elected as Prime Minister
The leader of the British Conservative Party, 76-year-old senior Winston Churchill, was re-elected Britain's Prime Minister on October 25, 1951.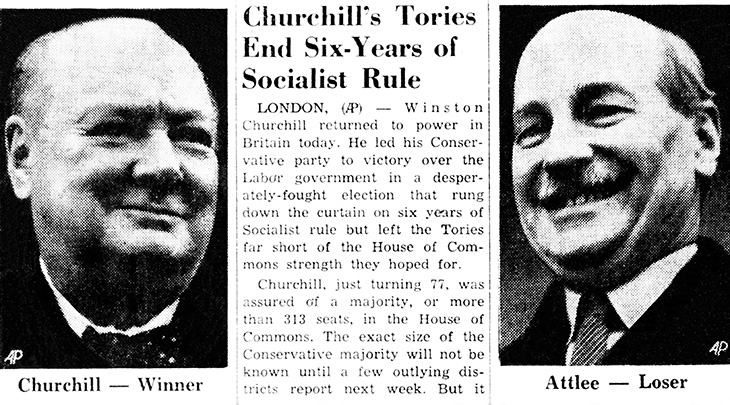 (Winston Churchill & Clement Attlee October 26, 1951 Photos: AP / The Nome Nuggett)
Churchill had been in poor health, but under his leadership the Conservative Party managed to defeat sitting Prime Minister Clement Attlee's Labour Party. It was Attlee who had defeated Churchill in the 1945 election. 
"Clement Attlee, prime minister in the Labor government, went to Buckingham Palace tonight to surrender his seals of office to King George VI." – Lyle C. Wilson, United Press Staff Correspondent, Churchill Victory Brings an End to Socialistic Rule, The Daily Record, October 26, 1951
Former national Second Boer war hero (1899), war correspondent and author Winston Churchill had won his first election in 1900 (the constituency of Oldham). Thus began a political career that would result in being elected 40 years later to the office of Prime Minister for the first time.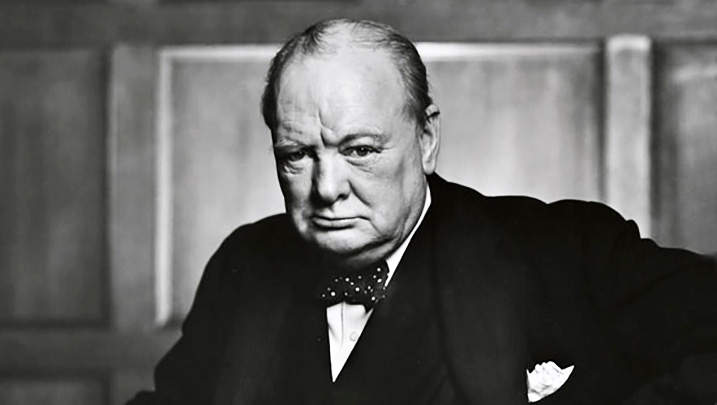 (Winston Churchill 1941 Photo: Yousuf Karsh / Library and Archives Canada, e010751643)
Winston Churchill had served as British Prime Minister from May 1940 – July 1946, leading Britain through World War II. After his Conservative Party was defeated in the 1945 elections, Churchill served as Leader of the Opposition (1945 – 1951).
While in office during his second term as Prime Minister, in 1953 he suffered a stroke.. Although he recovered from the stroke, Winston Churchill retired as Prime Minister in April 1955; he was 90 when he died in January 1965.
Note: This article was first published in 2016. It has been updated with new / additional content.
*Images are assumed to be in the public domain and/or Creative Commons licensed & sourced via Wikimedia Commons, Vimeo, YouTube, or Flickr, unless otherwise noted*