Done in March 1951
Baby Boomer Trivia From March 1951: Julius & Ethel Rosenberg Trial, Seoul Korean War Victories, The King and I

Seniors and older baby boomers may remember the trial of Julius and Ethel Rosenberg, Jewish American spies for the Soviet Union during World War II, which began on March 6, 1951. While attending City College of New York on his way to an electrical engineering degree in the 1930's, Julius Rosenberg had become a leader in the Young Communist League USA. He met Ethel Greenglass, another member of the Young Communist League, in 1936 and they married in 1939. Julius Rosenberg joined the U.S. Army Signal Corps in 1940 after World War II had broken out in Europe, and was recruited by the Soviet Union NKVD as a spy in 1942. Julius began providing classified documents to the Soviets and recruiting other spies. (Right Photo: atomicarchive.com)
Ethel's younger brother David Greenglass had joined the Young Communist League in 1943, and after keeping his communist associations secret, was assigned to the top secret Manhattan Project (developing the first atomic weapons), from July 1944 – August 1946. In 1950 espionage activities during and after WWII were uncovered, with the result that David Greenglass was arrested; he quickly implicated his brother in law Julius Rosenberg. Ethel and Julius Rosenberg were then charged with conspiracy to commit espionage and passing information to the Soviet Union.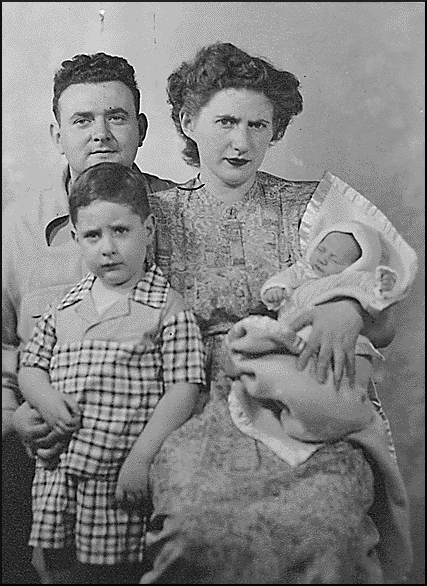 During grand jury indictment testimony in the summer of 1950, David Greenglass testified that Ethel Rosenberg was not involved in espionage, and said he only gave documents to Julius when they met alone on a street corner; in contrast, David's wife Ruth testified that Julius Rosenberg had recruited Ethel, gotten Ethel to recruit David. Ruth said that Ethel had urged her (Ruth), to encourage David to provide information to Julius. In February 1951, just before the Rosenberg's trial began, David Greenglass recanted his grand jury testimony and said he had brought his notes to Julius and Ethel's apartment, and Ethel had typed the notes up for Julius; when re-interviewed at the time, Ruth now also added this detail – that Ethel had typed up the notes. Charges against Ruth were dropped. Left, David and Ruth Greenglass and their children. (Photo: Spartacus Educational)
Julius and Ethel Rosenberg refused to give any testimony at their trial and were convicted on March 29. They were sentenced to death on April 5, 1951 and executed by electric chair on June 19, 1953.
After Ethel and Julius Rosenberg's executions, their young sons Michael (b. 1943) and Robert (b.1947) were abandoned by frightened relatives and eventually adopted from an orphanage by teacher and social activist Abel Meeropol; they took his last name.
Right, Robert and Michael Meeropol in 1953. (Photo: Associated Press | The New York Times)

David Greenglass was convicted of his espionage charges and was imprisoned for 9 years, until 1960. As a senior citizen in the late 1990's and 2000's, Greenglass said that he had lied about Ethel's involvement in order to protect his wife Ruth, and implied that Ruth had typed up the notes to give to Julius, not his sister Ethel Rosenberg. David Greenglass was a 92-year-old nonagenarian senior citizen living under an assumed name when he died in a New York City nursing home in July 2014.
By March 1951, the Korean War had been underway for a little over 8 months. On March 7, 1951, the Operation Ripper attack by the Eighth Army commenced, under the direction of U.S. General MacArthur, the Supreme Commander in Korea.
By March 12 1951, the city of Seoul, Korea had been recaptured by United States/United Nations forces and Operation Ripper was completed. A month later, General MacArthur was relieved of his command by U.S. President Truman for a variety of reasons, including threatening to destroy China unless it surrendered.
The Broadway musical The King and I by Richard Rodgers and Oscar Hammerstein II, opened on March 29, 1951 at the St. James Theater in New York City. Yul Brynner played the King and Gertrude Lawrence played Anna; both Lawrence and Brynner won Tony Awards for their performances, and the show won the 1952 Tony Award for Best Musical. When Gertrude Lawrence died unexpectedly of liver and abdominal cancer in September 1952, several other actresses played the role of Anna for the remaining Broadway shows. The King and I had a run of 1,246 performances on Broadway, followed by a production in London, England as well as a U.S. national tour. Below, Gertrude Lawrence and Yul Brynner in The King and I in 1951. (Photo: Pinterest.com)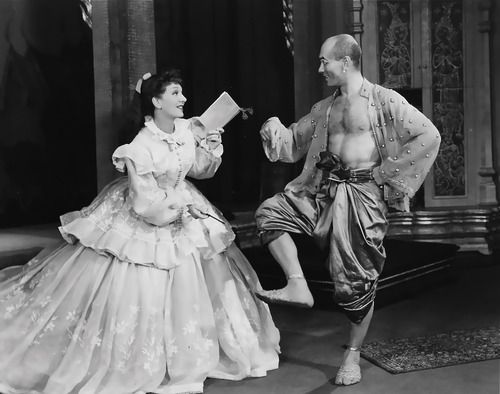 Yul Brynner also starred in the 1956 movie Anna and the King, and was in several revivals of The King and I. Just before his death from lung cancer in 1985, Brynner  completed another 4-year run in The King and I on Broadway. All told, Yul Brynner was in 4,625 performances of The King and I on stage.
More "Done in 1951":