Celebrating Seniors - Robert Redford Turns 80, Part 2
Robert Redford, Part 2: All The President's Men to Out of Africa (1975-1989)
Robert Redford and his friend, director Sydney Pollack (This Property is Condemned, Jeremiah Johnson, The Way We Were) teamed up again for the CIA thriller Three Days of the Condor (1975). Co-stars Faye Dunaway, Cliff Robertson, Max Von Sydow, and John Houseman rounded out a convincing cast. Redford's Wildwood Enterprises co-produced the film. Three Days of the Condor was a critical and box office success with baby boomers, earning over $41 million. Below, a clip from Three Days of the Condor featuring Robert Redford.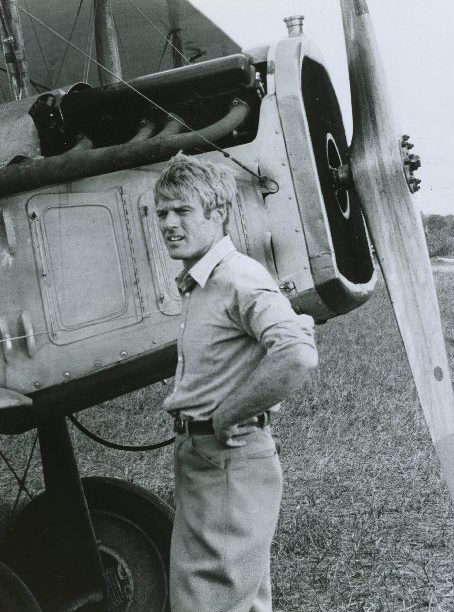 (Robert Redford 1975 The Great Waldo Pepper Photo: SDASM Archives)
Pilot, writer, producer, and director George Roy Hill's period drama The Great Waldo Pepper (1975) was his third and last movie starring Robert Redford (Butch Cassidy and the Sundance Kid, The Sting).
Robert Redford is barnstorming biplane pilot Waldo Pepper in the film, while Bo Svensen is his rival turned partner.
Margot Kidder is Waldo's love interest, and Susan Sarandon plays a (rightly) terrified stunt woman in The Great Waldo Pepper. Supporting actors Geoffrey Lewis and Edward Hermann were also in the cast.
The political thriller All the President's Men (1976) was based on the book by journalists Carl Bernstein (Dustin Hoffman) and Bob Woodward (Robert Redford). Robert Redford had bought the rights to All the President's Men in 1974, and hired screenplay writer William Goldman (Butch Cassidy and the Sundance Kid, The Hot Rock) to write the script for All the President's Men.
A first draft by Goldman came up short, so Carl Bernstein and girlfriend and writer Nora Ephron wrote a new script. When director Alan J. Pakula was hired, he requested rewrites from William Goldman, and both Pakula and Robert Redford also worked on the script. Redford's company Wildwood Enterprises was the production company. Below, a clip from All the President's Men featuring Robert Redford, Dustin Hoffman and Jack Warden.
All the President's Men was nominated for 8 Academy Awards, and won 4 – Best Art Direction, Best Sound, Best Adapted Screenplay (William Goldman), and Best Supporting Actor (Jason Robards); Jane Alexander was nominated for Best Supporting Actress. Also among the large cast in All the President's Men were Hal Holbrook, Meredith Baxter, Ned Beatty, James Karen, Stephen Collins, and F. Murray Abraham. The movie was another box office success for Redford.
A Bridge Too Far (1977) had a screenplay adaptation by William Goldman (his fourth movie with Robert Redford), and a star-studded cast that struck a chord with seniors and baby boomers. Fittingly, this World War II epic featured golden age movie actor Dirk Bogarde. In real-life, Dirk Bogarde had been a British intelligence officer during WWII. Also in the cast of A Bridge Too Far – Michael Caine, Sean Connery, James Caan, Anthony Hopkins, Elliott Gould, Gene Hackman, Ryan O'Neal, Nicholas Campbell, John Ratzenberger, Laurence Olivier, and Liv Ullman. According to co-producer Joseph E. Levine, the movie star that was most in demand by distributors to appear in the film was Robert Redford, who was paid $2 million for 5 weeks work; the other "name" actors agreed on a weekly fee of $250,000.
In August 1978, the Utah/US Film Festival in Salt Lake City was founded by Lola Redford's younger cousin Sterling Van Wagenen. When Robert Redford heard about it, he agreed to serve on the board and appear at the festival. Van Wagenen and Redford subsequently founded the Sundance Institute, with Sterling Van Wagenen as it's director. The festival was moved to Park City, Utah in the 1980's and it became a program under the Sundance Institute; in 1991 it was officially renamed to the Sundance Film Festival.
The modern-day western romance-adventure movie The Electric Horseman (1979) was directed by Redford's friend Sydney Pollack (their fifth movie) and co-produced by Ray Stark and Redford's Wildwood Enterprises. It reunited Jane Fonda (Tall Story, The Chase, Barefoot in the Park) and Robert Redford in their fourth movie together.
Below, Robert Redford, Jane Fonda, Willie Nelson, and horse Rising Star (Let's Merge) are featured in the promotional trailer for The Electric Horseman.
Country singer Willie Nelson made his acting debut in The Electric Horseman as Wendell Hickson, pal to Redford's former rodeo star character Sonny. Jane Fonda appeared as a reporter chasing a story while  Valerine Perrine was Sonny's ex-love Charlotta. John Saxon (who had been in War Hunt, Redford's first credit movie role back in 1952) played a cold-hearted businessman, as did Nicolas Coster (who had been in All the President's Men with Redford). The Electric Horseman was actor Wilford Brimley's second movie of his career; character actors Quinn Redecker and James B. Sikking also appear in the movie.
Robert Redford bought Let's Merge after the movie, and the horse lived on his Sundance ranch in Utah until it's 1997 death.
Filming for The Electric Horseman began in late 1978 and 1979, taking place in Nevada's Red Rock Canyon, Las Vegas, and parts of Utah.
Willie Nelson sang several songs on The Electric Horseman soundtrack that became hit singles, including the #1 Country chart hits My Heroes Have Always Been Cowboys by Sharon Vaughn, and Mamas Don't Let Your Babies Grow Up to Be Cowboys by Ed and Patsy Bruce.
When released on December 21, 1979, The Electric Horseman was a hit at the box office with baby boomers, seniors, and younger fans, and was the 11th highest grossing movie of 1979.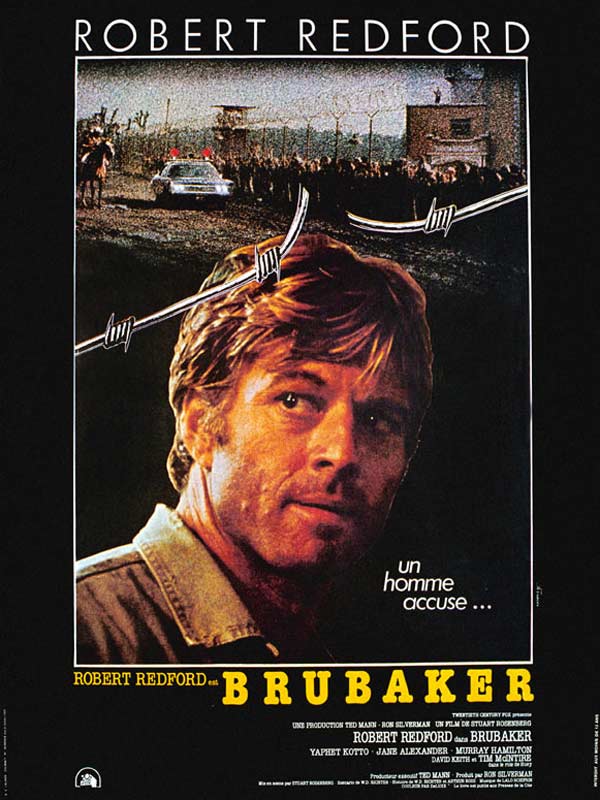 (Robert Redford 1980 Brubaker Movie Poster Photo: Jean-Bastien Prévots)
In the prison drama Brubaker (1980), Robert Redford starred as the new prison warden cleaning up a (corrupt) prison. Co-stars included Yaphet Kotto, Jane Alexander (All The President's Men), David Keith, Wilford Brimley (The Electric Horseman), and veteran character actors Matt Clark, M. Emmet Walsh. Brubaker was actor Murray Hamilton's third movie with Robert Redford (after Tall Story and The Way We Were).
By this time, Lola and Robert Redford had grown apart and were separated; she returned to school to complete her college degree. Their amicable divorce in 1985 ended 27 years of marriage, but they have remained friends.
Robert Redford's Wildwood Enterprises produced his first movie as a director, the compelling drama Ordinary People (1980) starring Timothy Hutton, Donald Sutherland, Mary Tyler Moore, and Judd Hirsch. In addition to the younger stars in the cast of Ordinary People – Elizabeth McGovern, Dinah Manoff, and Adam Baldwin – Redford hired some of his former co-stars M. Emmet Walsh (Brubaker); and Quinn Redecker and James B. Sikking (The Electric Horseman). Redford hit it out of the park with his directorial debut, as in addition to being a hit with baby boomers and fans of all ages at the box office, Ordinary People was a critical success. 
At the 1981 Academy Awards ceremony (Oscar clip below), Johnny Carson introduces Lillian Gish, who announced the Best Picture winner; Ordinary People was up against Coal Miner's Daughter, The Elephant Man, Raging Bull and Tess.
Ordinary People was nominated for a raft of awards and won several.
Best Picture – Ordinary People won the Golden Globe and Academy Awards
Best Director – Robert Redford won the Golden Globes, Directors Guild of America, and Academy Awards for Best Director
Best Actress – Mary Tyler Moore was nominated for the BAFTA and Academy Awards for Best Actress, and won the Golden Globe Award for Best Actress
Best Supporting Actor – Both Judd Hirsch and Timothy Hutton were nominated for Golden Globe and Academy Awards as Best Supporting Actor; Hutton won both, as well as a BAFTA Award for Best Newcomer.
Best Actor – Donald Sutherland was nominated for a Golden Globe Best Actor
The baseball fantasy-drama The Natural (1984) based on Bernard Malamud's novel of the same name, had Robert Redford starring as mysterious heavy-hitter Roy Hobbs. Co-starring with Redford in The Natural were Robert Duvall (his co-star in 1966's The Chase), Glenn Close, Kim Basinger, Wilford Brimley (his third movie with Redford), and Barbara Hershey. Robert Redford, Robert Duvall, Glenn Close, Wilford Brimley, Kim Basinger, and Barbara Hershey all appear in the official movie trailer for The Natural, below.
The Natural was Robert Redford's first movie in four years, since 1980's Brubaker. The film got mixed reviews from critics but did well at the box office. 
During his time away from the movies Redford's marriage to Lola was in it's death throes, and his daughter Shauna Redford's fiance Sid Wells was murdered in 1983 after filming on The Natural had begun. Redford would later say in an interview that
"The hardest thing in the world is when your children have problems. There have been so many hits on our family that no one knows about and I don't want them to for my family's sake."
By the time the romantic drama Out of Africa was released in December 1985, Lola and Robert Redford's divorce had been finalized. Out of Africa was the 6th Robert Redford movie directed by Sydney Pollack, and was filmed on location in Africa and Denmark. Out of Africa was based on the life and romance of Denmark native and writer Karen Dinesen/Baroness Von Blixen (Meryl Streep) and British big game hunter Denys Finch Hatton (Robert Redford), who met and fell in love in South Africa. Austrian actor Klaus Maria Bandauer was Baron von Blixen.
The trailer for Out of Africa (above) features co-stars Robert Redford, Meryl Streep, and Klaus Maria Bandauer. Out of Africa was a hit with audiences and critics alike, winning 7 Academy Awards including Best Picture and Director for Sydney Pollack. 
The comedy-mystery Legal Eagles (1986) starred a now 50+ Robert Redford as a prosecutor Tom Logan, facing off against co-stars Debra Winger as defense attorney Laura Kelly and Daryl Hannah as her client Chelsea Deardon, suspected of art theft. Although Redford's name was linked in the press to both Debra Winger and Daryl Hannah, each of them denied any romance. Rounding out the cast of Legal Eagles were actors Brian Dennehy, Terence Stamp, and Christine Baranski. Despite being panned by some critics, Legal Eagles made double it's $40 million budget at the box office, thanks to Robert Redford's loyal baby boomer fans.
The next major film project for Robert Redford was that of producing and directing the comedy-drama The Milagro Beanfield War (1988).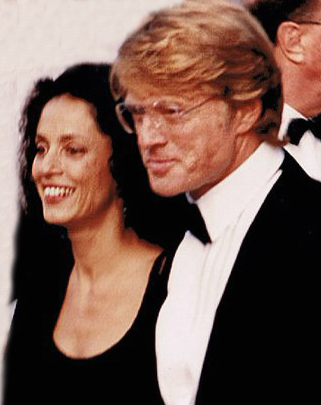 (Sonia Braga & Robert Redford 1988 Photo: Georges Biard)
Actors in the ensemble cast included Rubén Blades, Sônia Braga, Melanie Griffith, John Heard, Daniel Stern, and Christopher Walken, and working on her first Robert Redford movie as costume designer, Kathy O'Rear.
The Milagro Beanfield War was not successful financially, only bringing in half of it's budget at the box office, and got mixed reviews.
According to Robert Redford: The Biography (2011) by Michael Feeny Callan, Redford and Sônia Braga began a romance during filming of The Milagro Beanfield War in the beginning of the fall of 1987, and they were frequently pictured together in the press in 1988 while promoting the movie.
More Robert Redford:
Robert Redford, Part 1: Barefoot in the Park to The Sting (1936-1974)
Robert Redford, Part 3: Acting in Havana to Producer and Director (1990-2016)
*Images are public domain or Creative Commons licensed & sourced via Wikimedia Commons, Vimeo, YouTube, or Flickr, unless otherwise noted*