December 1947 Headlines
News Headlines & Baby Boomer Entertainment Trivia From December 1947:  Classic movie release of Black Narcissus; Roy Rogers Marries Dale Evans; and Howdy Doody with Buffalo Bob Smith, debuts on TV.
Classic Film Release – Black Narcissus
Black Narcissus was released across the United States in December 1947. This psychological drama features glorious technicolor cinematography by Jack Cardiff and stars Deborah Kerr, David Farrar, Flora Robson, Sabu, Jean Simmons, and Kathleen Byron.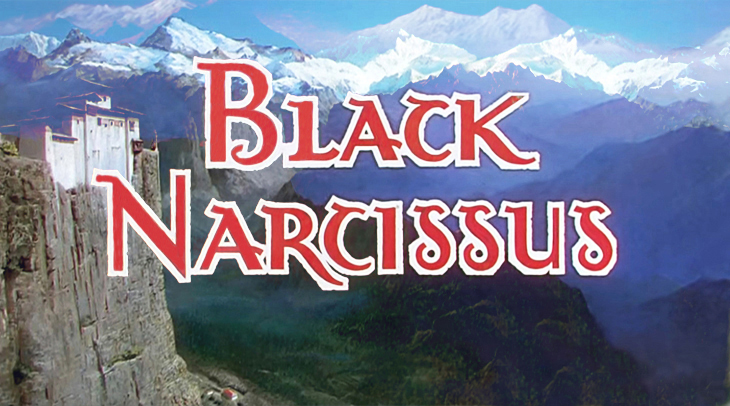 Producers Michael Powell and Emeric Pressburger also directed the movie and wrote the screenplay, based on Rumer Godden's 1939 novel Black Narcissus. The movie was filmed entirely in the United Kingdom at Pinewood Studios in England, with location shooting in West Sussex, and County Galway, Ireland. Extensive use of matte paintings, backdrop scenery of mountains painted on glass, and imaginative cinematography and use of color effects, create a visually stunning movie.
Five Anglican nuns are selected to locate a convent at the remote and very windy Mopu Palace (elevation over 8000 ft.) in the Himalayan mountains, at the invitation of General Toda Rai. A harem had previously been housed on the site, and more recently a group of monks had inhabited it before being driven out by the incessant wind.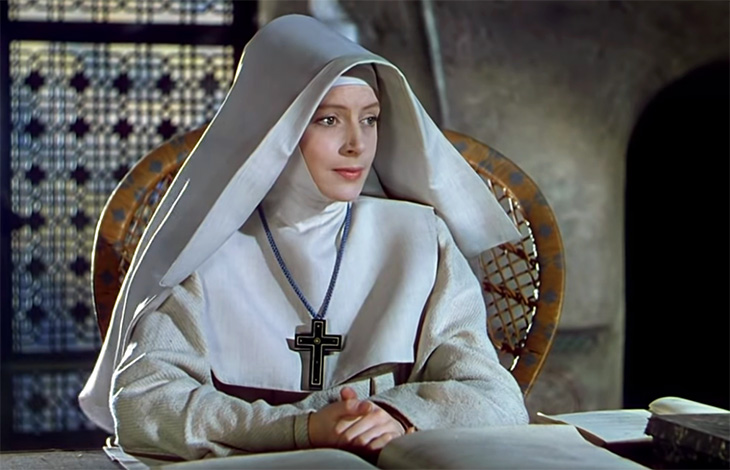 (Deborah Kerr 1947 Black Narcissus)
Youthful and beautiful Sister Clodagh (Deborah Kerr) is appointed as Sister Superior of the group. She struggles with leading the other sisters – Sister Philippa (Flora Robson), Sister Honey (Jenny Laird), Sister Briony (Judith Furse), and Sister Ruth (Kathleen Bryan) during the journey and after they arrive. Part of the issue may be that the nuns are not bound by their vows for life, they renew them yearly. 
Actress Deborah Kerr was already two months pregnant when Black Narcissus began filming in May 1946. Filming wasn't completed until August, by which time Kerr was 5 months along. Her first child, daughter Melanie (with first husband Anthony Bartley) was born on December 27, 1947. Camera angles and the voluminous nun's habit were the perfect concealment combination for her pregnancy during filming.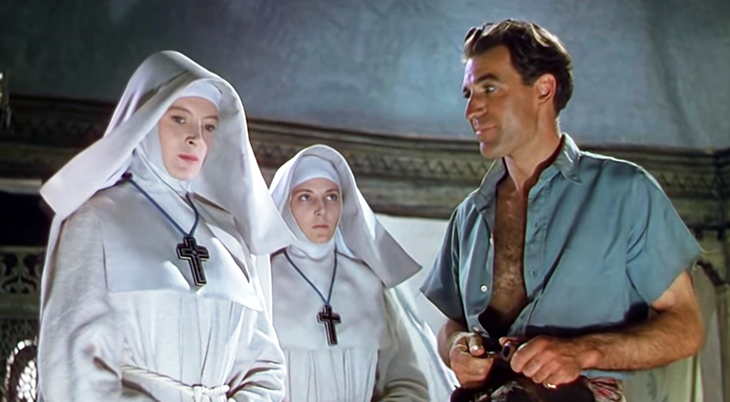 (Deborah Kerr, Kathleen Byron, David Farrar 1947 Black Narcissus)
With some help from The General's appointed caretaker, the handsome and virile Mr. Dean (David Farrar), the nuns reach their destination. It's not an easy trek to the top of the mountain, but when they do get there, the view is stupendous…and a bit scary at the bell tower.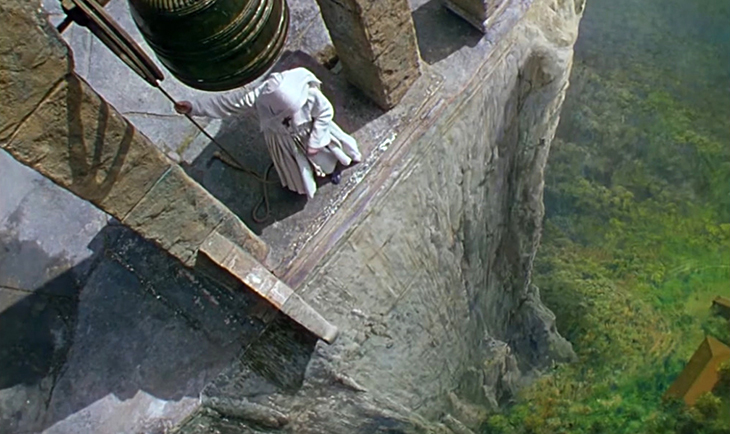 The nuns set up a school and hospital on the grounds. Some of the locals are resistant to the their presence, but the Old General pays the townsfolk to come and send their children to the school.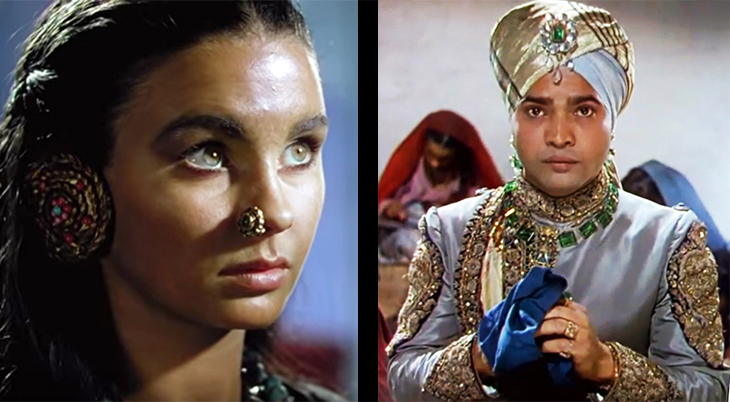 (Jean Simmons & Sabu 1947 The Black Narcissus)
They take on local students – pretty Kanchi (Jean Simmons), and the General's heir "Young General" (Sabu). These two are both ripe for romance suited to their age and culture.
Simmering sexual repression and fantasies are a theme, what with the nuns and all…aided by the erotic paintings on the palace walls, some very attractive young nuns, and of course rugged Mr. Dean.
(David Farrar & Deborah Kerr 1947 Black Narcissus)
David Farrar spends most of the movie in shorts and an open shirt, or in a couple of scenes, shirtless. It's a big contrast to the nuns in their top-to-toe white habits.
Through flashbacks (in the restored version, these scenes were cut from the original when it was released in the United States), we see Sister Clodagh's life story before she became a nun, and the failed romance that played into her decision to take orders.
The nuns all begin to look unwell, possibly due to a combination of elevation sickness and their environment. Some of them are also acting a little out of character, notably unstable Sister Ruth.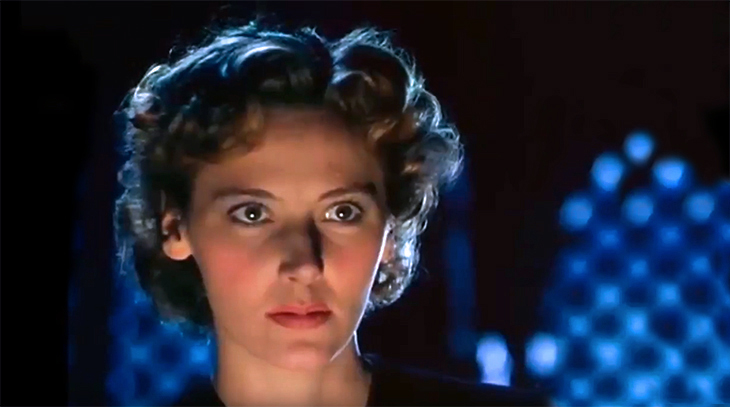 (Kathleen Byron 1947 Black Narcissus)
Sister Ruth falls into unrequited love with Mr. Dean, and decides to renounce her vows. When she goes to him to profess her love, he spurns her. Upset by the attraction that simmers between Mr. Dean and Sister Clodagh, Sister Ruth is pushed over the edge of sanity in some tension-building scenes that lead to the film's climax. 
It's astonishing to me that Kathleen Byron wasn't even nominated for a Best Supporting Actress Academy Award, because her performance as Sister Ruth is compelling. This oversight could have been due to Byron's limited exposure to North American audiences until that point in time (Black Narcissus was only her fifth film).
The Rank Organization had previously released Black Narcissus in the United Kingdom in April, and held a special star-studded premiere in New York City in July, below.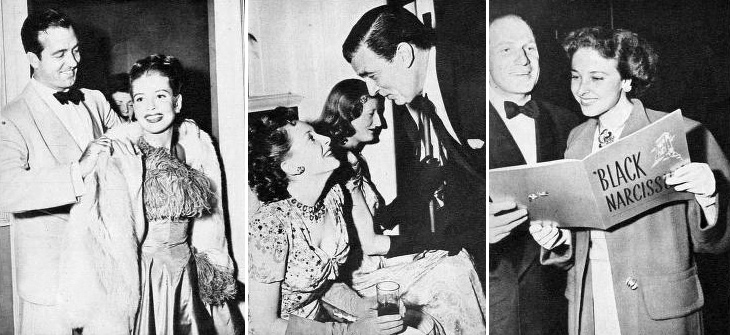 (John Payne & Gloria de Haven, Deborah Kerr & Walter Pidgeon, Leo Durocher & Laraine Day)
The American National League of Decency gave Black Narcissus a "condemned" classification after it's premiere, and Roman Catholic priests protested against the depiction of nuns in the film. Consequently, significant cuts were made before it's December 1947 release for American audiences. Among the scenes that were cut were Sister Clodagh flashbacks, and some particularly intense sexually charged scenes with Sister Ruth at the height of her obsession. These scenes were restored when Black Narcissus was re-released in the 1980s. 
Black Narcissus supporting actress Jean Simmons represented the Rank Organization when she attended the 1948 Academy Awards for movies released in 1947.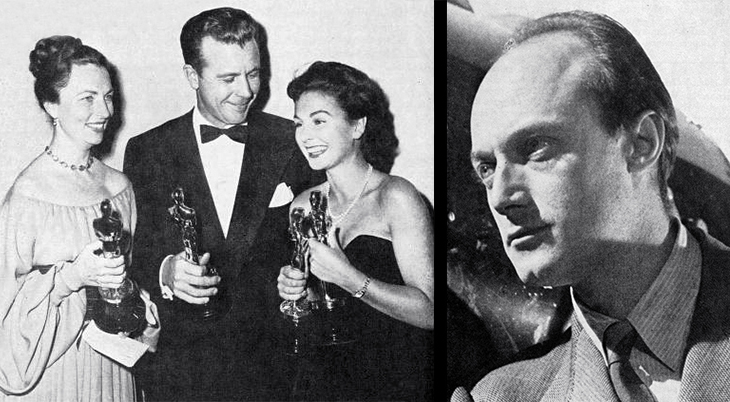 (Agnes Moorehead, Dick Powell & Jean Simmons 1948 Academy Awards Ceremony; Jack Cardiff, A.S.C.)
Simmons accepted 4 Oscars on behalf of two British films – 2 for Great Expectations, and 2 for Black Narcissus (Best Color Cinematography – Jack Cardiff, A.S.C.; Best Art Direction – Set Decoration, Color – Alfred Junge) from Agnes Moorehead and Dick Powell. Black Narcissus nudged out Life With Father in these two categories.
Howdy Doody Debuts on TV
The first episode of the popular children's puppet program The Howdy Doody Show aired on December 27, 1947 on NBC. The series ran for 13 years – at one point 5 days a week – until 1960.
(Buffalo Bob Smith and Howdy Doody 1948 Photo: Radio and Television Mirror)
The Howdy Doody Show host "Buffalo" Bob Smith was a musician, singer, and a veteran of children's radio programming. He hosted the Triple B Ranch series in the 1940s, and when the character of Elmer (voiced by Smith on radio) was introduced on the program, Elmer greeted everyone with a "Howdy Doody". The phrase became the character's name courtesy of fans, according to Smith's wife in a 1950 Radio and Television Mirror interview. 
Puppeteer Frank Paris created the original Howdy Doody puppet for the TV series in 1947, and both the host and the puppet wore "western" clothing to reflect their roots. 
The Howdy Doody Show saw the rise of mass merchandising for children's television programming – buttons, badges, bobble head dolls, balloons, pencils, and more. It also fueled a bitter rights dispute in 1948 between Bob Smith as the owner of the Howdy Doody character, and Frank Paris as the creator of the puppet. When angered, Paris had a habit of taking the puppet with him and walking off the set just before the show was about to air.
Finally NBC was inspired to have Howdy Doody go on the Presidential Election campaign to explain his absence from a live episode. When Howdy Doody returned later in 1948, it was as a new puppet created for the series by animator Mel Shaw, Bob Allen, and puppet builder Velma Dawson. Bob Smith continued to voice Howdy Doody.
(Heidi Doody, Howdy Doody, and Buffalo Bob Smith 1955 Photo: Radio Age)
Other human and animal puppets – Phineas T. Bluster, Dilly Dally, Inspector John J. Fadoozle, J. Cornelius Cobb, Flub-a-Dub, Heidi Doody (Howdy's adopted little sister), etc. – were created for the series during it's run by Velma Dawson, Rufus Rose (voice of Sandra the Witch), and Scott Brinker. 
The human character of mute horn-honking Clarabell the Clown was originally played by Bob Keeshan, who left the series in a 1952 salary dispute. Keeshan wen to to create and host TV's Captain Kangaroo beginning in 1955.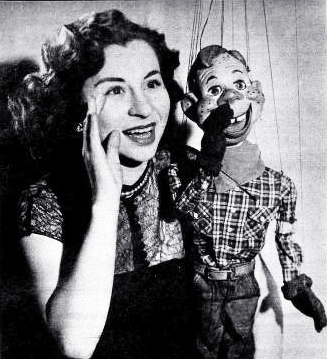 (Puppeteer Rhoda Mann & Howdy Doody 1949 Photo: Radio Mirror)
Different puppeteers pulled Howdy Doody's 12 strings during the TV series run. In 1949, it was 21-year-old Rhoda Mann. She told Radio Mirror that to maneuver Howdy Doody, she climbed up an iron ladder onto a 2′ wide catwalk, 14′ above the stage floor. This made for some exceptionally long puppet strings, harder to control than shorter ones. Rhoda was an associate of the original Howdy Doody puppet creator Frank Paris, and they worked together on the series when it began in December 1947. Although Mann left the Howdy Doody show when Paris exited, she was asked to return.
Rhoda Mann also voiced puppet Princess Summerfall Winterspring on the series, before young actress Judy Tyler took over the role.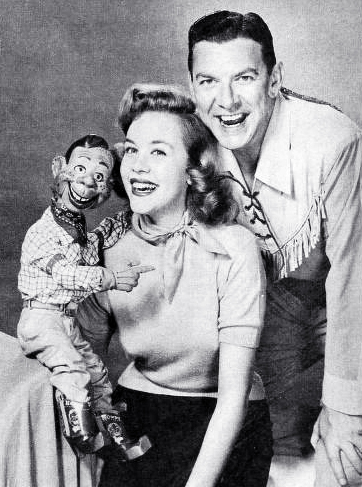 (Howdy Doody, Marti Barris & Bob Smith 1960 Photo: Radio TV Mirror)
Singer-dancer Marti Barris joined The Howdy Doody Show for the 1959-1960 seasons as Peppi Mint.
Jazz and big band musician and actor Bobby "Nick" Nicholson was hired for the Howdy Doody show in 1952, and played various characters – notably J. Cornelious "Corny" Cobb. He took over the role of Clarabell the Clown when Keeshan left, before handing it off to fellow cast member and musician Lew Anderson in 1954.
Comedian, character and voice-over actor Dayton Allen voiced the puppet Flub-a-Dub, as well as Sir Archibald.
Live audience participation was a unique feature of this pioneering television series, with the Peanut Gallery bleachers full of children.
The children sang the series theme song "It's Howdy Doody Time" at the beginning of each show.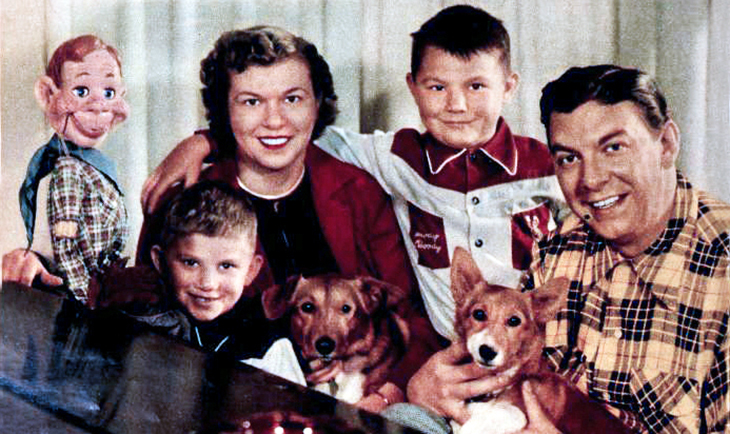 (Bob Smith with his family, dogs, & Howdy Doody 1950 Photo: Radio and Television Mirror)
Bob Smith was awarded a George Foster Peabody Medal in 1948 for the Howdy Doody Show, Most Outstanding Children's Show on Radio and TV.  After Howdy Doody premiered on TV, Smith continued to host an NBC radio early morning show broadcast from his New Rochelle home before heading to the NBC TV studio at Rockefeller Center in New York City.
After The Howdy Doody Show went off the air, Bob Smith made a few appearances in moves, and toured college campuses (1970-1971). He died of cancer in 1998 at the age of 80.
Roy Rogers Marries Dale Evans on New Year's Eve
American singer-actors and western film co-stars Roy Rogers and Dale Evans were married on December 31, 1947 (New Year's Eve) at the Flying L Ranch in Davis, Oklahoma.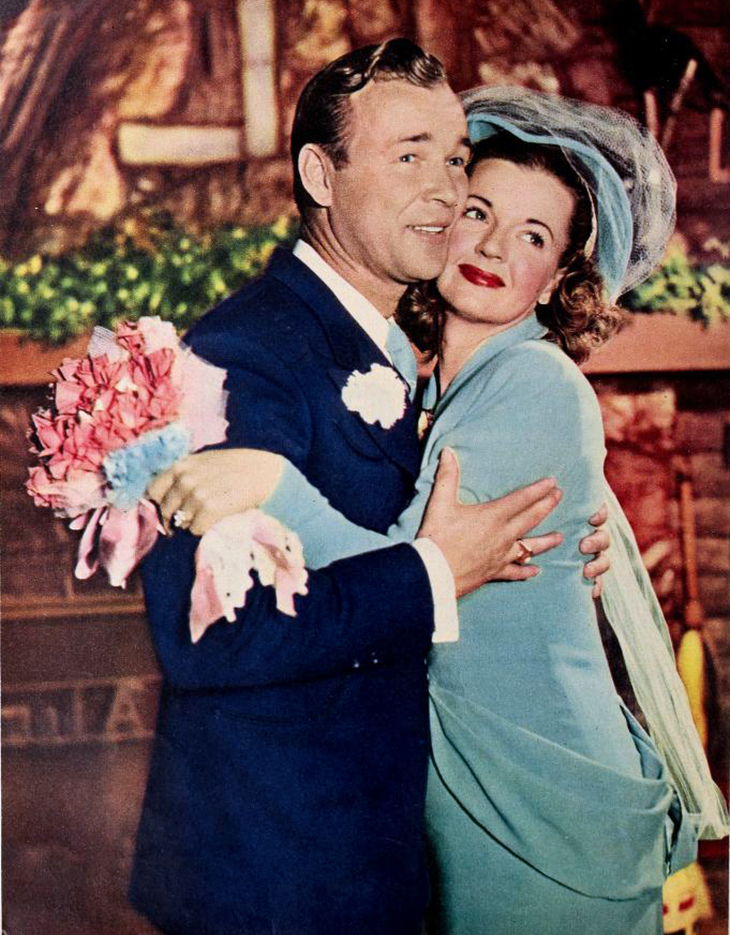 (Dale Evans and Roy Rogers 1947 Photo: Modern Screen)
"King of the Cowboys" western singer Roy Rogers (nee Leonard Franklin Slye in November 1911) had established himself as a leading man and western movie star by the late 1930s. He married second wife Grace Arline Arlene Wilkins in 1936, and the couple adopted daughter Cheryl Darlene before having daughter Linda Lou in 1943.
Dale Evans (nee Lucille Wood Smith in 1912, later changed to Frances Octavia Smith), already 1 child, from her first marriage Thomas Frederick Fox. Evans married Fox in 1927 when she was 14, and had her son Thomas Jr. at the age of 15; they were soon abandoned by her spouse and the couple divorced in 1929. While she carved out a performing career on radio and in movies as Dale Evans during the 1930s and early 1940s, the press was told it was her teenage brother Tommy that lived with her (not her son). Evans' second marriage to August Wayne Johns in 1929 ended in divorce in 1935, and she told Modern Screen (1948) that she was married for a third time to composer Robert Dale Butts in 1937.
In 1944, Dale Evans and Roy Rogers began co-starring in western films together. Five out of the six movies Evans appeared in that year had Rogers as her co-star (Cowboy and the Senorita; The Yellow Rose of Texas; Song of Nevada, San Fernando Valley; Lights of Old Santa Fe). Their chemistry was obvious to fans, and they continued to be paired onscreen from that point on . They were co-stars in another 6 movies released in 1945 (Utah; Bells of Rosarita; Man From Oklahoma; Along the Navajo Trail; Sunset in El Dorado; Don't Fence Me In), followed by 8 movies in 1946 (Song of Arizona; Rainbow Over Texas; My Pal Trigger; Under Nevada Skies; Roll On Texas Moon; Home in Oklahoma; Out California Way; Heldorado).
Dale's third marriage to R. Dale Butts ended in divorce in 1946. As that year drew to a close, Roy's wife Arline gave birth to their son Roy Jr. ("Dusty") on Oct. 28. Tragically, a few days later Arline died of complications from childbirth, leaving Roy Rogers a hard-working film-star and single father to an infant and 2 young children.
Although the number of films Roy Rogers starred in during 1947 was drastically reduced (presumably because of his parenting needs), he did co-star in two more films with Dale Evans that year – Apache Rose, and Bells of San Angelo. A 3-year friendship with shared personal and professional interests that had begun while they were married to other people, turned into something more during 1947. The couple's marriage took place at the same ranch that they had filmed scenes at for their 1946 movie Home in Oklahoma. 
After the wedding the couple initially lived at Roy's 365 acre ranch in Antelope Valley, California (he also had a 60 acre grain and fruit ranch on Lake Hughes). They settled into a Hollywood Hills 6-bedroom, 6-bathroom home on Ivarene Avenue near Hollywood and Vine. The house had belonged to the late Noah Beery, and according to their daughter Cheryl Rogers Barnett, was a beautiful home when her parents first bought it. Dale Evans and Roy Rogers went on to have another child together, and adopt four more children. The couple remained married until Roy Rogers died in 1998, followed by Dale Evans' death a few years later in 2001.
*Images are believed to be in the public domain and/or Creative Commons licensed (Flickr, YouTube, Wikimedia, Vimeo) or used