August 1947 Headlines
News Headlines & Baby Boomer Entertainment Trivia From August, 1947: Classic movie premiere – Life With Father; India Wins Independence After 200 Years; Kathryn Grayson Marries Johnnie Johnson
Classic Movie Premiere – Life With Father
Premiering in August 1947, Life With Father stars William Powell and Irene Dunne in a historical comedy filmed in glorious technicolor by director Michael Curtiz for Warner Bros. Both audiences and critics of the day loved the film.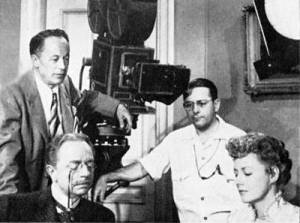 Color cinematographers J. Peverell Marley (left) and William V. Skall (right) earned an Academy Award nomination for their efforts, as did composer Max Steiner for the movie's music.
The Life With Father cast and crew received another 2 Oscar nominations – Robert M. Haas & George James Hopkins for Best Color Art Direction-Set Decoration, and the always-sublime William Powell got his third Academy Award nomination, for Best Actor.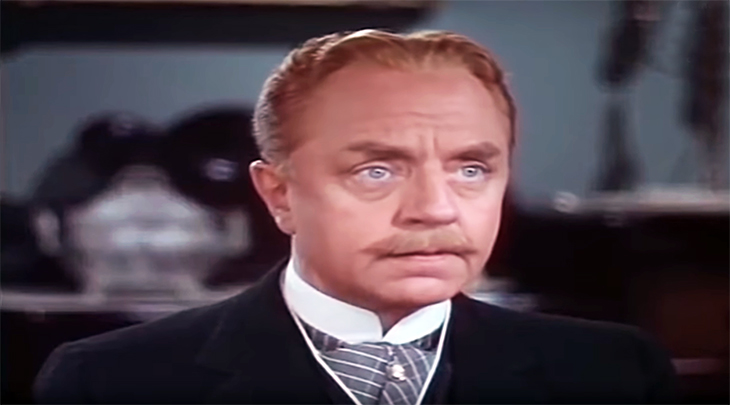 (William Powell 1947 Life With Father)
Set in the 1880s, Life With Father has William Powell as blustering broker Clarence Day, Sr, who despises organized religion and certain politics / politicians.
Irene Dunne is his wife Vinnie, who has an agenda to get her husband baptized if it's the last thing she does. She's aided in this attempt by the Reverend Dr. Lloyd (Edmund Gwenn), who wants a big donation for a new church.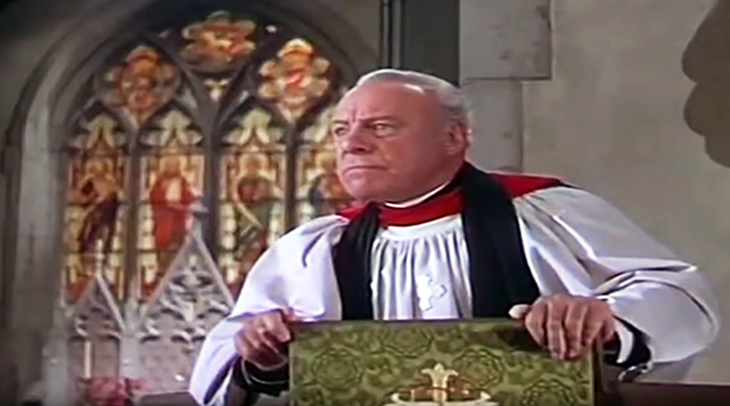 (Edmund Gwenn 1947 Life With Father)
Their four boys – played by actors Jimmy Lydon (Clarence Jr.), Martin Milner (John Day), Johnny Calkins (Whitney Day), and Derek Scott (Harlan Day) – are busy growing out of their clothes and trying to make money selling patent medicine.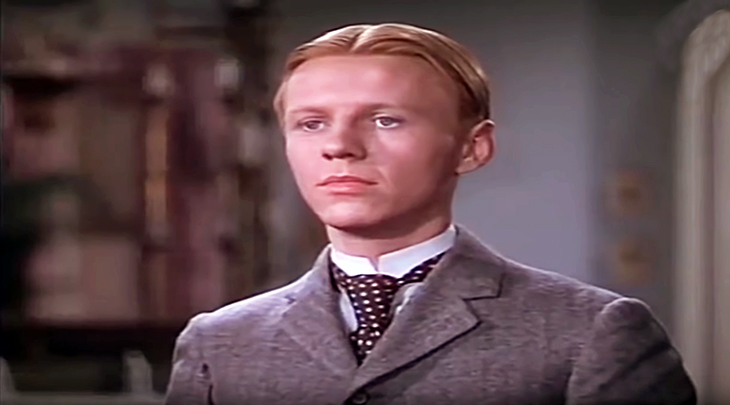 (Jimmy Lydon 1947 Life With Father)
Their oldest son – Clarence Jr. (Jimmy Lydon) is also discovering girls, in the form of beautiful visitor Mary Skinner (Elizabeth Taylor), who accompanies their cousin Cora Cartwright (Zasu Pitts). Only 14 when Life With Father was filmed, Taylor glows as an ingenue in love for the first time.
(Zasu Pitts & Elizabeth Taylor 1947 Life With Father)
Also in the cast of Life With Father are Moroni Olsen as Dr. Humphries, Elisabeth Risdon as Mrs. Whitehead, and Monte Blue as a policeman.
Life with Father never grows old, as the themes of mature love, and the controlled chaos of life in a boisterous family – are ageless.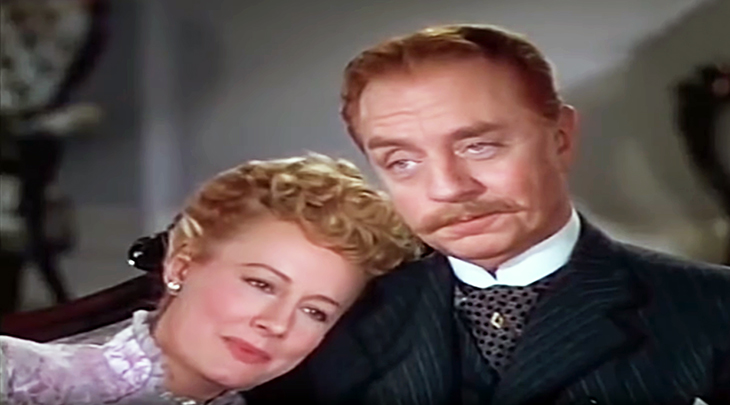 (Irene Dunne & William Powell 1947 Life With Father)
The chemistry and effortless charm that Irene Dunne and William Powell both display makes this a highly enjoyable film to watch, more than 70 years after it was first released.
India Wins Independence From Britain After 200 Years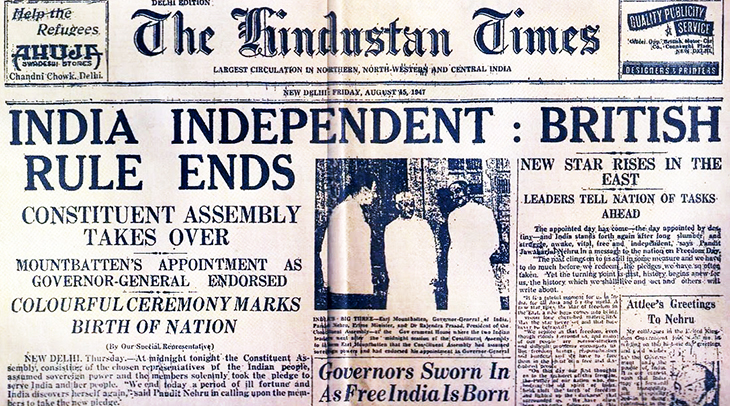 (The Hindustan Times Front Page Headlines August 15, 1947)
British Empire colonial rule over India ended after 200 years when the Indian Independence Act of 1947 was passed on August 14th, and the Dominion of Pakistan was declared a separate nation. The following day on August 15th, 1947, India was declared a sovereign and democratic nation. These two members of the Commonwealth of Nations each celebrate their respective Independence Days on those dates.
British Prime Minister Clement Attlee had supported Indian independence the previous year in parliament. The partition of India into two separate countries – Pakistan and India – had been announced in June of 1947 by the British Governor-General of India, Viscount Louis Mountbatten (Prince Philip's uncle).
Kathryn Grayson Marries Johnnie Johnston
Singer-actor Johnnie Johnston married movie star Kathryn Grayson on August, 1947 in Carmel-by-the-Sea, California.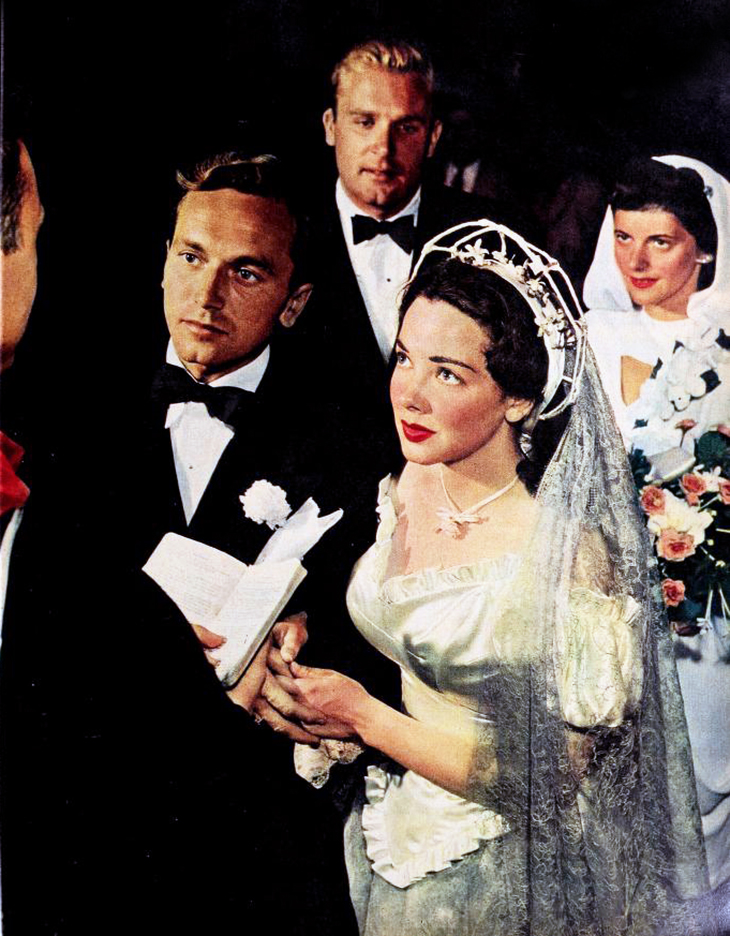 (Johnnie Johnston and Kathryn Grayson August 1947 Wedding Photo: Modern Screen)
Tabloids reported that Grayson's best friend Maureen O'Hara planned the event. It was a second wedding for both the bride and groom; while Johnston had two young children from his first marriage, Kathryn had none, although she did have a large fur-baby called Throckmorton.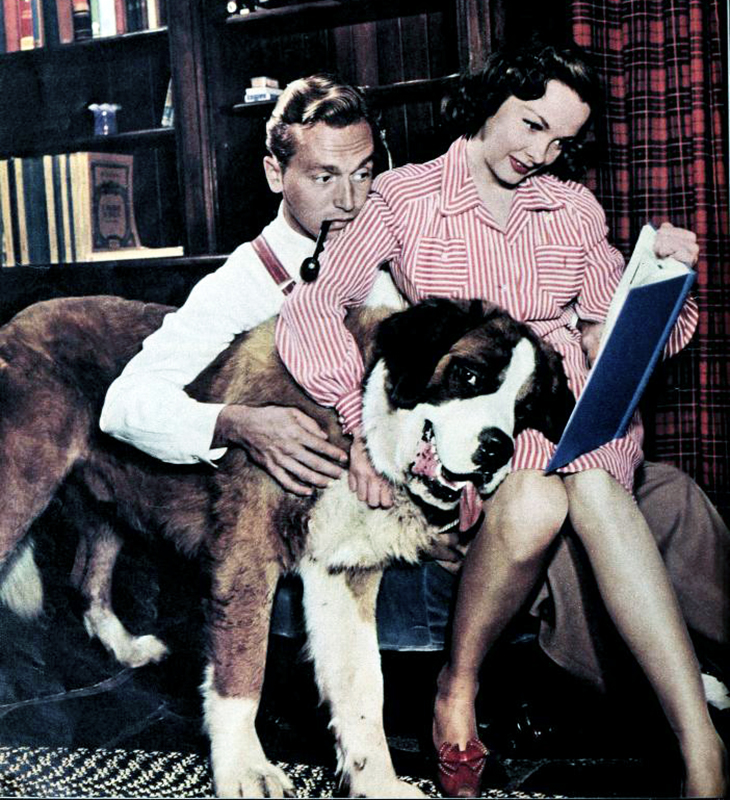 (Johnnie Johnston, Kathryn Grayson  & Throckmorton 1947 Photo: Fink and Smith)
According to a 1947 Photoplay interview, Johnston and Grayson initially met on the MGM movie lot in January 1946 while he was still married to first wife Dorothy Marubio (m. 1937-1947), and Grayson was married to film actor John Shelton (m. 1946-1946). Johnston said they sang a duet for Till the Clouds Roll By (1946), although there's nary a sign of him in the final film cut. Rumour has it that Johnston's scenes were cut from the movie after an altercation with MGM boss Louis B. Mayer. 
A few months later, when both couples were separated from their respective spouses, Johnnie asked Kathryn to play golf and they began dating. 
Johnston landed a role co-starring with Esther Williams in This Time for Keeps (1947), and filming took place in July 1946. Years later Esther Williams wrote in her autobiography The Million Dollar Mermaid (1999) that Johnston would read Kathryn Grayson's love letters, which had details about his love-making (she liked it), aloud to his fan club.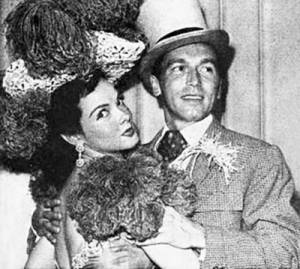 (Kathryn Grayson & Johnnie Johnston 1947 Costume Party Photo: Modern Screen)
This was unlikely to be known by Grayson. Despite the ending of her stormy first marriage after "thirteen reconciliations", Kathryn Grays seems to have been starry-eyed blind with love, telling an interviewer soon her wedding to Johnson,
"we want four children, two handsome boys and two beautiful and intelligent girls."
They split soon after their daughter Patricia Johnston was born Oct. 7, 1948, and Johnston stayed at his pal John Agar's for a few months. The couple reconciled, although there were telltale cracks and reports of arguments in the press. In late 1949 Johnnie Johnston and Shirley Temple (whose marriage to Johnston's friend John Agar was also coming to an end), were linked together in the tabloids; both couples denied any romance. 
Kathryn Grayson and Johnnie Johnston separated again in November 1950, and Grayson was granted a divorce on the ground of mental cruelty on Oct. 3, 1951. Although Kathryn Grayson never remarried, Johnnie Johnston did – 3 more times.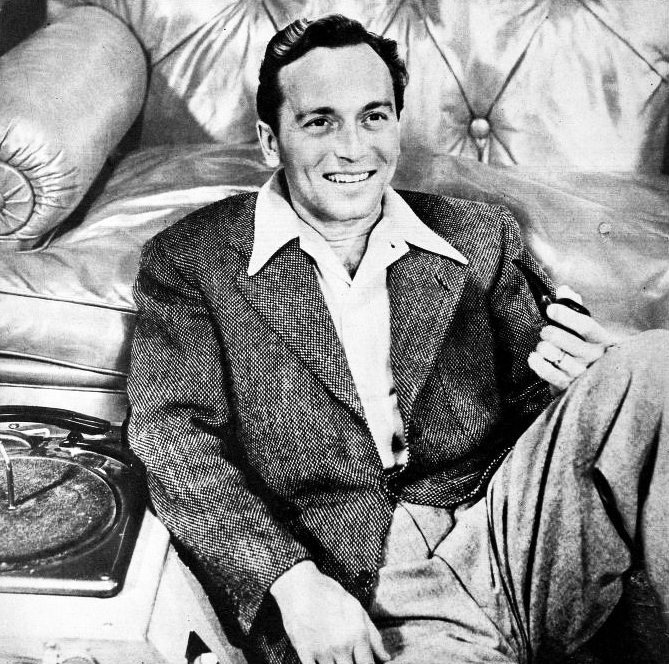 (Johnnie Johnston 1947 Photo: Photoplay)
Nee John Clifford Johnston on on December 1, 1915, Johnnie Johnson's first touch of fame was through his mother, a champion bowler where he grew up in Kansas City. He dabbled as an amateur lightweight fighter in high school before he graduated in 1932 and promptly moved to Hollywood.
A career as a singer and guitarist ensued, with Johnson hosting his own NBC radio program during the 1930s. He broke into films in Sweater Girl (1942), the first of 10 or so films he made during the 1940s. As a recording artist, his biggest hit song was Laura, which hit #5 in 1946.
After his divorce from Kathryn Grayson, Johnnie Johnston's film career sputtered and died; he made a few guest-starring television appearances during the 1950s, and was in only two films – Unchained (1955) and Rock Around the Clock (1956). While married to his third wife Shirley, in 1954 Johnston was hit with a paternity suit by a showgirl.
He was last seen on television hosting the bowling series Make That Spare in the early 1960s. Johnnie Johnston left his 5th wife a widow when he died in January 1996 at the age of 80.
*Images are believed to be in the public domain and/or Creative Commons licensed (Flickr, YouTube, Wikimedia, Vimeo) or used by permission, unless otherwise noted*