Before Saying "I Do" In Retirement
Being in your 50-plus years doesn't mean that you're not a sexual being, or immune to romantic feelings and butterflies in your stomach when you're around a special someone. You can be just as crazy in love as a mature adult as you might have felt back in your teens or twenties, which is why getting married in your retirement and senior years is more common than it is surprising.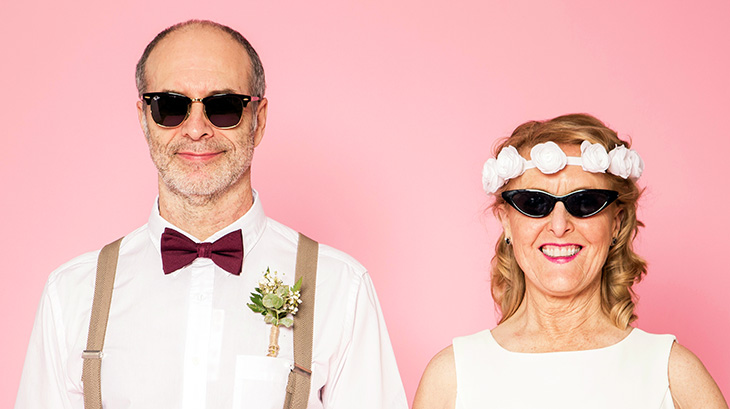 (Older Wedding Couple Photo: Alex Green via Pexels.com)
However, planning a wedding and having a happy marriage can be much more complex when you've acquired a lot of life experience. An older person or senior thinking about getting married, has a few important things to take into consideration.
Is this love?
If you're an older adult getting married a bit later in life, as the famous Whitesnake song says, ask yourself is this love that I'm feeling, or am I dreaming? If you've had previous romantic relationships with attendant problems, or think you might have made mistakes with a partner in the past, or simply changed your mind in matters of the heart before, NOW is a good time to stop and take some time to think things through. It's important for you and your personal development, especially if you want to make a significant change in your life like getting married – so don't worry if this is how you're feeling before taking such a big step. 
Older people in their retirement years who are thinking about a new marriage may fall into one of these common life situations that make being extra-careful before getting married, important:
you've rekindled an old romance
getting married because you don't want to be alone 
looking for a new partner after a divorce or being widowed
never been married before
Doing their best to ensure that they're feeling true love before tying the knot – and not getting married because they're lonely, bored, have unrealistic expectations of what marriage and/or their partner, or are simply anxious to be legally wed – is an important process to work through before taking that big step into marriage later in life.
The way you look tonight
Once you  make up your mind and decide that getting married is the right decision for you, it's time to start planning your wedding. In addition to finding the venue, the caterer, and the band / music, you need to think about something else as well – your appearance. Everyone wants to look their best at their own wedding, whether they're twenty or sixty-something, and you deserve to look amazing at yours as well.
If you're an older groom, you may not have to invest too much time or energy into finding a suit or tuxedo that works for you, a crisp shirt, elegant tie, and some comfy shoes. Of course, you have to find a suit that fits you perfectly. You can opt for a stylish tailored wedding suit that will fit your body like a glove and give you that extra confidence at your wedding.
When it comes to brides, the situation might not be as simple. Mature brides can still choose a traditional white wedding dress, but a benefit of being older is that there's not as much pressure to conform. Silver, beige, off-white – in fact, any colour and style that's flattering to your figure and complexion, will be the perfect choice if it makes you feel beautiful. Make sure you try your dress on several times before the wedding, and have all the necessary adjustments made before the big day.
As songwriters Dorothy Fields & Jerome Kern wrote (and Frank Sinatra, Fred Astaire, Tony Bennett, Billie Holiday, Bing Crosby, Michael Buble, and many others, have sung), hopefully years in the future your significant other will feel a glow just thinking of you, and the way you look tonight / on your wedding day.
Can't buy me love
An important issue you should look into before getting married is your respective financial situations. Unlike young adults who are often at the start of their careers and may have a very limited amount of extra money, and have not accumulated much in the way of debt, many older adults have either reaped the financial rewards of working and investing for many years, or may be in the unfortunate opposite situation.
You or your partner-to-be could have estate plans, wills, insurance policies, retirement plans, and other investment savings – or, you could have significant acquired debt, poor credit scores, or other financial embarrassments. Finances tend to be even more complicated if there are children or other dependents involved.
Whatever your respective financial situations are, whether the debt or savings was acquired solo or with a previous partner(s), these things have to be discussed before you get married, often in front of a lawyer. 
This doesn't mean you shouldn't marry someone with a messy or complex financial situation. The heart wants what the heart wants, and as The Beatles sang so convincingly, can't buy me love. However, if you get married, your finances get tied up with theirs. You both need to be clear about your present finances as well as the path forward to achieving your financial goals as a couple. 
Being open and honest in this matter is crucial if you want to have a long and happy marriage, so make sure you're honest with your partner from day one. Better to know now than find out when it's too late, that your chemistry in the bedroom has burned down your financial house.
Bad medicine
A potential added benefit of getting married – in addition to spending time with your loved one – is being able to combine your health plans and retirement plans. This can happen if one of the partners already has a a specific retirement or health plan that allows another person to be added. If that's the case for either of you, opting for a joint plan is likely to be a great option.
However, depending on where you live and the fine print of your separate retirement and health plans, that may not be possible. Talk to a lawyer and / or financial advisor before you get married, so that you know and can plan accordingly for, how it will affect your health insurance and retirement plans after the knot is tied. 
Getting married in retirement might not be the most common thing in the world, but it's not that unusual either. You just have to find a way to make it all work for you and your significant other, so learn more about these retirement wedding tips and ideas, and start planning together for your future.
*This article is for informational purposes only and is not intended as relationship, financial, or legal, advice, nor is it a substitute for professional advice. Always seek the advice of qualified practitioners. This website does not recommend or endorse any specific plans, products, procedures, opinions, or other information that may be mentioned on the Site or on other websites it links to. Reliance on any information provided by this website or other websites it links to, is solely at your own risk.*