Style Tips for Mature Men
Working senior men and older adults know that dressing professionally and looking good – whether you're running a company, are an intern, or looking for that next opportunity – isn't always easy to do. Sometimes the experience, knowledge, and business skills you've acquired are not enough; you have to look the part too. Wearing clothes that suit your personal style, look sharp and professional, without making you look like you're trying too hard, CAN be achieved.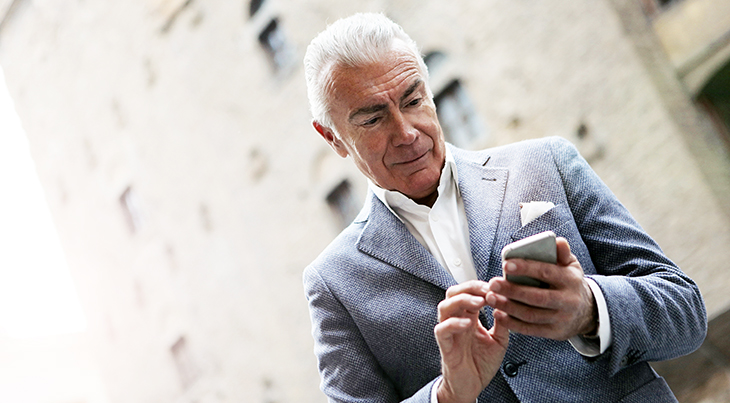 (Older Man in Suit Photo: Andrea Piacquadio via Pexels.com)
Working older men and seniors can do quite a lot with one suit and a selection of shirts and accessories. You'll still have to pay attention to your business attire and grooming when you show up for work though. In case you could use some help on how to achieve that desirable professional look for mature men, here are a few style tips and ideas to consider.
Pick the clothes you love wearing
If you don't love your work, you're probably not as inspired and encouraged to bring your ensemble A-game to the office every day. Or maybe you've been in the same job for a long time, and have gotten into the habit of sticking to comfortable outfits that work for you whatever you're doing.
Choosing specific clothes that you already love wearing can actually help you to come up with perfect combinations every day to wear to work. This may surprise you, but the fact is that our favorite clothing items have a huge effect on our mood, and opting for the things that you've had for ages and that you love wearing, is going to help you do your best. 
This is true for all ages, so don't be afraid to wear your favorite shirt, trousers, or shoes to work. Of course, you must ensure that these preferred clothing items continue to fit you properly and are in top condition. Too tight across the belly or shoulders, or bagging, sagging, fraying, pilling, or shiny spots, are red flags for clothing items (top or bottom). Shoes with scuff marks or worn heels will instantly take away from the good impression you want to make. If that favorite piece of clothing or pair of shoes you bought years ago isn't in great shape any longer, buy a new one that fits you properly now, and throw the old ones out so you won't forget and wear them by mistake.
This is something you should be doing even if you're working remotely, because working from home doesn't mean that you should be spending the whole day in your pajamas or boxers. Make the simplest and most sensible style choices from your wardrobe, and you'll feel better about yourself while working.
Don't forget health and safety
One of the more common issues men, including older adults and seniors, have at work, is not paying attention to their health and safety. This doesn't mean you have to cover every inch of your body with PPE (personal protective equipment), but you can be the responsible, mature adult you no doubt are. Dressing appropriately and safely for your work environment will protect the health of yourself and others you may interact with while on the job.
Stay fashionable and opt for protective equipment that not only protects you, but can make you look and feel cool in more ways than one. Workwear shirts that combine natural materials with nice color combinations, or protective shoes or boots that come in different shapes and patterns, are options to consider. They can boost your style and most importantly, help you thrive on the job and survive potentially dangerous situations.
Accessorize
Some men in their fifties and sixties love adding a few things to their look, from a simple watch or striking ring, to a fedora or a colorful tie. While wearing all these things to work at once might seem like too much of a good thing, you can include them in your wardrobe and come up with some outfits that help you to look more stylish and professional.
Think twice before you invest in some of these accessories. While some younger men like and can pull off going wild when it comes to color combinations and patterns, older adults and seniors usually won't achieve the same result. Instead of buying animal prints when choosing your hat or tie, stick to simple and monochromatic accessories that will go well with the rest of your outfit, and help you look confident and mature, NOT old.
Avoid trying too hard
Probably one of the biggest concerns for all older adults – women and men in their fifties, sixties, and beyond – who need to show up for work on a daily basis, is the fear of appearing to be trying too hard to keep up with younger professionals and style trends.
Whatever you do, however you act, whichever position you have, and wherever you work, there are times when you may be the oldest guy in the room. This doesn't mean that all eyes will be upon you, but it is important to continue to act naturally and dress appropriately for your position. Classy and elegant – in behavior and fashion – never goes out of style, no matter how old you are or what job you have.
What this means for your wardrobe, is to start with your existing style and update it a bit. For instance, if you love wearing jeans (and they're acceptable in your work environment), match them with a nice sports jacket. If you're into polo shirts, coordinate their color with the color of your belt or shoes, and wear that polo shirt with style. Or if you love wearing coats, pick one that's nicely tailored for your actual shape and size (not the size and shape you wish you had).
Avoid the common fashion mistakes of wearing clothing that is too tight or too loose. You can look modern, elegant, and cool, while staying true to the style you've had for ages.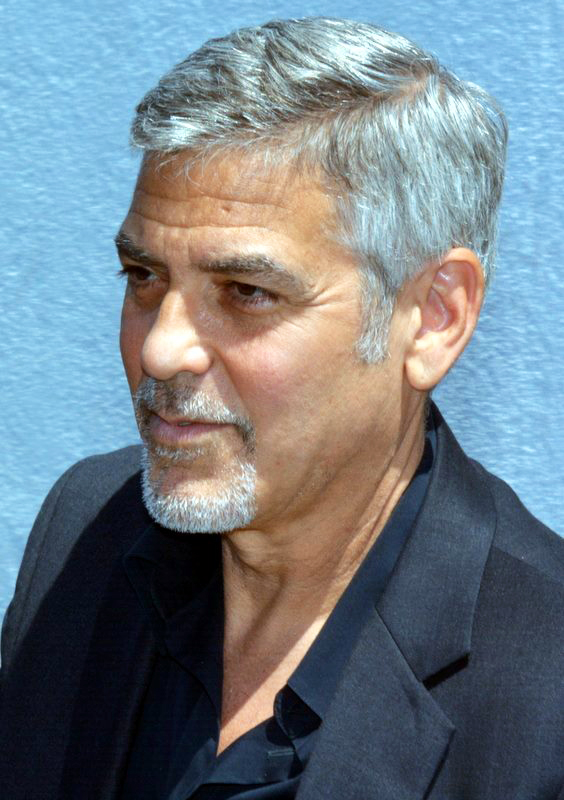 (George Clooney 2016: Georges Biard, CC-BY-SA 3.0)
If you're a senior man or older adult who's a part of the business world, don't dye your hair if it's going grey or white. Most people will know or guess how old you are anyway, and trying to disguise that by dyeing your hair won't fool anyone. On the contrary, it could backfire and make you look silly or unprofessional. Ensure your hair is cut regularly and that you always look clean – and that's it!
Most seniors today say that grey is the new black when it comes to hair color, and lots of famous men, including George Clooney and Mark Ruffalo, don't do anything with their hair except try a new haircut from time to time. The same goes for your facial hair – keep your moustache and/or beard tidy and clean for a timeless look. Mature older men with well-groomed hair are the reason for the complimentary term "silver fox"!
Trying to look younger is the worst thing you can do if you're an older guy, so just be yourself and don't change who you truly are. Trying too hard and wearing clothes that don't suit you will make you look unprofessional, so stick to these tips and you won't have a problem impressing the people you're collaborating with.
*This article is for general informational purposes only. 50+ World does not endorse any product or service providers, nor does it receive remuneration from them. Obtain expert advice – financial, legal, medical, industry-specific, etc. – from qualified practitioners about your unique situation.*