Father's Day Gifts for a Stylish Dad
With Father's Day just around the corner, you may be looking for the best present you can find for your dad. It's not that easy, especially if you want to show your dad how much you care for him.
If selecting a present for Dad is a problem you're struggling with, and your father could use an up-date in his wardrobe, enjoys new technology, or has some old favorites that never get stale, look no further for some great gift ideas.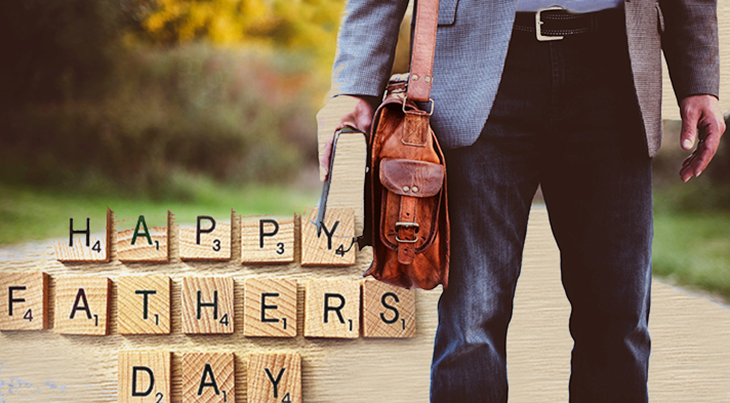 (Happy Father's Day: Steve DiMatteo & Man: Ben White, via Unsplash | Blended: A. Hamilton)
There are quite a few options to consider – from fashionable clothing, to a visually appealing watch, or curated gift baskets.
Keep it simple
If you're not sure what to get and which way to go, stick to the oldest trick in the book – keep things smart and simple. No matter how old your father is, what he usually wears to work, or what he likes wearing at home, you can pick from at least three basic clothing gift ideas that will impress him:
a new suit
a comfortable pair of jeans
a stylish shirt
Your father won't have a hard time combining any of these fashion choices with other items in his wardrobe, and you'll expand his clothing options that will work on any given day of the week.
Depending on how much time your dad spends at home, he'll surely like having a few go-to pieces that will make the everyday process of getting dressed much quicker and simpler. That's actually what your father is likely to enjoy the most, because lots of men, especially those who are over fifty years old, don't like wasting too much time deciding what to wear. Instead, they love getting dressed in a matter of minutes and starting their day as soon as possible. 
Pants, jackets, blazers, and coats
If simple and basic doesn't fit your father's fashion needs, you can always go to the next level, and opt for clothing pieces that are even more sophisticated and appealing.
For instance, instead of a random pair of jeans that might not suit his style or be comfortable, a pair of casual pants such as khakis or dock pants. When made from high-quality  materials, they may suit your tather better than jeans, because they're both chic and comfortable at the same time. Khakis are easy to pair with shirts, T-shirts, and sweaters, as well as any favorite shoe or boot styles Dad prefers.
A classic jacket, elegant blazer, or cool coat are great clothing choices for a present when you want to help your Dad up his style game for a day at the office, or a casual evening occasion. However, since jackets, blazers, and coats don't all fit the same way, talk to your father first and make sure you know his size and preferences. Better yet, take him shopping and encourage him to try out different models.
Polo shirts
Finally, if you want your dad to look stylish, a polo shirt (a stretch knit shirt with a collar) is a great option – they suit most men, regardless of age, size, or body type. If you find the right polo shirt, your father will look distinguished, and at the same time, feel comfortable. Polo shirts are a win-win choice for almost all men, and the only thing you have to do is choose the right material and color(s).
Insisting on natural materials and quality fabric are crucial when selecting a polo shirt that will feel good AND keep it's shape, so don't forget to check the label before buying. Lots of manufacturers use polyester, but a stylish terry cloth polo shirt that combines synthetic fibers and natural cotton, will keep your dad cool even if he wears it all day long. Find a classic model that makes him look and feel young at heart.
Accessories
For most occasions, a stylish watch or an elegant tie can up a man's style game. The best thing about these gift options is that they don't have to cost too much.
Selecting a watch can be a complex process, based on style and technology preferences (analog, digital, and now, smart watches). Consult your Dad or better yet, let him make the choice on his own. The impact of a new watch can be significant from both a fashion and lifestyle perspective. That's why accessories are always a great gift for any special occasions, not just Father's Day, Christmas, or birthdays. 
A visually appealing tie can boost your father's appearance regardless of the occasion. Ties come in all shapes, sizes, colors, tones, patterns – some even have pictures – so making a suitable choice shouldn't be too hard. A tie pin is another fashion choice that although small, adds a nice touch to an ensemble. .
Pick a pair of sunglasses, a ring, a hat, or a leather briefcase, to suit your dad's lifestyle and make him even more fashion-forward. If you want to add an extra personal touch, have something memorable engraved on the gift of your choice..
Other Father's Day Gift Ideas
Finally, if you don't want to buy your father new clothes or accessories, don't worry – there are still lots of options to check out before Father's Day arrives. If you want to make a perfect gift choice for Dad, it's best if you know his preferences and what he likes doing in his free time.
For instance, if he's into reading, find the first edition of his favorite novel, or a signed copy of a book by his favorite author. These can be hard to find, so start your search early so you can enjoy Dad's surprise when he opens his present!
Choosing a curated basket of wine, beer, coolers, liqueurs, spirits, or even favorite non-alcoholic beverages, are gifts that might suit most men over fifty on all occasions. You could include a selection of cheeses, crackers, or snacks to accompany the drink selection. A gift basket is the perfect present for Dads that like variety. They can enjoy old favorites or try something new to them, alone or with company. 
Feeding someone's hobby habit is usually a safe bet for gifts. Is your father into building models, wood working, or is he a DIY type of guy that enjoys fixing and building things? Check out the latest in tools and supplies at your local hardware or hobby store.
Is his car your dad's baby now that you're all grown up? Cool car accessories include traditional stand-bys like floor mats, booster cables (charging cables if he's got an electric vehicle);  storage accessories for between-the-seat, backseat, and trunk. If he 's got an older model vehicle but up to date mobile tech, then a cellphone holder. And if the thing he carries around in the car most often is the family dog, then there are all kinds of accessories to make that a less messy, safer, and more enjoyable experience for Dad and pooch.
Gamers (traditional board or card games, or video games) may enjoy deluxe, updated, or personalized versions of their favorite games or gaming platforms.
If your father is tech-savvy and loves discovering new gadgets, look into wireless headphones and tablets that will give him everything he's looking for – and more!
Finding a cool gift for your dad isn't easy, especially if you want to keep things stylish. These ideas may help you find the perfect present to help keep Dad looking and feeling great.
*This article is for general informational purposes only. 50+ World does not endorse any product or service providers, nor does it receive remuneration from them.*