Age 50+ Online Dating Ups & Downs
Dating is never easy, no matter how young or old you are – it's one of those things that can make your life seem better or worse from your teens through your golden years. Finding ways to make dating simpler and easier could help you meet someone you enjoy spending time with- or the person you fall in love with and are meant to spend the rest of your life with.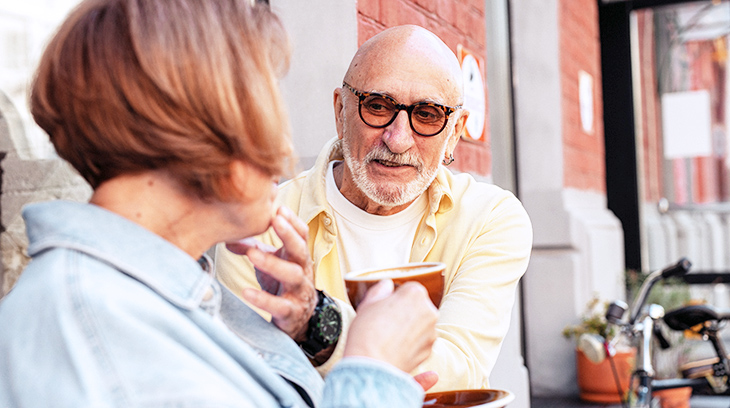 (Older Adults / Seniors Coffee Date: SHVETS production via Pexels.com)
When you're over the age of fifty, getting back into dating may feel overwhelming. Whether you've never been married, gone through a divorce, or lost your spouse, meeting someone new at this stage of your life can be hard. It's not impossible, but it's likely not as simple as it was when you were in your teens or twenties and hadn't acquired an additional 30+ years of self-knowledge and wisdom about other people, or what you do and don't want in your life.
Lot of adults trying to discover someone new turn to online dating to use the benefit of new technology. These tips below to online dating for seniors and older adults age 50 plus,  may help you feel more comfortable with swimming in the dating pool again.
Basics of online dating
It takes a lot of energy, patience, and time to start dating again. So, if you're trying to get back into dating, you should find out all there is to know about online dating for seniors. Know what to do and what not to do, in certain situations. 
The first tip you'll learn is that online dating isn't as complicated or hard as you may have been thinking. There are lots of nice, polite, cool people you can meet this way. Just because they're not married and in their fifties, doesn't mean that there's something wrong with them. Since you're single as well, you can understand that being married or in a relationship doesn't always work out perfectly, which is why people deserve a second chance. And since you're looking for love on the internet, there's a world wide web of possibility that you might meet someone who could suit you perfectly.
Keep in mind that you don't owe anything to anyone. Being back in the dating pool gives you the freedom to do whatever you want, and that means that you can set rules and define the outcome. If you meet someone online, you don't have to date them, and if you date them, you don't have to sleep with them, and if you sleep with them, you don't have to repeat that, etc. In short, you can do whatever makes you happy and shows the other person that you're a respectful and sensible individual who's looking for love or companionship.
Stay safe and protected
One of the most important things you need to take into consideration before you start meeting people online, is your personal safety. Many people are afraid to start the online dating process for different reasons, and while some fears may irrational, others are justified. You need to know how to stay safe and protected at all times.
Think about personal details you're willing to share with the people you're talking to online. Below are some online dating Do's and Don'ts:
Do
While you should always use a real photo of yourself, and give your name, occupation, and hobbies, that's about ALL you can safely share on a dating app. 
Be alert to the very real possibility of "catfishing" – fake online profiles & images designed to be lure people who are looking for love. Initial warning signs include profile photos of a very attractive man or woman, no other social media presence, recently created social profiles with few friends, followers, or posts. 
Meet via phone calls and video calls before progressing to sharing any further details about yourself, or meeting in person.
Don't
Never share details that could jeopardize your personal or financial safety – ie, financial information (debit card, credit card, or other banking info).
Where you work (or go to school), and your home address, are private details that should not be on any dating app profile, according to VPNOverview.
Don't use your Facebook, Instagram, Twitter, or other existing social media account, to set up a new profile on Tinder or any other dating app. Too much information about you, including your photos, is accessible if you do that. 
Sharing explicit pictures or videos of yourself or anyone else online is a big no-no.
Don't fall for these red flags: Vague answers to questions, or professing love soon after meeting online.
Find the right dating app or platform
After understanding the basic concepts of online dating and making sure you know what you're hoping for once you start dating, it's time to start being proactive. 
Explore different dating apps and platform – there are hundreds – to understand the unique benefits and set-up for members. Finding the right app for you to optimize your chance of safely meeting someone new could take some time and energy. Discovering what each app offers will allow you to maximize it's potential for helping you meet the right person. 
One of the most wanted dating websites out there for older adults, is SilverSingles. This is a community reserved for people over the age of fifty and is suitable for both heterosexual and LGBTQ members. SilverSingles offers seniors casual dating and friendships, to serious relationships and marriage. With a big membership pool of older adults, SilverSingles increases yourchance of meeting the right person. 
You may think Tinder (an app where you swipe on pictures of possible matches) more suited to younger people, but it's is quite useful for older adults who want to date as well. Tinder's process is quite simple – sign up, set up your profile, look for matches, and chat with the people you're matched with. If you feel that your connection is real, you can meet in person, and that's it!. Six percent of adults between the ages of 44-65 used Tinder in 2020, a number that has likely increased since then. 
Another community you can try is Stitch. Stitch is for people over the age of fifty, and suitable for those looking for different experiences. Whether you're looking for friendship, love, or something in between, think about joining the Stitch community, and don't be afraid to start using it today. The best thing about this community is that fact that it invests lots of time to develop virtual platforms that might suit couples who live far away, or those who prefer meeting in the virtual world due to different reasons. This was particularly useful during COVID-19 lockdowns, but it's also great for people who are anxious to meet their matches in real life.
If you start to feel down because you haven't found the right person after a while, it may be time to to take a break from looking for love. Having some time out to take care of yourself and boost your self-esteem is never a bad thing.
Meeting in person
If you find the right person online, get to know them properly, and make sure that this person deserves your attention, you need to think about making the next move – meeting them in real life. Of course, you have to think twice before doing that, but if you feel that things are moving in the right direction, there's nothing stopping you from arranging a live meeting. 
Again, you need to be careful and remain on your toes. Make sure the person you're meeting really is the person you've been talking to online, and arrange a meeting at a public place. Don't ever invite someone to your home (or theirs) on a first date. Stick to restaurants and similar public places instead.
Ensure a trusted friend or family member knows when and where you plan to meet with someone for the first time, and have a pre-arranged signal to alert them in case you feel the need.
Finally, keep your cool and don't expect too much, but stay relaxed and act as naturally as you can. 
Senior dating isn't as simple as it sounds, especially if you've had bad experiences in the past. But, if you take these tips into consideration you may have a great experience that makes it all worthwhile. 
*This article is for informational purposes only and is not intended as medical, mental health, or relationship advice, nor is it a substitute for professional relationship advice, medical or mental health advice, diagnosis, or treatment. Always seek the advice of a qualified expert with any questions you may have regarding a new activity. This website does not recommend or endorse any specific services, products, procedures, opinions, or other information that may be mentioned on the Site or on other websites it links to. Reliance on any information provided by this website or other websites it links to, is solely at your own risk.*