Travel Tips For a Tea Enthusiast
Being a lover of different foods is one of the best reasons to travel the world, but is there an excuse to do the same if you're a lover of different teas?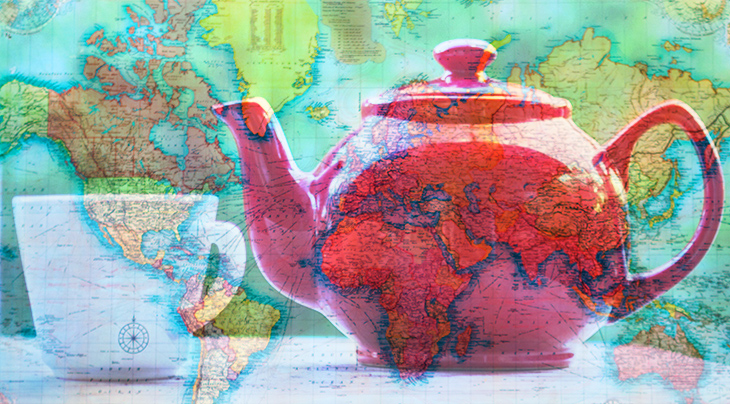 (Source Photos: World Map – Nicola Nuttal; Tea Pot – Jorge Garcia)
All true tea enthusiasts out there know how hard it can sometimes be to find your favorite flavor and why it's important to be able to reach it whenever you feel like drinking it. Traveling the globe and visiting places that only true tea lovers will appreciate, is a big deal in this unique community. If that sounds like you, you'll need to know where you should go if you want to find out as much as you can about different flavors of tea.
If you're not sure where to get a good "cuppa", there are several countries that a true tea enthusiast MUST visit, where you'll be sure to discover new tea flavors, tastes, and combinations.
Not all of these tea lover's top destinations may be feasible to visit immediately due to the global COVID-19 pandemic, but you can begin planning your trip now. When it's feasible for you to travel, here's a shortlist of the top 4 tea lover's travel destinations:
India
You can't be a real tea enthusiast without going to India at least once in your life, because this is the place for everyone who's ever enjoyed drinking tea. The reason for that is quite simple – people in India drink more tea than in other countries, and they consume around two-thirds of their annual production of tea leaves.
In addition to that, Indian people love experimenting with their varieties of tea, and are constantly finding new ways to consume them. Some of them stick to traditional methods, while others simmer tea leaves in milk and sugar – which is what they do in North India when they drink Masala Chai.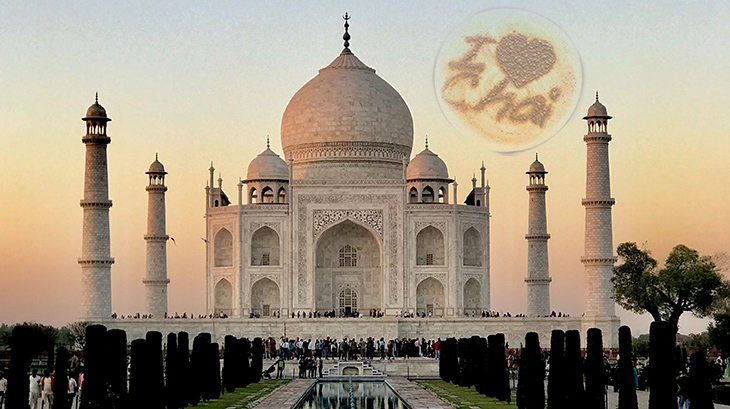 (Source Photos: I Love Chai – Rene Porter; Taj Mahal – sanin sn)
You'll be able to explore new tea flavors if you visit India, as well as new tea drinking techniques, which puts it at the top of the list of countries to visit for tea lovers of the world. Some of the Indian regions that definitely deserve your attention are Darjeeling, famous for its tea plantations, as well as Kolukkumalai, the highest tea plantation in the world – over 8,000 feet above sea level! – and the Nilgiri Mountains, home of dark aromatic tea that you'll never forget.
England
One of the reasons why teas from India are so popular almost everywhere you may travel, is the history of the British Empire and the importance it had across continents. Bringing different herbs, spices, and tea leaves from India to England was a normal thing back in the day, which is why the English still have a strong tea culture embedded in their everyday lives.
Even though the English don't all drink tea at 5 PM every single day, they truly love their "tea time". They consider it much more than a simple beverage, especially when it comes to English Breakfast Tea, Builder's Tea, and Earl Grey Tea.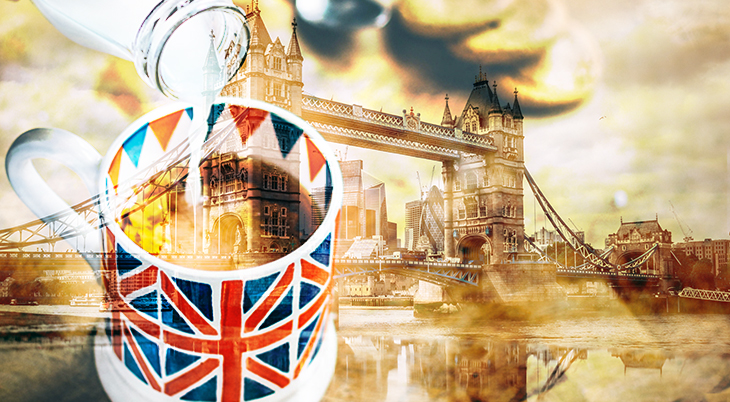 (Source Photos: London Bridge – Robert Tudor; British flag mug – Calum Lewis)
They also add a few tasty treats to their cups of tea and use this opportunity to spend time with their friends and family, which is what you might be doing if you visit England as well. 
Here, tea is much more than it might seem to an outsider. If you wish to take your love for tea to a new level, going to London or any other British city is a must. Combine your passion for tea with sightseeing in an amazing tea bus with panoramic tours of London. This is a great way to see and savor a new destination, which makes this an idea worth exploring.
Hong Kong
Hong Kong is another place you simply have to go to if you wish to explore your tea obsession and try flavors you probably have never had before.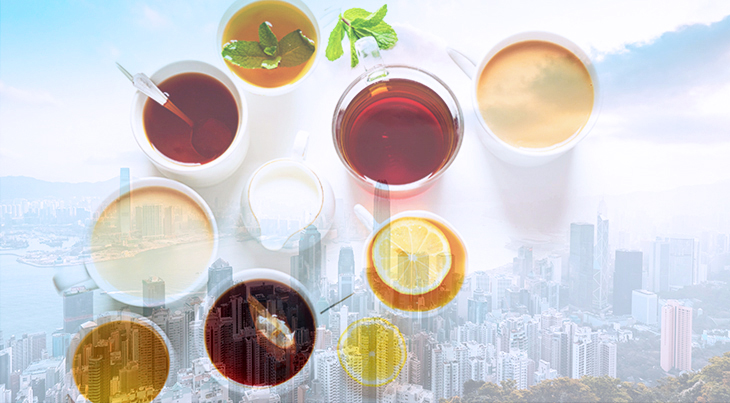 (Source Photos: Hong Kong – Bady Abbas; Tea Cups – Joanna Kosinka)
Just like the rest of East Asia, this place has been enjoying tea for thousands of years, and what's even better is that is geographical position and political closeness to China, the largest producer of tea, makes Hong Kong one of those cities that's packed with more tea flavors than you can imagine!
Traveling there might be the biggest adventure of your life, so start organizing it well ahead of time. You can find cheap plane tickets, comfortable apartments for rent in Hong Kong, and explore the local tea scene online before you arrive. That way, you'll be able to dive right in and begin tasting all those amazing flavors of tea.
Whether it's your traditional Black or Green Tea, or the special Gunpowder Tea you'll drink in the morning, or the Hong Kong-style Milk Tea you'll have with your lunch, you'll have lots of chances to appreciate and expand your knowledge of tea here.  
Finally, be sure to visit famous tea houses in Hong Kong – including Soil to Soul, with its seasonal vegan afternoon tea, and the Peninsula Boutique & Cafe where you can have scones and macarons with your tea. At The Drawing Room, where craft tea is produced by a local company, you'll face the biggest choice of tea flavors you've ever seen.
Plan on an amazing, unique travel experience wherever you may choose to go while you are in Hong Kong.
United States / USA
The U.S. might not seem like a first choice for exploring the world of tea, but there's one thing you need to remember when it comes to the American people – they come from all different continents of the world. From Europe, Australia and New Zealand, Japan, Turkey, Russia, and anywhere you might throw a dart on the globe, people have brought and continue to bring, their tea culture with them to the United States.
Tea lovers from different meridians mix their favorite flavors with those originating from other regions. Add in locally produced tea flavors from U.S. based plantations – Earl Grey Tea, Black Lemon Tea, and Peach Tea, to name a few – you'll end up having lots of choice when it comes to drinking a cup of tea.
In short, this means that anywhere in the USA – particularly in big places like New York, Boston, and Los Angeles, you can find neighborhoods that are packed with global flavors of food and various sorts of teas.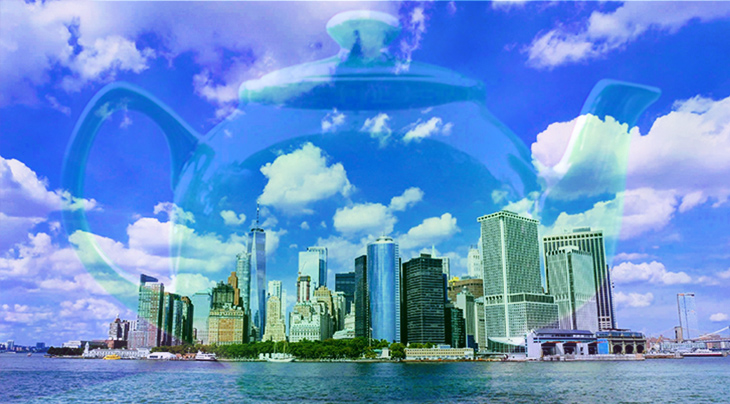 (Blended photo: A. Hamilton. | Source Photos: Manhattan, NY – Catrina Carrigan; Tea Pot – Jorge Garcia)
You don't have to travel the entire world, just take a trip from the Bronx to Brooklyn, for instance, and you'll find more tea houses than you can count. You can even do that while taking a break from visiting all those affordable New York museums you may enjoy, simply because drinking tea is something you can do all day long in New York, regardless of your other plans.
Speaking of New York, you mustn't forget Long Island Iced Tea. You should also explore other iced tea flavors from all around the US, very refreshing during hot summer days. If you're heading towards the States during June, July, or August, make sure to drink ice tea as often as you can.
Conclusion
Just because you may not be able to travel this instant due to the pandemic, doesn't mean you won't be able to tour your chosen destination soon. What that means for all tea lovers is that you need to start planning your next trip(s) now, so you're prepared to enjoy your favorite tea flavors and discover new ones while you explore new territory.
*All modified, blended photos by A. Hamilton; source images via Unsplash*
**This article is for general informational purposes only. 50+ World does not endorse any product or service providers, nor does it receive remuneration from them. Obtain expert advice – financial, legal, medical, travel, etc. – from qualified practitioners about your unique situation.**