Retirement Hobby Ideas
Being a retiree will mean you have more leisure time – finally! It's time to find new ways to spend that free time, including trying out different hobbies in order to find one(s) that you love. The process of trying new things to do in retirement can be rejuvenating for older adults, and if you do settle on a new hobby that provides just the right amount of fun and challenge for you, then it's doubly rewarding.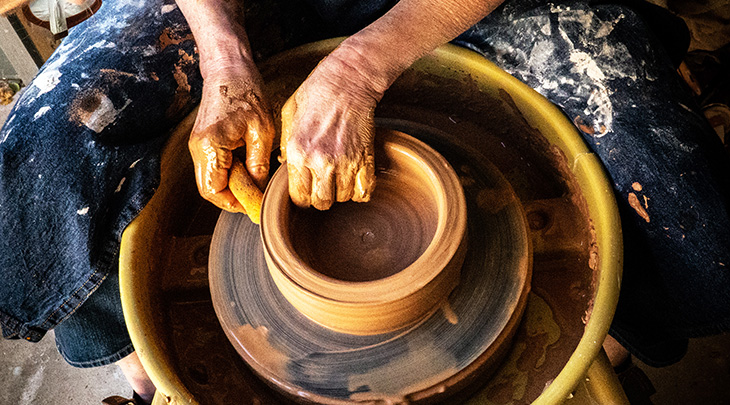 (Senior Using a Pottery Wheel: Earl Wilcox via Unsplash)
In case you're looking for a new retirement hobby that's fun AND practical, here are a few ideas to experiment with now:
Fishing
There's nothing better than spending your day in the open and going fishing whenever you have a chance. Fishing is one of the most useful and practical activities for men and women out there, and it might end up being beneficial to your mental and physical health in more ways than one. 
Being outdoors will help you relax, forget about your stressful everyday life (especially if you're not quite retired yet), and regain your inner peace. Boosting your mental health this way is always a great idea. 
Fishing doesn't require a huge amount of skill or talent in order to get started. All you need is some free time, lots of patience, and of course, some basic fishing equipment. A fishing boat isn't necessary, although that's always an option depending on where you want to fish. Part of the fun of fishing is trying out new locations in order to find the right spot to fish, where you can make the most of your time by the water. Once you have some favorite fishing locations, nothing is stopping you from relaxing to the fullest and having the time of your life alone, or with a friend.
Pottery
For an older adult, one of the best aspects of making pottery is creating something unique with your own two hands. From teapots and cups to plates and decorative pieces, there are lots of things you can do if you get interested in making pottery. Once you start boosting your skills, you'll be able to make something for different people in your family, and give them a present that's going to help them remember you in the years to come. Who knows, one of your creations may become a part of your family heritage.
If you enjoy it and want to take your pottery skills to a new level, you may want to invest some time into the process of designing the perfect hobby area in your own home. Whether we're talking about a spare room, a corner of your living room, or your garage, this space should be as inspiring and motivating as possible. From stylish rugs from Hong Kong that will give your pottery corner a dose of elegance, to a spacious desk where you can display your creations – these things will help you enjoy your hobby even more and make the most of the time you're investing in it. 
Finally, don't be afraid to get in touch with other ceramics fans in your area as well, because this will help you make new friends and learn a bit more from them about your favorite hobby.
Woodworking
If you're looking for a hobby that's as inspiring and practical as making pottery, but a bit manlier (although women can enjoy it too!), woodworking is the way to go. It might sound hard, but once you start, you'll realize that woodworking is all about patience, and paying attention to details. It's also one of those hobbies that will help you create something truly useful (or purely decorative if you prefer) and visually appealing. If you start learning about woodworking in retirement, you'll turn into an expert before you know it. 
In addition to helping you create something new and unique, woodworking is also a great way to work on your mental health, become calmer and happier, and keeps your fingers flexible. This hobby will teach you patience and precision.
You can always encourage a friend or family member to join you, so you'll have help, company, and a co-designer. This may be the opportunity to turn a hobby into a family tradition or help your loved ones start on the path to a new business. 
In the end, just make sure you're safe every step of the way and invest your money into protective equipment that will prevent scratches and more serious injuries.
Gardening
This is probably the oldest trick in the book, but just because lots of people around the world are getting into gardening doesn't mean that older adults shouldn't consider this idea as well. On the contrary, think about spending time around your plants and vegetables, especially if you spent decades of your life behind a desk. Gardening will help your health in lots of different ways, from preventing heart-related conditions to making your skin look better than ever. Those are just some of the reasons why you should think about gardening when choosing your new hobby.
However, if you're planning to spend your time gardening, there's one practical issue you'll have to deal with first – where are you going to do that? For people living in a house, turning a part of their yard into an improvised garden or flowerbed is easy, but what about retirees living in apartments, or men and women in a retirement home? If this is the case, you'll have to be practical and find a patch of land you can use (check out local community gardens), or stick to a smaller garden with herbs or flowers that you can set up on a balcony. There may be a local gardening club you can join to meet with other enthusiasts in retirement, to socialize, exchange ideas, and even plants.
Online Learning
Online learning may not sound like fun if you've been glued to a computer for decades – but it's a great way to spend your time and do something good to prepare you for the future. Whether you're thinking about learning how to develop mobile apps, speak another language, or you'd just like to boost your general knowledge, online learning can be a convenient and practical way to learn something new. You don't have to end up with a university degree or college diploma, although these may be options if that's your goal – some universities and colleges even offer free or subsidized online courses for older adults, retirees and seniors.
If you find the right online learning program, you'll be doing wonders for your mental health. It will keep you mentally active and alert, learn how to react to different situations, and discover how you can find a solution to various problems. If you don't want to get into a mental rut, online learning is a great way to keep abreast of what's current and be ready for the future.
Finding the right hobby might not be easy, but it's certainly an idea to explore before you retire – this way, you can start enjoying your new interests from day one and being this new phase of your life in the best way possible. You may find more inspiration for retirement activities in these related articles:
Fun Low Impact Hobbies & Sports
Best Age-friendly Sports for Older Adults