Dating in Your 50s: How It's Changed
Between the late '70s and early '90s, life was notably different than it is today. Dell was founded in 1984; Madonna, Prince and ABBA flooded radios across America; and meeting someone was almost always done in person. Now it's 2020, you're in your 50s, and you're single for the first time in 20-30 years. What the heck do you do now?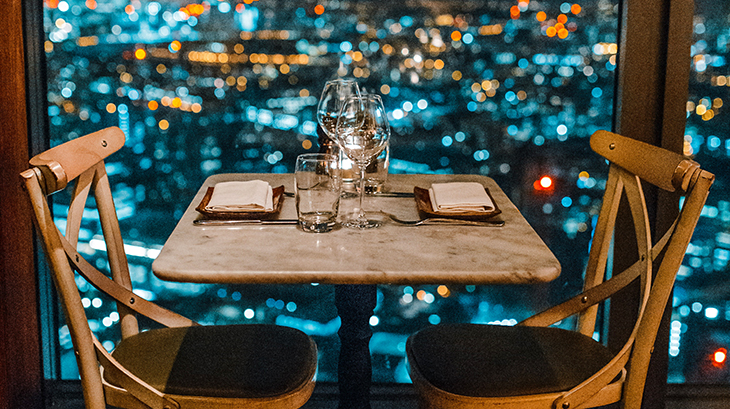 (Table For Two Photo: Matthieu Huang via Unsplash)
Being newly single can be hard at any stage of life, but being on your own in your 50+ years, likely with grown children, and being out-of-touch with the dating world of today's society, can be downright scary. In your teens, 20's and 30's, it was easier to meet people through school, bars, clubs, or friends, making dating easy and fluid. The problem with taking those approaches now is that you're not likely in school anymore, or at least not with people of your own age; bars and clubs aren't usually consistent with producing long-lasting relationships (if that's what you're looking for); and most of your friend's friends are no longer single.
So besides the chance meeting on a side street with your soulmate that only happens in the movies, what other options do you have? Reach out to your high school fling? Nah, probably a bad idea after you got stood up at prom. What else can you do?
Although online dating appeared on the scene in '95 through Match, it may still seem like a newer concept and way of meeting people, especially for someone that was likely either in a committed relationship or married while it all debuted and continued to grow. Online dating is actually a great way to get your foot back in the door to courtship; you can even do it in the comfort of your living room and wearing a cozy pair of pajamas! Most dating sites and apps such as Tinder, Bumble, OkCupid, and Plenty of Fish, allow you to see photos and a description of other users, just as they can see of you as well. This gives you the opportunity to decide who you'd like to get to know further through the website, and if things continue to go well, go out on an old fashioned, in-person date! There are even dating sites that cater to people of your own age range, so that need not be an extra concern.
There are many ways in which dating now is going to be different than in your teens, 20's and 30's – one being that at this stage of life, you (and prospective guys or gals) know what you want out of a relationship and partner. You aren't interested in any of the games anymore, and red flags that may appear are no longer clouded by a good-looking appearance because we know from experience, a toxic personality can never be compensated for with physical attraction. You know that an honest person with morals that coincide with your own is important and cannot be substituted. Maybe you just know that you can't be with someone who doesn't like to dance or be out on the water. Point is, at this time in your life, the games are useless and serve no purpose because we (usually) aren't looking for hookups anymore, we want commitment.
According to popular dating website eharmony, dating, in many ways, hasn't changed at all! How can this be? Experts at eharmony say it is still the same in regards to the fact that you're wanting to get to know someone, form a true connection, and just as before, you're going to want to be able to be yourself! On the flip side, the obvious changes and differences are still present and also include some luxurious benefits. Being a mature adult usually provides someone with a level of financial stability that wasn't already established in their 20s. This is helpful for many reasons, but especially because you know how you can live your life, and there isn't as much monetary pressure and stress to deal with.
Commonly discussed topics during dates you may have had in your younger years were likely those that focused on your future: dreams, goals, aspirations, and solid plans. Now, you've already made major decisions that included choice of schooling, career path, you may have been previously married and/or have children, possibly have a home of your own, and are secure. At this stage in your life, it is important to be realistic about how you speak of the future and what to expect from your date in this area. Plans for retirement, remarriage (if that's your end goal), and growing older in general are now more likely concepts for your future.
The upside is that sex has not only basically stayed consistent, but it might even be better now for most of us! With age, comes wisdom – and experience in the boudoir. Finally, some good news, right? It is important to know that having the talk about sex and your preferences will imminently be brought up, and much earlier than you've been used to in the past. This is really a good thing, even though it might not be at the center of your comfort zone. Talking about sexual preferences, boundaries, and values will help you to decide if this person is someone you would be comfortable taking this next step with, and even possibly spending the rest of your years with. Some people may be very confident about their decades of expertise, while others may be excruciatingly body-conscious; another great reason to have this talk early on, so you both know what to expect from each other, and how to overcome any hurdles that may come your way.
For men, one of the bumps on this new dating road could be erectile dysfunction, as it affects around 33% of guys between the age of 50-64. Today there are many reasons and effective treatments for ED to help you achieve the sex life you deserve, so it doesn't have to be an excuse when it comes to talking about sex with your potential new life partner. 
Being very honest and verbal with your date on all spectrums is crucial because starting a relationship with anyone that has been founded on half-truths, tends to go sour. Talking about exes on the first date can seem bitter and unattractive, so try to save the talk regarding your past for later. If your date is being too forward, be upfront and kindly say so. Don't agree to love spicy foods if in reality they just upset your IBS, because sooner or later, it will come out. Honesty has always been and will always be a major relationship key.
In many ways, dating again is going to be different and scary, but in a multitude of other ways, it is going to be familiar and fun! Start when you're ready and be patient; be prepared to go on a few flop dates before finding your soulmate. Most prospects are likely going to be feeling the same way you are, so try to enjoy the ride along the way and revel in your second chance in the dating world of today.
*This article is for informational purposes only and is not intended as medical or mental health advice, nor is it a substitute for professional medical or mental health advice, diagnosis, or treatment. Always seek the advice of a qualified physician or mental health provider with any questions you may have regarding a medical or mental health condition. In the event of a medical emergency, call a doctor or 911 immediately. This website does not recommend or endorse any specific tests, physicians, products, procedures, opinions, or other information that may be mentioned on the Site or on other websites it links to. Reliance on any information provided by this website or other websites it links to, is solely at your own risk.*