Technology Can Help You Age in Place
Most older adults want to be able to continue living in their own home for as long as possible, and to maintain their independence as they age.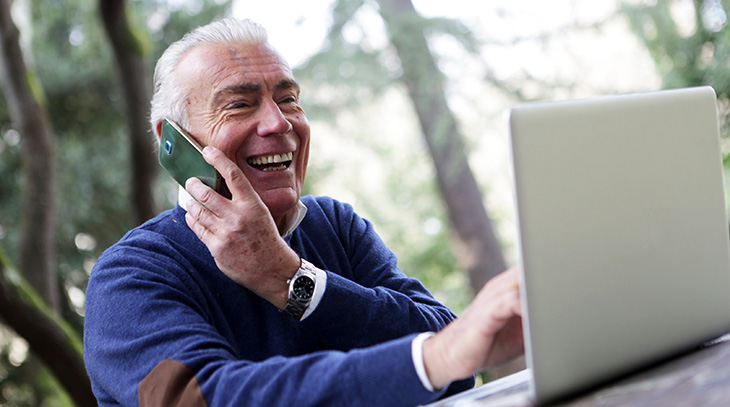 (Photo: Andrea Piacquadio via Pexels.com)
As much as we try to maintain a healthy lifestyle that will lead to a healthy body and mind after we reach a certain age, we simply have to admit that we'll eventually need help in some areas of life. Whether it's experiencing the loss of mobility, vision, hearing, or memory, it's okay to ask for assistance.
Although you may not want to ask your grown children or other family members for assistance with everyday problems, you should tell them about the issues you are experiencing. Moving in with them may or may not be, the most desirable option for either of you. Hiring someone to always be around to help you with your day-to-day chores, could prove unaffordable.
What to do? Among the alternative solutions to being able to continue living at home while you age, is learning how today's technology can help you to help yourself. Technology is constantly improving many areas of life, and this is true for older adults and senior care as well.
These suggestions will not only make your life easier, but reassure your family that you will be okay and easy to reach in case something does happen. 
Easier communication with loved ones
Let's start with the technology that has been around for a long time now, but some seniors till don't want to use – mobile phones, and other electronic devices. While it might seem complicated to learn in the beginning, everyone can learn some basics. For example, making calls to hear your loved ones and let them know that you are fine is something that doesn't even require a cellphone; you can use your landline. However, with a bit of effort,  you can learn to use apps such as Zoom or Skype on your cellphone, tablet, or computer, that allow you to make video calls and see family members that might live far away or are too busy to visit.
By joining social media platforms (LinkedIn, Facebook, Instagram & Pinterest) you can also keep up with what ll your friends are doing and chat with them, as well as staying updated when it comes to world news. 
Mobile phones are not the only electronic device that can bring your family a sense of peace. Various wearables with GPS will let them know where you are in case they cannot reach you by phone.
Accessing medical and emergency services
Apps can make it easier to book an appointment at your local clinic, or find a doctor who can visit you at home. In addition to alerting your chosen person (family or friend), certain wearables can also call emergency services, in case you fall or are injured. 
Depending on the physician, you may also be able to use video calls to consult with them about your medication or general wellbeing. This means you don't have to go to the doctor's office. Video calls are especially useful if you are in contact with a specialist that doesn't live in your town, or is on the road a lot. Plus, seeing as how your doctors also have your information in digital form, they can easily access your records and see how your treatment has been going, and decide how to proceed.
Keeping up with Medications
If you don't have any meds you need to take on a regular basis, lucky you. However, you never know when your physician might prescribe you a new medication. If you have terrible memory in general or are starting to experience early symptoms of an illness that might affect your memory, you'll be glad to hear that there are also apps that remind you of when it's time to take your pills. In addition to the reminder, you can also keep track of your therapy, set an end date, and see how many pills you have left before you will need a refill.
Helping with early disease detection
There are now biological and behavioral sensors available in mobile, wearable, and even implantable form. These sensors can help establish baselines when it comes to eating habits, sleeping patterns, blood pressure, body temperature, and other personal data. Having these patterns tracked can make some disease symptoms more apparent, thus leading to early detection of various age-related and other illnesses, such as dementia.
Moving around more easily
Whether due to injury or disease, it's not uncommon for seniors to have mobility issues. Even if you are not experiencing any problems right now, it might be good to plan for the future. If you have the funds, you can invest in making your home more accessible. From adding various features to your bathroom like a bidet seat with a remote control, to equipping your living room with a lift chair that will relax your muscles and make it easier to stand up – start looking into household enhancements that will make it easier to continue to move around your home independently. 
Ensuring you are safe with smart home features
Implementing smart home technology can help you with many tasks. For example, plenty of appliances can now be controlled through mobile apps, meaning that you don't have to get up every time you need to do something.
You can set up smart lights that will turn off when no one is in the room or at a certain time so that you are not wasting electricity; at the same time, they'll turn on when they sense movement so you don't have to stumble in the dark if you need a glass of water at night. While you might not like having cameras and sensors that detect movement around your home, your family may gain peace of mind knowing that you are safe, by installing these devices that give them insight into what is happening. Sensors are placed in discreet locations and, as they track your movements, your caregivers will be notified if there is no movement in a pre-determined period of time. 
We mentioned apps that can remind you to take your meds already, but you can also use Amazon Alexa or Google Home to remind you.
Stay mentally sharp and have fun
Just because you're getting older, it doesn't mean that you can't have fun like you used to. Technology is not only for ensuring you're safe and sound. It can also provide a nice distraction and a source of fun. For example, you can play various video games either on your phone, or on a gaming console. From games that require a joystick that will keep your hand joints moving, to those that track your motions and require you to use your whole body, you can get some physical activity while also having fun. Moreover, your mind will also stay sharp if you choose a game of memory and matching or fact recall.
Conclusion
As you can see, technology has many great applications when it comes to aging in place. From providing you with some fun to making sure you are safe when moving around your home, to allowing you to stay in touch with your family, these perks should most certainly not be overlooked.
Find a way to implement new innovations into your everyday life, and ask your tech-savvy family or friends to help you get started with using technology that's new to you.
You may also enjoy this related article: Accessibility Home Renovations for under $100
*This article is for general informational purposes only. 50+ World does endorse any product or service providers, nor does it receive remuneration from them. Obtain expert medical or legal advice from a qualified practitioner about your unique situation before making medical or legal decisions.*