Set Up a Guest Room Your Grandchildren Will Love
People believe that they've learnt what unconditional love is once they have children. However, when they get grandchildren, they discover new depths of love and caring. If you've already got grandkids, you know exactly what kind of love this is.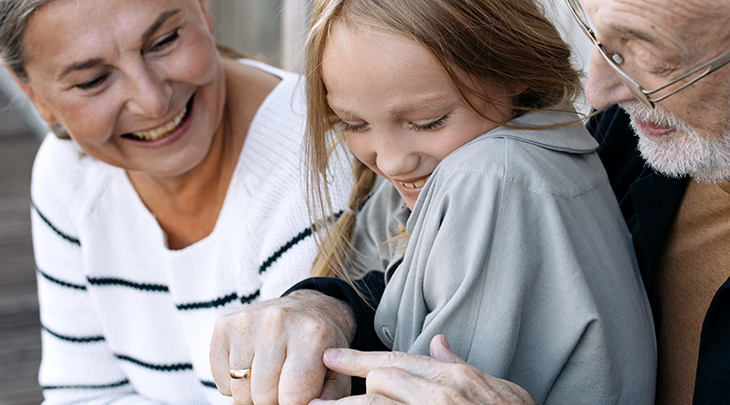 (Grandparents and Grandchild Photo: Cottonbro via Pexels.com)
However, if you don't live with them, you know how much you want to cherish the moments you do get with them. When they come to visit, they could have their own room in your home. If you want to decorate a perfect room any grandchild would adore, make sure to read these tips and do what you can in your house.
Paint it playfully
The first thing you can do is rather inexpensive, but it brings some great results. Namely, you need to paint the room appropriately. If you already know what your grandchildren's favourite colours are, then you'll know where to start. Since it'll be a kids guest room, there is no reason for you to not get creative and wild with the patterns. However, you shouldn't go overboard with it and make the room feel crowded or overwhelming.
A good idea is to go for some more neutral colours for the walls. That will allow you to get more creative with the rest of the interior design. You could throw in some colorful rugs or bed linens and make the room livelier that way. Even if you make a mistake, it's good to remember that changing the paint won't take much of your time or money. So, don't think too much and get to painting those walls!
Involve some throw pillows
You want your grandkids to feel comfortable once they get to your home. One thing that makes any room instantly more comfortable is a throw pillow. Even the adults love them, so there is no reason why your grandchildren won't. They are cute, practical, and they come in all shapes, sizes, and styles. You can even look for some themed with their favourite cartoon characters.
You can literally find cushions in any size and colour pattern, which will make it even easier to decorate the room. Throw pillows are amazing when it comes to home decor as well. They bring texture to the room and everyone will note that, even the kids. It may be best to also get some classic pillows since they will be great for your grandkids even when they get older, but that is up to you!
Personalize the space
The next very important thing you need to do is personalize the space. This is what makes the whole room feel like home and this is exactly what will make your grandkids adore it. It may be tempting to set up the room in such a way that it meets your needs and taste, but don't forget that the room isn't for you. What you should do is cater to your grandchildren's interests.
Know your grandkids' interests before you arrange or decorate a room. For instance, if they're into ballet, make sure the room reminds them of their favourite pastime. On the other hand, if they love basketball, include something like a hoop into the room. It doesn't have to be a real hoop, it can simply be a toy, but it will show your grandkids that you know them and that you care about their hobbies and interests. Don't forget to include some photos as well. Nothing makes a space more personal than some family photos!
Think of storage
Even though your grandkids don't live with you all the time, they'll still need some storage units when they come to visit. This is really important to remember, but it is even more important if you're the type of grandparent that loves to spoil their grandkids. Your grandkids may not clean up a mess before they have to leave, and they more stuff they have at your place, the more you'll have to pick up after they're gone.
This is why it's so important to think of some storage ideas. Kids don't have many clothes or personal belongings, but they usually do have a lot of toys and these toys need to be stored somewhere. Otherwise, no one will be able to clear up the mess. Make sure to include a lot of binds and cabinets when setting up the room. These won't take up much space, but they will serve you perfectly when it comes to cleaning up the mess. You can even look for some woven baskets – they're cute and unique and perfect for this type of storage.
Make it cosy
Another think you need to think about is the cosiness. Trying to do everything perfectly can turn out to be a successful task, but it can also be a disappointing one. When everything is too perfect, it can make things seem cold and distant. This is exactly what you want to avoid when it comes to your grandkids' room. You DO want to make the room seem and feel cosy, warm, and comfortable.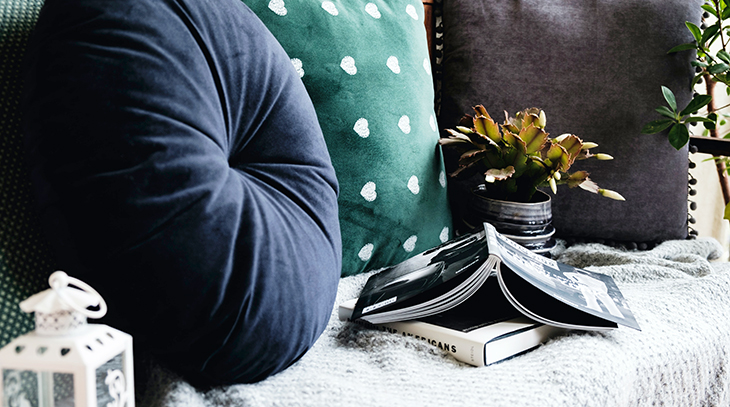 (Cosy Throw, Pillows, Plant, Candle & Book Photo: Krisztina Papp via Unsplash)
This is easily done with a couple of home decorating tricks. The first tip is to plan for the light. Your grandkids should be exposed to natural light as much as possible, but they should also be able to block it when they want to. That is why some honeycomb cellular blinds re a must-have. 
The second trick is to think of the acoustics – don't forget about good insulation. Include some large stuffed animals, throw pillows, and a cute rug and you'll have the perfect kids room to meet all their needs and make them feel happier to be there.
Go for a DIY mural
Kids just love decorative murals and having one in their room might be a real dream come true. Murals are always a good choice, but creating one on your own will be an even better choice. If you get the kids involved in the rpocess as well, you won't only make an amazing decoration, but you will also make some lifelong memories. Especially if the kids are art lovers, this will be great for them, but even if they aren't, it'll still be a fun activity that will strengthen your bond.
Creating a DIY mural for a kid's room can  be a really interesting activity. You can ask them for ideas or you can surprise them with something you've come up with. You could involve themes from their favourite shows or sports if you're skilled enough. If not, you can keep things simple and still make some praiseworthy artwork. So, don't wait, get adventurous and get the whole family together for this project!
Bring the outdoors in
Your grandkids should learn to value and cherish nature from a young age. If you want to make this happen, the easiest way is to bring the outdoors in, decorating their room with some cute plants and flowers. You could take care of them when they're not there, but as soon as they come, the plants could become their responsibility. This is, of course, for older grandkids and for teenagers. 
You could have a lot of fun with them taking care of the plants. This is a great way for them to learn about responsibility and nature. If they are too young for this though, you could simply decorate the room in some earthy colours. For instance, bring some greenery in with some other interesting options. For example, a curtain or a rug could be in earth shades.
Arrange furniture wisely
A kid's room must be balanced. Put some thought into arranging the furniture. Your grandkids will need some space for sleeping and relaxing and they'll need separate space for playing. Depending on the function of the space, you should arrange it properly. Take into account things such as colours, lighting, and scents when making these decisions.
Once you've analytically researched the room, you'll know how to arrange the furniture. For instance, in the space with the biggest light exposure, you should make the point for playing. This all may seem irrelevant, but it makes your grandkids develop healthy habits. 
Use some eco-friendly fabrics
Finally, you should use some eco-friendly fabrics. The best way to teach your grandkids anything is to be a good model for them. If you want them to respect and save the environment, you should do it too. It's never too early to start setting healthy habits, one of which is using eco-friendly fabrics.
Leather, for instance, is an eco-friendly fabric. Besides being durable, leather is also easy to clean, which makes it everyone's favourite. You could also involve 100 per cent polyester or nylon as well for these purposes. Avoid silk and cotton, since they aren't as durable. 
Conclusion
Setting up a perfect grandkid's guest room isn't an impossible task. With these home decorating tips, you'll create a room they will adore. Not only that, but this kind of room will provide them with a healthy environment in which they'll make memories and learn valuable lessons while spending time with you.
*This article is for general informational purposes only. 50+ World does endorse any product or service providers, nor does it receive remuneration from them. Obtain expert advice from a qualified practitioner about your unique situation.*