Accessibility Home Renovations for Under $100
Are you on a tight budget, but need make some modifications at home? The team at Entwistle Power Occupational Therapy reminds us that you may not need a big budget when making your home more accessible.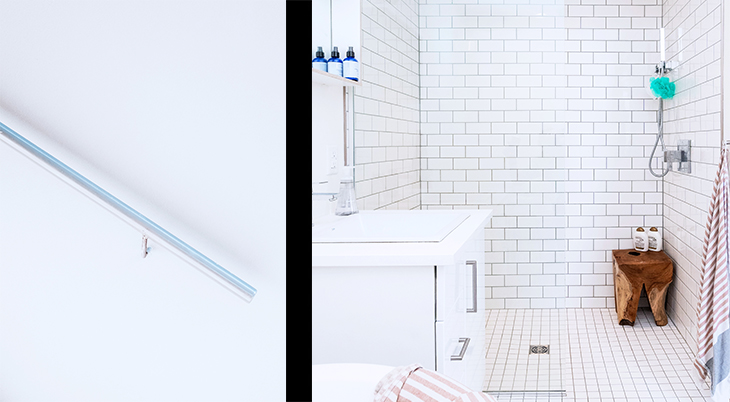 (Railing: Bernard Hermant | Bathroom: Jon'Nathon Stebbe | Photos via Unsplash)
There is a misconception that home renovations for safety or disability need to be expensive.  While this can be true for large-scale projects, there are some quick-fix modifications that are small, but pack a punch.  Here is my top 10 pick of modifications you can make for under $100.
Offset Door Hinges – if the doors of your home just seem a bit too narrow, consider that the width of the door, when open, makes the door opening smaller than it is.  Consider purchasing some recessed hinges that will allow your doors to swing as wide as your door frame, giving you an extra few inches to get through with a walker, wheelchair or commode.
Drawer Pulls – if knobs are too difficult to grasp, consider swapping your kitchen and bathroom hardware for U shaped pulls that require less fine motor grasp and control to open.
Easy Grip Shower Head – handheld shower heads are great for allowing people to sit to shower, or to reach difficult areas without bending and twisting, but for people with a reduced grasp, I love these Easy-Grip shower heads from Moen.
Grab Bars – these don't need to look industrial or institutional and many colors and configurations exist.  One strategically placed grab bar can help you get out of the shower / tub or even on / off the toilet.  Consider the multi-use line from Moen that has grab bars with built in soap or toilet paper holders to help save space.  
Threshold Ramps – these small ramps are portable and make it easier to transition over small thresholds that are often present at entry doors.   (www.electro-ease.com)
Lever Door Handles – sometimes grasping and turning a door handle can be a problem for people with arthritis or who have issues with fine motor control.  Swapping out some door knobs with lever-style handles is a quick fix to help promote someone's ability to open and close doors themselves.
Removing Shower Doors – often shower doors can get in the way as we get older.  While some people use them to grab and hold, these have a threshold and limit the ability to use a bench or seat in the shower.  Removing the shower doors and replacing these with a curtain provides more versatility for equipment, makes it easier for a caregiver to help you shower, and is easier to clean and maintain.
Railings – installing a basic railing on any stair is an inexpensive way to greatly reduce the risk of falling when going up and down.
Adhesive Shower / Tub Strips – easy to install, these anti-slip strips give you added protection from falling when you are getting in / out or standing in the shower / tub with bare feet on a wet surface. Strips are easier to maintain and clean than a standard bath mat and stick better to the bottom of the tub / shower.
Shower Seats – with or without a back, these sturdy and often height-adjustable seats allow people with reduced endurance or balance problems to sit when showering.  Sitting means less chance of falling, which can cause injury.  The smaller seats are easy to remove for other people who want to use the shower as well.
Do you feel you need a more custom approach to addressing how you manage your activities at home?  Consider the services of an Occupational Therapist as we are the functional experts!
These related articles may also interest you:
Technology Can Help You Age in Place
Smart Hacks for Adapting a Home as You Age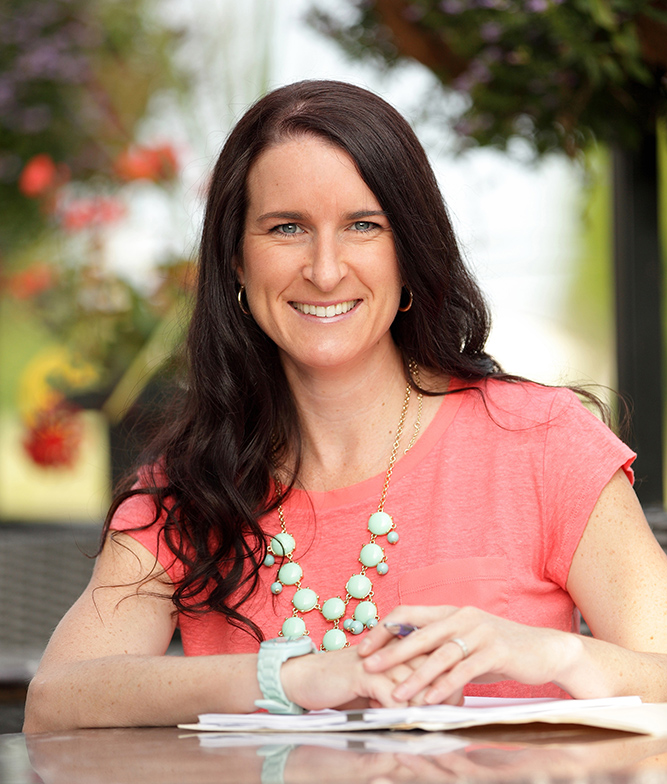 Julie Entwistle,
MBA, BHSc (OT), BSc (Health/Gerontology) 
Julie can be reached at Entwistle Power Occupational Therapy, 1425 Cormorant Road, Suite 301, Ancaster ON L9G 4V5  
T: 866-683-0345 
E: office@entwistlepower.com       W: entwistlepower.com
Disclaimer: The opinions presented in this post are generalized and do not negate the need for an occupational therapy assessment to outline specific functional impairments and solutions for any one client