Celebrating Seniors - Donald Sutherland is 81 Part 1
Veteran Canadian movie actor Donald Sutherland was born July 17, 1935 in Saint John, New Brunswick. Remarkably, in his 50+ years of making movies, Sutherland has appeared on screen in more than 150 productions so far. Below, a younger Donald Sutherland in 1969.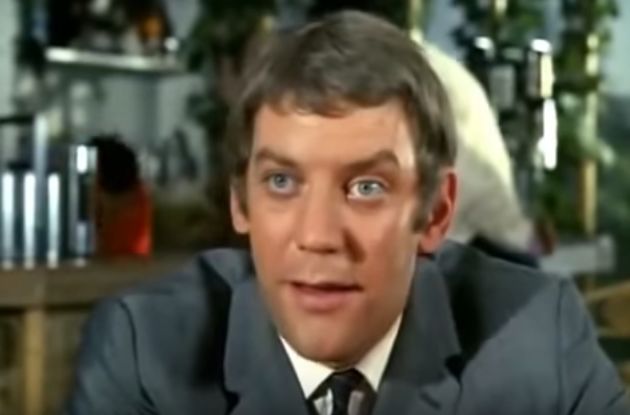 (Donald Sutherland Screenshot The Champions "Shadow of the Panther": Public Domain)
Donald Sutherland Part One: The Dirty Dozen to Don't Look Now (1935-1973)

Luckily for his movie fans, although sickly as a child, Donald Sutherland overcame polio, hepatitis, and rheumatic fever – any one of which could have easily killed him off before he even thought of acting. Sutherland's distinctive voice earned him his first professional entertainment job as a young teenager living in Bridgewater, Nova Scotia; he was a local radio station part-time news reporter at the age of 14. After graduating from Bridgewater High School, Sutherland enrolled at the University of Toronto and graduated with a double major in drama and engineering.
Deciding not to go into engineering, Donald Sutherland moved to England in 1957 to study first at the London Academy of Music and Dramatic Art, then the Perth Repertory Theatre in Scotland. During his time at the University of Toronto, Sutherland had met Lois Hardwick, and they married in 1959.
Acting opportunities in movies filmed in England and Europe began to come Sutherland's way, beginning with a dual role of minor characters in Castle of the Living Dead (1964), an Italian-French horror movie filmed in Italy and directed by Warren Kiefer. More roles in "B" horror movies followed in 1964. The cold war movie The Bedford Incident (1965) was Donald Sutherland's first role in a movie with "A" movie actors, starring Richard Widmark and Sidney Poitier. In Promise Her Anything (1965) starring Warren Beatty and Leslie Caron, Sutherland's role as an autograph-seeker was uncredited. 
Sutherland met Canadian actress Shirley Douglas (the daughter of former Saskatchewan Premiere Tommy Douglas) while he was in England. In the whirlwind year of 1966, Donald Sutherland's marriage to Lois Hardwick ended in divorce and he married Shirley Douglas. Douglas had been married before and her young son Thomas Sicks lived with them. Later that year Shirley Douglas gave birth to their twin children Rachel and Kiefer Sutherland in London, England in December 1966.
Actor Kiefer Sutherland is named after Warren Kiefer, the director of Sutherland's first movie, Castle of the Living Dead; daughter Rachel Sutherland has worked in post-production since 2002. 
In 1967 Donald Sutherland appeared in Billion Dollar Brain (1967) starring Michael Caine, but his biggest role that year and the first movie that baby boomers and seniors are likely to remember seeing him in, was the World War II movie The Dirty Dozen (1967).
The Dirty Dozen had an all-star cast of over 22 actors that included the likes of Lee Marvin (d.1987), Ernest Borgnine (d.2012), Charles Bronson (d.2003), George Kennedy (d. 2016), Telly Savalas (d.1994), and Jim Brown.
Donald Sutherland and Shirley Douglas moved to California with Rachel, Kiefer and Thomas in 1967. Activist Douglas became involved with the Black Panther movement; she was arrested in 1969 for conspiracy to possess unregistered explosives (charges later dropped), and ended up moving back to Canada (alone).
More roles in bigger movies followed for Donald Sutherland. The crime caper The Split (1968) starred Gene Hackman and reunited Sutherland with two of his Dirty Dozen castmates, Ernest Borgnine and Jim Brown.
As the 1960's neared an end, Donald Sutherland appeared in his 14th movie, and first with fellow Canadian actor Christopher Plummer, Oedipus the King (1968).
MASH (1970) with Elliott Gould, Sally Kellerman, and Robert Duvall, was Donald Sutherland's breakout movie, making him a box office movie star loved by baby boomers in what has become a modern film classic. Sutherland was nominated for a Golden Globe Award for his role as leading man "Hawkeye" Pierce in MASH.
It was rumoured that Sutherland and Elliott Gould had tried to get MASH director Robert Altman (d.2006) fired; Robert Altman would never work with Sutherland again. Donald Sutherland, on the other hand, would work again with Elliott Gould, Sally Kellerman, and Robert Duvall in later movies.
That same year, Donald Sutherland appeared in 4 more movies, including the Clint Eastwood World War II war comedy Kelly's Heroes (1970), as Sergeant "Oddball". Co-starring in this favorite baby boomer movie were were Don Rickles, Carroll O'Connor, and Telly Savalas, with whom Sutherland had first been in The Dirty Dozen with.
The comedy Start the Revolution Without Me (1970) had him sharing screentime with Gene Wilder.
The movie Alex in Wonderland (1970) saw Donald Sutherland in the leading man role opposite his co-star Ellen Burstyn; it would be 44 years before they reunited to appear in a movie. Italian movie director Federico Fellini had a cameo in Alex in Wonderland, and would later cast Sutherland in his  movie Fellini's Casanova (1976).
Donald Sutherland told The Guardian that he began an affair with actress and political activist Jane Fonda (who, like his wife Shirley Douglas, had also briefly supported the Black Panthers), shortly before they both began filming the crime drama Klute in New York in 1970. By the end of 1970, Donald Sutherland and Shirley Douglas were divorced. Klute (1971) also featured newcomers Sylvester Stallone and Teri Garr in uncredited roles, in their first movie with Donald Sutherland.
Jane Fonda and Donald Sutherland helped create an anti-war satirical documentary movie called F.T.A. (1972). They went on to film their third movie, crime comedy Steelyard Blues (released in 1973) before Jane Fonda broke up with Sutherland. Steelyard Blues was executive produced by Donald Sutherland and he earned his first BAFTA nomination for Best Actor for his performance in the movie.
In 1972, while filming the Canadian western Alien Thunder (1974) with native Canadian actors Chief Dan George (One Flew Over the Cuckoo's Nest) and Gordon Tootoosis, Donald Sutherland met French Canadian actress Francine Racette. Although the couple have been together ever since (44 years in 2016) and Francine was referenced by Sutherland as his companion during the 1980's, according to both their IMDB profiles and the CBC Archives, they did not officially marry until August 1990.
Donald Sutherland was reunited with fellow MASH actor Robert Duvall in Lady Ice (1973) and again in the WWII movie The Eagle Has Landed (1976), which also starred his former Billion Dollar Brain co-star Michael Caine. The role of IRA member Liam Devlin in The Eagle Has Landed went to Donald Sutherland after co-star Michael Caine passed on the part (not wanting to play an IRA man), and actor Richard Harris was deemed to be too closely associated with the IRA in real life.
The British-Italian thriller Don't Look Now (1973) was directed by Nicolas Roeg and filmed in Venice, Italy. During the filming of the scene in Don't Look Now in which Sutherland's character almost falls to his death in a church, life almost imitated art as Donald Sutherland had to do his own stunt and was attached by a kirby wire, which was not intended for that purpose.
Don't Look Now created controversy with the graphic sex scene (for that time) between Julie Christie and Donald Sutherland. Although Paramount executive Peter Bart has claimed he was visiting on set that day and the sex scene in the movie was real, Sutherland has strongly denied it and said Bart wasn't on the set.
Sutherland earned his second BAFTA Best Actor nomination for his performance in Don't Look Now, and the film has become a modern movie classic for baby boomers.
Next:
Donald Sutherland Part Two: Casanova & Ordinary People (1974-1989)
Donald Sutherland Part Three: JFK to The Italian Job (1990-2004)
Donald Sutherland Part Four: Pride & Prejudice to The Hunger Games (2005-2016)