Swimsuit Designer Rose Marie Reid
How a Canadian Mormon girl from Cardston, Alberta, became a twice-divorced single mom of three and founded the largest swimsuit manufacturing company in the world…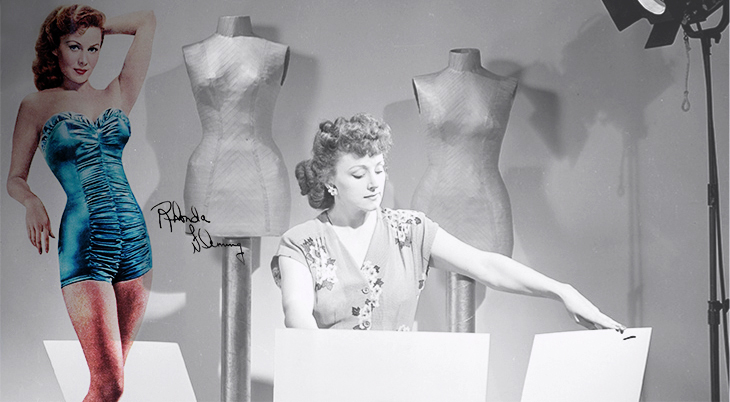 (Rhonda Fleming in a 1950 Rose Marie Reid swimsuit & the designer in 1945)
Innovative Canadian swimsuit designer Rose Marie Reid (nee Rose Marie Yancey) was born September 12, 1906 in Cardston, Alberta to Marie and We Yancey. Rose had 5 siblings – older brothers Elvie, Oliver, and Hugh, and younger sisters Marion and Ruth. Rose Marie learned to sew from her mother, who was also a designer. The Yancy family – practicing Mormons – moved to Weiser, Idaho in 1916. Rose Marie would later reference her Mormon faith as a guiding principle in her life and work.
Rose Marie bought a beauty salon in Oregon and married Holland-born Garreth John Rynhart in 1926. The 1930 Census has Garreth and Rose Rynhart living with his brother Billy and their parents John & Vera Rynhart, in Oregon. Garreth listed his employment as a painter (of pictures). Rose and Garreth Rynhart moved to Vancouver in 1933. Rose Marie went to Idaho in 1934 and obtained a divorce there from Garreth in 1935.
Two months after her divorce from Garreth, Rose Marie Reid married Jack Crossman Reid in 1935. Jack had been born in Vancouver in 1910, then moved to Seattle, Washington in 1923; he'd applied for naturalization as a U.S. citizen in April 1929. By the early 1930s, Jack Reid was back to living in Vancouver teaching swimming and managing the Crystal Pool. The newlyweds lived in Vancouver, and Rose Marie designed and sewed swimsuits for her husband and herself.
"One day when I  was wearing this suit a man swimming in the same pool asked me where I got it. When I told him I made it myself, he introduced himself as the general merchandise manager of the Hudson's Bay Co. and asked if one of his buyers could see it…When the buyer came to see my suit she ordered six and I've been making bathing suits ever since!" –
Miss Reid Suits The Swimmer Best, by Fay Hammond, The Los Angeles Times, December 18, 1955
More orders came in from other stores and a year later – with help from Singer Sewing Machine Co. customers who wanted to earn money while they sewed – Rose Marie Reid had designed and sold $10,000 worth of suits, for a profit of $2,500. In 1936 she  launched her first swimwear design label, Reid's Holiday Togs, Ltd. 
The company was successful from the start, with 16 employees that first year alone. Reid opened her first factory in Vancouver in 1941. By 1946, despite challenges with WWII sewing machine and fabric shortages, she had conquered 50% of the swimsuit market in Canada with her designs.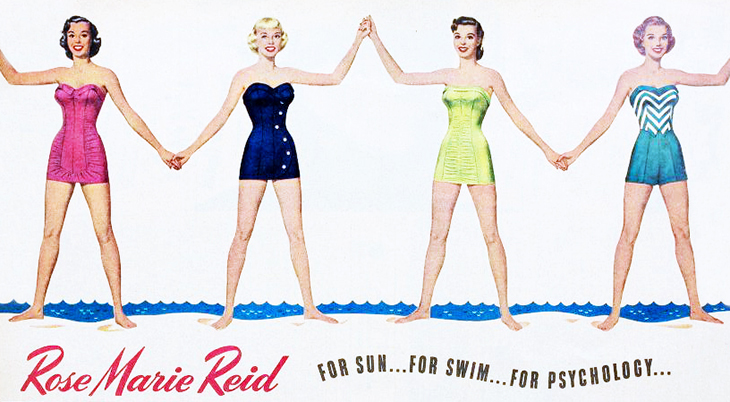 (Rose Marie Reid 1952 Swimsuits "For Psychology")
Although Reid and her husband now had three children, their marriage had been rocky for a while. Jack filed for annulment in December 1943, and Rose Marie filed for annulment in 1945. The proceedings made Vancouver newspaper headlines.
"Mrs. Reid seeks the annulment on the claim that at the time of her marriage, November 30, 1935 at Bellingham, she already was married to Garreth Rynhart. The marriage to Rynhart was at Boise, Idaho, in 1927, and she claims that the divorce she obtained from him at Boise on September 28, 1935, was not valid, because Rynhart at that time was not a resident of Idaho…Rynhart testified today that the time of the Boise divorce, he was living in Vancouver, painting pictures in store windows and selling patent medicine." – Bathing Suit Designer Seeks Annulment, The Province, April 10, 1946 
Rose Marie's marriage to Jack Crossman Reid was annulled in April 1946.
"After a bitter two-day battle, Mrs. Reid, a $7500-a-year-business executive, was granted the annulment on the ground that the Idaho divorce she obtained 11 years ago from Garrett Johnn Rynhart, is invalid in Canada…Rynhart testified he intended to make British Columbia his home. He said he realized that if the Reid marriage were annulled he would have to remarry his present wife." – Divorce 1 Null Here, She Gets No. 2 Annulled, The Vancouver Sun, April 12, 1946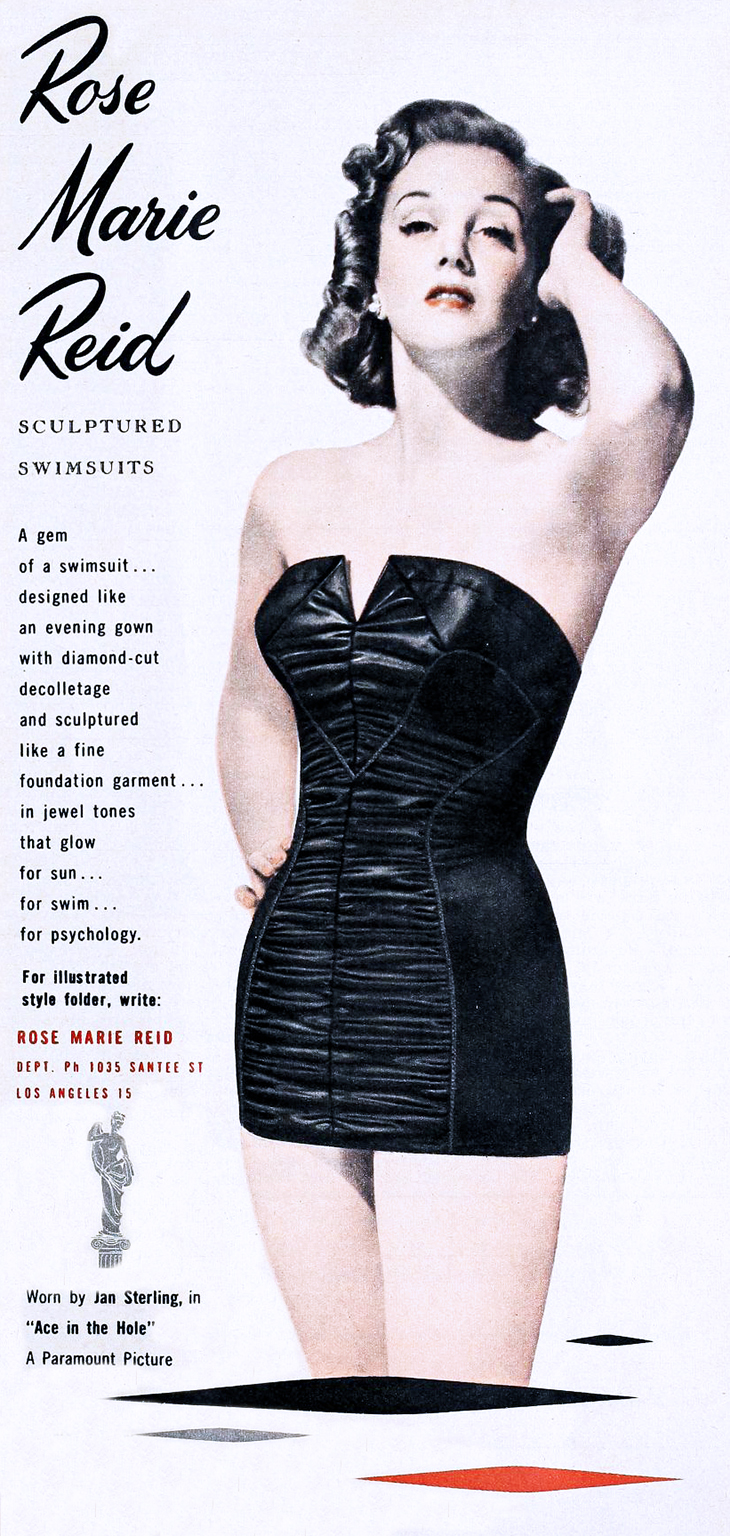 (Rose Marie Reid Swimsuit 1951 Model)
The "for psychology" tag line began appearing in Rose Marie Reid ads, and would also appear in the the Marina Del Mar brand swimsuit advertising. 
Post-divorce, Rose Marie kept her Canadian business but moved to California and with some help from partners Mr. and Mrs. Jack Kessler, launched a new American-based swimwear line, Rose Marie Reid Inc., in Los Angeles. 
"It was the Rose Marie Reid theory that theretofore restricted market [of bathing suits] would be unlimited if swimsuits could be designed to combine the functions of a fine foundation garment with the fashion allure of an evening gown. She did it. Recognizing Rose Marie Reid's genius for fashion, Mr. and Mrs. Jack Kessler, a husband-and-wife team of great business acumen, organized the firm in 1946 in Los Angeles." – The little swimsuit has become big businesss – and leading a field that it revolutionized only a decade ago is the firm of Rose Marie Reid, The Los Angeles Times, May 8, 1956
The new American factory in L.A.'s garment district employed 60 people it's first year. Reid and her 3 children lived in the L.A. factory building for over 3 years, finally buying a house in 1949 in Brentwood.
(Jan Sterling in a 1950 Rose Marie Reid Swimsuit & Rose Marie Reid in 1945)
"The attractive epitome of femininity, Mrs. Reid lives a quiet life in a rambling, 20-room house in Brentwood…'My children are my hobbies. Even while they are away at school I am in touch with them two or three times a week by phone.'" – Miss Reid Suits The Swimmer Best, by Fay Hammond, The Los Angeles Times, December 18, 1955
A marketing tactic that helped boost the profile of the company was to have popular 1940s and 1950s actresses model swimsuits in movie fan magazine fashion spreads. Rose Marie Reid swimsuits were worn in the films Muscle Beach Party (1964) starring Annette Funicello and Frankie Avalon; Look in Any Window (1961) with Ruth Roman and Paul Anka; Undersea Girl (1957) starring Mara Corday and Pat Conway; Top Banana (1954), with Phil Silvers and singer-actress Rose Marie, and Gidget (1950), starring Sandra Dee and James Darren. A "Glittering Metallic Lamé" suit" was worn by Rita Hayworth to publicize Gilda (1946). 
Rose Marie Reid Inc. moved to a new 3.5 acres and 65K square feet of operating space location at 5200 West Century Blvd. in Los Angeles in 1951. The company had offices in Los Angeles, New York City, Chicago, Miami, and Dallas.
By 1956, Rose Marie Reid Inc. was making over 5,000 swimsuits a day and was the largest manufacturer of swimsuits in the world. The Century Blvd. plant had expanded to almost 8 acres and 125K square feet, with an additional 13K square foot factory in downtown Los Angeles. The staff of 1200 included 600 sewing machine operations, 360 other production workers, and 240 office and admin employees.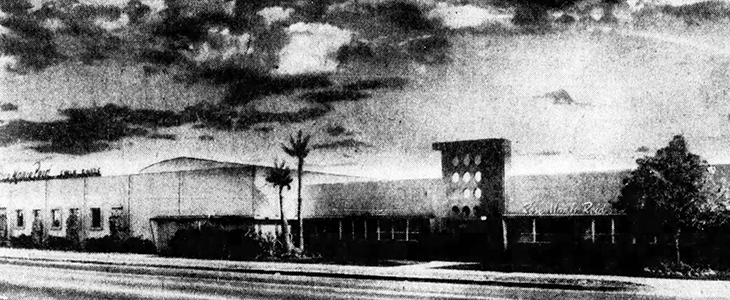 (Rose Marie Reid Century Blvd. Factory 1956)
The Century Blvd. plant had a patio and outdoor swimming pool for testing every design. In addition to medical benefits, paid life insurance, a profit-sharing pension plan, and social activities, a  lifeguard was employed so that employees, their families & friends could enjoy the pool after work and on weekends.
Rose Marie Reid was an acknowledged leader in swimsuits design and manufacturing, with sales in 50 countries around the globe, and additional manufacturing plants in Canada, New Zealand, Mexico, and Brazil, with plans to add more in Holland, Sweden, and Australia.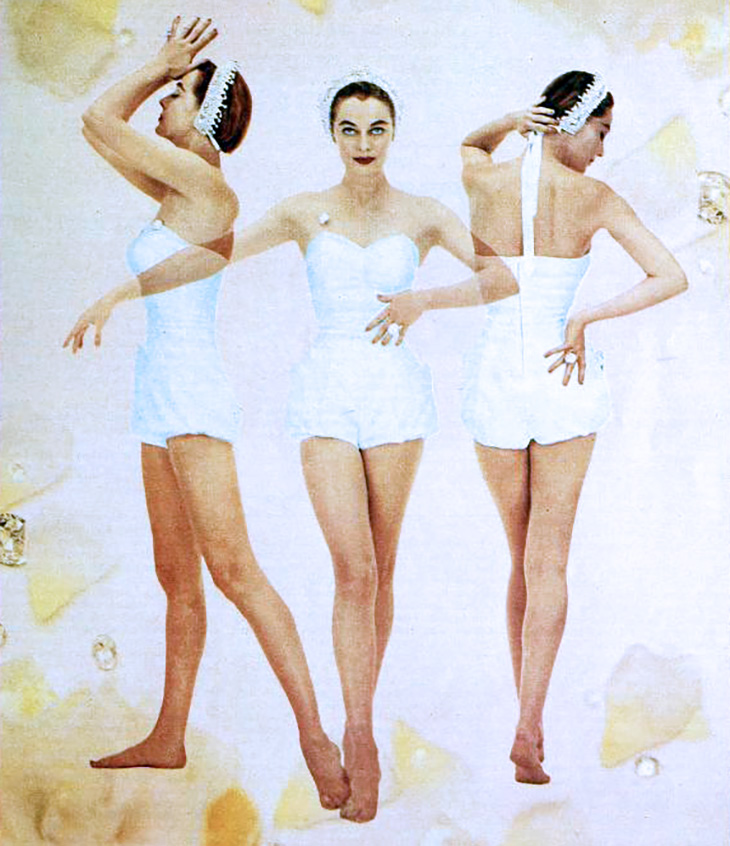 (Rose Marie Reid 1954 Petal Pocket Swimsuit)
Sales of $15 million were projected for Rose Marie Reid Inc. in 1958, according to the Los Angeles Times of January 23, 1958.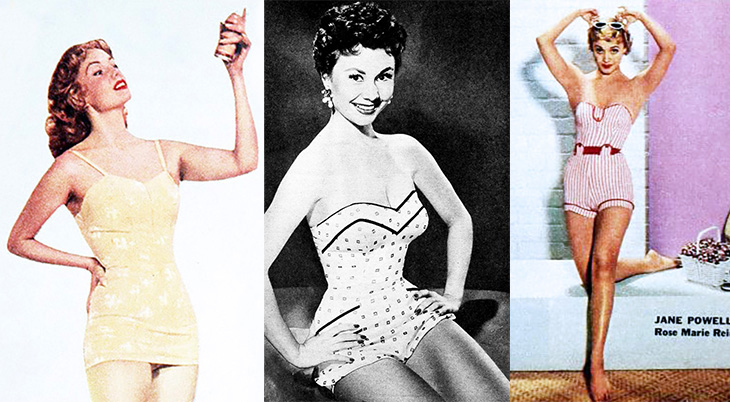 (Rose Marie Reid Swimsuits: 1954 Rhonda Fleming, Mitzi Gaynor & 1955 Jane Powell)
Construction of a new factory to be situated on 12 acres in the Van Nuys area of the San Fernando Valley, designed to Rose Marie Reid's specifications by the architecture firm of Victor Gruen Associates, was announced in late 1959.
"Jack Kessler, president…stated that the present main plant building in the Los Angeles International Airport Industrial Tract would be retained by the company…the Century [Boulevard] plant will become an administrative and production unit for Rose Marie Reid subsidiary companies, including Western Miss, marketing subsidiary for the firm's Marina Del Mar Label, and Cortina Knits." –  Rose Merie Reid Coming to Valley, by Carl S. Milliken, Valley Times, December 9, 1959:
The Century plant would keep 650 employees. The new air-conditioned building in Van Nuys would employ 1200, with parking for 600 cars, and employee facilities that included a large central court and another testing swimming pool, surrounded by an open air patio next to the cafeteria.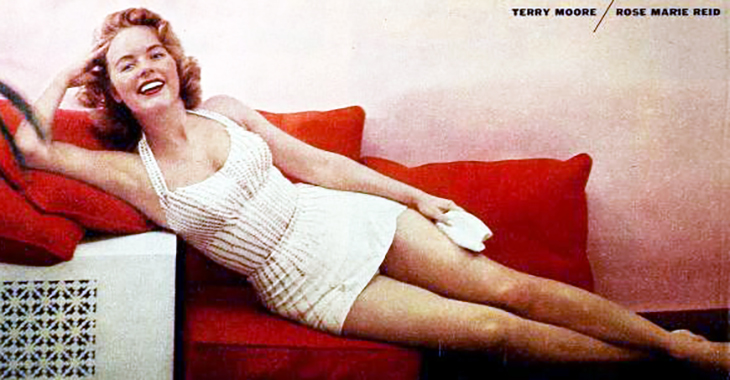 (Terry Moore 1956 Wearing a Rose Marie Reid Swimsuit: Prigent)
Reid earned well-deserved accolades that recognized her talents and innovations. 
"Rose Marie Reid, Southern California swimsuit designer and a Times Woman of the Year in 1955, is one of the three winners of the Sports Illustrated's 1958 American Sportswear Design Awards…Rose Marie Reid, Inc., has achieved fashion fame in designing swimsuits with engineered inner devices. She started this innovation as a revolt against the sagging and unattractive tank swimsuits she was supposed to wear when she was an accomplished swimmer in Canada. Miss Reid started her new look in swimsuits with a cleverly designed bra, an inner 'girdle control' panel and an intricate use of fabric constructed for elasticity or rigidity as needed. her other firsts include the strapless suit, the hourglass look and draped sheath silhouettes." – L.A. Designer Wins Award, The Los Angeles Times, June 3, 1958
Not bad for the working single mother who had come to dominate the world of swimsuit design in 12 years! 
By this time, the additional swimsuit brand Marina Del Mar had also been launched under Rose Marie Reid Inc. Marina Del Mar ads frequently featured California cover girl models.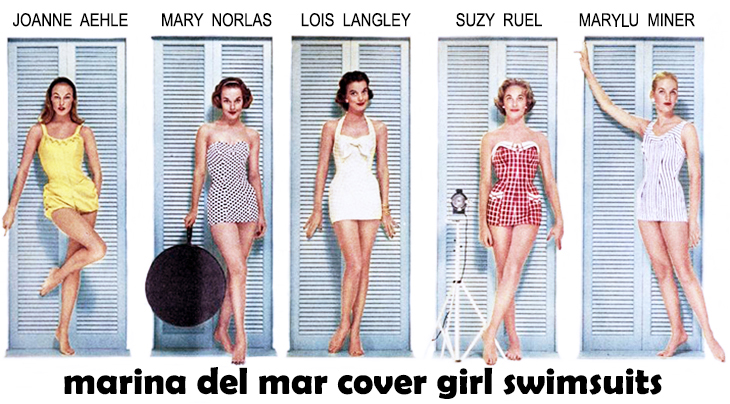 (Cover Girl Models 1958 Marina Del Mar Swimsuits)
The era of Rose Marie Reid dominating swimwear was coming to an end. The bikini had been introduced in the latter half of the 1950s, and although the swimwear giant did produce some two-piece bathing suits, Reid herself was opposed to bikinis, feeling that one-piece swimsuits were more flattering for all figure types and fit her vision of modesty.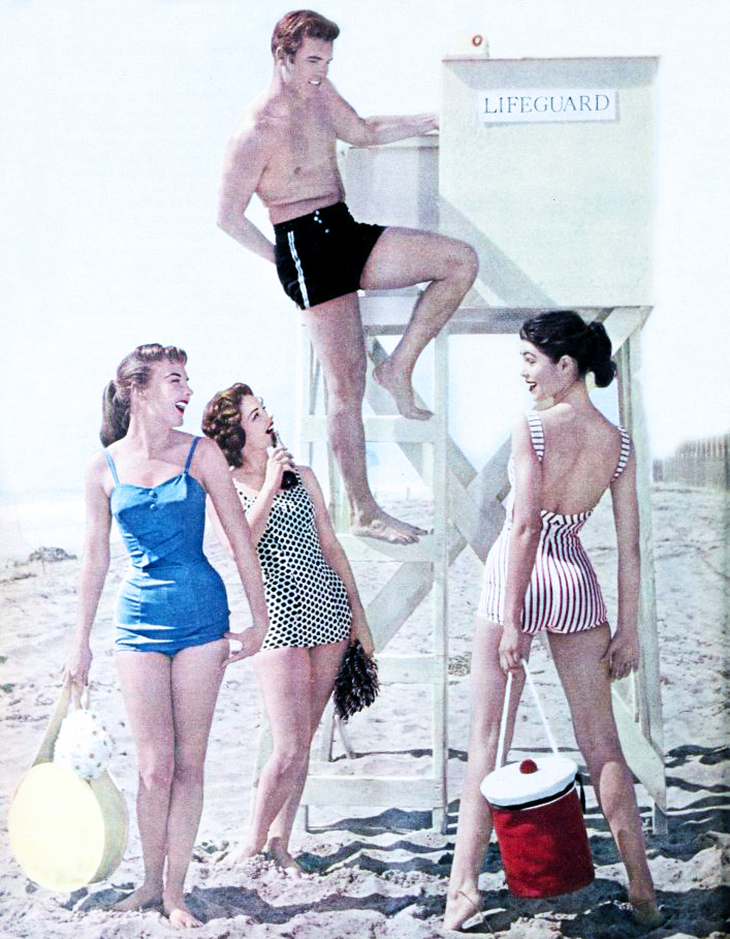 (1958 Marina del Mar Swimsuits worn by Molly Bee, Judy Meredith, Barbara Wilson & Ty Hungerford)
Reid's sentiments, combined with the rapid growth in popularity of two-piece swimsuits and the expense incurred by the huge Van Nuys factory expansion in 1960, mean that by the end of 1962 Rose Marie Reid Inc. was in red ink financially.
"Continuing its quest for a return to blank ink, Rose Marie Reid announced Wednesday major relocations of facilities aimed at boosting efficiency and cutting operational costs. Jack Kessler, president, said the swimwear maker soon will move from its 150,000 sq. ft. headquarters plant in Van Nuys to three smaller sites." – Rose Marie Reid Will Relocate to Cut Costs, by Ronald J. Ostrow, The Los Angeles Times, May 2, 1963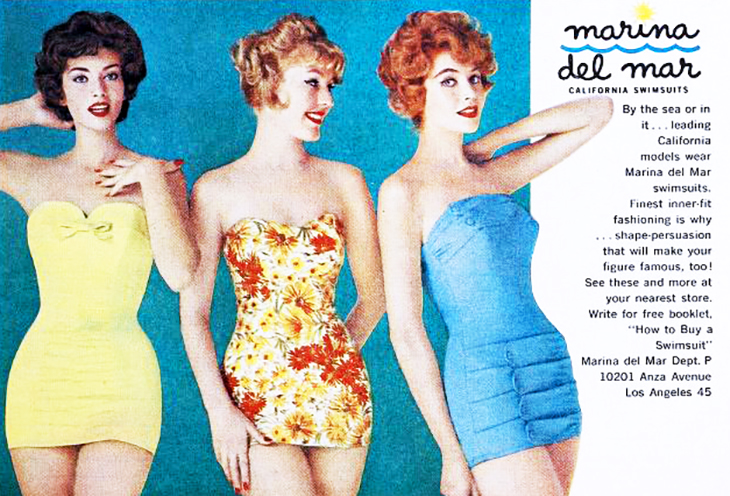 (Cover Girls Darla Peakes, Madeline Kurtz & Chicki Stevens in 1959 Marina del Mar Swimsuits)
By the end of 1963, Rose Marie had left Rose Marie Reid Inc., and apparel giant Munsingwear, Inc. had bought a controlling interest in the company.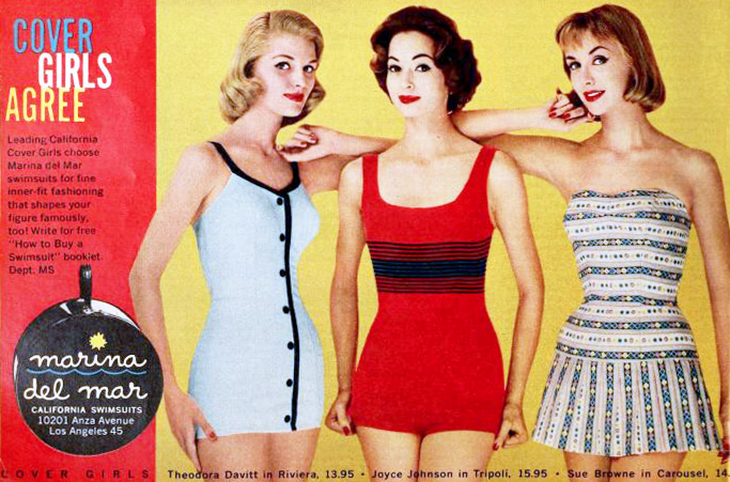 (Cover Girls Theodora Davitt, Joyce Johnson & Sue Browne in 1959 Marina del Mar Swimsuits)
Rose Marie Reid moved to Provo, Utah in 1967. She helped her son Bruce Reid launch the R&M Living Wig company, and was active in the Mormon Church. She was 72 when she died December 16, 1978. Rose Marie's obituary noted her survivors included son Bruce (then living in Germany), and married daughter Sharon Alden of Denver and Carol Burr of Provo, as well as 19 grandchildren and a great-grandchild.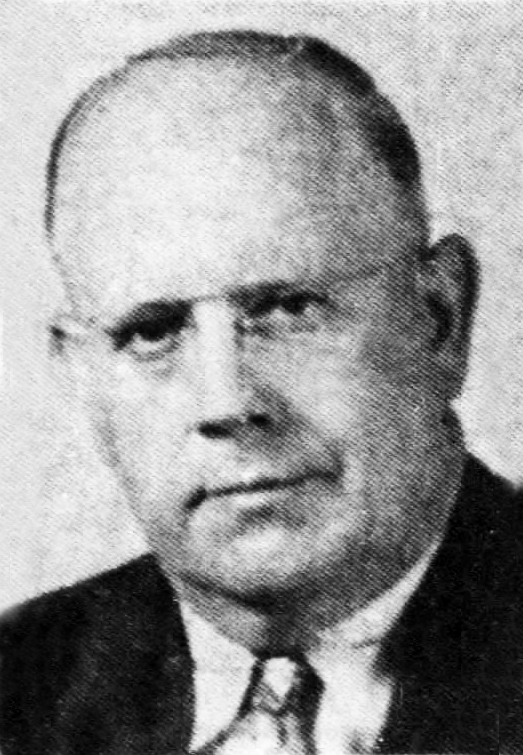 (Garreth J. Rynhart 1951: The Province)
Garreth Rynhart remarried Stella Florence Sartain and was head of the Vancouver District of the Mormon church founded there in 1948.
Rynhart was 63 years of age when he died in November 1963 in Salt Lake City, Utah, survived by his widow Stella, their daughter, and grandchildren.
Jack Crossman Reid died in 1991. 
Rose Marie's daughter Carole Reid Burr published a book about her famous mother in the mid-1990s.
Rose Marie Reid-branded swimsuits were still being sold in the early 2000s. 
An modern office tower now resides at 5200 West Century Boulevard in Los Angeles. 
*Images are believed to be in the public domain, used by permission, and/or Creative Commons licensed & sourced via Wikimedia Commons, Vimeo, YouTube, or Flickr, unless otherwise noted*